mollusk memories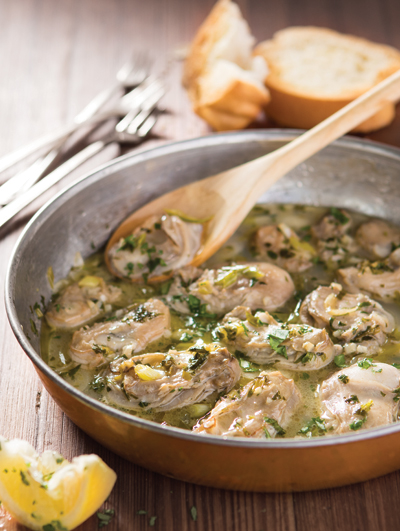 For years, my husband and I had an annual fall ritual. When the first cold front blew in from the west, we jumped into our pickup truck and wiggled our way through the backroads of three parishes to get to the now shuttered Black's in Abbeville. It seemed that half the population of Acadiana had the same idea because the place was filled to capacity. While we waited for a table, we each enjoyed a dozen oysters on the half shell taken at the crowded bar. At the table we chowed down on a couple of dozen fried and went on to an old favorite, oysters Bordelaise, in which they are broiled and swimming in a heavenly garlic-butter sauce. Though our appetite was sated, we often brought home a couple of quarts of shucked oysters swimming in their liquor.
When I lived in New Orleans, there weren't too many Fridays that didn't find me bellying up, standing elbow to elbow with my fellow diners, at the marble counters behind which shuckers pried open countless oysters to fill the orders during the lunch hour. I had a favorite shucker who knew that I preferred the small ones and would not stop my line up of them until I finally gave him a nod when I had my fill. I experienced a host of other oyster dishes at Antoine's, Brennan's and Arnaud's.
I often watched purists slurp the oysters straight out of the shell with no adornments. Others, myself included, preferred to douse them in a custom-made sauce of ketchup, hot sauce, a splash of olive oil and a hefty dab of horseradish. Then there are those who like to squeeze lemon juice over their oysters, and crackers — more often than a cocktail fork — are the vehicles by which oysters get from the tray to mouth. Nothing but cold beer will do to wash it all down.
One of the greatest oyster experiences I had in New Orleans was when a neighbor invited me to a family gathering where they were prepared to open a sack of oysters and put them in a variety of delectable dishes.
I remember too, even further back in my life, when on Friday afternoons, Papa would visit his old friend, Frank "Banane" Foti who had a stand in St. Martinville where one could get roasted peanuts, fresh vegetables and freshly shucked oysters. Mr. Banane packed the oysters in small white cardboard boxes with wire handles, which Papa would then store in the refrigerator for a Friday night feast after the local high school football game.
Papa, and usually a couple of uncles, would gather around the kitchen table. I was allowed to put my stool next to Papa and watch the ritual of the men mixing up their cocktail sauce in little paper cups. The white containers of cold oysters were passed around and around as the men jabbed the oysters, dipped them in sauce and tossed them back. I watched in amazement, but then I was not quite ready to put the gray, slimy mollusks in my mouth. I did, from time to time, dip a couple of crackers in Papa's cup of sauce into which he poured a little oyster juice.
The following recipes should satisfy the cravings of even the most insatiable oyster lover.
Steak with Oysters………………………………
This is a favorite of mine. When there's bit of chill in the air, I love nothing better than sitting on my screened-in porch overlooking Bayou Teche with a tall scotch and soda in my hand, and having my husband grill some steaks topped with oysters and mushrooms.
Creole seasoning
For each steak:
1 cup button mushrooms, sliced
2 tablespoons butter
3 tablespoons green onions, chopped
2 tablespoons parsley, chopped
6-12 oysters (depending on size),
drained
1 tablespoon Worcestershire sauce
1 teaspoon fresh lemon juice
2-3 dashes Tabasco
Creole seasoning to taste
dash of dry sherry
Season each steak with Creole seasoning (my preference if Chef Prudhomme's Meat Magic) and put on a hot grill.
While the steaks are being grilled, cook the mushrooms in the butter for a minute or so, or until they are slightly soft. Add green onions and parsley and cook, stirring well until wilted, about two minutes. Add the oysters and the rest of the ingredients and cook on medium heat until edges of the oysters curl. Top each steak with the mixture.
Allow one rib-eye per person
Chicken & Oyster Pie…………………….
This recipe is one I treasure. It was given to me by a dear friend, the late, great Keith Courrégé. The trick to these pies is to drain the oysters, then blot them well with paper towel, and reserve the oyster liquor.
3 heaping tablespoons all-purpose
flour
1 stick (1/2 cup) butter
1 cup chopped green onions
½ cup chopped fresh parsley leaves
2½ dozen freshly shucked oysters,
drained, oyster liquor reserved
2 whole chicken breasts, deboned,
skinned, cooked, and cut into
bite-sized pieces
⅛ teaspoon Tabasco sauce
pinch of thyme leaves
1 bay leaf
1 can (10 count) biscuits
Preheat oven to 400 F. On medium heat, cook the flour in the butter, stirring constantly, until roux turns a rich, deep brown. Add green onions, celery, and parsley, and cook stirring, until the vegetables are limp, about 3 minutes.
Add the chicken and oysters and cook until edges of the oysters curl. Add oyster liquor and stir until the sauce thickens. If the gravy becomes too thick, add a little chicken broth to thin it. Gently simmer until the mixture is bubbly hot.
Pour into a 2-quart casserole and top with biscuits. Bake until biscuits are puffed and nicely browned, 15 to 20 minutes.
Makes 4 to 6 servings
Oysters Bordelaise
In a small saucepan, heat 6 tablespoons butter and 1 tablespoon olive oil over medium heat. Add 1 tablespoon garlic (minced), 1 tablespoon green onions (minced), 1 tablespoon flat-leaf parsley, 1 teaspoon Worcestershire sauce and ¼ teaspoon Tabasco sauce sauce. Cook, stirring, for 2 minutes.
Place 2 dozen raw oysters (drained) in a shallow roasting pan and pour butter mixture over them. Salt to taste (if your oysters are salty, forego the salt). Sprinkle with fresh lemon juice to taste and place the pan under the oven broiler for 2 to 3 minutes or until the edges of the oysters curl. Serve immediately.
Makes 4 appetizer or 2 main-course servings