Minden and Vicinity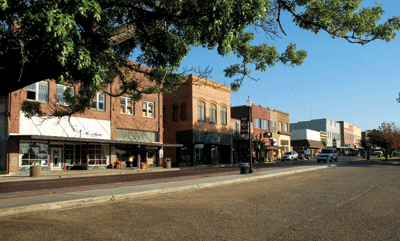 "Minden never changes" was a catchphrase of the 1950s, and sure enough, to this very day, the old Webster Parish city is as pleasant and picturesque as ever. It's not only the perfect destination for a long weekend but the start/finish line of a sightseeing route you'll remember: northeast to Homer, southeast to Arcadia and back to Minden along historic U.S. 80.
You'll find hotels at Interstate 20's Minden exits, and two unique bed-and-breakfasts await you south of town via Louisiana 371. Calloway Corners (call (800) 851-1088) is an 1800s country home that's graced the covers of four Calloway Series Harlequin romances by Sandra Canfield, and the Yellow Pine Inn (call (866) 445-4422) is a 1906 National Register school whose desks and hickory sticks were swapped for porch swings and parlor chairs in 1923. Its 118 acres provide nature trails as well as garden and fruit trees, producing goodies such as Bill and Mary McKinney's Goumi Jelly, from Japanese persimmons grafted onto plum rootstock.
Minden was founded in 1836 on the pioneer/steamboat waterway called Bayou Dorcheat, a Louisiana Scenic Stream destined to become a major boat-tour and canoeing attraction. Meanwhile there's almost too much to do ashore, exploring two historic districts and a dozen recent movie locations (such as Jack Black's giant castle from Year One). The Main Street Program has added activity and luster to the landmarks that line the old brick streets, and the city's Art and Cultural District status means no sales tax on local arts.
After getting maps and advice at the Chamber/ Welcome Center (110 Sibley at Broadway), check out the WPA paintings in nearby City Hall. Then, strolling around Main, Broadway and side streets, you'll find a rich variety of early-1900s commercial buildings, such as the "events destination" called Orleans on Main (at 513). It's a renovation by Terry Gardner, king of this year's inaugural German Mardi Gras, Fasching Karneval (from "Fastnacht," meaning "the eve of Die Fastenzeit," or Lent).
Shopping as you tour? Keep a lookout for art and antique shops such as Kerry Easley's Main Street Photography and (compulsive singer) Milly Rose's Second Hand Rose. Set aside at least an hour, however, for the city's remarkable Dorcheat Museum at 116 Pearl St., with lively exhibits designed by painter and sculptor Larry Milford and curated by the enthusiastic Schelley Brown.
Artifacts, vividly enhanced by life-size dioramas, murals, a log cabin, a mill wheel and other backdrops, focus interest – even children's – on the region's Indians; pioneers; World War II POW camps; Coke memorabilia (from the 1901 bottling plant); black history; and, of course, local celebs such as "My Blue Heaven" composer Gene Austin and Louisiana's first Heisman winner, John David Crow.
Farther along Main, the Residential Historic District's antebellums, Victorians and turn-of-the-century mansions are evidence of the city's ag-and-oil prosperity. It's also the starting point for our short three-parish excursion, so, from the end of Main, head up Elm to the 45-degree turn onto Germantown Road (Louisiana 534), which leads 7 pastoral miles to the oldest complex of pioneer structures in the region.
GERMANTOWN TO HOMER
The hand-hewn timber buildings of Germantown have been maintained for an incredible 175 years by descendants of its original settlers, Germans led by the colorful Count and Countess de Leon, who had journeyed, by way of Philadelphia, to establish a utopian colony at the optimum latitude for awaiting the Second Coming. En route, the count died of yellow fever at Grand Ecore on Red River, but the countess led the group to this spot in 1835, where they set about planting food crops, cotton, peach orchards for brandy and mulberry trees for silk production.
Why here? Prolific local historian John Agan believes they had known of the imminent founding of nearby Minden and of this property's proximity to the navigable Lower Dorcheat and to the "interstate highway" of that day, a military trail connecting Fort Towson in Arkansas to Fort Jesup west of Natchitoches.
Like 16 other architectural gems of Louisiana, Germantown is now overseen by the Louisiana secretary of state's office. Plans are already drawn for an interpretive center, and many historic documents for future display are undergoing restoration by State Archives.
Inventive tools and rustic furnishings fill the countess' house, two other original structures and two reconstructions, all curated by a living connection to the past: Amanda Steiner, eighth-generation descendant of a medical doctor and early colony leader named Frank Krouse. The village and cemetery are open from 10 a.m. to 4 p.m. Wednesday to Saturday or by appointment (call (318) 377-3600).
Drive a mile back down Germantown Road to the Dogwood Trail (Highway 111), which leads east to U.S. 79, and then turn north for a scenic 11.5-mile drive to the Claiborne Parish seat of Homer. There 79 becomes West Main Street, which, along with East Main, North Second and South Third, borders the town's four-square-block historic district. Three of those blocks present mid-1800 to mid-1900 residential and commercial structures, and the fourth is the town's classic courthouse square.
Surrounded by towering Doric columns and crowned by a tall, distinctive cupola, the Greek Revival courthouse has been the town's trademark and principal landmark since 1861. Directly across South Main, old Hotel Claiborne, now the Ford Museum, still welcomes visitors to enjoy its parlor and balcony. One guest room is still furnished as in 1890; the others are now filled with exhibits on Homer's antebellum era, war years, turn of the century and oil boom, plus collections of quilts and textiles, pianos, folk art and Indian artifacts. It's open Mondays, Wednesdays and Fridays or by appointment (call (318) 927-9190).
After shopping around the square, perhaps for antiques at Grapevine or gifts and souvenirs at Elites and Miss Lizzie's, take a stroll through the Historic District before following Highway 9 to Arcadia, seat of Bienville Parish, on historic U.S. 80.
THE "DIXIE OVERLAND"
The charm of Arcadia is an heirloom of the Gay '90s/Roaring '20s, when small-town America was reinventing itself, clustering new commercial districts along "the tracks" and lining downtown streets with handsome light posts and yummy brick storefronts. Those streets soon became links in America's swell new U.S. highway system of the 1920s and '30s, the result being that your car, encountering such towns along one of those old two-laners today, becomes a veritable time machine.
And courtesy of its latitude, old U.S. 80 – long known as the "Dixie Overland" – offers one attraction most others lack: that world-famous institution called Southern-Style Cooking: fried chicken, catfish or pork chops served up with corn bread, greens, purple hulls, field peas and such at diners such as Sharon's Cafe in Arcadia and Moody's in Minden.
Highway 9 from Homer, merging with U.S. 80 to become Second Street in Arcadia, leads to Hazel Street. Two blocks south, at Hazel and North Railroad Avenue, the huge 1908 station of the old Vicksburg, Shreveport & Pacific line is now home of the Chamber of Commerce, which has wisely put its bounteous spare rooms to use as the very entertaining Depot Museum (closed on weekends).
Youngsters will marvel and oldsters will smile as room after room reveals sports memorabilia, Indian artifacts, curious household implements and frightful medical tools, leading finally to an old exam table from Dr. D.L. Wade's coroner's office that once stood just across the avenue. It's the centerpiece of a display commemorating a day in 1934 when the remains of gangsters Clyde Barrow and Bonnie Parker were dealt with on that table, after an ambush by lawmen on a nearby country road. Photos show the crowds gathered outside, wanted posters and headlines tell the tale, and Clyde's copy of The Saga of Billy the Kid tells us as much about Clyde as it told Clyde about Billy.
Just west along the avenue, visit the 1937 post office – its interior much unchanged – to see the 1942 WPA mural by Allison B. Curry called Cotton Time, with its old cotton wagon rumbling over a rutted road toward the future: a lone oil well.
Railroad Avenue and its adjacent streets are lined with antique shops, and, if it happens to be the weekend before the third Monday of the month, you can drive 2.5 miles down Highway 9 to the 200 booths of flea-marketers at Bonnie & Clyde Trade Days (with fishing ponds for little kids and live bands for big ones). Then consider a hike up nearby Driskill Mountain – the highest natural point, at 535 feet, in Louisiana – because it's there!
Next head west on U.S. 80 to Gibsland, and turn right on Main Street to find the Bonnie & Clyde Ambush Museum, where you'll meet author and curator Boots Henton. Back in 1934 the museum building was Ma Canfield's Cafe, and there, on May 23, the outlaws bought sandwiches to go before driving south on Louisiana 104. On a hilltop 7 miles later, their sandwiches half-eaten, they were killed in a barrage of gunfire by Boots' dad, Deputy Ted Henton, and five other Texas and Louisiana lawmen, acting on a tip about the couple's destination and route.
After watching a film with vintage footage of the gangsters and lawmen, explore the museum's photo gallery (tracing the killers' childhoods, careers and demise), plus models of their cars, posters of the 1967 Warren Beatty/Faye Dunaway movie and – for sale in the lobby – dozens of related books and DVDs.
A block south, another museum, this one operated by the committee that plans the annual Bonnie & Clyde Festival, offers photos, billboards and newspaper accounts, but of greatest significance here is one small room filled with memorials to 14 victims gunned down by Barrow: 10 lawmen, three civilians and (with good cause) one former fellow prisoner. Besides food, crafts and music, the festival, May 21-23, offers Bonnie and Clyde look-alike contests; an antique car parade; and, on Saturday, four gun-battle and bank-robbery re-enactments on Main Street and a 4:30 ambush re-enactment at the actual site below town.
MOUNT LEBANON
From Gibsland it's less than 3 miles south on 104 to Mount Lebanon, beautiful, hilly and serene, at the crossing of the Old Stagecoach Trail. It's a true "crossroads town," and its claim to fame is a historic Baptist church and a cluster of six antebellum homes, including the old stagecoach inn, all listed on the National Register. Liz Huckabee Towns (columnist and author of Huckleberry Lane) and her friends at the Stagecoach Trail Museum (closed on Mondays) will provide a tour map.
The Louisiana Baptist Convention was organized at an 1848 meeting in the first Mount Lebanon Baptist; the present structure was built in 1857; and in 1948, to fancy it up for the centennial of the Baptist Convention, a chandelier from the former home of Gov. William C.C. Claiborne was purchased in New Orleans and still shines every Sunday on the church's family-divided pews and slave gallery. It's true. I've been there. I saw the light.
The long-vanished Mount Lebanon College, forerunner of Louisiana College in Pineville, was pressed into service in 1863 for manufacturing medicines for the Confederacy, with Palma Christi planted for castor oil (hence the name of nearby Castor) and wild white poppies harvested for opium.
From Gibsland, U.S. 80 leads back into the heart of Minden.