Magic of Marksville, Part II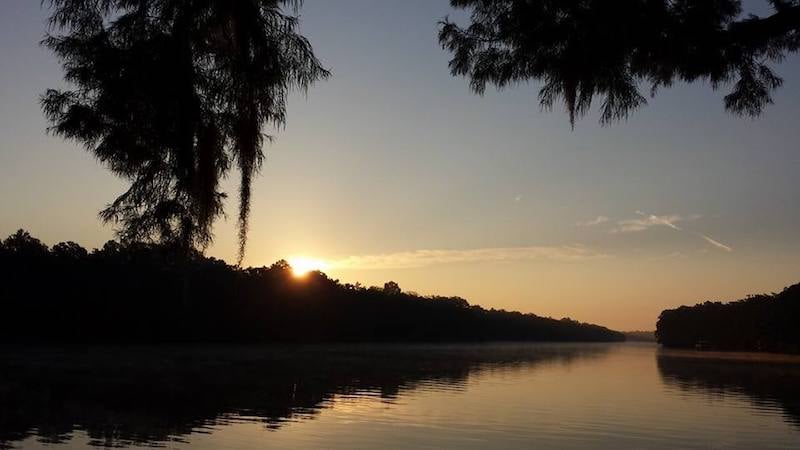 It's been described as the Shangri-La for Native Americans, and could easily take credit for the state's motto, "Sportsman's Paradise." Marksville, Louisiana, located in the center of the state, is a playground for outdoor lovers and promises an experience like no other due to its unique topography and bounty of flora and fauna found only in Avoyelles Parish. (Fact: Marksville is home to one of the largest game preserves in the United States.)
Before delving into all of Mother Nature's glory found in Marksville, it's fascinating to know indigenous peoples reaped the benefits from this land of milk and honey. Native Americans lived on the prairie grasslands, enjoyed the fish and game bounty provided by the waters (Red River, bayous and lakes) and its lush virgin forest. Europeans began to take over the Avoyelles Indians revered land in the 18th century.
Fast forward to today, amid tens of thousands of acres of both water and hard bottom forests are camp sites and wildlife management areas waiting for your exploration and enjoyment. Hunting, fishing, camping, boating and wildlife exploring reign supreme in Avoyelles Parish, particularly in and around Marksville. That's not surprising when you consider there's a handful of Central Louisiana Refuges in this area.
For some of the best hunting and fishing in the state, head to the scenic Spring Bayou State Wildlife Management Area, which straddles across roughly 12,000 acres. This natural paradise is chock-full of Louisiana's indigenous wildlife, including alligators and water birds, and is most popular for its prime hunting and fishing opportunities. (Lodging Tip: Spring Bayou has RV campgrounds that are electricity accessible, and there's also a plethora of camps you can lease throughout the area. If you want luxury accommodations, a great option is to check into the nearby Paragon Casino Resort, which also has RV parking). If you want more history and adventure, there are swamp and boat tours by private companies. (Event Tip: The popular Spring Bayou Bass Tournament is scheduled for March 24.)
Adding to this outdoor lover's paradise is the massive 17,500-acre Lake Ophelia National Wildlife Refuge and its 350-acre flooded lake. White-tailed deer are plentiful year round and are popular sightings with wildlife viewers. Before human intrusion, deer coexisted with wolves and cougars (although the latter two no longer roam the refuge). Bald eagle sightings are common, and you may even spot the endangered Louisiana Black Bear.
If you're looking for even more natural wonder, Grand Cote National Wildlife Preserves, a 6,000 acre reserve in Marksville, is another outdoor enthusiast's delight. In addition to prime hunting and fishing, the preserve has the Mark Dupuy Walking Trail, which is a one mile winding boardwalk through the forest and ends at an overlook where visitors can usually find a plethora of waterfowl in a pond. There are benches and interpretive signs along the trail. (More Lodging Tips: Other options in the area include the Holiday Inn Express Suites, three miles from The Alexandria International Airport, plus the Holiday Inn Downtown overlooking the Red River and the Hampton Inn and Suites Marksville.) Additionally, and with an adrenalin rush, visitors and locals enjoy boating and water-skiing on the open waters in and around Marksville.
Be sure to take in all the history of Marksville, particularly that which has received global attention from archeologists and the Smithsonian. Marksville's Prehistoric Indian Site, also known as the Marksville State Historic Site, sits on 42-acres and is a trip back into the ancient times of the Avoyelles Indians. It not only houses numerous artifacts in its museum, but also has a prehistoric Native American ceremonial center. This National Historical Landmark sits on a bluff overlooking the Old River.
The main feature, a 3,300-foot-long semi-circular ridge, was built with tons of soil moved by human hands over 2,000 years ago. Today, there are six visible mounds, a walking trail throughout and visitors can take self-guided or guided tours. Archeologists believe the site was used for nearly 400 years. (Fact: The largest mound is 12-feet high, has a flat top and is nearly the size of a football field.)
With even more attractions to entice visitors, Marksville is home of the Hypolite Bordelon Home, a historic Creole cottage museum and visitor center, which gives visitors a glimpse into the lives of early European settlers of Avoyelles Parish. The home was built between 1800 and 1820, and is just up the road from the mesmerizing Tunica-Biloxi Indian Center & Museum. (Fun Fact: Marksville was accidentally discovered by outsiders in the 1790s when a peddler named Marco broke his wagon wheel, and then decided to set up a trading post.)
All of these attractions and water sports are sure to boost an appetite. Head to the Broken Wheel Brewery, which is also home of the Fresh Catch Bistreaux in Marksville. Two young entrepreneurs, Jonathan Knoll and Chris Pahl, have made the transition from being one of Marksville's favorite restaurants to creating a brewpub that serves delicious craft beer to thirsty patrons. Broken Wheel Brewery offers three beers on tap, with a fourth seasonal beer as well. Making a visit even more special is that the beers are paired with the classic Cajun fare served at Fresh Catch Bistreaux, and thus creates a winning combination for patrons. (Tip: In addition to a variety of seafood and Cajun dishes, there's also a great burger menu. Among the top sellers are the Southwest and Broken Wheel Burgers, the latter of which has a mouthwatering bacon jam.)
You can easily spend one-to-two days taking in just the unmatched nature of Avoyelles Parish. The outdoor and wildlife paradise, coupled with the mesmerizing historical sites, dining options and the Paragon Casino Resort, makes Marksville and the surrounding area a great destination, one to which you'll want to return again and again.
For more information:
facebook.com/springbayousportsman
crt.state.la.us/louisiana-state-parks/historic-sites/marksville-state-historic-site
travelavoyelles.com/hypolite-bordelon-home
facebook.com/Fresh-Catch-Bistreaux