Lucille's Bubbles and Bite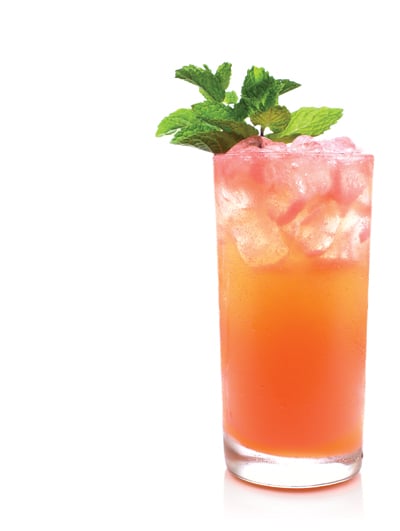 The Lucille
2 ounces Tres Agaves Blanco Tequila
½ ounce Aperol
1 ounce fresh strawberry juice
1 ounce fresh lime juice
¾ ounces agave nectar
Shake over ice and pour into a Collins glass.
Top with 2 ounces Fever Tree ginger beer and garnish with fresh pineapple mint.
---
Summer brings sugar-white beaches, emerald water and exotic drinks that generate a tropical buzz. Jason LaBove's refreshing new Lucille cocktail seems plucked from the Caribbean. Made with slightly tart organic strawberries from Inglewood Farm, and garnished with sweet pineapple mint that adds a tropical twist, the pretty pink drink is deceptively girlish and pristine. What goes down easy often comes back strong. The bubbly, bittersweet libation has a ginger spice sass on the back end. Orange and rhubarb-flavored Aperol liqueur balances the drink with a subtle bitterness on the finish. Ginger beer adds a spicy little bite with its sharp, tight bubbles.
"Lucille was rightly named after the baseball bat owned by Negan from the Walking Dead's Season 7," says LaBove, the bar manager and cocktail director of the farm-to-table Restaurant Calla in Lake Charles. "Negan personifies his bat as a beautiful woman. Wrapped in barbed wire, it becomes evident how Lucille goes from being beautiful to dangerous really quick. Like anything else, too much Lucille can have you seeing that beautiful woman turning into that baseball bat."
Restaurant Calla 1400 Market St., Lake Charles
337-419-1980, restaurantcalla.com