Louisiana Festivals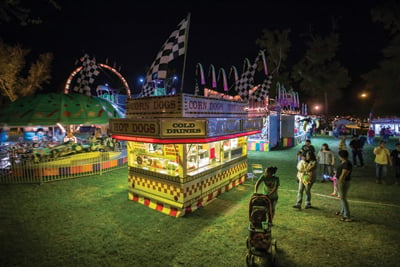 Zwolle Tamale Festival
October 9-11, 2015
1100. S Main St., Zwolle
Across Louisiana you can find many permutations of the tamale. There's the thick, doughy, Mexican-style tamales that became more ubiquitous in New Orleans and its suburbs following Hurricane Katrina. Louisiana always had the Mississippi Delta style tamales, which you can get by the meat counter at small grocery stores, from street vendors, or sold alongside sno-balls and nachos out of the windows of tiny stands. Those tiny tamales usually come tightly packed in Styrofoam containers, drowning in a spicy red sauce that stains the white containers. Or, sometimes you'll find something that's a mash-up of many culinary cultures; the tamale is a blank slate for foodways to intersect. You can see that cultural intersection at the Zwolle Tamale Festival, held annually in October in Zwolle. Zwolle is a small town in Sabine Parish that was originally a Native American village and was later settled by the descendants of French and Spanish adventurers. The town's first English-speaking settlers were from Mississippi, Alabama, Georgia and the Carolinas. This resulted in a unique culinary heritage, and specifically a tamale that's a combination of that Mississippi Delta style but is also influenced by Native American and Spanish culinary traditions – and it's spicy. The tamale festival started in 1975 as a quaint event mostly limited to the town's main street, but has since grown to be a more sprawling affair with typical Louisiana festival fixtures. Celebrating its 40th year this year, the festival includes rides, entertainment, arts and crafts, dancing, a tamale making contest, a "mud bog" (monster truck) parade, and of course the crowning of the Tamale Fiesta Queen and her court. You can also pick up some of the town's signature tamales while you're there, individually or by the dozen. The festival is also releasing an updated tamale cookbook this year so you can get the secrets of what is likely to be a kind of tamale you can only eat in Louisiana.
– Lauren LaBorde
---
Washington Parish Free Fair

October 21-24, 2015
115 Main St., Franklinton
Is the Washington Parish Free Fair really the "largest free county fair" in North America? It's not certain, though the fair does tout that claim frequently. But it doesn't really matter because in the town's eyes, it is the biggest thing in America. This is a sprawling affair that takes over the town of Franklinton, so it probably does feel like the only thing happening when the town is gearing up for this annual event: kids get off from school, it's hard to get anywhere else in town, and talk of the fair is on every local's lips. There is a wholesome, old-timey feel to this huge four-day festival that is – as you might be able to infer – free to enter. Activity centers around the festival's Midway, but there are attractions to explore, things to eat and livestock to pet all throughout the festival grounds. Crowned by pine trees, costumed hosts take you on a trip back to the 1800s at the Mile Branch Settlement, an authentic pioneer village in the middle of the fairgrounds, where it's popular to sit on the porches of the old cabins and take in the surroundings. Here you can observe some of the activities and see some of the original dwellings of the town's original inhabitants, Appalachian Scotch-Irish pioneers. There are plenty of free kids activities, including the Old McDonald's Farm petting zoo. There's also a rodeo, a country market, a 5K race, horticultural and livestock exhibits, rides, fair food and the crowning of the fair queen. The jam-packed live music schedule usually includes country and rock groups. There is also the annual Better Baby Contest – a baby beauty pageant. The fair is probably one of the most dynamic and filled with things to do and see.
– Lauren LaBorde

photo courtesy washington parish free fair
---
Rayne Frog Fesitval
May 6-9, 2015
Frog Festival Drive, Rayne

If you haven't spent time in Rayne, you may have stopped at its gas station during a road trip. Don't remember? It's the one that says FROG CITY on it and a giant statue of a frog wearing a top hat out front. This fancy frog is welcoming you to a town of less than 8,000 people, telling you that while this town may be small, it sure is hopping. What's with the frogs? The so-called Frog Capital of the Road, or Frog City, became known as such after a Rayne chef began selling bullfrogs to New Orleans restaurants in the 1880s. Word got around about this new trend of frog delicacies, and this caught the attention of local businessman Jacques Weil and his brothers, who turned it into a lucrative industry. They soon sold Louisiana frogs to restaurants in New York and France, and now frog legs are a fixture on most French bistro menus and even casual eateries. Today, Rayne no longer exports frogs, but the amphibian maintains its iconic status in the town, and the beautiful frog murals around town and the annual festival – which this year is moving to the spring – are testament of that. Now in its 34rd festival features both human- and frog-centered entertainment, including live music and frog racing and jumping contests, respectively. The frog competitions are taking very seriously, with "best dressed frog" competitions in which "jockeys" outfit their frogs in bespoke costumes. The fair also includes several pageants for contestants of all ages, most notably the Miss Queen who is expected to work hard for Rayne during her tenure, often giving up several of her weekends to act as an ambassador at other festivals. There also are rides, parades, food (including fried frog legs), arts and crafts and other state fair activities. This year's festival includes new events: a dance contest, a Cajun jam session and a a poker run. Now that the festival is in May, there's nicer weather to look forward to, as well as boiled crawfish. If you want to visit a Louisiana festival that embodies the strangeness and intense pride of small-town America, this is the one.
– Lauren LaBorde

photo by ron berard
---
Shrimp & Petroleum Festival
Labor Day Weekend,
Lawrence Park, Morgan City
The phrase "shrimp and petroleum" succinctly sums up Louisiana's two most lucrative exports. And yes, that blunt juxtaposition might seem unsettling in our post-BP oil spill existence – and even before that event, the St. Mary's Parish festival was honored with a "Most Unusual Name" award – but that's fact of life down here that those are the things that keep many Louisiana residents fed. This festival celebrates those industries, and people who work in them and often risk their lives, framing the celebration around the "harvest" of the sea and the oil industry. The annual festival originated when the first boatload of jumbo shrimp arrived at a Morgan City port, prompting celebration and parading. In 1937, the first Blessing of the Fleet was held to bestow some spiritual guidance onto the shrimpers and their boats, and this is a tradition that remains in Louisiana – the current iteration of the festival features a massive blessing and water parade, which includes a bow-to-bow "kiss" between the king and queen's vessels. By the late 60s, the petroleum industry boomed in Louisiana, and this was the first time the festival's present-day named was used; the Louisiana Shrimp and Petroleum Festival is the oldest state chartered festival in Louisiana. One of the biggest draws of the four-day free festival is the diversity of music featured, including zydeco, Cajun, country, pop and rhythm and blues acts. Food, of course, features shrimp "cooked every way imaginable … it would make Forrest Gump proud," alligator on a stick, plus traditional home-style Cajun cooking. The Children's Village includes activities for little ones, and the Saturday of the festival is the designated "Children's Day" with special events and a mini parade. And of course, it wouldn't be a Louisiana festival without the crowning of the festival royalty. This festival celebrates the things that make this town thrive, even if it's a strange marriage.
– Lauren LaBorde
---
New Orleans Comic Con

January 8-10, 2016
Ernest N. Morial Convention Center, New Orleans

Since the first comic book convention started in San Diego in 1970, the comic con industry has exploded. While the San Diego and New York comic cons remain the largest gatherings in the states, publicly traded company Wizard World likely brings the "Con" experience to a region near you. In addition to New Orleans, Wizard World throws a con in 25 other cities, and the experience is definitely worth checking out. But what does the "experience" entail? Comic Con is only partly about comic books, and is more aptly described as a multigenre entertainment convention, as it folds in video games, anime, fantasy/scifi books, films and television shows – and even professional wrestling. First, there is the main floor that is filled with various merchandise booths where artists, craftsman and enterprising merchants of nerd swag sell their various wares. This is the core of the experience and serves as the primary exchange of information (and collectibles) between fanboys and fangirls. Second, there are celebrities. While the local events do not boast the star-studded rosters of the San Diego and New York Cons, fans are able to attend panels hosted by stars of their favorite shows and films, and can also stand in line for autographs at appointed times. The third and most important element of the Con experience is the costumed fans, or "cosplayers." Con folks tend to take cosplay pretty seriously, and the effort that goes into some of the costumes is remarkable. The highlight of every Con weekend is definitely the costume contest, and it is well-worth attending to see the locals showing off their artisanship.
– Bernard C. Frugé III

photo courtesy kyle hankinson
---
From Fringe to Faux/Real
November 2015
Various venues, New Orleans
Over the last few years, the New Orleans Fringe Festival has taken more of the shape of a "chain of events" rather than a straightforward theater festival. Taking cue from the worldwide tradition of Fringe Festivals (the concept originated in Scotland in 1947), Kristen Evans began New Orleans' version in 2008. At this point, the post-Hurricane Katrina New Orleans had become a breeding ground for nontraditional theater, a far cry from the days when the city's theater scene was known mostly for staid musicals and locals-humor comedies. Fringe was an appropriate symbol of New Orleans' new status as a mecca for alternative theater. With every year the festival became exponentially bigger. During the festival's one, improbable week, the Marigny/Bywater area – and more recently, the Oretha Castle Haley Boulevard corridor in the city's Central City area – became the site of performances presented in a wild array of genres in equally varying spaces. Avant-garde puppet shows, aerial performances, slam poetry, immersive theater, comedy and even boundary-pushing children's programming are just some of the types of performances held in traditional theater spaces, art galleries, abandoned houses and backyards. Festival performers came from New Orleans, around the country and world. With all shows running less than an hour, the festival provided a low-stakes atmosphere to take in the kind of theater to which you may not be accustomed. Fringe was weird, wonderful and lending itself to exploration of unfamiliar territory – it was therefore quintessentially New Orleans. So it's fitting that in the 2015 iteration, the festival will be repackaged as "faux/real [a chain of events]," a name befitting of its experimental nature. The festival, which this year will expand to three weeks, will still include theater, but now will also feature literature and culinary offerings embodying the same sense of artistic freedom. Former executive director Kristen Evans will stay on as an adviser, while B.E. Mintz, publisher of the online news and culture outlet NOLA Defender, was named the festivals' producer. With this newish festival infusing the "fringe" spirit in food and literature, faux/real is sure to be a strange ride for the senses.
– Lauren LaBorde

---
---
FEST BY MONTH
• January •
Southern Boat Show, Houma
Louisiana Fur and Wildlife Festival, Cameron
Battle of New Orleans Commemoration, Chalmette
Martin Luther King, Jr. Festival, Lake Charles
• March •
Crawfish Etouffee Cookoff, Eunice
Jazz on the Bayou presented by Ronnie Kole Foundation, Slidell
Abita Springs Earth Fest, Abita Springs
Louisiana Redbud Festival, Vivian
Bloomin' on the Bricks, Natchitoches
Hammond Smokin' Blues & BBQ Challenge, Hammond
The Tennessee Williams/New Orleans Literary Festival, New Orleans
Louisiana Crawfish Festival, Chalmette
Irish, Italian, Isleños Fiesta, Chalmette
New Orleans Sacred Music Festival, New Orleans
Jane Austen Literary Festival, Mandeville
FoodFest (America's Hometown Eats), New Orleans
Sulphur Mines Festival, Sulphur
Merryville Heritage Festival, Merryville
Terrytown Spring Festival, Terrytown
Soul Fest, New Orleans
Louisiana Nursery Festival, Forest Hill
Congo Square Rhythms Festival, New Orleans
Black Heritage Festival, Lake Charles
Flea Fest: Flea Market, Lake Charles
Live at the Lakefront, Lake Charles
Iowa Rabbit Festival, Iowa
NOLA Pyrate Week, New Orleans
Zfest, Zachary
Independence Sicilian Heritage Festival, Independence
Laotian New Year, Broussard
Audubon Pilgrimage, St. Francisville
Hogs for the Cause, New Orleans
Week New Orleans, New Orleans
Wednesday at the Square, New Orleans
New Orleans International Beer Festival, New Orleans
Amite Oyster Festival, Amite
Swamp Stomp Festival, Thibodaux
Zapp's International Beer Festival, Baton Rouge
• April •
Catfish Festival, Washington
Bayou Teche Wooden Boat Show, Franklin
Bayou Jam Concerts, Slidell
Chauvin Folk Art Festival, Houma
Acadiana Dragon Boat Festival, New Iberia
French Quarter Festival, New Orleans
Family Fun Fest, Larose
Fête Française, New Orleans
Southdown Marketplace Spring Arts & Crafts Festival, Houma
Cultural Crossroads Spring Arts Festival, Minden
Boggy Bayou Festival, Pine Prairie
Cajun Hot Sauce Festival, New Iberia
Grand Isle Migratory Bird Festival, Grand Isle
Cajun Woodstock for St. Jude's Children's Hospital, Church Point
Bayou Teche Black Bear and Birding Festival, Franklin
Franklin Parish Catfish Festival, Winnsboro
Covington Antiques Festival, Covington
Scottish Tartan Festival, Minden
Jazz in the Park, New Orleans
Italian Festival, Tickfaw
Natchitoches Jazz/R&B Festival, Natchitoches
New Orleans Jazz & Heritage Festival, New Orleans
Italian Heritage Festival (Festa Italiana), Kenner
Old Algiers RiverFest, New Orleans (Algiers)
Louisiana Forest Festival, Winnfield
Holiday in Dixie, Shreveport
Plaquemine Pow-Wow, Plaquemine
Angola Prison Spring Rodeo, Angola
Louisiana Railroad Days Festival, DeQuincy
FestForAll, Baton Rouge
Denham Springs Antique District Spring Festival, Denham Springs
Great Louisiana BirdFest, Mandeville
Original Lake Charles Crawfish Festival, Lake Charles
Ponchatoula Strawberry Festival, Ponchatoula
Festival International de Louisiane, Lafayette
DeltaFest, Monroe
Baton Rouge Blues Festival, Baton Rouge
North Louisiana Spring Bluegrass Festival, Oak Grove
Freret Street Festival, New Orleans
Etoufee Festival, Arnaudville
Houmapalooza Spring Music Festival, Houma
Le Festival du Bon Temps a' Broussard, Broussard
Rhythms on the River, Morgan City
Scott Boudin Festival, Scott
Melrose Arts Festival, Melrose
Mandeville Live Concertsl, Mandeville
Battle of Pleasant Hill Annual Reenactment and Festival, Pleasant Hill
Louisiana Earth Day, Baton Rouge
Cypress Sawmill Festival, Patterson
Kite Fest Louisiane, Port Allen
• May •
Greater New Orleans International Dragon Boat Festival, Madisonville
Bunk Johnson Jazz Festival, New Iberia
Sunset Herb and Garden Festival, Sunset
Mayfest, Leesville
Poke Salad Festival, Blanchard
Thibodaux Firemen's Fair, Thibodaux
Saints and Sinners Literary Festival, New Orleans
Zydeco Extravaganza, Opelousas
Bayou Country Superfest, Baton Rouge
Oilman's Fishing Invitational, Houma
Zwolle Loggers and Forestry Festival, Zwolle
Plaquemines Parish Seafood Festival, Belle Chasse
Breaux Bridge Crawfish Festival, Breaux Bridge
Mid-City Bayou Boogaloo, New Orleans
New Orleans Wine & Food Experience, New Orleans
Heflin Sawmill Festival, Heflin
Contraband Days-Louisiana Pirate Festival, Lake Charles
Starks Mayhaw Festival, Starks
Tomato Festival, Chalmette
Cochon de Lait Festival, Mansura
Mudbug Maddness, Shreveport
Greek Festival New Orleans, New Orleans
Jambalaya Festival, Gonzales
Marion Mayhaw Festival, Marion
Riverboat Festival, Columbia
Herb and Garden Festival, Sunset
Jeff Fish Fest & Rodeo, River Ridge
• June •
Lake Arthur Regatta, Lake Arthur
FestiGals, New Orleans
Krewe of Terreanians Fishing Rodeo, Houma
St. Tammany Crab Festival, Lacombe
Bon Mangé Festival, Gheens
Church Point Buggy Festival, Church Point
Louisiana Bicycle Festival, Abita Springs
Back to the Beach Festival, Kenner
Bluesberry Festival, Lafayette
Uplifting the Coast Festival, Baton Rouge
Louisiana Catfish Festival, Des Allemands
Wednesdays on the Point, New Orleans (Algiers)
New Orleans Oyster Festival, New Orleans
Louisiana Peach Festival, Ruston
French Market's Creole Tomato Festival, New Orleans
Garden Fest, Baton Rouge
Beauregard Watermelon Festival, DeRidder
The Day the War Stopped, St. Francisville
Louisiana Corn Festival, Bunkie
Let the Good Times Roll Festival, Shreveport
Smoked Meat Festival, Ville Platte
Southern Fried Swamp Fest, New Orleans
Louisiana Cajun-Zydeco Festival, New Orleans
Lake Arthur Freedom Fest, Lake Arthur
Juneteenth Folklife Celebration, Opelousas
Juneteenth Heritage Festival, Grambling
• July •
Tales of the Cocktail, New Orleans
Independence Day Parade, Houma
Cajun Music & Food Festival, Lake Charles
Running of the Bulls, New Orleans
Bucktown Bash, Metairie
Mandeville City Seafood Fest, Mandeville
Cake and Ice Cream Festival, Abbeville
Bayou BBQ Bash – "Morgan City Under the Bridge," Morgan City
Celebration on the Cane, Natchitoches
Marshland Festival, Lake Charles
Erath Fourth of July Celebration, Erath
Swamp Pop Music Festival, Gonzales
Let Freedom Ring Festival, Thibodaux
Feliciana Hummingbird Celebration, St. Francisville
Lebeau Zydeco Festival, Lebeau
Louisiana Watermelon Festival, Farmerville
Natchitoches/NSU Folk Festival, Natchitoches
Essence Festival, New Orleans
Golden Meadow-Fourchon International Tarpon Rodeo, Golden Meadow-Port Fourchon
Slidell Heritage Festival, Slidell
Grand Isle Tarpon Rodeo, Grand Isle
• August •
Dirty Linen Night, New Orleans
Delcambre Shrimp Festival, Delcambre
French Film Fest, New Orleans
Whitney White Linen Night, New Orleans
Satchmo SummerFest, New Orleans
Polos & Pearls, St. Francisville
Red Dress Run, New Orleans
Gueydan Duck Festival, Gueydan
Original Southwest Louisiana Zydeco Music Festival, Opelousas (Plaisance)
MOLA Music Fest, Monroe
Arts & Crabs Fest, Lake Charles
Le Cajun Music Awards and Festival, Lafayette
• September •
Southern Decadence, New Orleans
Oldies Fest, Port Allen
Natchitoches Meat Pie Festival, Natchitoches
Best of the Bayou, Houma
Germantown Bluegrass Festival, Minden
Louisiana Shrimp & Petroleum Festival, Morgan City
Calca-Chew Food Festival, Lake Charles
Bogalusa Blues & Heritage Festival, Bogalusa
Louisiana Sugar Cane Festival, New Iberia
Sugar Festival, Arabi
St. Theresa Bon Ton Festival, Carlyss
New Orleans Burlesque Festival, New Orleans
Rougarou Festival, Houma
Bayou Lafourche Antique Show, Thibodaux
Alligator Festival, Luling
St. Martinville Kiwanis Pepper Festival, St. Martinville
Jim Bowie Festival & BBQ Throwdown, Vidalia
Downriver Festival at the French Market, New Orleans
Louisiana Chicken Festival, Dubach
Community Day and Outhouse Race Festival, Choudrant
Oldies But Goodies Fest & BBQ Cook-Off, Port Allen
Louisiana Hot Air Balloon Championship Festival, Gonzales
• October •
Tour de Teche, Bayou Teche
French Market's Boo Carré,
Ragley Heritage & Timber Festival, Ragley
Sugar Fest, Port Allen
Cal-Cam Fair, Sulphur
State Fair of Louisiana, Shreveport
Andouille Festival, LaPlace
Opelousas Spice and Music Festival, Opelousas
Voice of the Wetlands, Houma
Taste of Louisiana, Houma
Louisiana Cattle Festival, Abbeville
Harvest Festival on False River, New Roads
Oktoberfest, Kenner
Louisiana Gumbo Festival of Chackbay, Chackbay/Thibodaux
Bridge City Gumbo Festival, Bridge City
International Heritage Celebration, Baton Rouge
Black Pot Festival and Cook-Off, Lafayette
Louisiana Seafood Festival, New Orleans
Ponderosa Stomp Festival, New Orleans
North Louisiana Fall Bluegrass Festival, Oak Grove
Springhill Lumberjack Festival, Springhill
Red River Revel, Shreveport
Oak Alley Plantation Fall Arts and Crafts Festival, Vacherie
Yellow Leaf Arts Festival, St. Francisville
Denham Springs Antique District Fall Festival, Denham Springs
International Rice Festival, Crowley
Old Farmers Day Festival, Loranger
Greater Baton Rouge State Fair, Baton Rouge
Angola Prison Fall Rodeo, Angola
New Orleans Film Festival, New Orleans
Sweet Dough Pie Festival, Grand Coteau
French Food Festival, Larose
Louisiana Yambilee Festival, Opelousas
Blues in da Parish Festival, Violet
Gretna Heritage Festival, Gretna
Crescent City Blues & BBQ Festival, New Orleans
Roberts Cove Germanfest, Rayne (Roberts Cove)
Madisonville Wooden Boat Festival, Madisonville
Book Sale Friends of the Jefferson Public Library, Metairie
Louisiana Cotton Festival, Ville Patte
Cajun Heritage Festival, Larose
Fesitvals Acadiens et Créoles, Lafayette
Louisiana Art and Folk Festival, Columbia
Violet Oyster Festival, Violet
October Fete, Kaplan
Louisiana Tournoi, Ville Platte
Franklin Harvest Moon Festival, Franklin
Rapides Parish Fair, Alexandria
West Louisiana Forestry Festival & Fair, Leesville
St. Tammany Parish Fair, Covington
Voodoo Music + Art Experience, New Orleans
• November •
Louisiana Indian Heritage Association Powwow, Gonzales
Thibodeauxville Fall Festival, Thibodaux
Louisiana Pecan Festival, Colfax
Three Rivers Art Festival, Covington
Destrehan Plantation Fall Harvest Festival, Destrehan
Sugar Day Festival, Alexandria
Words & Music Festival: A Literary Feast in New Orleans, New Orleans
Houmapalooza Fall Music Festival, Houma
Atchafalaya Basin Festival, Henderson
Louisiana Swine Festival, Basile
Giant Omelette Celebration, Abbeville
Southdown Marketplace Fall Arts & Crafts Festival, Houma
Veterans on Parade, Port Allen
Louisiana Renaissance Festival, Hammond
Mirliton Festival, New Orleans
Sabine Freestate Festival, Florien
Treme Creole Gumbo Festival, New Orleans
Louisiana Book Festival, Baton Rouge
Hell Yes Fest Comedy Festival, New Orleans
Westwego Cypress Swamp Festival, Westwego
Oak Street Po-Boy Festival, New Orleans
Port Barre Cracklin Festival, Port Barre
• December •
Christmas on the Cajun Coast, Morgan City, Patterson and Franklin
Christmas Under the Oaks, Sulphur
Bonfest, Port Allen
Reflections of the Season, Port Allen
Festival of the Bonfires, Lutcher
Fall Harvest Festival, Grant
Christmas on the River, Monroe-West Monroe
Fire and Water Rural Arts Celebration (Le Feu et L'Eau), Arnaudville
Noel Acadien au Village, Lafayette
Celebration in the Oaks, New Orleans
Delcambre Christmas Boat Parade, Delcambre
Christmas Festival of Lights, Natchitoches
Plaquemines Parish Fair and Orange Festival, Buras