Lost, Found & Saved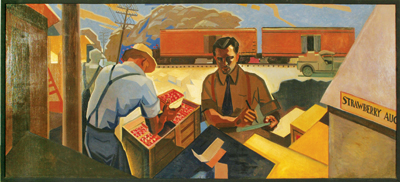 A giant mosaic mural by Conrad Albrizio, prolific artist of WPA-era Louisiana, has been spared the wrecking ball and installed in the State Museum's Capitol Park facility in Baton Rouge. Its amazing removal, restoration and re-assembly culminated on Sept. 21 when it was unveiled and unveiled and unveiled, all 49 feet of it, by Lt. Gov. Jay Dardenne, ex officio head of arts and historic preservation under the umbrella agency called Culture, Recreation and Tourism (CRT).
While other artists usually worked exclusively for art-related branches of President Roosevelt's WPA (Works Progress/Projects Administration, 1935-1943), Albrizio also attracted commissions from Louisiana (first in 1931 for murals in the new State Capitol), federal public works agencies and the private sector, and headed the LSU Art Dept. from 1936 to '54. Untitled but known as "Health and Happiness," his big mosaic from the façade of the Behavioral Health Center in Algiers shows youngsters engaged in activities that promote physical and mental wellbeing.
When that building was condemned after Hurricane Katrina, the New Orleans Art Guild began rallying support to save its exterior mural. CRT's Office of Cultural Development tried and failed to find funding at the State's Facility Planning and Control agency, but, undaunted, Dardenne authorized his Cultural Development staff led by Phil Boggan – all ardent Louisiana art and history buffs – to begin removing wood, metal and tar roofing, themselves, to free mural for handling.
The money hunt began in earnest when the McKay Lodge Conservation Laboratory (which had moved another Albrizio mosaic from the old Gretna City Court to Jefferson Parish's 24th Judicial District Court) projected a $250,000 price tag for the project, and soon the local chapter of DAR had pledged $50,000, Kevin Kelley (restorer of Houmas House plantation) had donated six-plus years of warehouse storage, and Dardenne had arranged for CRT's Division of the Arts to pledge its annual "Percentage for the Arts" income from Capital Outlay to cover the balance.
Removal began in 2009. Many of the mosaic pieces are of Italian tesserae glass in colors no longer available, so the 49 feet had to be cut into sections – mosaic, wood backing, brick wall and all – without loss of those chips, for transport, storage and installation in Baton Rouge. It worked!
Like "Health and Happiness," other Louisiana works by New Deal or "WPA-style" artists have been threatened, lost or misplaced through the years, like St. Martinville's 1938 "Evangeline." Believed lost after years of storage in the historic Maison Duchamp (201 S. Main, then a postal facility), it was later found by a postmaster and now hangs nearby in a newer post office.
---

Albrizio's "Health and Happiness" photo by Danny Belinger.
---
Today, suddenly popular again, Post office murals constitute the best known and most visible works of FDR's arts programs, created at a time when paintings and sculptures were being salted across all of America to ease the gloom and despair of Depression-plagued Americans, with more than 20 remaining in Louisiana. Enough for a lifetime of tours and detours to see them all.
The style, with its emphasis on Americans at work in agriculture and industry, evolved from the so-called American Scene Movement of the 1920s, led primarily by Midwestern artists like Thomas Hart Benton (beloved hereabouts for his Louisiana paintings of rice and sugarcane harvesting) but also by Louisiana's own John McCrady and others. Beyond providing their talents, some locals also headed regional New Deal programs, including Newcomb instructor Ellsworth Woodward who directed the Gulf Coast arts program and, alternately directing the Louisiana Section of the Federal Arts Program, Caroline Durieux and sculptor Angela Gregory.
Albrizio, who specialized in the ancient art of frescos (application of colored pigments directly onto still-wet plaster) created only one Post Office scene in Louisiana, a tribute to "Rural Free Delivery" which still hangs in DeRidder, and only one of his State Capitol works remains, a fresco illustrating Biblical passages relating to justice for the Supreme Court on the 4th floor (now the Governor's Press Room), but his murals applauding Louisiana's economic and social wellbeing under Gov. Richard Leche still fill the lobby of the adjacent Capitol Annex Building.
As an art instructor 1936-54 in LSU's Allen Hall, Albrizio guided and assisted his students in covering one wing of their building with magnificent frescos of Louisiana livelihoods, and art conservator Elise Grenier has recently uncovered and restored frescoes in another wing that celebrate the research and teaching activities of the building's (then) Arts and Sciences Dept.
Adjacent to the State Fairgrounds in Shreveport, four titanic 1938 Albrizios honor the industry and agriculture of North and South Louisiana on the State Exhibit Museum's façade (3015 Greenwood Road), and his "Struggle of Man" fresco was done in 1940 for architect A. Hays Town's art deco Iberia Parish Courthouse. His largest work is 1954's 8-by-240-foot Union Station fresco in New Orleans that captures 400 years of Louisiana history, and his smallest are 12 Stations of the Cross created in niches of a 1950s Eucharistic Adoration Chapel (1929 Palmer Ave. in New Orleans), restored pro bono by the McKay Lodge lab last year.
After studying mosaic work in Mexico Albrizio returned to create "Health and Happiness" in Algiers, as well as an "Elements of Government" mosaic designed to cover the bullet-pocked marble wall in the Capitol hall where Huey Long was assassinated. When Gov. Earl Long objected it was installed elsewhere and now reposes in the 19th Judicial District Court in Baton Rouge.
Beyond the Albrizios, beyond our Post Offices, the works of many WPA-era artists are waiting to be discovered in locations you'd never imagine. Five favorites:
• Inside Shreveport's State Exhibit Museum are 22 large dioramas of Louisiana history and enterprise, their exquisite wax figures and backgrounds created by WPA sculptors and artists.
• In 1932 H. Alvin Sharpe (future "father of the Mardi Gras doubloon") was commissioned to line the handsome dome of the 1880 New Orleans Board of Trade with an eight-panel canvas mural of maritime scenes, beneath which the old trading floor was active till the 1960s. Now operated by Pigeon Catering, (504) 262-0412, it offers a memorable setting for private functions.
• In Shreveport, five stunning murals by James Winn Jr. of Texas, commissioned by the Commercial National Bank to capture the spirit and history of Caddo Parish, were restored in 1987 and can be found in the lobby of the 1911 building, 333 Texas St. (now Regions Bank).
• In 1941 at 2940 Canal St., a New Orleans WPA artist named Edward Schoenberger created a 46-foot oil-on-canvas history of printing, from cave drawings to modern presses, in the Main Reading Room of a 1911 public library (built, like 2,508 others around the world, by philanthropist Andrew Carnegie). In 2008 the building and its mural were restored by Sylvi Beaumont to house her Swan River Yoga studio, which is also available for social events – (504) 301-3134.
---
POST OFFICE MURALS
Abbeville: "The Harvest," museum, 200 N. Magdalen Square
Arabi: "Louisiana Pageant," destroyed
Arcadia: "Cotton Time," 1979 N. Railroad Ave.
Bunkie: "Cotton Pickers," 116 W. Magnolia St.
Covington: "Tung Oil Industry," office bldg., 406 E. Boston St.
DeRidder: "Rural Free Delivery," office building, 210 W. First St.
Eunice: "Louisiana Farm," missing
Ferriday: "Southern Pattern," museum, 218 Louisiana Ave.
Gretna: "Steamboats on the Mississippi," 739 Third St.
Hammond: "Strawberry Farming" series, 1205 Oak, Fayard Hall, SLU
Haynesville: "Agriculture & Industry, Claiborne," 10004 Hwy. 79
Jeanerette: "Sugar Cane Mill," 1614 Main St.
Lake Providence: "Life on the Lake," 202 Sparrow St.
Leesville: "The Letter," carved relief, 303 S. 3rd St.
Many: "Cotton Pickers," 490 Church St.
Oakdale: "Air Express," 240 E. 6th Ave.
Rayville: "LaSalle's Quest for the Mississippi," 103 Benedette St.
St. Martinville: "Evangeline," 224 S. Main St.
Tallulah: "The River," 500 N. Cedar St.
Ville Platte: "Louisiana Bayou," 100 W. Magnolia St.
Vivian: 3 carved reliefs, 203 W. Louisiana Ave.
Winnsboro: "Logging in Louisiana Swamps," 513 Prairie St.
---