Life at the Top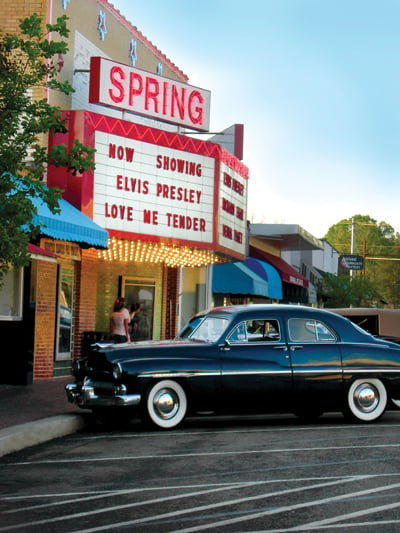 Both born in the northwest corner of Louisiana, Highways 1 and 2 soon part company, one bound for the Gulf of Mexico and the other crossing our tiptop tier of parishes to the Mississippi. As La. 1 leads to the land of Cajun cabins and sauce piquant, La. 2 leads through Louisiana's piece of the pioneer South, with its log cabin landmarks and cornmeal catfish – a seriously busy but seriously beautiful region, its terrain and citizens best described by the placenames: Springhill, Summerfield, Oak Grove, Plain Dealing, Goodwill.
Through it all the old road rolls along, taking the pine-hill highs and hardwood bottoms as they come, skirting mossy-cypress lakes and rolling farmlands,
its path beribboned with bayous and bejeweled with pretty towns.
Because the highway's four westernmost parishes are bonded by a history of risky businesses, like farming, wildcatting, steamboat/railroad ventures and modern-day gaming, La. 2's trek through that stretch has been dubbed the "Boom or Bust Byway" by Louisiana's Trails & Byways program, described by Byways director Doug Bourgeois (Culture, Recreation and Tourism Dept.) as "essentially the old Scenic Byways program of the 1990s but with a strong new emphasis on local history and traditions." Colorful Boom or Bust signs mark the route, kiosks extol local history and recreational assets, and an audio-visual guide is available from Google Play, the iTunes app store and boomorbustbyway.com (or by "checking out" a GPS device or downloading to an iPhone at state or local welcome centers).
While you're at it, stick with La. 2 through all eight of the top-layer parishes, exploring the cities, snapshooting landmark homes on the National Register of Historic Places, and, everywhere, sampling upwards of 20 state and federal parks, refuges and forests.
For an early start, it's best to overnight in Shreveport-Bossier, since Step 1 is a drive up La. 1 to connect with La. 2, and there's nothing like a bed-and-breakfast for getting to know historic homes and local characters. Shreveport's first and oldest (1870) is Fairfield Place at 2221 Fairfield Ave. – (318) 848-7776 –where you can launch your tour in grand style in a veritable gallery of art from around Louisiana and the world, with a breakfast feast conceived by owner/restaurateur John Cariere himself or built on a memory from his family's 80-year history at the Cotton Bowl (on Fairfield near the inn).
From Texas Street, where a statue of folksinger, bluesman and composer Huddie Ledbetter stands near the classic Caddo Courthouse, take La.1 to the Caddo Lake town of Mooringsport where blues pilgrims can detour 7.0 miles south on La. 169 and 2.2 west on sometimes-identified Parish Rt. 6 to the "Leadbelly" monument at Shiloh Church.
Then (or "instead") drive through Mooringsport to its Mini-Museum (facing the Post Office on Croom Street), filled with arts and artifacts related to Caddo Indians, Leadbelly, steamboating and early oil drilling – by appointment, (318) 996-7660.
Croom Street (La. 538) leads past a century-old Waddell vertical-lift bridge (National Register) to connect with La. 1, which passes 40-acre Williamson Park at lakeside on the way to Oil City (home of the Gusher Days Fest, first Saturday of May). There take Savage Street to the State Oil and Gas Museum (Wednesday-Friday only) filled with its hands-on artifacts and wax-figure-populated wigwams, oil-worker houses, saloon and rigs. Outside are a National Register bank, vintage KCS depot and (across the tracks) a vast and impressive "oilfield junkyard," and just up Land Avenue is the studio of book restoration artist James Jackson Jr. (restorabook.com).
Next comes Vivian (home of the Redbud Festival in March) where a right on E. Louisiana leads to a Boom or Bust kiosk and Railroad Station Museum, a National Register KCS station where visitors can expect a warm Betty Matthews welcome and intriguing collections of depot accoutrements and regional history. A block away on La.1 (111 N. Pine), a 1931 Chevy dealership houses Sandra Stevens and Joey Platt's auto and motorcycle collection—beauties like a 1930 Model A and ultra-rare '66 Dodge Hemi—free by appointment, (318) 453-2136, or by request at their restaurant called Rascal's (just steps away at 117 W. Louisiana) where the lunch buffet offers bonafide Southern cooking.
1860 log cabin in Ford Museum
David Watson Photo
The woods are still full of "grasshopper" oil pumps as La. 2 heads east past big Black Bayou Lake and Preserve to Hosston, and there a 4-mile sidetrip leads down U.S. 71 to the Red River Crossroads Museum (a half-block off 71 on Main Street in Gilliam), with its nostalgic glimpses of river-valley life. Call (318) 296-4303 for schedule. Bonus: 71 passes beneath a brand new stretch of I-49, last link in the Louisiana-to-Kansas City connection and biggest quantum-leap in transportation hereabouts since the KCS.
East of Hosston, passing pastures and fertile farms, La. 2 crosses Red River, rises into gentle pine hills, enters Bossier Parish and soon arrives in Plain Dealing, with its Boom or Bust kiosk (a block beyond La.3) and "Mayberry" business district. Fifteen miles later the road crosses big Bodcau Wildlife Management Area (hunting, swamp walks, camping and boating) as it enters Webster Parish, where two potential sidetrips depart from the town of Sarepta. The first leads 6 miles down U.S. 371 to visit the old town of Cotton Valley and to see the 1870 Greek Revival manor called Hodges House (private – a euphemism for "let 'em alone").
The second option would take you to Springhill (with its big PRCA Rodeo May 30-June 1), where Arkansas Street leads to Arkansas, specifically to the town of Welcome, which saved the cost of a second sign. After a stop at the Springhill Chamber/Info Center (400 N. Giles at Main Street), proceed to the highlight of your visit: the pleasure of dining, shopping and maybe catching a movie along broad and handsome Main Street, with its vintage storefronts and 1946 (but big-screen) Spring Theater (a new or old show nightly).
Now take La. 157 and 159 east and south to Shongaloo to rejoin La. 2 for a pine-hill ride to Homer, with its traditional town square crowned by the 1840 Claiborne Parish courthouse. Other National Register landmarks include the Todd-Moss House, N. 5th at W. 3rd; Capers-McKenzie House at 708 Belmont; and nearby Monk-Richardson House on Richardson Loop (off North La.9 at Parish Rt. 39), all built in the 1850s, all Greek Revival, all private.
The Ford Museum (9a.m.-4 p.m., Monday, Wednesday and Friday) grew from the collections of the late Herbert S. Ford and in 1982 occupied four levels of the 1890 Claiborne Hotel on the square. The floorplan involves an ingenious interweaving of large items like the full-size façade of a traditional barn, moonshine still, ancient pirogue, 1925 Ford and an entire 1860 hewn-and-pegged log cabin from Haynesville, while betwixt and between are nestled such smaller-item categories as quilts, church bells, Indian artifacts and oil-drilling paraphernalia.
Just east of town on La. 2 you'll find a Boom or Bust kiosk at Lisbon Landing, on 6,400-acre Lake Claiborne, and here the byway ends with a loop around the lake via La.2 east, La. 518 south (notice the 1859 Killgore House at the turn, private), then back to Homer on La. 114 (passing the entrance to Lake Claiborne State Park with its cabins and campsites, hiking and biking trails, boat and canoe rentals, nature center and sand beach).
So here La. 2 begins its jaunt through the eastern parishes, but start by detouring up La. 9 from Homer through a scenic stretch of Kisatchie National Forest. It's 10 miles to Moon's (delight of the steak and barbecue crowd), then another 10 (through Summerfield) to the entrance of Kisatchie's Caney District, where an immediate right and two-mile drive on the forest road lead to free-use Corney Lake Recreation Area. Most of Caney's hiking-biking-camping activities can be found at other sections, near Homer and Minden, but Corney Lake with its fishing pier and launches is a favorite for beginner and veteran fishermen, a mecca for turkey and duck hunters and, with its pavilion and barbecue pits, beloved by locals and travelers.
Back on La. 9 take the eight-mile drive (so you can say you did) up to Junction City. Grab a bite at the Dual State Grill on Main Street and, after reading the marker heralding the meetingplace of two states, a county and two parishes, take each other's pictures on State Line Road and head south on U.S.167 to the historic Union Parish town of Bernice.
Just north of town, turn west and drive a mile on Alternate 2 to sweet little Sweet Onion (National Register, private), an 1865 heart-pine beauty with front loggia and external (English) chimneys, then follow 167 to the city tourist center – 115 W. 4th, (318) 285-9333 – for tips on points of interest. Who knew, for instance, that the Rock Island Line, made famous by Leadbelly's song, stretched to Louisiana? Well, Gladys Harkins remembers, and she'll be waiting (10 a.m.-4 p.m., Tuesday-Friday) at the 1899 Rock Island depot to tell the stories and share the artifacts of the little museum – 426 E. 4th, (318) 285-2433. For us kids, the highlight of a La. 2 adventure might just be the 1939 caboose sidetracked by the depot, it's child-high display cases filled with vintage toys that include, of course, a Rock Island train set.
For a quick nine-mile sidetrip, take U.S. 167 south to Dubach to see two pristine log dogtrots, starting with the 1883 Colvin House facing 167 at Boulevard Street, recently moved from the nearby Mineral Springs community and restored to serve as Dubach's Dogtrot Welcome Center (travel information plus tours and giftshop). A block farther, turn right to follow westbound La. 151/152 (Hico Street) to the 1849 Absalom Autrey House standing at the fork of the two roads. The Colvin House will not open till this summer, and the Autrey House schedule is temporarily in flux – call the Lincoln Parish Museum at (318) 251-0018 for current status – but both are accessible anytime for exterior inspection and for walking through the center breezeways to read interpretive materials.
Eastbound from Bernice on La. 2, exit south on Evergreen Road (Parish Rt. 4410) to enter Lake D'Arbonne State Park, with its launches and piers, trails, beach and cabins – (318) 368-2086. A mile later the road crosses a leg of the immense lake and enters Farmerville (Union Parish seat and host of the ever popular Watermelon Festival in July), and there to greet you is a dramatic view of a giant Queen Anne Victorian named Edgewood. The National Register mansion, built in 1902 and recently restored, now serves as a lavish B&B – edgewoodplantationlouisiana.com, (318) 368-9709.
East of town La. 2 skirts D'Arbonne National Wildlife Refuge (via La. 143, hunting, horses, hiking and birdwatching) and soon crosses into Morehouse Parish and merges with U.S. 165 for the ride to Bastrop, known for its 1914 Beaux Art courthouse. The square is lined with offices, antiques shops, 1925-ish Rose Theater and, of course, a city café (P.T.'s Eat a Bite). Other points of interest are Gothic 1875 Christ Episcopal at 206 S. Locust and the Snyder Museum at 1620 E. Washington (La. 2), open Tuesday-Friday.
Vintage farm equipment is displayed in and around the old Snyder carriage house, and the 1929 mansion itself was transformed in 1972 by its art gallery, artifacts and library into a genteel glimpse of the city's past.
Kisatchie's Corney Lake
A Visitor Center at 124 N. Washington – (318) 281-0911, morehouse.com – can also provide directions to nearby parish attractions like the hiking and canoe trails of Chemin-a-Haut State Park (10 miles north on the bluffs of Bayou Bartholomew), and to the William B. Reily Nature Preserve called Kalorama, 8 miles south at 7197 Collinston Road (La. 593). Kalorama was the summer retreat of the Reily family, owners of Luzianne Coffee, where songbirds and native wildlife feel at home and native plants and old-forest trees cover the steep ridges of the Bastrop Bluff formation. Call (318) 874-7777 or visit kalorama.org for schedule or appointments.
East of Bastrop La.2 leads down the old divided Main Street of beautiful Mer Rouge ("M'Rouge," originally named Prairie Mer Rouge for the acres of red sedge found there by settlers), and soon crosses the Boeuf River into West Carroll Parish. Next comes Goodwill near some units of Colewa Bayou Wildlife Management Area, known by doves and dove hunters for its sunflower fields) to the handsome columned courthouse and brick storefronts of Oak Grove.
Bayou MaÇon marks the East Carroll line and gives us the Bayou MaÇon Wildlife Management Area, and 6 miles later good old La. 2 comes to an end at an oxbow lake and parish seat, both named Lake Providence. It's three miles down U.S. 65 to the Louisiana Cotton Museum (Tuesday-Saturday), built around the original Hood family house, with a replica cotton gin where artifacts and life-size dioramas tell cotton's 300-year history in the state.
The Byerley House Visitor Center at 600 Lake Street (U.S. 65) – open daily, (318) 559-5125 – is a circa-1900 Queen Anne that now dispenses information on the old River city's Historic District plus directions to such landmarks as the 1901 and 1937 old and "new" courthouses and circa-1832 Arlington Plantation (214 Arlington St., private). The most dramatic landmark, however, is directly across the highway from Byerley House: a small park featuring a 600-foot boardwalk alongside a 1,000-foot length of Grant's Canal, the remains of Gen. Grant's failed attempt to create westbank detours around Vicksburg for his troop transports in 1863.
Departing Lake Providence it's a quick drive down U.S. 65 to I-20, but take La. 134 instead, and stop at the Poverty Point mounds on Bayou MaÇon, "largest of the old and oldest of the large" mound complexes in America.