Letting the Light Shine Through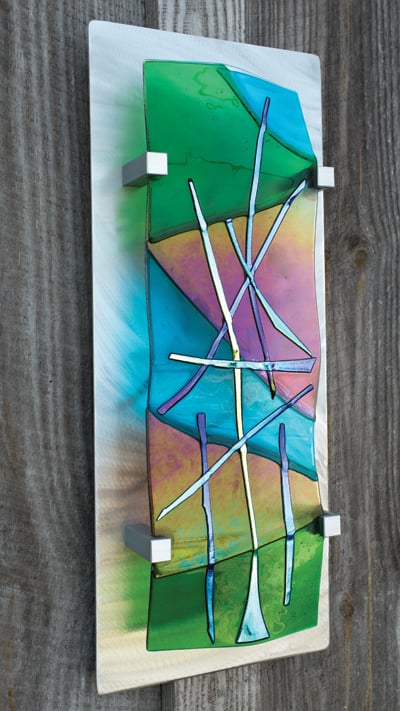 Take it from Frank Thompson: If you're looking to buy Band-Aids in bulk, go to Sam's Club. They got the best deal.
Don't waste your time (and coin) at the supermarket or the pharmacy, and don't get lured in by the cheap, knock-off in-store bandages that fall apart like cotton candy in a kid's mouth. Go with the brand name. Trust him. Thompson is pretty much the authority on a subject the rest of us never think about.
"It's a good cloth kind, ya know," says Thompson, still stuck on Band-Aids. "Using them is a common occurrence. And wouldn't you know, most of the bad cuts happen when I'm doing something stupid."
Or something spectacular.
Through the course of nearly 30 years, Thompson's stained-glass artwork has evolved from remedial to renowned, earning praise from various festivals and publications as he's honed a distinct personal style. Run across Thompson at an art show – whether it be as far east as Atlanta, as far west as Austin, or as close as Lafayette's River Ranch – and odds are you've come to know his patented verbal potion of self-deprecation, folksy charm and grandfatherly ease. Coupled with the breath-taking stained-glass pieces Thompson sells, the seamless wit is all part of the sizzle.
Yeah, Thompson's magnificent glass can be seen in nearly a dozen churches throughout Cameron and Calcasieu parishes, and yeah, his at-home pieces (particularly his line of crosses that glisten without windows behind a distressed aluminum backdrop) recently wowed enough judges at the 2015 Corpus Christi Festival of Arts to capture "Best in Show," but that's only a sliver of his brilliance, only part of the reason he left construction to do this full-time. He's a bit of showman, flashing an easy-to-love bravado that covers up the fact he's tired, considering he woke up at 3:30 a.m. to drive here and won't get back to bed before midnight.
"I love glass jokes because they crack people up," Thompson says, waiting a breath for an imaginary drummer's sting. "You can't have too fragile of a sense of humor. But of course, they see through all that."
Thompson laughs.
"And in there was this regular sheet of paper – red construction paper. On it were other torn pieces of colored paper that were pasted together. Then I took a black crayon and outlined it. Wrote "stained-glass window" in crayon.
"Stained-glass has been in my subconscious apparently for close to 50 years," Thompson says. "My mother found an old kindergarten project from 1965 where I put together a window out of colorful construction paper. I totally had forgotten that, but it's crazy: I'm doing in life what I apparently dreamed about doing when I was really young."

---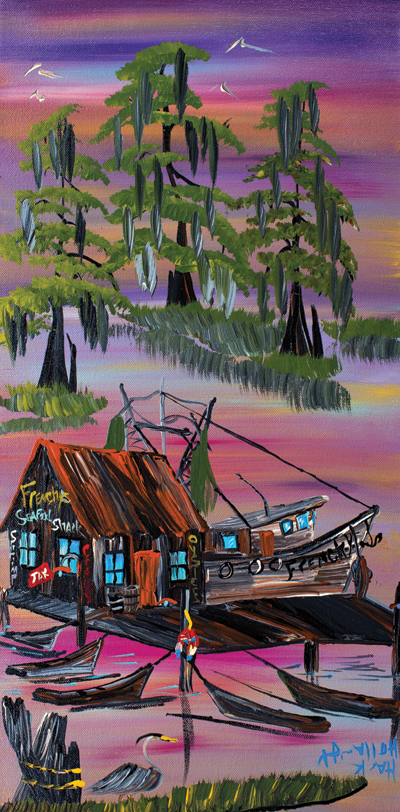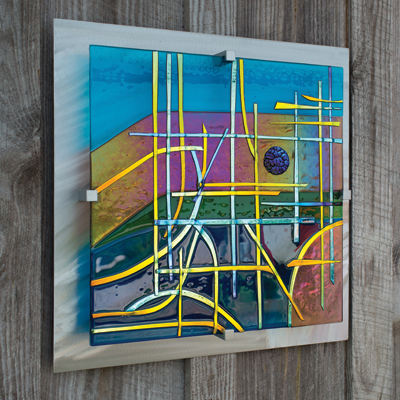 ---
A bit of a lovable oddball pretty much since birth, Thompson's affinity for using his busy hands was evident early on. School was never really his thing, though he did gobble-up "how-to" manuals, the first detailing the steps to build a log cabin. At 16 years old, Thompson built one on the family's expansive 80-acre plot, refusing any and all shortcuts throughout the arduous process. We're talking cutting down trees, skinning off the bark, everything. When the cabin was complete, Thompson lived in it.
"I wasn't like a 'house' house," Thompson says, trying to be modest. "It was more like a bedroom, but it was my first real accomplishment I ever did with my hands."
Thompson chose carpentry over college after high school. To save money, Thompson lived with his grandmother, skipping town on most weekends to date the woman who later became his wife. Looking for ideas to show grandma his appreciation for letting him crash, Thompson wandered into a Houston art store.
"I found this (stained-glass) pattern. It was six-feet-tall, a Mediterranean scene – had some grapes in it, really, really complex, but I went for it," Thompson says. "Told the lady behind the counter, 'Y'all give me everything I need to make this.' She looked at me puzzled and said, 'Don't you want to take some classes?!? 'Naw.'
"I spent $350 on all the supplies, so you better believe I was gonna learn how to do it, and I did it."
So Thompson was dedicated?
"Oh yeah. I moved my workbench into the bedroom," Thompson says. "My wife (fiancée at the time) would come over and say, 'Um, there's glass in the carpet!'"
Thankfully, for the sake of the marriage, Thompson constructed a small studio out back, a place where he could handle inventory on not just stained-glass used in homes, but also personal decorative items like stained-glass crosses. Then, Hurricane Rita ripped through southwest Louisiana. Storm winds pushed a pine tree on top of the studio roof. All the glass-cutting machines were turned over. Mud covered everything. Plant roots ripped through the floor. The only things left untouched, amazingly enough, were 20 stained-glass crosses. Thompson viewed it as a sign. For the next half-year, Thompson sold these custom crosses out of the back of his car. A local news station caught wind of the inspiring story, aired a segment about Thompson, and within a week, the artist was swamped with orders. To date, he's sold more than 600 crosses.
"The response we've received has just been overwhelming," Thompson says. "A lot of people said, 'Well I don't have windows' or " I don't have a lot of light,' so I corrected that by putting the aluminum behind the crosses.
"But I just love the people I meet. Love answering their questions," Thompson continues. "I tell them, all I'm trying to do with the glass is transform an inner vision into an outer reality."

---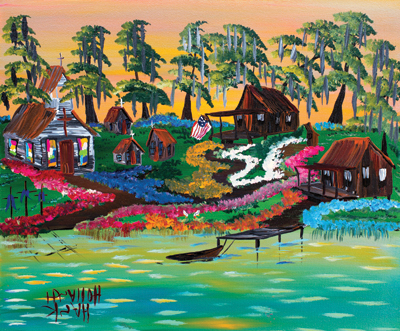 To see more of Frank Thompson's work, visit frankthompson.com

---