Lettering in Festival-Going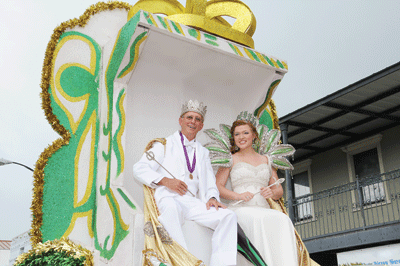 A is for Amen
At the Louisiana Sugar Cane Festival in New Iberia and at several other agricultural-based Acadiana festivals, a local religious leader (usually a priest) reads the "Blessing of the Crops." Also known as the "Blessing of the Sprouting Seeds" or simply the "Blessing of the Seeds," this particular blessing asks for God's guidance in times of drought, times of flood and times of abundance.
After the blessing, the Sugar Cane Festival (September) kicks off with bands, a midnight fais-do-do and a Top of the Stalk celebration honoring King Sucrose.
To learn more about the Sugar Cane Festival, visit the Iberia Parish Tourism site at www.iberiatravel.com.
B is for Blue(s)berry
Think the Louisiana festival calendar is already bursting at the seams, incapable of cramming in another cultural morsel?
Ahh, quit your belly-aching. You have room for a teeny, tiny blue(s)berry.
In July 2011, Jubilee Farms of Lafayette melded together the hauls of local blueberry- growers and blues music at, fittingly enough, the Blue Moon Saloon on Convent Street at the inaugural Bluesberry Festival – an event founded to advocate the use of freshly grown, local food whether at the family dinner table or on a restaurant menu.
Besides the musical performers, festival-goers can witness chefs from restaurants such as Jolie's Louisiana Bistro and Pamplona compete in a blueberry cook-off, the winner being crowned as Bluesberry Fest king or queen. Jubilee Farms stretches the blue theme a little farther by encouraging festival patrons to dress in blue or paint their faces blue – but not act blue.
To learn more about the Bluesberry Fest and other events held at the Blue Moon Saloon, call 337/234-2422 or visit www.bluemoonpresents.com.
C is for Chasing Chickens
The beads. The floats. The balls. The parades. These are the images that spring to mind when we think about the majesty of Mardi Gras. However, the communities in the Prairie Cajun regions of Louisiana have their own twist on the annual celebration – Courir de Mardi Gras.
Masked and elaborately decorated horseback riders and a bandwagon of followers go from house to house, farm to farm, seeking charity to help make a gumbo.
Some homeowners offer potatoes or onions. But the real fun begins when they offer a live chicken, and the masked riders are left with the arduous task of chasing it down. At the end of the ride, all the gathered ingredients are brought to the center of town where a large community gumbo is prepared. Towns that hold Courir de Mardi Gras include Church Point, Eunice, Mamou and Iota.

For details, call the St. Landry Parish Tourist Commission (877/948-8004), the Acadia Parish Tourist Commission (337/783-2108) or the town of Mamou (337/468-3272).

D is for Dancing Till You Drop
You can two-step, jitterbug, waltz, line dance or just flail your arms and legs wildly. At Acadiana festivals, it doesn't matter what step you choose as long as your feet are on the floor and your inhibitions and self-consciousness are left at the door.
With different themes, unique traditions, eclectic events, extravagant pageants and storied histories, Acadiana festivals make up a kaleidoscope of culture. For every festival's eccentricities, however, you'd be hard-pressed to find one without live music and dancing. They are the chords that bind. The list of festivals that don't offer music and dancing is dwarfed by the extensive list of those that do.
Lafayette, for example, features a trinity of toe-tapping festivals in Festival International de Louisiane (see letter P), the Black Pot Festival (October) and Festivals Acadiens et Créoles (October). For specifics about each festival and the music lineup, your best bet is to start at the Lafayette Convention and Visitors Commission Web site at www.lafayettetravel.com.
E is for EGGS-TREMELY BIG OMELETTE
Mother always said, over and over and over, that breakfast was the most important meal of the day. Well, at the Confrerie d'Abbeville Giant Omelette Celebration in downtown Abbeville's Magdalen Square, breakfast is also the most enormous meal of the day!
Held on the first full November weekend, the Giant Omelette gathering features bands, contests, art booths and the usual festival fare. What sets it apart from any other celebration in this state is the 5,000-egg giant omelette that a troop of chefs prepares on the steps of the Vermilion Parish courthouse. The massive feast cooks on a 12-foot skillet and is stirred and scooped using wooden paddles that resemble boat oars, not spatulas.
Each year one additional egg is added to the omelette (we're currently at 5,027 eggs) along with 50 pounds of onions, 6.5 gallons of milk, 52 pounds of butter, three boxes of salt and of course Tabasco to taste. After the meal is cooked, it's plated up so that every festival patron gets several forkfuls.
To learn more about Abbeville's Giant Omelette, visit www.giantomelette.org.
F is for Fashionable Frogs
When you think Rayne, you think frogs. You can't help it. Heck, the place adopted the moniker "The Frog Capital of the World."
Every year in November, the hopping town hosts the annual Frog Festival – a celebration of all things frog. Warm-up events include frog races and frog-jumping contests. But the main attraction is the Frog Derby. Essentially, it's a frog race, but the combatants are costumed in little outfits. Style points definitely count, so picking a cute, dazzling wardrobe for your frog is paramount.

For more information, visit www.raynefrogfestival.com.
G is for GPS
FedEx, UPS and the U.S. Postal Service. Yeah, sure, they are all pretty reliable. But they don't compare to Santa Claus' delivery record in the River Parishes on Christmas Day.
The reason?
Cajun GPS, of course.
On Christmas Eve in towns such as Lutcher, Gramercy and Hahnville, locals erect large wooden structures and light them on fire – mapping out the course for Santa Claus in what has come to be known as the Festival of the Bonfires. A standard wooden cone roughly 10 to 15 feet tall is the most common bonfire structure, though some use the tradition as an excuse to get artistic (for Christmas Eve in 2009 someone made a giant wooden New Orleans Saints football helmet). Adding a bit of mystery to the event is the fact that local historians are unsure when or why the unique practice started. St. James Parish issues more than 100 bonfire permits to local families each Christmas season.

Call the River Parishes Tourism Center at 800/367-7852 for more info.
H is for H2O
Ever been to a water park or marine animal show in which the audience members in the first couple of rows are warned they will get wet?
Well, at the annual Erath Water Wars, that warning is applicable to almost everybody. Step foot in downtown Erath on the Fourth of July, and you'll be wringing the water out of your shirt all afternoon.
Members from neighboring volunteer fire departments – decked out in full firefighting garb, including suits and headgear – stand roughly 50 feet apart like Wild West gunslingers, firing upon each other with fire hoses. Teams consist of six members: two to hold the hose nozzle, three to support the long hose and one "guide." Whichever team soaks the other more wins. And the splatter from the crossfire usually refreshes everyone in sight from the merciless, oppressive summer Acadiana heat.
For more information, call Erath Town Hall at 337/937-8401.
I is for Intoxicating
On the second weekend in May, the good folks of Mansura open their fine streets to everyone at the Cochon de Lait Festival, at which they crown the Sultan (and Sultaness, I guess) of Suds during the men's and women's beer-drinking contests.
The rules, as you might imagine, are pretty simple: Whoever downs the most cans of domestic beer in the allotted time is the champion. After a contestant finishes a 12-ounce can, the empty fallen soldier is turned upside down, making it easier to count. If the mass consumption of cold ones isn't your thing, perhaps the mass consumption of roasted suckling pig is – because that's exactly what this festival is all about. On the final day of the festival, a cochon de lait dinner is cooked by various chefs with the proceeds from each bought plate benefiting the Avoyelles Parish Fire Department.
Besides food and drink, the Cochon de Lait Festival also features an arts and crafts sale, a hog-calling contest, live bands and carnival rides.
To learn more about Mansura's yearly tradition, visit www.cochondelaitfestival.com.
J is for Jig
A traditional English folk dance with origins tracing back more than 500 years, the jig was adopted and slightly altered to correspond with Scottish and Irish music. The dance is normally performed in 2/4 time, but there are plenty of variations. Let's see: There are light jigs, slip jigs, single jigs and hop jigs to name a few.
And you'd better believe jigs are in abundance in downtown Lake Charles during the Celtic Nations Heritage Festival (November). The event has live music on indoor and outdoor stages, Celtic vendors, Celtic food and – to wash it all down – a Beer for a Year raffle. For more specifics, visit www.cnhf-la.org.

K is for Key Lime
When you think of Louisiana cuisine, certain sights and smells immediately come to mind. The subtle spice of étouffée. The decadence of bread pudding drizzled with rum sauce. Or the intense red color of an overflowing tray of boiled crawfish.
What you probably don't think about is pie. The good people of Lecompte would like to change that.
Located just south of Alexandria off Interstate 49, Lecompte has been a popular pit stop for motorists for decades because of the quaint, welcoming and most of all delicious Lea's Lunchbox – a diner renowned for its selection of pies. A lot of people just skip the formality of lunch or dinner and dive right in to dessert. Because of Lea's success, Lecompte is known as "The Pie Capital of Louisiana."
To celebrate that distinction, the town holds the Pie Festival every October. While there are a couple of musicians that perform at the fest, the real stars of the show are such well-known acts as apple, cherry, custard, pecan, blueberry, chocolate silk, peach and key lime.
For more information about the Pie Fest, call 318/776-5488.
L is for LOUISIANA Tournoi
For lack of a more eloquent word, one of the "coolest" spectacles is held in Ville Platte every year in conjunction with the town's Cotton Festival (October): Le Tournoi.
The old-time sport was introduced to Ville Platte in the 1800s by Major Marcellin Garand of France, an officer in Napoleon's army. Today, competitors dress in traditional armor and mount quarter horses. Holding a long, slender lance, the competitors try to spear and retain seven small rings that are suspended from posts along the semicircular track.
The seven rings symbolize the seven enemies of cotton: flood, drought, boll weevil, boll worm, silk, rayon and nylon. The knights run three heats each to decide the champion. The Tournoi Queen then bestows the prizes on the winners. To learn more about Le Tournoi, visit www.louisianatournoi.com.
M is for Master Pincher
All hail the Royal Family!
No, we're not talking about the queen, Charles, Kate or Prince William. And no, you won't see this Royal Family peering from glossy tabloid covers next to the gum at Piggly Wiggly. This is the Cajun Royal Family, crowned each year at Breaux Bridge's renowned Crawfish Festival (May).
While many festivals anoint an honorary king or queen, the Crawfish Festival is represented by an intricate monarchical tree. Of course, we'll start with the standard Crawfish King and Queen. But from there, the Crawfish Festival has six Ecrevettes who serve as festival ambassadors year-round. There's a Junior Crawfish Queen for girls ages 7 to 10. Then, there's the Master Pincher and Little Miss Pincher, who range from ages 4 to 6 and must reside in the Breaux Bridge school district. And last but certainly not least, the Crawfish Festival royalty includes newborn-to-toddler Baby Pinchers.
To learn all about the Crawfish Festival in "The Crawfish Capital of the World," visit www.bbcrawfishfest.com.
N is for Never Stop Chewing
On your marks … get set … eat!
Forget the Super Bowl. At Acadiana's festivals, we have the Super Bowl, Super Plate and Super Tray – just a couple of the "playing surfaces" used at competitive eating contests.
Most every festival named after a food hosts a gluttonous contest. The Rice Festival in Crowley (see letter W) has a rice-eating contest. The Crawfish Festival in Breaux Bridge (see letter M) has a crawfish-eating contest. Mansura's Cochon de Lait Festival (see letter I) has a boudin-eating contest and the aforementioned beer-drinking contest, plus many other competitions to push your gastric limits. To winners go bragging rights and a couple of Pepto-Bismol tablets. For those wishing to prove they have superior stomachs, the best bet is to check the schedule of events at the festival you plan to attend to see if it offers eating competitions.
O is for Oily Oinker
No, there's no need to rub your eyes or schedule a visit with the optometrist any time soon because at the Swine Festival in Basile, seeing is believing – yes, those are beauty queens chasing after a greased pig.
Festival pageants are hardly unique. In fact, most every Acadiana festival of prominence conducts one. A couple of those festival queens even garner automatic invites to the Miss Louisiana pageant. So these pageants are kind of a big deal – very proper, very competitive and very pressure-packed. At the Swine Festival, though, the dolled-up belles dressed in their gowns take a break to get a little dirt underneath their painted nails by chasing a squealing, wiggling, greased little pig. There's a greased pig contest for children, too.
The Swine Festival is held annually in early November. Visit www.laswinefestival.com for the particulars.
P is for Pins
In 25 short but glorious years, Lafayette's Festival International de Louisiane (April) has blossomed into a can't-miss, must-see weekend. The entire downtown area is engulfed by multiple music stages, dozens of vendors and a bounty of people-watching opportunities – all of which has exalted Festival International into the cultural showcase for Lafayette and arguably the Acadiana region as a whole. Always sharing dates with the New Orleans Jazz & Heritage Festival, Festival International has lured away some Fair Grounds regulars in recent years because of the diversity of musical acts, the less-hectic scene and the ample oasis of shade to be found downtown.
Oh, and unlike Jazz Fest, Festival International is free!
To help with the cost of putting on such a top-shelf event, festival organizers encourage patrons to purchase the official Festival International Cloisonne Pin – a bright, colorful and artistic souvenir that is done in a different design each year.
"We are grateful for the overwhelming community support we receive during the festival and all year-round," Executive Director Dana Canedo says. "We are able to keep it free with the help of our sponsors and patrons who purchase our collector pins. Buy a pin, and wear it as a symbol of support for the festival … of support for our community's heritage."
New collectors can check out and purchase past pins at shop.festivalinternational.com. For general Festival International information, including a list of performers, go to www.festivalinternational.com.
Q is for Quack
As the sun awakens from an evening slumber, duck-hunters across South Louisiana sit quietly in marsh blinds, their excitement muted so as not to disturb nature. Marked on men's (and some women's) calendars for months, duck season in Acadiana is a revered time in the wetland areas of Cameron Parish. Tiny camps supported on four humble posts come alive with tales from the hunt – the ones they nabbed and the ones that flew away.
To attract ducks, hunters strategically place decoys on the water and belt out duck calls. That skill – or art form, as avid duck-hunters would argue – is tested annually at the Gueydan Duck Festival (August), the host of the Louisiana Duck and Goose Calling Contest.
This isn't some cutesy contest. This is serious stuff. The contest, organized and sanctioned by the World Duck Calling Contest Committee, is divided into three categories: Blue & Snow Goose, Speckle-belly Goose and of course Duck. Winners (who must prove they are Louisiana residents – told you this was serious!) move on to represent Louisiana in the world championship held in Stuttgart, Ark.
To learn more about the contest or the rest the festival, go to www.duckfestival.org.
R is for Rubber Ducks
Let's stick with the duck theme, shall we?
At the annual Thibodeauxville Fall Festival held in the streets of downtown Thibodaux, the term "lucky duck" has never been more literal as cash prizes are awarded at the headlining event – the Rubber Duck Race.
Festival-goers can purchase race tickets at various booths, but it's not wise to wait until the last minute as they usually sell out quickly. Each ticket has a number printed on it: 1 through 1,500. That number corresponds with a number stamped on the bottom of 1,500 identical rubber ducks (no fixing or enhancements here) that are released into Bayou Lafourche. Fans watch the large swath of yellow toys float downstream to the finish line. Festival officials pluck the top finishers and announce the numbers. If the number of the winning duck matches your ticket, then you claim a substantial cash prize (first place in 2010 took home $1,000). Smaller cash amounts are given to second and third place.
Known to attract more than 10,000 visitors per festival, the Thibodeauxville Fall Festival is held in mid-November. For more information about the duck race and other activities, contact the Thibodaux Chamber of Commerce at 985/446-1187.
S is for Supreme Cuisine
Generally, Acadiana festivals are reserved for fun. Dancing. Gaming. Cheering. Laughing.
But there are times when it's strictly business – tense, serious moments. That's when the competition gets cooking, literally.
It's not surprising given the importance food plays in Cajun culture that several festivals stage (and some are solely devoted to) cook-offs.
The best shrimp dish is judged and awarded at Delcambre's Shrimp Festival (August). Top honors in crawfish étouffée are given out each year in a cook-off in Eunice (March). There are black pots aplenty at the Gonzales Jambalaya Festival (May) cook-off. The Gueydan Duck Festival (see letter Q) takes the chefs to outdoor cookers to see who prepares the best duck and/or goose dish.
Full yet? Wait, there's more!
The Smoked Meat Festival in Ville Platte (June) crowns the best smoker of meat. Yams are prepared in every which way for judges at the Yambilee Festival in Opelousas (see letter Y). And the best chefs in Southwest Louisiana flex their kitchen muscles at the Calca-chew Food Festival in Lake Charles (September).
T is for Tending to Teddy
"Teddy, the doctor will see you now."
Much like our pets, stuffed animals inhabit a sentimental place in all our hearts. We just can't let them go, no matter how beat-up, torn-up, chewed-up or disfigured they've become over the years.
Thankfully, there's good news for these ailing plush toys.
Every year in Franklin at the Black Bear and Birding Festival (April), Dr. Donna Tesi opens a free walk-in clinic to mend the material wounds of stuffed animals. Dr. Tesi (yes, she's an actual doctor – a surgeon, in fact, whose practice is located in Franklin) welcomes all types: teddy bears, snakes, monkeys, a couple of elephants and even a giraffe. Sewing on a replacement eye or button and stitching up some protruding stuffing are just a few of the services offered.
"Being that it's the Bear Festival and most stuffed animals are bears, it just kind of made sense," says Regina Wiese of Cajun Coast Tourism. "Dr. Tesi takes good care of those loved ones, and it's become a popular feature year-in and year-out. And it's definitely unique."
The relatively new festival is held in downtown Franklin. Dr. Tesi's stuffed animal clinic is contained in the Cub Club Arena. For more info on the Bear Festival, visit www.bayoutechebearfest.org.
U is for Uber-fun
On the first weekend of October, the citizens of Roberts Cove willkommen everyone to their annual Germanfest, held on the grounds of St. Leo IV Church.
With German food and music in abundance, the fun starts with a Kinder Aufrit (a children's singing and dancing activity) and continues with folklore presentations, folk music bands and folk dancing all underneath the festival's big tent. Since the event's creation in 1995, many organizers dress in traditional German clothing for the festival and encourage patrons to visit the German Heritage Museum on Roberts Cove Road. For more specifics, visit www.robertscovegermanfest.com.
V is for Voice of the People
How fitting that on July Fourth – the most patriotic of days –the citizens of Pointe Coupee Parish celebrate their freedom by turning the False River into a floating First Amendment exhibition.
In recent years, participants in the community's annual Fourth of July Boat Festival started adorning their vessels with mocking tributes to the hot-button issues of the day. For instance, in 2009 the festival's theme was "What does Wall Street mean to you?" after the collapse of the financial markets and subsequent government bailout. One festival pontoon boat was decked out in tombstones reading, "Here lies my 401K" and "Here lies my retirement fund." These nautical patriots showed off their creative capabilities again in 2010 when the theme was "What does BP mean to you?"
W is for White Rice
Welcome to Crowley where, as residents like to say, "The Living is Rice and Easy."
When it comes to a community deriving much of its identity from a particular food, Crowley's attachment to rice rivals Breaux Bridge's connection to crawfish. And each year Crowley showcases its signature crop at the International Rice Festival held downtown.
The first Rice Festival was held in 1927 and took place in conjunction with Armistice celebrations. Sol "The Rice Wizard" Wright, the man who founded the Crystal Rice Plantation in 1890, was the easy choice as inaugural king of the Rice Festival.
Today's Rice Festival is just a tad more elaborate than those earlier efforts, complete with classic car shows, a 5K run, three days' worth of bands performing on two separate stages, a parade and fiddle and accordion contests along with various carnival rides and vendor booths. Held in October, the Rice Festival's full listing of events can be found at www.ricefestival.com.
X is for X Marks the Spot
This pirate-themed, two-week festival was founded more than a half-century ago and has grown up to be one of the most visited events in all of Southwest Louisiana.
The Contraband Festival (May) got its name from Contraband Bayou – the favorite hideout of notoriously ruthless yet strangely celebrated pirate Jean Lafitte.
Legend has it that Lafitte buried treasure around Lake Charles while fleeing from enemy ships.
Besides the standard music and food found at basically every Louisiana festival, Contraband Days showcases many pirate-centric activities. On some nights an audience gathers as festival volunteers dressed as pirates fire cannons and storm the seawall. Those same pirates stage a parade before making the mayor of Lake Charles "walk the plank."
For more information about Lake Charles' Contraband Days, visit www.contrabanddays.com.
Y is for Yaminal
At the Yam Festival in Opelousas – beg your pardon, it's actually called the Yambilee – creativity runs wild as patrons add another crop of species to the Yaminal Kingdom.
What's a Yaminal, you ask? Well, it's a play on the word "animal," for starters. Using items such as pipe cleaners, feathers, construction paper and Play-Doh, Yaminal contest participants mold and shape curious critters using a yam as the base (usually the head or body).
Besides the Yaminal contest, the Yambilee features carnival rides, cooking contests, a beauty pageant and other fun activities.
Held every October, the Yambilee has its own Web site,www.yambilee.com.
Z is for Zydeco Junkies
Zydeco, the caffeinated cousin of standard Cajun music, can be heard at just about every Acadiana festival. But for those who just can't get enough of the toe-tapping beats, the Opelousas area holds a festival solely devoted to honoring the musical art form – the Southwest Louisiana Zydeco Festival (September).
On the festival's opening night, a parade rolls through town and ends up at Slim's Y-Ki-Ki, a zydeco institution that's short on aesthetic frills but more than makes up for it with character, authenticity and a who's who list of live zydeco performances throughout the years. The following day, a stream of zydeco performers hits the stage at Zydeco Park in Plaisance.
For more info about the Zydeco Festival, visit www.zydeco.org.