Les personnes: Man at the Mic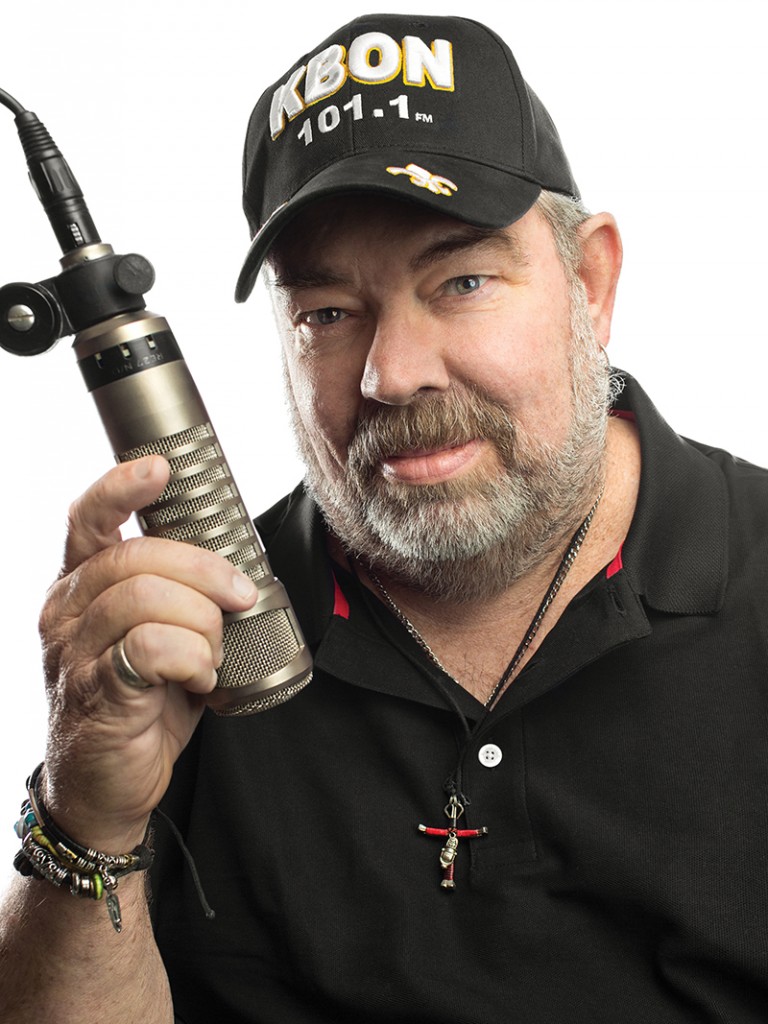 It's 5:50 a.m. in mostly-still-sleeping Eunice, and though the ON-AIR studio light won't flash red for another 10 minutes, the show — now in its 41st year — has already begun.
Though beloved KBON radio DJ Hoss Childress is a proud lifer of this aging art form, he's nervously darting around and fiddling with everything like he's a new hire.
Stacking cue cards, all aligned, not a single corner poking out. Tilting the monitor down juuuuust so.  Wait, too much. Tilting the monitor back up juuuust a little. There. Perfect.  Turn the coffee mug handle so it's facing 90 degrees left.
"My wife, Tisha, will tell you, I'm as OCD as they come," Childress says, almost like a disclaimer.
Simply put the man behind the mic has a routine, which is fitting since for so many in Acadiana that same man is part of their daily routine.
Up until noon on weekdays, Childress' commanding yet pleasant voice can be heard in between Cajun and Zydeco songs on cultural purveyor and radio station KBON 101.1 FM — the latest spot on an accomplished resume where the call letters at all the places he's worked  resemble a bowl of Alphabet Soup. As terrestrial radio becomes more syndicated and homogenized, Childress stands out from the cookie-cutter crowd. That's part of his appeal. He talks like us. Acts like us. Cares like us. Because he's one of us — a "south of the tracks" kid from Crowley who grew up singing in the Sunday choir and attending the same elementary school as music legends Wayne Toups and Lee Benoit. . 
"You learn early on — especially at this radio station — that you're a part of people's day," Childress says. "You're there when they wake up. You're there for breakfast. You're there for the coffee break. For the rides to school. The listeners are letting you be a part of their lives, their morning, and that's something serious.
"And you realize how serious it is, oddly enough, during a technical difficulty — when something out of your control happens. Man, it's like a panic when you're off the air! Or, I have people tell me, 'I let the kids ride in the front seat, but I warn them not touch the radio, because I have to listen to KBON in the morning. It's on KBON. It stays on KBON.'
"So yes, it's an honor and a responsibility."
Like many cutting their teeth in the business, Childress' start on the air wasn't loaded with fanfare. During the summer of 1978, Childress worked part-time at the local contemporary Christian music station, KAJN, before headed off to his freshman year of college out of state. After completing one semester, the 18-year-old Childress returned back to Louisiana with a job offer and a decision to make – take over KAJN's midnight to 6 a.m. graveyard shift, or stay in school.
Childress took the gig.
Somewhat surprisingly, Childress says nerves really didn't surface during his on-air infancy. Speaking in a microphone, back then in a smoke-stained studio, just felt natural.
"It's strange, and it's still this way today, if I go into a crowded room and am around a bunch of people, I'm not great speaking off the cuff," Childress explains. "But if I have a platform, and I have a mic in my hand, the words just come out naturally. I don't know how or why that is, but it's always been that way.
"The microphone allows me to open up, speak about things, and just be the voice you hear in your car, or at work, or driving the kids to school."
Childress' likable energy has been a fixture around town even when listeners turn off the dial. In his early days, he collected a few records and spun them at weddings and graduations to supplement his on-air income. In the 1990s, every Saturday night, he hosted club nights at Cowboys in Scott, just off the interstate. And even today, Childress lends his talented pipes to public announcement duties at various University of Louisiana at Lafayette sporting events.
But what he's most known for is manning the mornings at KBON — a job he calls "an honor" when station founder Paul Marx invited him onboard six years ago. A lover of local music, Childress has musicians in studio a couple times a week to talk about upcoming shows or new albums — an in-person sitting in which the interview comes off like two old friends catching up rather than a stiff ask-and-answer volley. 
"My style has evolved, yes, but more specifically my style is still evolving to this day," Childress says. "Getting too comfortable, you'll develop bad habits. Now, my voice stays the same, but my technique keeps growing, for sure.
I mean, I started this when I was 18 years old, so yeah I'm one of those old guys who put vinyl on the platter," Childress says. "I went reel-to-reel, even. No CDs. No digital like it is now. So yeah, things have changed over the years, man. And you have to change with them or otherwise you get left behind."
---
Q+A: HOSS CHILDRESS
❶ WHERE DID YOUR LOVE OF MUSIC FIRST DEVELOP?
On my mother's side, I was raised in a very religious family — Assembly of God — so I've been under a pew since birth and involved with church-related things like choir. My voice changed pretty early, so I joined up with a man name Charles Hanks, who started a small gospel quartet called The Gospel Lights. I sang bass with them for five years, starting when I was 12 years old.
❷ IS THE VOICE LISTENERS HEAR ON THE RADIO THE SAME VOICE THEY'D HEAR IF THEY MET YOU OUT IN PUBLIC?
To me, all the disc jockeys that I heard growing up — disc jockeys that were my heroes — were all natural when they spoke. I didn't like disc jockeys that spoke like Radio Guy. 'Hey, we're giving away tickets to the ninth caller! And I'm changing my voice!' Those, from the early days, drove me crazy because it was so fake and so phony.
❸ WHAT MAKES THE KBON JOB UNIQUE?
It has to be the listeners. They're as loyal as they come, and they're as involved as they come. It's a station where wishing the listeners happy birthday, and announcing anniversaries is a big deal — and we do that every day. Our listeners drive our format and drive our sound.