Les Personnes: A Collective Effort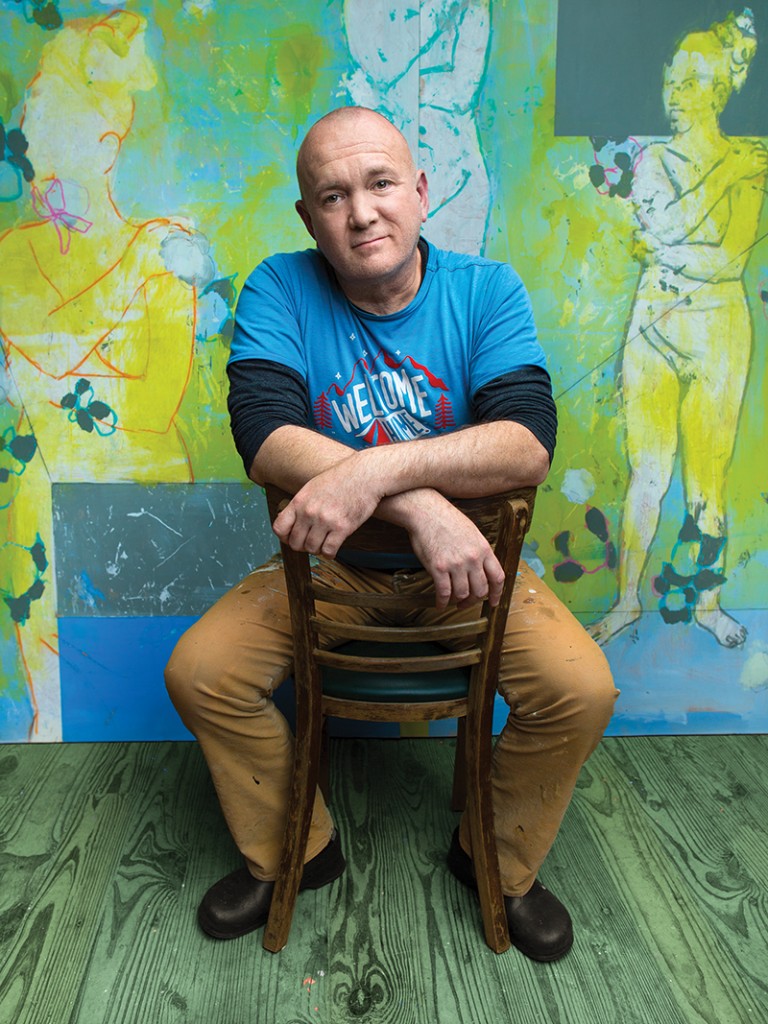 In the spirit of complete transparency, Arnaudville artist and social sculptor George Marks feels it's prudent to point out that this — a shining example of creative placemaking done right — wasn't exactly what he had in mind back in 2005, both in execution and intention.
And frankly, thank goodness.
Because if life followed script, the seedling of an idea and sweat equity Marks and his nephew Jeremy Rivette spilled into NUNU Collective — a before-its-time educational nonprofit where artists from various disciplines can collaborate and grow together on this unique figurative stage for creative living — likely would have been lost to personal aspirations.
After a fairly distinguished decade-plus run as an artist based out of Baton Rouge, Marks pressed pause for a minute on his aspirations of making it in a larger art hub like New York City to temporarily move back to Arnaudville and take care of his ailing father, an old boat captain nicknamed Nunu. Considering Marks was always given carte blanche as the baby of the family, he felt assisting the man who raised him was the type of responsibility that was probably long overdue.
So he did it. Again, nothing permanent.
"Then, when I moved back, I started to realize a lot of the imagery that snuck up in my work — like power lines, for example — came from right here," Marks says. "So when the inspiration for so much of my work is coming from this place, why wouldn't I stay? The thing I was looking for out there in the world was actually right here in Arnaudville.
"Initially, there was some denial. So there were multiple 'ah-ha' moments. But I realized, if I was going to live here, something needed to shift."
Despite forging an art career less than an hour from his hometown, Marks' impromptu homecoming magnified time's ability to fade away the familiar. Not that the Arnaudville of Marks' youth was Pleasantville by any stretch, but this place was different.
A lot of the town's physical infrastructure, particularly old buildings, was knocked down in the name of progress. Beyond that, Marks sense a lost feeling of community. As he says, it seemed like "Arnaudville was on auto-pilot" — that people would go to work, go to school, come home and engage with TV instead of each other.
So yeah, something needed to shift.
But what … well, Marks wasn't quite sure. Plus, he knew that change is a process.
Early in 2005, Marks purchased an old, out-of-business gas station with the modest intention of transforming it into a shared workspace with other artists, and the springboard toward a semi-regular art market. When the equally shabby old Western Auto building next door became available, Marks took it on, too — seizing opportunity to expand even if his overall plan wasn't fully developed.
"It was pretty disgusting, honestly," Marks recalls of the new space next door. "And once we got it clean, the place was total piecemeal. Nothing really matched, although it kind of looked good — artsy. At that's when we coined the concept that 'We're frayed and we're flawed.' And that's what makes us authentic and that's what we celebrate.
"And that's something, over time, the community picked up on."
The exodus of artists from New Orleans after Hurricane Katrina expedited the progression of NUNU, as Marks and crew developed raw areas of the building into makeshift studios for five displaced artists looking for a spot to create. As Arnaudville began to embrace Marks' still-not-fully-defined vision, the reach of NUNU extended beyond traditional painting and sculpting, resulting in a cornucopia of programming.
For instance, for a long time, NUNU featured "Fabric Fridays" because Marks' third grade teacher came in and told her former student she'd like to learn how to quilt. Marks replied, "Well, let's do it" — which is pretty much on-brand for most questions thrown his way. But it didn't stop there. Fabric Fridays evolved into "Cloth Collaborators," a weekly Friday program where artists not only make quilts, crochet clothes and make cloth jewelry, but also use brown cotton grown and ginned by NUNU volunteers.
"What we try to do is layer programming," Marks says. "And what I mean by that is the building right now is cut in half. We have a few sliding doors that can portion off sides. So we'll have a French program going on one side, and a Chinese program going on on the other side. And then at some point, we'll open the sliding doors and allow the cultures to merge. It allows them to experience each other's language, each other's food.
"So there's community development, yes, but there's also bridge-building happening between cultures, which is great."
Over the 15 years NUNU has been around — and especially since the project moved into its current location (a former hardware store) after a fire knocked out the original NUNUs back in 2010 — Marks has ceded a lot of the creative control to the members and volunteers that make NUNU what it is. Though never run as a tourist attraction, it's undeniable that NUNU has breathed new life into the local economy as local sales tax has substantially increased since its founding.
Speaking of money, NUNU does receive occasional donations, but the majority of the funds used to run the nonprofit's 200 programs comes from the commission the collective takes from ideas sold at its four-days-a-week Marketplace — the percentage of that commission lessened for artists who mainly work out of the nonprofit, since Marks wants to encourage creators to make this a destination, not just a pit stop.
"I like to think of the community as kinetic sculpture — a social experiment, or social sculpture," Marks says. "There wasn't a manual and there weren't instructions on how to do this. So we just did it — celebrate the accidental," Marks says. "Like with my paintings, if I spill something, it'll just remain in my work. NUNU is like that. It's like throwing spaghetti at the wall and some of it sticks and some of it falls off and you don't know what's what, and the end result isn't what you thought — but that makes it better. And that's what makes what the community is doing with NUNU a living piece of art."
---
Three years after suffering severe damage to one of its auxiliary buildings, NUNU Arts and Culture Collective is renovating its main building to make up for the loss in space. Half of the $100,000 redesign was raised through an art raffle fundraiser.
---
Calendar
April 2020
These are just some of the activities going on either at NUNU in Arnaudville or involving the collective this month. For full calendar and information, visit nunuaccollective.homesteadcloud.com.
EVERY THURSDAY, FRIDAY, SATURDAY AND SUNDAY
NUNU Marketplace
An art market that runs from 11 a.m. to 4 p.m. featuring artists from various arenas and disciplines. Works include original local art, written works from local authors, quilts and crocheted clothing items, re-purposed vintage clothing, plus locally created jewelry and pottery.
EVERY FRIDAY (April 3, 10, 17, 24)
Cloth Collaborators
This weekly gathering, which runs at the same time as the Marketplace on Fridays, explores the "warp and weave" of fabric as art. Current projects include fabric embellishment, encaustic wax printing on fabric, cloth re-purposing and fabric jewelry. Newcomers are encouraged to bring materials so that they can begin their own project of fabric art.
SATURDAY APRIL 11 (2 p.m. to 4 p.m.)
La Table Creole
La Table Atakapas-Ishak is one of four monthly DICI (Diversity Initiative for Cultural Inclusion) events planned for 2020. Each second Saturday of the month, invited cultural ambassadors host gatherings that share experiences and expertise, participate in language learning, and develop participants' skills in a variety of cultural expressions. The public is invited to attend and meet neighbors they may not yet know.
FRIDAY APRIL 17 (7 p.m. to 11 p.m.)
Potluck Dinner
A social event to discuss art, or simply kick back and relax over food. Entrance is free if you bring your favorite homemade dish. The Pot Luck Band will play music. Dancing is encouraged.
---