Les Artistes: Piecing It Together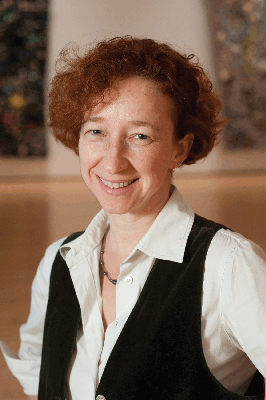 There are no acrylic purples or pinks on the artist's palette, just Goodwill prom dresses and wholesale panties – like 400 pairs of them. Big ones, too. Made in China. Shawne Major bought them on eBay a couple of years ago, figuring they'd serve the dual purpose of providing a base layer and symbolism for an expansive 9-foot-by-14-foot piece on the excesses of consumerism.
"I buy all sorts of weird stuff, though it's not weird to me because I know the connection it provides for the statement I'm trying to make," Major says. "But I can't imagine what the seller at the other end is thinking."
For such a predominantly rural area, Acadiana's art scene must seem surprisingly robust to outsiders, without a doubt a healthy artery attached to the cultural heart of the region, along with music, cuisine, language and traditions. You've got your landscape painters and your portrait painters and your photographers and a couple of decent sculptors.
Then there's Shawne Major, who's not really any of those things.
Her conceptual pieces (which are usually enormous) can be loosely classified as texture-rich tapestries where a hodgepodge of items co-exists in chaotic harmony to collectively express a broader message or feeling. To get an idea of the depth of clutter woven into these creations, here's a list of the things comprising Major's 2012 piece titled Maelstrom: electrical cords; chain; plush toys; beads; plastic toys including snakes, bats, horses, balls and Frisbees; costume jewelry; baby shoes; shell necklaces; ribbon; braid; a dissected umbrella; dog collars; Christmas lights; scarves; plastic tubing; an oxygen mask; dolls; sprinkler tubing; hats; a dissected crocheted afghan; and doll hair sewn onto a base of prom and bridesmaid dresses on poultry netting.
"There's so much junk being made now that it's an obvious choice," Major says. "It seems like a vernacular language – everyone can relate to little plastic cars, even if they hate them. I like to use recognizable objects because there's a response to it – stuff you played with or stuff you had to throw out.
"The work is undoubtedly abstract.
But at the same time, you can go in and find a relationship with elements within the exhibit because you know them."
The intensity of Major's collages eliminates any chance of museum-goers giving her gallery pieces a halfhearted glance while strolling. First, the sheer size and splash of color freeze you. Standing at a distance, patrons are able to absorb the entirety of the artist's vision. After that, natural curiosity draws you in as your eyes beg to dissect all the components while pondering what it all means.
"Sometimes it's political; sometimes it's personal," Major says. "I don't have a problem with people who want to know why I make the work, [but] I don't feel that's important. I think it's important that they interact with the work at some level, but I don't think they need to know what was going on in my head when I made the work. Everyone should get their own experience out of it. I don't like work that you can look at once and 'get.' I'd prefer you get something new from it each time you look at it."
Exhibits featuring Major's talent have been housed at the Chicago Cultural Center, the Ogden Museum of Southern Art in New Orleans, the Marcia Wood Gallery in Atlanta and most recently the Paul and Lulu Hilliard University Art Museum in Lafayette – a homecoming of sorts, for it was while Major attended University of Southwestern Louisiana (now ULL) that she first veered from the typical artistic path. Originally, Major was simply a painter who worked in acrylics. The thick composition of the paint doubled as a quasi-adhesive as Major, enabled by the free-rein style of mentor Allan Jones, pressed an item onto the canvas. Major can't remember what her "gateway" object was (a button, she guesses), but the initial experimentation turned into a habit.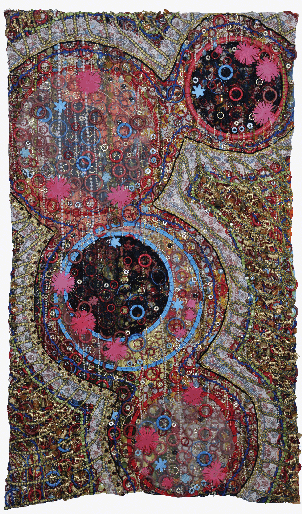 After awhile, she ditched the paint altogether. The objects, she says, intrigued her more than globs of orange or yellow ever did. The only obstacle preventing Major from switching media completely was how to adhere these random objects together without a base canvas? Glue would obviously do the trick, but Major wanted the attachment process to be both functional and emblematic. As a child reared in New Iberia, Major watched her grandmother and other friends and relatives tackle craft projects with a needle and thread, so she decided to do the same – to sew the objects and materials together.
"I'm not a seamstress by any means," Major says. "I can't really use a sewing machine, but I've always sewed. I had great-aunts who sewed, and they'd come over with my grandmother, and they'd show me what they were working on. So sewing seemed like an appropriate method because it related to my experience. It felt like a language that I could speak with. My work isn't about the adhering process, but it's more like the accent to the language I use."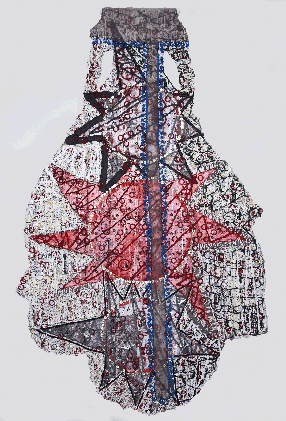 Because of the extensive gathering-and-construction phase, Major's pieces take anywhere from six months to several years to finish. Given the time period, Major tries to obey a set of self-made rules – perhaps to stick with red objects or linear objects – so as to not wander too far from her initial inspiration, though she confesses those rules are often broken.
"I'm not using raw materials," Major says. "I'm not using wood or anything virginal. The objects have significance already. Somebody made it. Somebody chose the color for it. Somebody said, 'This is done.' What I love is making those finished products create a new sense of symbolism. Let them be something else – even if that something else is just a feeling or an emotion. Let them speak to people and speak another language other than their original function."