Les artistes: Energy All Her Own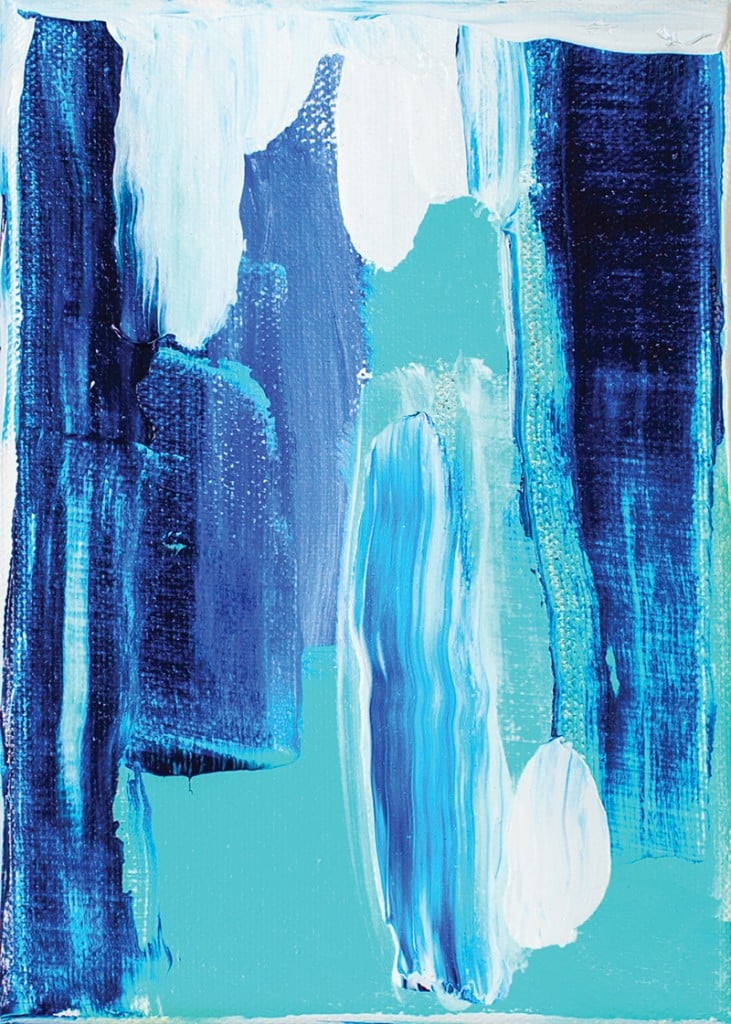 Familiar scenes of the industrial heartbeat of South Louisiana play out in unexpected colors and tones, as artist Hannah Smith Mason — whose life has always been tied to the energy sector — reimagines the instantly recognizable with each impressionist brushstroke.
What arose from a simple "Hey, why don't you paint some oil rigs?" suggestion from her father, Randy, has blossomed into Mason's signature series, the most recent entry being her painting of an offshore oil rig at sunrise for the 2019 LAGCOE Convention poster in New Orleans this past October. In a palette knife and acrylic-on-canvas piece, harmonized textured blends of yellow, pink and sky blue create a sense of movement on the water and includes a standby boat and helicopter along with the platform rig to recognize the service and support aspect of oil and gas.
"My main goal was to do something memorable and different," Mason says. "When I looked at the LAGCOE posters of the past, they were very masculine, very dark, although still beautiful. I wanted to use colors that inspired hope, and colors that represented the LAGCOE theme of 'The Future of Energy.' To me, the future of this industry is bright."
If anyone should know, it's Mason. From birth (and now as a mother of three) she's been in an oilfield family. Because of the transient nature of the industry, Mason has constructed makeshift art studios for herself in a variety of locations — the dining room table when they lived in Houston, the basement when her husband, Marcus, was relocated to Pittsburgh, the spare bedroom when they moved to Denver.
It wasn't until Mason relocated back to Lafayette in 2014 that she considered capturing the rugged brilliance of the oilfield in her work.
"I have a style, yes, but I paint for my audience and I paint for the buyer," Mason says. "And when I get commissioned to paint an oil rig, the buyer wants to remember the journey and the result — because there's a lot that goes into drilling. The cost. The time. The effort. The risk involved. It consumes you and it's all on the line.
"You know, I'll probably never be asked to paint a dry hole, but if you hit pay dirt, that's a memory you'll never forget," Mason continues. "The painting, in that sense, becomes a trophy and that's great to know that's how they view your work. 'Hey, see that well up there on the wall? I made a few million dollars on that well.'"
---
Q+A: HANNAH SMITH MASON
❶ WHO WAS YOUR EARLIEST ARTISTIC INFLUENCE?
My grandmother. She had a knack for drawing and painting, although she never tried to sell her work. But I remember sitting at the kitchen table with her, doodling and drawing, and she'd compliment my work, which made me think I was good at it.
❷ WHEN DID THE IDEA OF 'BEING AN ARTIST' FIRST MATERIALIZE FOR YOU?
"You know, when I was 23 years old, I moved to Los Angeles and I was doing dictation. Dictation wasn't really me, so I was looking for something else, and that's when I connected with Dr. Phil's publicist and took a tour of the Paramount lot and landed a job working for the executive producer of the "Dr. Phil" show. Getting there, it opened my eyes. I never realized you could make a big living off of being creative and artistic. These were working artists who weren't starving. It gave me hope that art is appreciated.
❸ WHAT IS IT YOU LOVE ABOUT PAINTING?
The art I do really allows me to give back. I love having my art included to promote things, to fundraise, to be included in charity auctions and things like that. When we can, we donate money, but we can also donate paintings and have the sale go directly to the cause.
---