Les Artistes: Affairs of the (He)art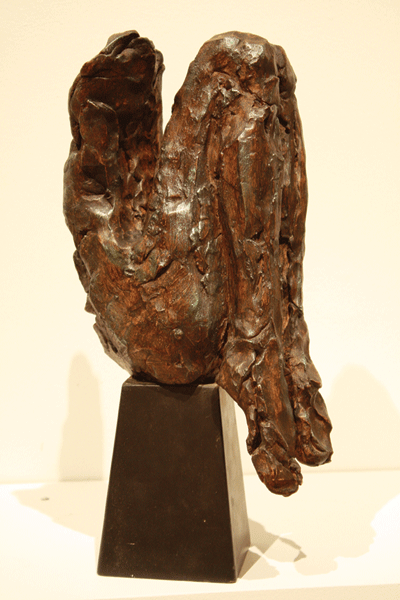 The secret to a happy, healthy marriage is too wide to carry, too heavy to lift.
It can be cut by chain saw, sculpted by chisel or smoothed by two of pairs of hands – one delicate, one calloused. The secret is sometimes made of wood, sometimes of aluminum, sometimes of glass, depending on the artistic climate. The secret is better measured in tons, not pounds, in yards, not inches.
According to Mike and Andree Stansbury of Lafayette – the keepers of the secret – much of the inspiration is borrowed from the delicate dance of the sea, figurative snapshots of nature's brilliance observed on countless husband-and-wife scuba diving trips over the years. Unlike the magnificent and immense abstract pieces of art they've created, the Stansburys' secret is not open for interpretation. It's clear. It's simple. And finally, after more than a half-century, they've decided to share it with Acadiana.
"You look at our 55 years [together] and you can trace back our days as a couple through the art we've done – and we've done so much," Andree says with the whimsical tone of someone with a crush. "Now, going back and looking at our work, it's not easy for us to remember what year we completed a piece. We'll look at it and say, 'Now, when the heck did we do that?' But the dates aren't important. Whenever it was, whatever the exact date, we did it together. It's what connects us and what we love. It's our love story."
The secret's never been about money (though they've earned some) or commissions (though they've landed some) or attention or adulation (though they've garnered some), but at the urging of Acadiana Center of the Arts Executive Director Dr. Gerd Wuestemann, the Stansburys agreed to loan their work to the downtown gallery for a long-overdue exhibition. The autumn display was appropriately titled Art Affair and wowed crowds with its diversity, scope and splendor – an artistic sampler platter, if you will.
On one wall hung The Reef, a 20-foot-long stretch of entangled aluminum bearing a resemblance to the strands of coral found in tropical waters. Nearby, Mike and Andree offer a respite from the contemporary with their collection of nature photography, particularly just-hatched birds being attended to in their nest.
Pinning down a theme was next-to-impossible as the rest of the gallery was occupied by a mishmash of art ranging from the raw to the refined: framed paintings in one section and elaborate displays of glass, wooden and metallic sculptures in another.
"Most of our time in the art field has been spent exploring," Mike says. "We've dabbled a lot and never put restrictions on ourselves. I guess that's because we've always kept one eye open for art because you never know where you might find it. When we see the potential in any material, we express that interest to the other. If the interest is mutual, we go after it. We can't survive without a project going."
…..
The secret to a happy, healthy marriage sprouted in the last place you'd think.
While a chance encounter at a museum or a random sitting-next-to in a painting class would have been a logical launching point for an artistic tandem that has spent the years connecting through creating, Mike and Andree met instead at a bowling alley in 1956. Yes, a bowling alley – Mike mustering up the courage to talk to Andree between frames amongst the pin clatter.
On paper, it seemed the pair couldn't have been more opposite.
Andree came from a family of artists. She'd spent her days painting and sketching from the time she was 7 years old. In fact, a self-portrait done by the budding artist at age 13 still hangs in the Stansburys' Lafayette home. In time, Andree's artistic horizons expanded to include contemporary art.
Mike, on the other hand, rose from a small gym in Abbeville to become one of Acadiana's body-building pioneers, popularizing competitive weight lifting in the area. In 1949, he got the Amateur Athletic Union, or AAU, to sponsor the first organized weight lifting meet in South Louisiana. Mike also assembled a weight lifting team called "Mike's Gym" composed mainly of local college students attending Southwestern Louisiana Institute (present-day University of Louisiana – Lafayette). Those Lafayette-based teams went on to win eight collegiate weight lifting national championships between 1956 and 1971. While all of this was going on, Mike opened a gym on Jefferson Boulevard and employed present-day local icon Red Lerille, who would later open his own gym a couple of years later.
Somehow, though, Mike and Andree found a common bond – art.
"I never really viewed [Mike] like [a typical jock] because everything was so natural," Andree says.
After a brief courtship, the two married that same calendar year. They enrolled in college art classes, ending with Mike getting a third bachelor's degree.
"Some of our sculptures are influenced greatly by shapes and by balance and space, and weight lifting has many parallels," Mike says. "You were taught balance and arrangement of mass and heavy objects – all of that has to do with art – but just in a different way."
…..
The secret to a happy, healthy marriage is hard to explain, so hard to explain in fact that Andree excuses herself briefly from the question to go find something. She returns with a pamphlet from the Art Affair exhibit.
"This sums it up better than I could," she admits.
Words and phrases such as "eclectic," "vitality" and "creating a paradise world of the abstract and anatomical" roll off Andree's tongue as she recites a life of love and art boiled down into three paragraphs – an unenviable and near- impossible task for any writer. Missing in this synopsis is an account of the method of creation, a true partnership every bit as dynamic as the art.
"We don't just share a vision; we have the same feel for art," Mike says. "It really hasn't mattered what the material or the size; we're always on the same page."
Always?
"Always," Mike repeats, emphatically.
Most of the time, Mike and Andree sit side-by-side in one of the two studios available to the Stansburys or outside on their 2.5 acres nestled next to the Vermilion River. But on those rare occasions when life interrupts art, each has entrusted the other to temporarily work on projects solo. For instance, Mike recalls a time when he dropped work on a piece to go hunting. He didn't give Andree any direction, any hints on what to do next. Six hours later, he returned to find Andree had completed the project, nearly matching the artistic vision Mike had conjured up in his mind.
"We can go to a gallery – and we used to do this as a challenge – and take a pencil and paper and say, 'Go around and write your five favorites, and I'll write mine.' And I'd say at least four of the five would be identical and ranked in the same order," Andree says. "It's amazing how our taste is so similar. We've never had a disagreement in art."
Never?
"In 55 years of marriage, there are going to be many disagreements … but not in art."