L'Art: Artistic Impressions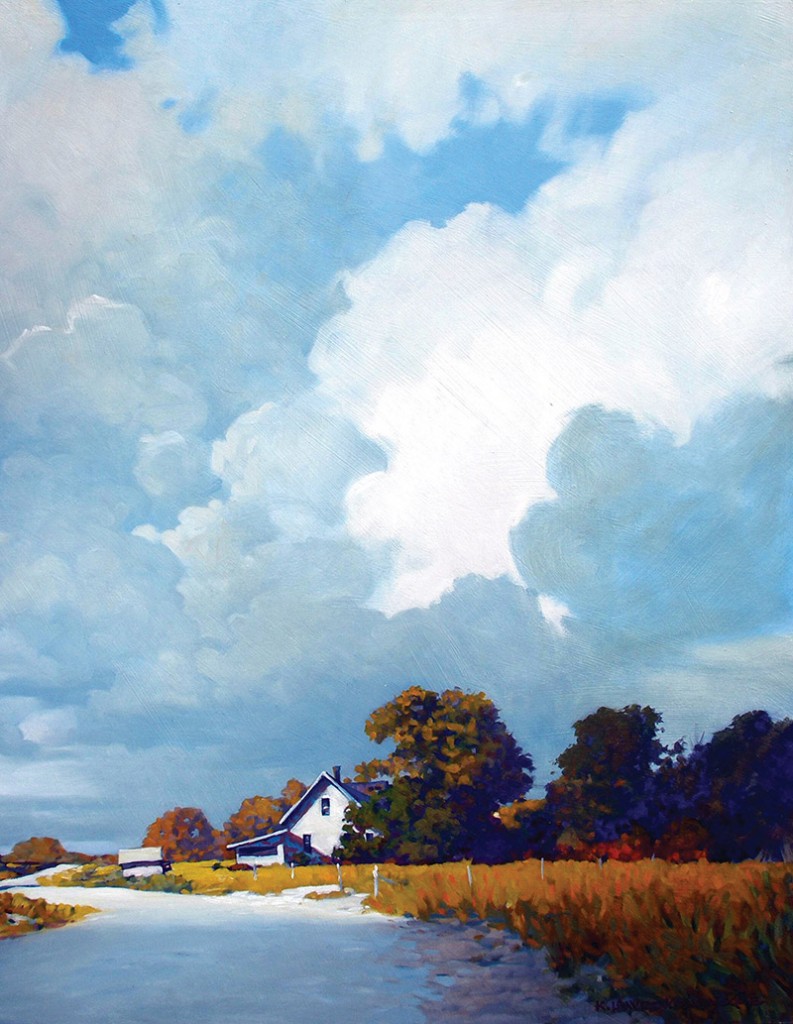 According to novelist Thomas Wolfe, "You can't go home again."
Don't tell that to Lake Charles artist Kevin Lawrence Leveque. After 32 years away, he not only returned home again to Lake Charles, but he also found his art there in the city streets and picturesque back roads of Southwest Louisiana.
The 74-year-old Leveque, who studied art at the ArtCenter College of Design in Los Angeles, left home in 1964 to pursue a successful career as a commercial artist in Los Angeles, London, New Orleans and Santa Fe. In 1995 he returned to look after the family home after the death of his mother. He later met and married Lake Charles native Patricia Bordelon.
Leveque now spends his time exploring the local landscape to open his "spirit" to ordinary scenes most people often ignore, such as a tree-lined winding country dirt road, bright streetlights reflected in a rain-soaked street in Lake Charles or the simplicity of two fishermen gliding in a motorboat on the sun-stippled Calcasieu River. He captures the drama of a radiant sunset just above the tree line of a local shopping center parking lot or warm autumn sunlight in a nearby cypress swamp.
"I find beauty in the most ordinary things and find magic in the often overlooked details," Leveque once wrote while reflecting upon his paintings. "The world around me defines who I am as an artist. I am constantly inspired by the beauty of creation, [which gives] me an insatiable urge to paint. Places evoke memories. Sounds and smells unlock doors to forgotten places."
To capture those memories and forgotten places, Leveque has developed a bright and colorful palette that renders highly impressionistic paintings as intense as the South Louisiana sun. He begins each painting with a sketch of the subject and then pins a handwritten note to the panel, describing his thoughts about the scene. He then moves into the painting, quickly applying wet oil paint on top of wet paint rather than letting each layer dry before going on to the next stage. The idea is to capture the moment or memory as rapidly as possible. Those moments reveal a love of the land and his art.
"I call myself a Neo-Romanticist," he says. "I express the beauty of life devoid of intellectual concepts. I strive to create a sense of place and capture the beauty of my surroundings."
One can see that sense of place and beauty in paintings such as the "Meadow" with its rich fall colors, and in "Country Home" where an old farmhouse rests alongside a country lane crowned by approaching storm clouds. Place is in his painting of the "Bell Tower" above the old Lake Charles City Hall, and in his portrait of an ancient live oak tree titled "Charlie's Friend."
An underlying spirituality is also present in Leveque's paintings. In describing that reverence, he once wrote that his mission is "to convey every aspect of God's awesome creation."
Upon seeing his work, one can only say, "Mission accomplished."
---
To see more of his work visit kevin-lawrence-leveque.pixels.com
---