La Maison: Welcome, This is a Farmhouse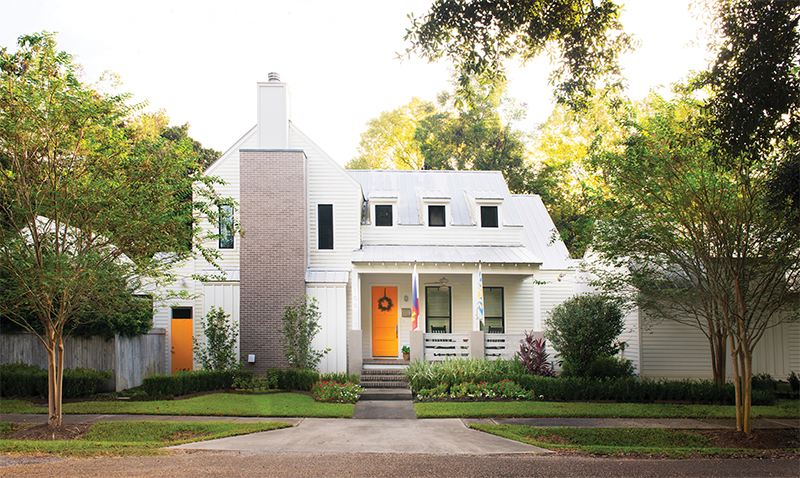 When their real estate agent called to tell them a rare empty lot opened up in the Saint Streets, Tanya and Gil Zaunbrecher didn't think twice. Even though the couple had recently finished building a home for their family in Breaux Bridge, they saw the lot as a once-in-a-lifetime opportunity.
The husband-and-wife duo behind Zaunbrecher Design met while pursuing degrees in architecture at the University of Louisiana at Lafayette. Their Saint Streets home, less than two miles from campus, now represents their mutual passions and creative vision.
When conceptualizing their home's exterior, the Zaunbrechers imagined something that would feel cohesive with the other houses on their block, but not cookie cutter. Both self-professed minimalists, they ultimately landed on "farmhouse with a modern twist."
"I tried to replicate what was happening across the street with the smaller cottages," says Gil. "Then we wanted a lot of height, which we don't have around here, so we figured that's how we would stand out."
"I'm obsessed with tall buildings," adds Tanya, chuckling. "Maybe it's because I'm so short."
The house, which vaults to a whopping 27 feet, is built on four skinny lots — originally their neighbor's backyard. The couple planned the design of the home specifically to fit the narrow lot, according to Tanya.
"I wanted it to look like a series of structures, and not just one big house because the lot was so long," says Gil.
He says one of the biggest compliments he receives is when people mistake it for an old house they remodeled to look modern. Inside the home, white walls, Carrera marble and white oak floors contribute to the home's minimalist vibe. Bright orange and green accents, coincidentally the couple's wedding colors, add a punch of warmth and whimsy to the family home.
Tanya says her favorite spaces are the oversized master suite and the courtyard. The outdoor space, which is separated from the living room by a 16-foot wall of glass, connects the home to the natural world.
"I wanted it to feel like I wasn't in Lafayette," says Tanya. "There's a lot of bamboo, there's a lot of holly. It's to hug you."
---
Tanya says she intentionally designed the home with a neutral palette and minimal ornamentation to keep with the modern vibe and showcase a rotating cast of art pieces. "About every two years we will move art around so I can enjoy it in different rooms." she explains. One exception to the rule: A Gothic lion fountain permanently fixed in the courtyard, which serves as an homage to the couple's mutual affinity for "The Wizard of Oz."
Orange glass subway tile and quarter sawn, white oak, European-style cabinets warm up the bright white kitchen and give it, what Tanya lovingly refers to as, "a Brady Bunch feel." The goal, says Tanya, was to have the cabinets feel more like furniture and blend with the lines of the appliances. White quartz counters and industrial-inspired pendants complete the modern-meets-farmhouse aesthetic of the kitchen, which is strategically positioned to benefit from ample natural light.
---
ABOUT THE DESIGNERS
Tanya (a registered interior designer) and Gil (a licensed architect) Zaunbrecher make up the husband-and-wife duo, Zaunbrecher Design. They are both graduates of the University of Louisiana at Lafayette's architecture program and specialize in "designing unique projects for unique individuals."
Zaunbrecher Design
zaunbrecherdesign.com
info@zaunbrecherdesign.com
337-278-0066 / 100 E Vermilion St Suite 208, Lafayette
---