La Maison: Revitalizing a Downtown Home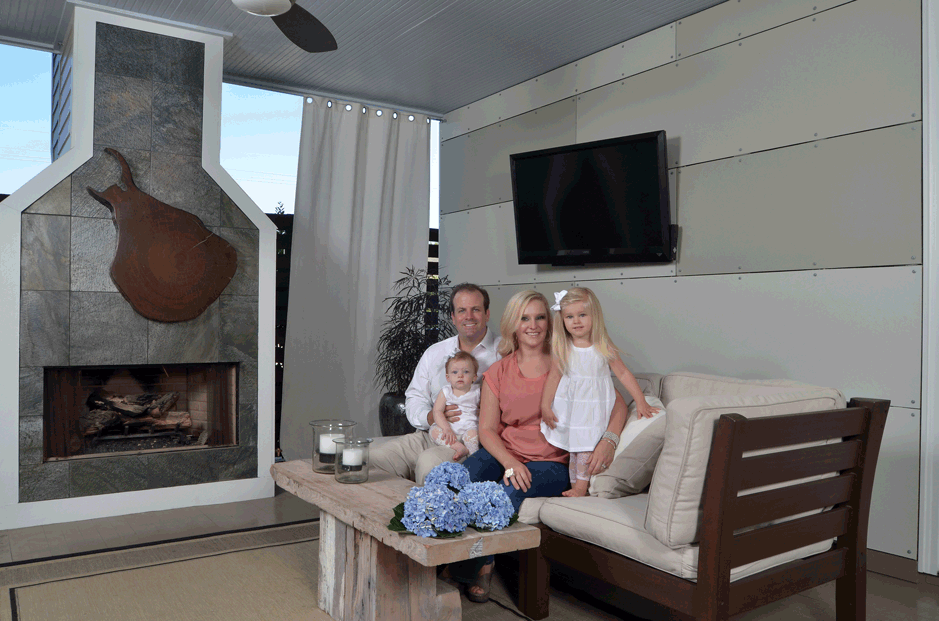 It was 2004, and Jim Keaty was not aware of what the future would bring as he drove from Boulder, Colo., returning to his hometown of Lafayette. A phone call from his mother, Judge Phyllis Keaty, would impact his new beginnings.
A house downtown on Avenue B was for sale, not far from where she had grown up. Jim made an offer while still en route. This quaint bungalow, built in 1922, became not only his home but also his workplace – he opened up a real estate company that was headquartered there that same year.
In 2009 Jim met his wife Danielle and relocated his office to Doucet Road. The young couple decided to update the original home with contemporary additions.
A close family friend, Rita Durio, Interior Designer and owner of Rita Durio Associates Ltd., was initially instrumental in helping the renovation and selected paint colors for the exterior.
"We wanted a transitional look preserving architectural features presently existing that would blend with the new appendage," says Jim.
"I wanted a modern façade and interior that would feel serene," adds Danielle.
Acting mainly as a consultant, Durio steered the young couple toward achieving an interior that befit their desires. "I picked cool colors that were in style – ones that depicted grass and water, with various shades of gray to be dominant," says Durio. "And I brought in warm hues and art to act as accents."
Structural changes preceded the interior transformation. The Keatys removed the wall between the dining room and living room and added cypress beams. They also replaced cabinets in the kitchen and master bath with new ones designed by Durio.
As they relied heavily on Durio's expertise, the Keatys frequently sought her advice while shopping for furniture. "We never bought anything without Rita's approval," says Jim. "We figured we saved money in the long run by avoiding mistakes."
They selected modern, durable furnishings to accommodate their evolving family: The couple now has two young daughters, May and Joey.
The design and layout of the second phase included a master bedroom and bathroom and the girls' bedrooms, one of which is a nursery. The other girl's bedroom was created when the Keatys enclosed what was once an exterior porch.
The design and layout can be credited to Andy Perrin of Perrin Architecture of Lafayette, who was assisted by Isabelle Van Offel Feerick, Interior Designer and owner of Du Lin Interieur of Lafayette.
Although professional help was sought in forming the interior and exterior of both newer and older sections, much of the actual work was done by Jim, his father-in-law and his friends. Recycling took place on several occasions. "I tried to use whatever was taken out and replace it in other rooms," says Jim.
Jim and Danielle embraced an innovative approach when it came to facing the outside of the addition. Steve Ortego, architect and co-founder of Ecolafayette, which specializes in energy-efficient homes in Acadiana, used hardy back panels with a membrane beneath that would allow expanding and contracting while expelling rain.
A sharp visual contrast separates the two styles with good reasoning by the Keatys. "We wanted to authentically retain the old and showcase the new," says Jim, "so we could receive credits for historical preservation."
Listening to his mom back in '04 proved to be a great decision. "Danielle and the girls and I are able to do so many things that we would never do if we lived somewhere else. All the downtown restaurants and festivities are so accessible to us." He adds that one of their favorite pastimes is entertaining friends on the porch after the "Downtown Alive!" concert series.