Joe Hall and The Cane Cutters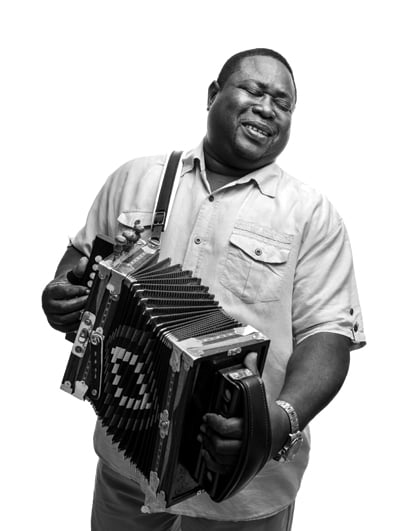 Louisiana boasts its share of rare species – some of which are even endangered. One such animal is the Creole accordion player, according to Joe Hall, leader of the Cane Cutters, who claims to be one of the last left around Louisiana.
While Louisiana zydeco has in recent years absorbed some hip-hop and other modern influences, Hall says his original, largely instrumental music remains, "A mixture of Cajun Creole and the influences of some older musicians. I like to believe I can do all the styles," says Hall, via phone from his home in Arnaudville. "I like to do the Boozoo Chavez-type music when I have my full band. But when we're working between traditional Creole and Cajun music, and I have to play zydeco, I mostly lean toward traditional zydeco."
But unlike a lot of other zydeco traditionalists, Hall claims just as many influences from Creole as from Cajun. "Cajun is more technical; they're technicians on the accordion," explains Hall. "The Cajun player concentrates on making key changes in different keys. A lot of those cats can play just fiddle and acoustic guitar with the accordion." His Creole and zydeco influences pull him a different direction: "With that music we get more and more syncopation. Sometimes you can hear the Creole guys playing in the same key the whole time. Sometimes you'd think it's the same song! But Creole's just really more about the rhythm."
But though he labels himself a Creole musician, "I never discriminated about whether the music was Cajun or Creole; I just wanted to learn all of it," he says. "Even today I always play with Cajun bands. Cajun bands call me to come sit in for their accordion player. Even though I have my own full Cajun Creole band with the drummer and the scrub board, I always keep a Cajun band around I would play with."
Recently, Hall has slowly been chipping away at writing and recording his follow up album to 2011's Thirty Dobb Special, hopefully in time for the New Orleans Jazz & Heritage Festival, where Joe Hall and the Cane Cutters have played on the Fais Do Do stage for the last few years: "With the new album I am trying to do something dedicated to my musical influences and my family heritage," says Hall, citing a song dedicated to his forth great-grandfather, called, "Washington Gailes Two Step."
Despite his old-school leanings, Hall also strives to stand out. "What makes my music different from regular, is my music has only Louisiana influence," explains Hall, who feels blessed to have grown up at the tapping, stomping feet of his grandfather Clement "King" Ned, who Hall describes as a "Creole house-dance accordion player," important enough to be recorded and documented for the Library of Congress as well as the Smithsonian. "His style was kinda raw," says Hall. "He was a hell of a vocalist, and he played a style where he'd play accordion and sing and stomp and it was a one-man thing for the most part. Every now and then people he'd play with other people. Like myself, he always liked to have a fiddle player with him, but if there was no fiddle player he would sit down and sing and play.
"That's where I got the love of playing music from. I would watch my grandfather and listen until finally one day, around the age of 7, I turned to my mama and I said, 'I am gonna do that, too.'"
Grandfather Hall died before he could teach his grandson the accordion, but the Acadiana region provided young Hall more than a few mentors. An uncle purchased Hall his first accordion, and at 16 Hall started really learning from the legendary likes of Alphonse "Bois Sec" Ardoin, Canray Fontenot, and Carlton Frank, among other local legends. "I was fortunate enough to learn from people like Bois Sec Ardoin, Nolten Semien, and Calvin and Bébé Carriere," he says. Hall sat in on many a Saturday night at famous jam sessions led by the great Marc Savoy. "And then I hooked up with [famous fiddle player] Mitch Reed. I went to his (Front Room) music shop (in Scott), and we discovered that together we had a nice warm sound, so we've played a lot of gigs together."
These musical legends raised Hall to keep Acadiana's musical traditions alive. "I like modern music," says Hall, "unless it takes away from the tradition – then I tend to have a problem with it. It just don't feel right!