Jennings' Treasure Trove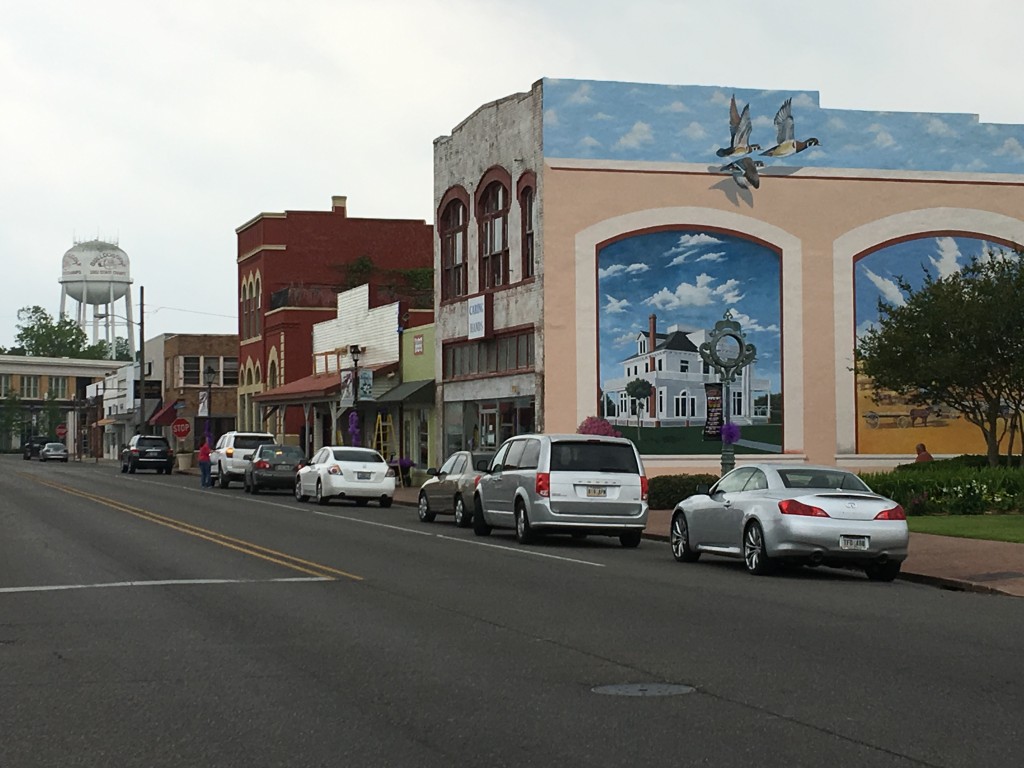 While you may not strike oil, in the town known as the "Cradle of Louisiana Oil," chances are you will find a treasure or two, or even three.
(Fact: The reason Jennings was named the "Cradle of Louisiana Oil" is because the town was reported to be the location of the state's first oil well in 1901 – though later evidence surfaced suggesting that the state's first producing oil well was at the Sulphur Mines in 1886, the "Cradle" nickname has stuck.)
Welcome to Jennings, where we must first talk about an unmatched regional favorite, the RE-Market. This 10,000-square foot marketplace, located in the historic 7-Up Bottling Plant, will wow you with thousands of extraordinary finds. You'll get lost amid the sea of curated, repurposed vintage and antique pieces, items that include furniture, artwork, hand-made crafts and much more than this blog could ever do justice. RE-Market delivers on the promise of a refreshing shopping experience, which includes merchandise laid out in spacious settings that makes it easy to the eye, pleasing music played throughout and high-end products at an economical price point. There are 60 different vendors from as far west as San Antonio, Texas and as far east as Lafayette, Louisiana.
This store blossomed over the last five years from just 300-square feet to more than 10,000 today. (Tip: make sure to visit the bathroom, which is full of antiques and an original farmhouse drain board kitchen sink for handwashing, which many customers will wish was in their kitchens.) (Architectural Fun Fact: The original entrance to the 7-Up plant is still intact; in fact, it is part of a walkway which leads to the other side of the store. Notice the original tiled floor with the 7-Up logo and spiral stucco walls surrounding the staircase which is off limits to visitors.)
(Sweet Tip: Right next door to RE-Market is the Donut King, a longtime local hotspot for donuts and cinnamon rolls. They are only open during breakfast and lunch hours.)
Want to find more treasures? Head straight to The Steamer Trunk in Jennings' downtown historic district on Main Street. Nova Barnes, Jennings' native and jovial owner of the store, has been collecting interesting pieces since she was five years old – back when she would sift through her grandparents' barn, which was filled with antiques and fascinating items. Her store is chock full of refurbished, repurposed furniture, jewelry, new gifts; and divided into several sections with names like "The Book Nook" and "Beyond the Wardrobe." (Tip: Make sure you walk inside what Nova calls the "inner sanctum," which is actually the adjoining warehouse that contains antique and vintage furniture.)
Right down the street, you won't miss the brightly colored historic Strand Theatre, which is on the registry of National Historic places. This nostalgic building, built in 1939, has been restored to its original colors and is used as a community theater. Additionally, the Strand plays host to monthly showings of classic movies.
Right next door to the Strand is a great place to stop and have a bite to eat. The Evangeline's Café and Coffeehouse is located on the corner of the block. You can sit at the wall-to-wall window tables and people watch, or perhaps make your way to the tables outside. Owners Franklin and Theresa Francois exude genuine Jennings hospitality, and once you start talking to them, you quickly see Evangeline's is a winner. The chicken salad, which is a secret recipe, is a must here, but you can't go wrong with any of their daily lunch specials either. All of the dishes are created by Chef Anita Decker, who is from the town of Evangeline. Save room for dessert because Theresa has a knack for making mouthwatering cakes daily. (Tip: A local favorite is the Italian cream.) Be sure to wash down that cake with one of their specialty coffees. (Tip: The Café Mocha with its smooth espresso and Hershey's syrup mixture is sure to please.)
If you can plan your visit around "Turn It Up Tuesdays" on Main Street at Founders Park, do so. This weekly event, held rain or shine during the spring and summer, draws some great local and regional performers like Jamie Bergeron and Leroy Thomas (who's also known as the 'the Jewel of the Bayou'). There's also the Main Street Farmers Market held every Saturday morning from May through November; that, too, is held at Founders Park on Main Street.
For what could be some of the best seafood dishes you can eat in southwest Louisiana, head straight to Mike's Seafood and Steakhouse. Mike Walker, 59-year-old owner and the former president of the Louisiana Seafood Association, uses many of his mother Lurlene's (from Welsh, Louisiana) recipes, including her amazing seafood stuffing. You will not be disappointed in the freshness and quality of the food at this Jennings' eatery, and that's because Walker (who has been in the restaurant business since 1989) makes it a priority. The list of 'must tries' are endless, and include the seafood gumbo, seafood platter, alligator bites, crawfish etouffee, fried duck breast and filet mignon. (Tip: For the more health conscious, the Norwegian salmon, a delectable off-the-menu specialty, is a must.)
Walker's seafood comes from various Louisiana waterways, including the Gulf of Mexico, and many Louisiana companies such as Bob's Seafood in Galliano and catfish suppliers out of Henderson provide the catch. Much of it is part of a daily buffet offering seafood in addition to an array of Southern dishes. It's a great place to witness all the local farmers and regulars who primarily come to enjoy the buffet and pass the day away. (Tip: While all of the waitresses are excellent and friendly, Karen, who has been serving here for seven years, will give you all the scoop you need about the dishes and their detailed ingredients.) (Music Tip: If you can visit when they have a Cajun band performing – which is once a month – you are sure to 'pass a good time' as they say, while enjoying a delicious dinner.) (Fun Fact: Jay Leno's pilot enjoyed some seafood gumbo and the filet mignon while the entertainer was performing at the Coushatta Casino Resort in Kinder, Louisiana.)
Looking for additional food options? If you want to eat the hamburgers the locals have been enjoying since 1965, sink your teeth into a tasty treat at Rocket Drive Inn. Don't let the unassuming exterior of this iconic road-side eatery fool you, because they have been serving one of the best burgers in town for decades. (Tip: The Old Fashion hamburgers, shrimp sandwich, soft serve ice-cream and shakes are some of the most popular items with regular patrons. If you love shakes, try the pineapple or chocolate-flavored ice cream concoction.)
Jennings has a lot more to offer, not the least of which is the renowned Zigler Art Museum located in the renovated City Hall building at the end of Main Street. In fact, there are a handful of interesting museums, scenic wetlands and a plethora of outdoor recreational activities waiting for your next visit to Jennings.
For additional information:
Facebook: www.facebook.com/theREmarket
www.facebook.com/Strand-Theatre-133904996660497
www.facebook.com/Evangeline-Cafe-240423726090097
www.facebook.com/Jennings-La-Festival-Association-293688900967628/
www.mikesseafoodandsteakhouse.com
Security Check Required