Jane's Son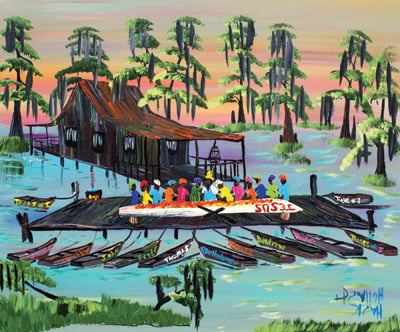 Therapy is a glob of orange acrylic and a can of clean bristles. Healing occurs with every calculated brushstroke. Tribute is paid daily to the one he misses most by taking her passion and turning it into a profession.
Hank Holland is painting windows today, not to colorfully shade away the curious but to offer fans of his work (and therefore fans of his grit and will) a clearer picture of what he is as an artist and who he is as a person.
Stationed inside his gallery along Highway 1 in Lockport – a thoroughfare haven for potholes, not paintings – Holland looks up on occasion to observe the traffic, an annoying but necessary respite when his hand cramps. He'd love to just paint and paint and paint for hours, but he can't. He'd love to haul his work across the state, to weekly crafts fairs and jubilant festivals, but that'd be asking a lot of his body. He'd love to set up shop at art shows, but standing for extended periods of time isn't easy.
Born with cerebral palsy, Holland worked for years at the shipyard before discovering art, subjecting himself to grueling conditions. When asked what he remembers of those days, he deadpans, "It was so hot." But he did the job, supporting his blossoming, young family. Never once did he complain. Not outwardly, anyway.
His mother, Jane, raised him that way.
"She never felt sorry for me," Holland says. "I asked her later, 'Why were you so hard on me?' And she told me she knew that 'people would try to break you down in life because of your disability.' I thank her for that.
"She let us be who we wanted," he continues. "Maybe that wasn't the best idea, because I was a difficult boy."
So to escape the trials of motherhood, Jane painted. Though he never paid much attention, Holland vividly recalls Jane setting up in the kitchen, cup of coffee in one hand while a cigarette burned slowly on the lip of an ashtray. Her pieces primarily remained scattered around the house. On occasion, she'd wrap one as a gift if, say, a friend just moved into a new house, but otherwise, Jane never sold her paintings. They were a release. Nothing more. Cheaply therapeutic – much like the craft would be for Holland when Jane passed in 2007.
Months after Jane's death, Holland (who has no formal art training) was shopping for groceries and household items at the Lockport Walmart when he suddenly felt compelled to purchase art supplies, which certainly weren't on his shopping list.
---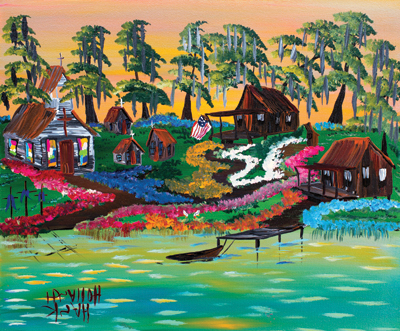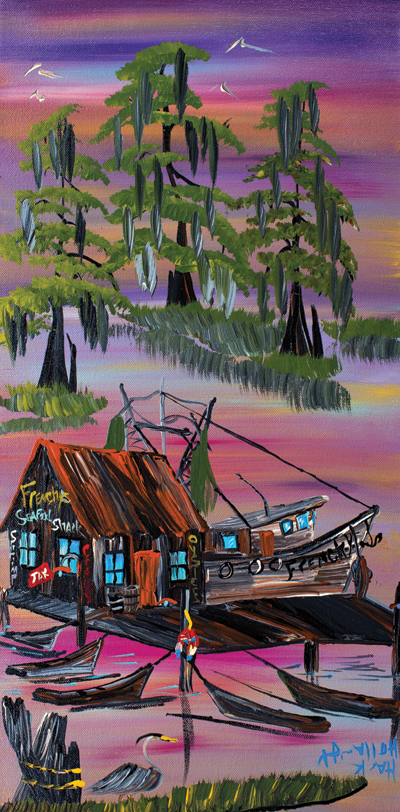 ---
"That was six years ago," Holland says. "And here I am. At the time, you don't know why you're doing it. I just grabbed brushes and a canvas and threw it in the cart. Looking back, I think I did it to feel better, to feel my mother's loving presence. She was her happiest when she was painting, and the same is true for me.
"I can hear her," he continues. "I can hear my mother's voice in my conscience and in my memories when I paint. She's almost my coach. 'Hank do this. Hank try this. More color here.'"
Holland swallows deeply to collect himself.
"She's here when I paint."
Though blessed with natural artistic talent, Holland gradually unearthed canvas after canvas, the novice painter leaned on familiar scenes – bayou families, small-town festivals, community meals, kids playing in tree houses – while honing his style. Tourists dug them initially, and in time, Holland's clientele was deep enough to leave the shipyard and paint full-time. Because of the early success, Holland's subject matter hasn't strayed too far from home, though his abilities are light-years removed from that Walmart epiphany. Even today, as his total canvases painted rapidly approaches 10,000, Holland is still a work in progress.
"I'm very critical of myself," Holland says. "It's a constant process to get better. Some people work their whole lives and paint their whole lives and can't make a living off their art. Here I am after six years, and I'm making a real good living, and so I don't take that for granted. So I think it'd be hard to find anyone tougher on my work than myself.
"I paint a lot of stuff that shows the way it used to be," he continues. "It's stuff that didn't happen that long ago, probably back when our grandparents were young, but it feels of a different world now."
On his website, Holland states his paintings hang in all 50 U.S. states and 97 countries around the world. Every last one of them comes from his Lockport studio – Baby Jane Studio – appropriately named after his late mother.
"You don't normally drive down Highway 1 looking for art, but I have people from New Orleans who come to my gallery to buy my stuff – and New Orleans is full of galleries," Holland says. "I wonder what my mom would think – all these people coming to my gallery. I wonder what she'd say if she walked through this door, just like they do. It gets me emotional. I know she'd be proud of her little boy."