Isn't it Suite?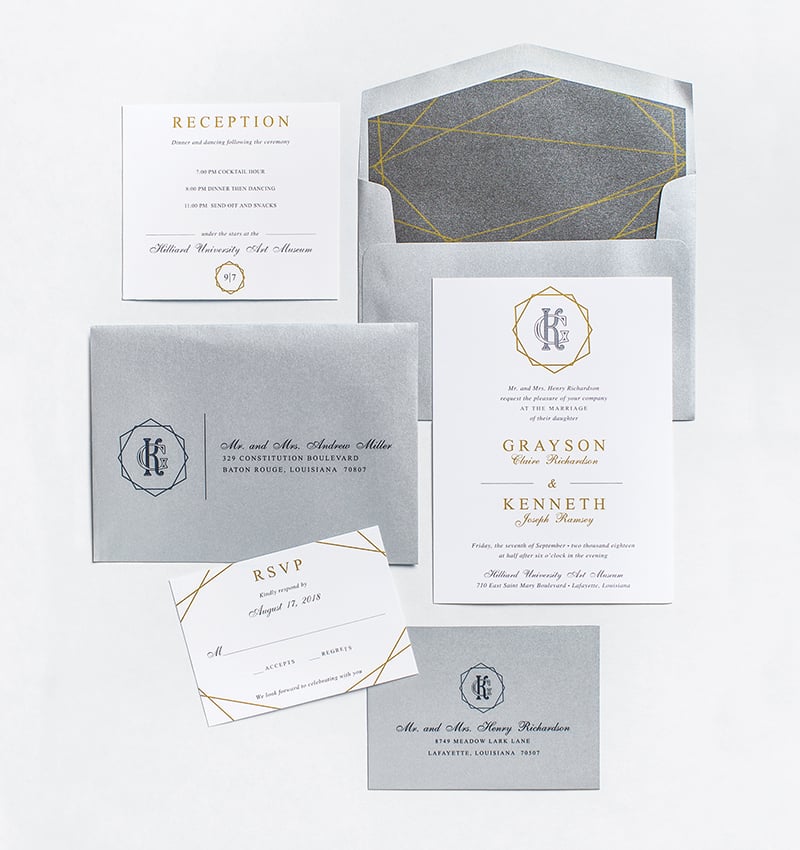 A blend of modern and classic with metallic gold text and platinum envelopes, this suite pairs well with the classic use of Crane's "Lettra" white cardstock and the southern traditional monogram. The geometric design elements carried throughout the ensemble signal a stylish wedding.
CHARM
719 Lee Ave., Lafayette
337-984-4800 |
shopcharm.com
---
The Blackbird Collection "Live Oak Suite" letterpress is printed with moss green ink and sage green tinted varnish on 100 percent cotton rag paper, featuring a letterpress printed muslin bag in lieu of inner envelope. Calligraphy by Rebecca Kreisler, accented with a digitally printed envelope liner.
BLACKBIRD LETTERPRESS
1607 Main St., Baton Rouge
225-960-2453 |
blackbirdletterpress.com
---
This two layer, classic ecru "Southern Belle" invitation suite is designed with an interlocking, two-letter monogram with clean, classic fonts. The envelope liner features monochromatic garden roses that compliment the bold, colorful floral ribbon.
SHOP AUREAU
---