Gumbo Glory
News Brief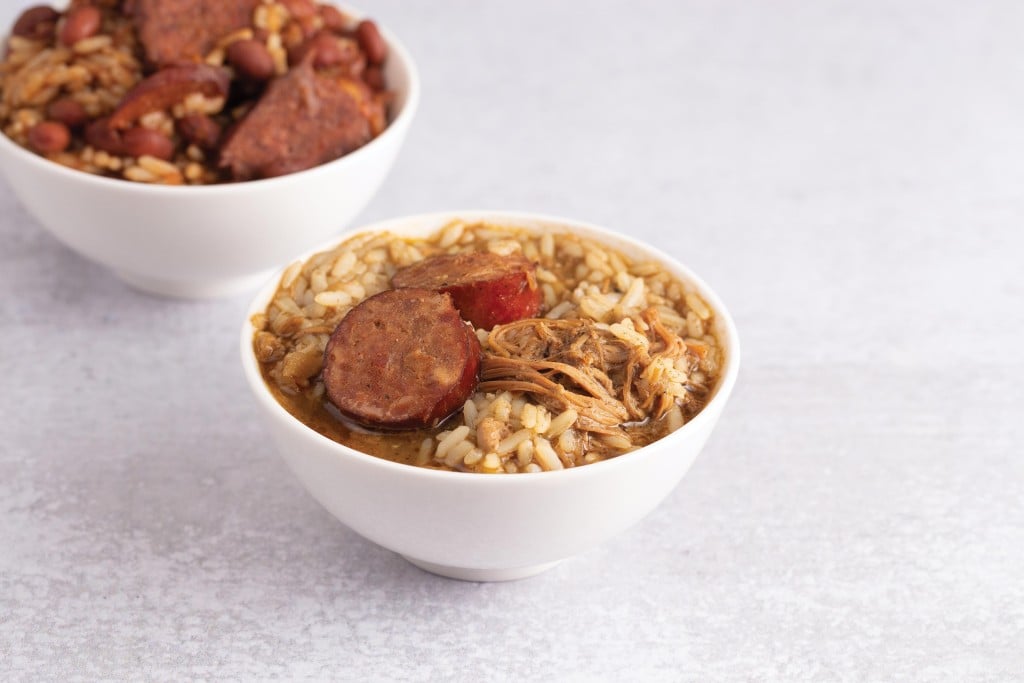 New Iberia The World Championship Gumbo Cookoff was recently touted by CNN travel contributor Jen Rose Smith, who named Louisiana gumbo in her "20 of the World's Best Soups" roundup while plugging the gumbos served at New Iberia's annual foodie fest. It was the only American soup that made CNN's international list (which included the now embattled Ukraine's beloved borscht). The 32nd annual Gumbo Cookoff will be held October 8-9 in downtown New Iberia (iberiachamber.org/gumbocookoff).
Sushi Trail Expands
Baton Rouge, Lafayette Lafayette's popular downtown sushi restaurant, Tsunami, is expanding to a second Baton Rouge location with outdoor seating, to be situated in a 4,000-square-foot space on the first floor of the Highland Development, corner of Bluebonnet (slated to open this summer). Tsunami's original see-and-be-seen Baton Rouge location is situated on the top floor of the Shaw Center for the Arts (servingsushi.com).
Arnaudville
Boudin Flavored Beer
A new limited-release Cajun breakfast stout from Bayou Teche Brewing features Best Stop's boudin, Steen's cane syrup and Art's coffee flavors. Cane syrup and boudin are added to the mash at the beginning, more boudin is added near the end of the boiling stage, and the beer is finished with coffee at the end of fermentation. The special brew (reminiscent of the iconic "seven-course" Cajun breakfast: a six-pack of beer and boudin) first debuted in 2019 featuring boudin from Russell's Food Center (facebook.com/bayoutechebrewing).
Sign Up Early
Lafayette Ruffino's new executive chef, Reid Henderson (a Louisiana Culinary Institute grad and former executive chef for Tsunami and the Seattle Seahawks) has dazzled guests with his Italian-inspired fare at Ruffino's in Lafayette and Baton Rouge since January. Henderson is helming The Ruffino's Cooking Experience, a relaxed evening with chef instructions for a five-course meal enjoyed with wines. Themed monthly classes alternate between the two locations. (ruffinosrestaurant.com).
National Farmer of the Year
USA Rice had a prominent presence at the recent 25th Annual National Conservation Systems Rice and Cotton Conference held in Jonesboro, Arkansas. The Rice Farmer of the Year award was presented to Louisiana producer Paul Johnson. A Welsh native with rice fields in Cameron Parish, Johnson is an active volunteer leader at USA Rice, including serving as vice-chair of the Domestic Promotion Committee and member of the USA Rice Farmers Board of Directors.
Whirling Twirling Teens
Arnaudville filmmaker and educator, Monique Morton Derouselle, is scheduling cast members (including baton twirlers) for her coming-of-age teen movie, "Rising Dawn," which films in various Acadiana locations in April. Set in the "dazzling world of teen majorettes," local actors are being cast as majorettes and band members. Experienced high-school-age baton twirlers should send a headshot and video of their twirling abilities to risingdawncasting@gmail.com (pitch video: seedandspark.com/fund/risingdawn.com).
Covid Compensations
In support of Louisiana's seafood industry, the USDA announced an investment of $4,222,669 in grant funding to support Louisiana seafood industry processors, facilities and vessels for incurred expenses related to Covid. The LDAF is administering the grant program, which is designed to reimburse business expenses paid January 27, 2020-December 31, 2021. Available for Louisiana residents that possess specific LDWF licenses and qualifying expenses during 2020 and 2021. (Questions: Call 225-922-1277; ams.usda.gov/grants).
High Fives for Houma
Terrebonne
The Houma Area Convention and Visitors Bureau (HACVB) has been awarded the Destination Marketing Accreditation Program (DMAP) seal by Destinations International in recognition of their commitment to industry excellence and meeting the industry standard for performance and accountability of destination organizations around the world. The HACB joins the ranks of over 200 destination organizations who have obtained the DMAP recognition.
Jobs in Plant-based Plastics
Ascension
Origin Materials announced a $750 million sustainable materials facility in Ascension Parish that is expected to result in 1,057 direct and indirect new jobs (including 200 jobs with average annual salaries of more than $90,000). The plant in Geismar will utilize sustainable wood residue to produce plant-based polyethylene terephthalate (PET) used in packaging, textiles, apparel and other applications (originmaterials.com).
Signs of the Times
Houma, Thibodaux, Lake Charles, Lafayette, Carencro, Eunice, Kaplan, Breaux Bridge, St. Martinville
Approximately a week after the signs on various IberiaBank towers in Acadiana were recently changed to First Horizon (a merger that was finalized back in 2020), The Canadian banking giant TD announced a $13.4 billion acquisition of First Horizon. The (all-cash) sale, set to be finalized in 2023, will make TD's U.S. franchise a top 6 U.S. bank serving customers in 22 states (with $164 billion in assets). There are no planned branch closures in Acadiana as a result of the transaction (td.com).