Greater New Orleans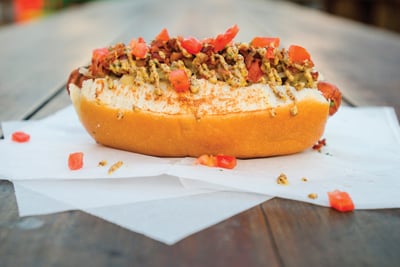 Lovers of dogs of the non-canine variety have the perfect enclave in which to indulge their taste buds. Dat Dog is an eatery that runs the epicurean scope of the Land of Linkdom. You can even order crawfish etouffee fries along with a dog of the same name – grilled crawfish sausage, etouffee, sour cream and onions and Creole mustard take hot dogs to a new level on summer days. The Bacon Werewolf, made of grilled Slovenian sausage, bacon, sauerkraut, dill relish, grilled onions and tomatoes, is delicious enough to distract the loup garou from the rise of the full moon. Even the Emerald Isle gets a nod in the form of the Guiness Dog, a succulent pork brat flavored with sweet Guinness marinade. Vegans can indulge on the Field Road Italian dog, made with eggplant and fennel "sausage" and garlic. At Dat Dog you can choose your sausage and topping, all designed to keep you howling with delight. Toppings abound: relish; chipotle mayo; guacamole; grilled onions and hummus are but a few.
DAT DOG
Locations are on Freret, Frenchmen, and Magazine streets in New Orleans and at the Lakeside Mall in Metairie.
datdognola.com
---
New Orleans
Rise of the Underdogs
Last March, Congo Square was the site of the fifth annual Class Got Brass? competition, in conjunction with the Congo Square New World Rhythms Festival. Sponsored by the New Orleans Jazz and Heritage Foundation, the competition was founded in 2012 as a means to create progressive school band programs that will keep the joyous tradition of New Orleans brass music alive while providing participating schools with funds for musical education.
The band members of Medard H. Nelson Middle School ranged in ages from 8 to 14, but their devoted band director Johnnie Van Buren had enough faith in his young protégés to enter them into the Advanced Category of the competition. (In previous years, the band consistently took first place in the beginners category.) Competing with them in the advanced category was none other than those titans of high school marching bands, St. Augustine and Landry-Walker. Only 12 members from each band were allowed to participate with each school required to perform a traditional dirge with second line; a traditional brass band song and one contemporary song.
Nelson Middle School provided a casket to accompany their second-line dirge along with a Mardi Gras Indian to dance to their traditional brass song rendition. "News With a Twist" cohost LBJ took the microphone to announce the winners.
"We have an upset," he announced. Last year's first- and second-place winners, Landry-Walker and St. Aug, dropped to second and third place, respectively.
The excitement mounted as LBJ then announced "the biggest upset of all." The first place winners were Medard H. Nelson, a middle school that beat four other high school bands for the top prize of $10,000. Even St. Aug and Landry-Walker couldn't help but cheer the success of the younger band as the crowd, including LBJ, went wild at the news.
In addition to supporting the continuation of New Orleans jazz in school programs, the individual and positive impact on participating children is apparent. Tiffany Ramee, mother of sixth-grade trumpet player Ryli, who will be next year's band captain, is grateful for the influence on her daughter. Ryli's high spirits sometimes got her into trouble in the past, but Van Buren's recognition of her musical talent and leadership ability helped channel some of that energy into a more positive direction.
"Ryli has gotten a strong sense of purpose as a leader after she was made section (trumpet) leader in the band," says her mother. "She knows the importance of setting a good example to other members by her behavior and now tries to do the right thing."