Going Native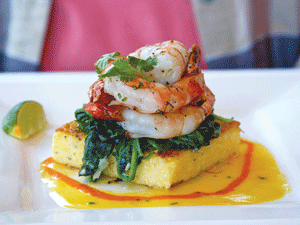 The following is a lineup of Cajun-style restaurants in South Louisiana that are worth a visit:
Mr. Bill's Seafood Express, 500 E. McNeese St., Lake Charles, 337/477-9746.
Fried catfish, shrimp and oysters are items that make this little restaurant located near McNeese State University a favorite haunt for locals living in the surrounding neighborhood.
Seafood is fried as soon as it's ordered, and the seasoning is neither too spicy nor too salty. The restaurant's dedication to the MSU Cowboys and LSU Tigers isn't understated – memorabilia and sports newspaper clips are placed on the eatery's walls. This is a simple restaurant with a cooking staff that's worked together for years, which ensures consistency. During crawfish season, Mr. Bill's offers some of the best prices in Calcasieu Parish for wonderfully seasoned and boiled large mudbugs. A beverage favorite at Mr. Bill's is the self-serve sweet iced tea. The restaurant is not a first-choice recommendation by many in Lake Charles simply because not all that many know about the place. If you are looking for good, filling seafood (served on styrofoam plates), then visit Mr. Bill's.
Cajun Tales Seafood, 501 N. Adams St., Welsh, 337/734-4772.
Located right off Interstate 10, Cajun Tales has been serving well-known and -loved regional food for decades. A dish that must be eaten by anyone who has never been introduced to Cajun food is the restaurant's fried crawfish étouffée. The plate exemplifies two common ways that Cajun food is cooked: The crawfish are fried and then smothered in a mild seasoned sauce and served over rice. Cajun Tales has a comfortable, family- friendly environment. Other favorites prepared at the restaurant include seafood gumbo with shrimp, crab and oysters; seafood-stuffed red snapper; crabmeat au gratin; and a delicious crab plate with stuffed crabs and fried soft-shell crabs.
Dupuy's Oyster Shop, 108 S. Main St., Abbeville, 337/893-2336.
Selling oysters was the reason Joseph Dupuy opened this business in 1869. Since then the menu has definitely expanded, but oysters on the half-shell are still one of the main items on the menu. The basic Cajun-French feeling that originated with Dupuy is still felt in this restaurant, which is located in what many believe is the heart of Cajun Country. The varied menu is full of decadently delicious options. Here's a sampling: jumbo crab cakes served with a béchamel sauce, crawfish, white wine, capers and diced tomatoes; an oyster combo dinner that includes fried oysters, grilled oysters, oyster Rockefeller bisque and a potato; seafood gumbo with oysters, shrimp, crab and crawfish; corn-and-crab bisque; fried alligator salad; grilled oysters with bread crumbs served in a garlic-butter sauce; and other items such as seafood poor boys and steaks. This is a restaurant that many have visited, and its popularity will continue because the food and service combined exemplify the best of Cajun culture and cuisine.
Prejean's Restaurant, 3480 NE Evangeline Throughway, Lafayette, 337/896-3247.
Opened in the early 1980s, Prejean's is an award-winning restaurant that garners the respect of anyone familiar with Cajun food. A dizzying array of dishes with main ingredients such as alligator, frog legs, fish, eggplant and just about anything else that's regarded as regionally grown and harvested or hunted is on the menu. On any given night, Cajun music is performed live, and – as at most Cajun restaurants – getting a hug from the waitstaff is just about as normal as having one of them take your order. Prejean's is open for breakfast, lunch and dinner. The menu offers dishes such as Prejean's Napoleon, which is a polenta cake topped with crabmeat, a poached egg and hollandaise sauce and sprinkled with shrimp and smothered tasso; crawfish enchiladas; Cajun rack of venison; and catfish topped with jumbo lump crabmeat and mesquite-grilled asparagus. Prejean's, located north of Lafayette, is proud to introduce the world to Cajun food, and it's one of the best places in Acadiana to revel in the flavors of South Louisiana.
Boudreau & Thibodeau's Cajun Cookin', 5602 W. Main St., Houma, 985/872-4711.
Don't walk in the doors of the restaurant expecting frills. Instead, understand that any authentic Cajun experience will include a rustic atmosphere and good old-fashioned down-home bayou-style cooking. The menu boasts two areas that should be investigated immediately: Southern Favorite Slow Pot-Cookin' – white beans and rice, shrimp Creole, fried alligator bites in a sauce piquant, crawfish étouffée and turtle sauce piquant – and Southern Seafood Favorites – stuffed crabs; fried catfish; fried oysters; grilled or blackened jumbo shrimp; and a seafood steak, which is shrimp and crabmeat rolled in seasoned bread crumbs, fried and topped with a crawfish cream sauce. Diners will also get entertainment from myriad Boudreaux and Thibodeaux jokes, which are a good example of Cajun humor at its best.