Get Started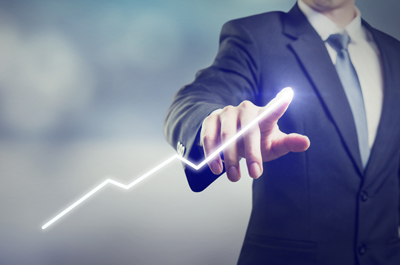 A few years ago, when the post-beer munchies struck in Lafayette or Lake Charles and you wanted snacks without driving, a slim selection of Chinese food or franchise pizza joints were your only food delivery options. Acadiana native Chris Meaux saw an opportunity.
Meaux and his team built Waitr, a delivery system that brought restaurants together with a team of delivery drivers and an easy app that let hungry locals order from dozens of restaurants. It turns out, Lafayette and Lake Charles weren't the only cities where comprehensive food delivery simply wasn't a common thing, and Waitr quickly spread to cover 25 markets and 110 cities.
Acadiana has a historical tradition of nurturing small businesses, but in recent years, pushes for entrepreneurship have come back to the forefront as the region tries to diversify its industry. Local chambers of commerce and economic development organizations have developed initiatives such as Lafayette's Opportunity Machine, an entrepreneur training center offering coaching, technology resources, networking opportunities and even shared office space for start-ups in need of a home base. The goal of OM and similar programs across the region is to create the next wave of regional-gone-national businesses that provide jobs and opportunity here at home.
Raconteur Games, the brainchild of Louisiana native Nicholas Laborde, is one of the businesses that has worked with OM to help secure funding and make business connections for their line of indie video games. Their most recent game, Evangeline (currently on the PC platform but expanding to Xbox in early 2018), takes its name from the storied heroine of Longfellow's Cajun epic, and allows players to explore the question of what you would do if you could make one last phone call to your loved ones.
Laborde moved to Lafayette for college and finds personal and professional inspiration from the vibrant cultural scene in the region.
"People here are not like people anywhere else on earth," he says.
His reasons for starting his business here, though, are not purely personal. He explains that a Louisiana state tax credit offers serious incentive for people starting creative technology businesses to build and stay in Louisiana.
CollegeAD is another OM member. This website and media company, founded and managed by a trio of UL Lafayette grads, offers comprehensive news and updates about the industry of college sports. Though based here, the site content is written by a network of writers around the country who keep their fingers on the pulse of athletic departments of American colleges and drive traffic via a massive Twitter feed and email list. A June 2017 presenting partnership with Adidas indicates that CollegeAD has made the transition to a full-on player in the sports media scene.
More than just tech, Opportunity Machine also works with inventors and "stuff"-based entrepreneurs, such as Wayne Nix's RNvention company, makers of a soon-to-be-released multi-purpose nursing tool called the MultiNix. Youngsville-based Nix, who is a registered nurse and a registered respiratory therapist and who also holds an MBA, sees tremendous opportunity for medical equipment entrepreneurship in the region.
"We have all of these medical people, and all of these research scientists at the universities, and all of this biomedical research happening, [but we also] have all of these engineers" says Nix. "It's amazing to me that we haven't built up a medical equipment manufacturing industry."
Some of the hurdles are regulatory, Nix feels, but he's ready to jump those hurdles and go big.
Not all local entrepreneurs came to Acadiana for business reasons. Tim Handley, owner of Fly Guys Drone Services LLC, moved to Lafayette from California with his wife (who is from the area) when their daughter decided to attend LSU.
"You know how people from here are," he says. "They can never stay away long."
Still, he sees major benefits to starting his business here.
"It's much less expensive to live here than it is to live in California or, say, Seattle, and that translates into lower costs all through the business."
Handley has built successful businesses from scratch before, and started his drone service company, which offers photographic and data collection capabilities to everyone from golf courses to real estate developers to the entertainment industry, with the goal of making it a turnkey franchise for business-minded drone enthusiasts throughout the country. Thus far, there are offices in three cities and Handley expects business to double annually over the next few years.
Tech and industry are not the only arenas in which entrepreneurship is burgeoning in the region. South Louisiana, with our great tradition of food and drink, is home to a number of growing breweries, distilleries and artisanal food producers.
One of the fastest-growing is Louisiana Spirits and Bayou Rum, which opened its Lacassine distillery in 2011 and released its first spirits two years later.
"The inception of Bayou Rum stemmed from a conversation among co-founders that took place during a popular Southern pastime — duck-hunting: 'If Louisiana is the birthplace of sugarcane, why is no one making a high-quality rum in the state?'" says media relations specialist Jess Civello.
The company has grown to 22 employees, and 2017 marks their first year of full national distribution through a partnership with the Stoli company, with international distribution on the imminent horizon.
What's next for Louisiana start-ups? Time will tell, but given the current crop of fast-spreading businesses and increased investment, the future certainly looks bright.
---
THE SENIOR CLASS
Innovation has been a mainstay of South Louisiana culture since before recorded history, as locals have always had to find clever ways to deal with and benefit from the trials and tribulations of life in swamp country. That spirit of ingenuity has passed through every culture that's taken up residence in Acadiana and continues into the modern era. These established companies continue to innovate and stay relevant, providing inspiration for aspiring entrepreneurs throughout the region.
Stuller
Lafayette-born Matt Stuller built his jewelry manufacturing company from scratch in 1970, and it is now one of the largest jewelry companies in the United States. Over 1,500 employees handle the design and fabrication of thousands of pieces of fine jewelry daily, supplying hundreds of independent jewelry stores throughout the U.S.
Tony Chachere's Creole Foods
It's rare to find a household in South Louisiana that doesn't keep a shaker of Tony's in the cupboard (or right out on the table). This family-owned company, best-known for its eponymous spice blend, was founded in 1970 in Opelousas by Tony himself, a retired Cajun chef. Seventy five employees ship the famous green can and other delicacies to spicy food-lovers around the world.
Metal Shark Boats
Coastal Louisiana has a storied history of boat-building, from carved wooden canoes of the Attakapas to the famous Higgins boats of New Orleans, and Metal Shark, founded in 1983 in Jeanerette by boatbuilder Jimmy Gravois, carries that tradition into the modern era. Two hundred and fifty employees now build everything from fishing boats to police and military vehicles near New Iberia.
---
"It's much less expensive to live here than it is to live in California or, say, Seattle, and that translates into lower costs all through the business." TIM HANDLEY
"People here are not like people anywhere else on earth" NICHOLAS LABORDE
---