For the Love of Antique Wood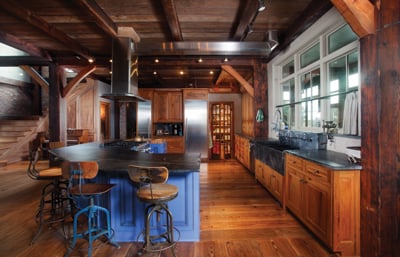 Most mornings, Michael Garber gets going well before dawn. His wife, Kristi, watches over their four young slumbering children as he heads out from their picturesque 40-acre property rimmed with hauntingly beautiful live oaks and a sun-dappled pond that glistens in the early light.
It's just a mile and a half down the road to headquarters at the 4,700-acre Garber Farms on the outskirts of Iota. While Kristi home-schools the children, Michael runs the family business with his dad, Wayne, and brother, Matthew, who was crowned "Mr. Yam" at the Yambilee Festival for his contributions to the sweet potato industry.  Growers since 1881, the Garbers have been running the farm in Iota for the past 38 years. They produce rice and some of Louisiana's finest orange-fleshed Beauregard and Evangeline sweet potatoes, grown in the rich, sandy loam soil between Bayous Nezpique and Des Cannes.
The sleepy town of Iota (population 1,560 according to the 2014 census), comes alive this time of year as thousands of spectators arrive for the Tee Mamou-Iota Folklife Festival held on Fat Tuesday, with dancing in the streets. The Tee Mamou Courir de Mardi Gras "runners" that beg for gumbo ingredients at homes along the route sing French lyrics that are similar to the original European chant that dates back to the fête de la quémande of medieval France.
---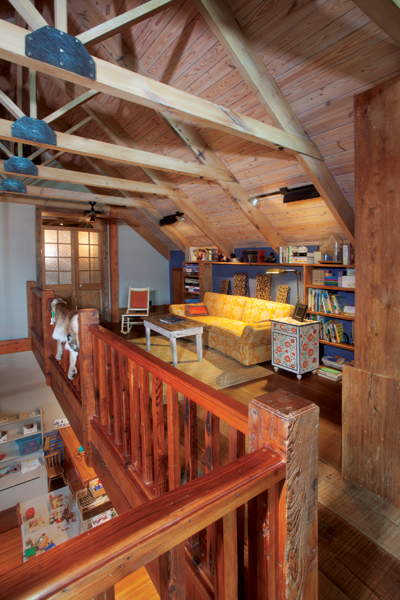 ---
From the mid-19th-century to the early 20th-century, Iota was flush with tourists as a resort town. Visitors were drawn to the reported healing powers of spring waters discovered by Native Americans. After the water dried up in 1907, visitors scattered to the wind.  Some say it was caused by drilling for oil in nearby Evangeline. In 1930, a pumping plant was built on the site of the former springs to irrigate crops in Acadia. The plant closed 30 years later, and reopened in the 1990s as the Point-aux Loups Springs Ballroom, where weddings are now held overlooking scenic Bayou des Cannes.
In the spring and fall, during the height of the harvest seasons, Michael's 10-hour days at the farm often stretch to 15 and 16 hours. He also runs a fairly new reclaimed wood business and mill shop (oldwoodreclaimed.com), featuring custom millwork and a variety of species that are housed in a modern handling facility at the farm.
"It really started with my passion for reclaimed wood," he says. "My father used a lot of reclaimed cypress in his home while I was growing up. I developed an appreciation and love for it." The Garbers' new Acadian-style home in Iota, built with a combination of reclaimed wood including antique long leaf pine, cypress and white oak, inspired his salvaged wood sideline at the farm.
When Michael and Kristi began an addition to their small, 1,100-square-foot, one-bedroom home in 2009, which they used as a footprint for the new residence that almost quadrupled in size, they had been collecting reclaimed wood for years.
"We had these beautiful 120-year-old virgin pine timbers and antique cypress. I wanted to utilize Old World craftsmanship for our new house," Michael says. "We were always into the reclaimed wood for our own use, but we had a lot of extra materials during the house project. We felt like our love for the wood could turn into something more."
While browsing through a timber frame magazine at Barnes & Noble before the house plans were drawn up, Michael had an epiphany.
"There was a story done on a house that an Amish outfit in Ohio did, and it was done with Old World craftsmanship. I called them, but they wouldn't take my job because I had reclaimed timbers. They only worked with fresh-cut timbers. So they referred me to Hickory Circle Construction in Apple Creek, Ohio. They were willing to work with my materials."
The Garbers designed their energy-efficient, eco-friendly house to reflect a rustic, country feel. No architect was employed. "The Amish worked with me on the design," Michael recalls. The Garbers' living room/dining room/kitchen areas are located on the second floor while the bedrooms are on the first floor.  Diane Trahan of Diane's Drafting drew up the floor plans and exterior layout. "We knew what we wanted," Michael says. "I actually built a miniature of the house before we started."
The sturdy, intricately engineered timber frame was erected by six robust Amish workers from Hickory Circle Construction, who arrived from Ohio. While their normal mode of transportation is a horse and buggy, and the Amish universally object to both car ownership and operating a vehicle, the workers made an exception to ride in a van as passengers. "These guys have a great sense of humor," Michael says. "They're also incredibly honest, a pleasure to be around, and they worked nonstop until they got the job done. We have a long-lasting relationship."
---

The kitchen opens onto a veranda that offers a splendid view of the seven-acre pond and 40-acre property rimmed with oaks.

The bedrooms are located on the first floor, including an intimate child's room appointed with custom furniture. The first floor ceilings are nine-feet while the second floor living areas rise to a height of 25-feet, showcasing the beauty of the Amish timber frame craftsmanship.
---
The artisans used traditional Amish craftsmanship to produce mortise and tenon joinery (wooden pegs) for the elaborate hand-crafted timber frame. The skill in creating such precise joinery is a great source of pride for the Amish. Europeans brought the art of timber framing to America, and it remained the predominant means of construction until the mid-19th-century.
The invention of mass-produced nails and manufacturing smaller timbers quickly gave rise to less expensive, less sturdy light-frame construction using studs and braces connected with nails.  Although the majority of American homes are still built using stud construction, there's  a revival of "green" timber frame homes such as the Garbers'. Their house is solid as a rock, and the warmth of the various antique woods, enhanced by natural light, offers a calming effect.
Looking up from the room that soars to a height of 25 feet, one takes in the beauty of the vaulted ceiling, rustic wood beams and artistic wood designs in the various walls.
Acclaimed artist Anne Bishton (of Anne Bishton Design in New Orleans) created classically inspired stencil motifs on various walls and flooring as focal points, to further embellish the home.
She created a multi-layered design motif on the stairs that resembles fabric instead of the paint that was used to create the illusion. "It's in keeping with an early American motif; I wanted it to resemble a carpet."
---

The master bath was designed to incorporate old materials with contemporary flourishes.
---
In the kitchen, she created a magnificent optical illusion on the two-story wall facing the pond. "The pale, shimmery stencil was named after Jane Austen. It needed something subtle that wouldn't compete with the wood." The mesmerizing stencil seems to disappear and then reappear in a variety of shimmering hues as you walk past it.
"The Garbers let me stay in their house the entire time I was working, and they treated me like family. They let the Amish stay here, too."
Says Michael, "It's been a real journey, since everything was custom-made. I think that the contrast between old materials and contemporary flourishes gives a good effect. I'm just glad that the children can enjoy it. They get plenty of fresh air and exercise out here."
In this fast-paced, homogenized world where most American households are overtaken by children and parents who are constantly connected through electronic devices, the Garbers have a different idea. They curb a wired existence and spend more face time with their children. The importance they place on family and time-honored traditions carries over into their strong work ethic.
"My oldest son, who is 8, is already working with me at the farm on Saturdays, stacking potatoes," Michael proudly remarks. "We didn't grow up driving tractors. We learned to work with our hands."