Foodie Fun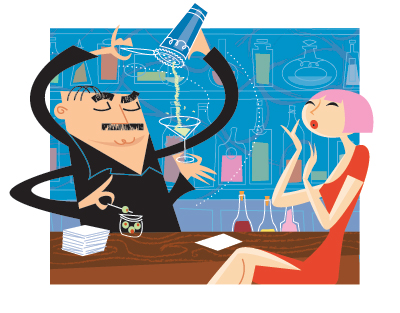 It started with dessert and cupcake bars a few years ago and has grown to include brunch bars and anything else you can imagine. The trend that continues to gain steam is bars and stations, which are a fun way to showcase the couple's personality. Slider stations and seafood bars, food trucks and beer and spirits flights are becoming standard at receptions and after parties. From Southern staples, such as shrimp and grits and barbecue sliders to mac and cheese bars and clambakes, it's all about faves and craves.
In addition to the fun factor, couples can save money by steering away from a sit-down dinner. According to The Bridal Association of America, the average wedding caterer cost, including food and food service, drinks and drink service and cake and cake cutting fees is $12,790. The average number of guests is 150, so about $85 per person. With stations, such as biscuit and ham, mac and cheese or taco bar, that cost can go down to as low as $20 per person, depending on the caterer and food choice. Just pick a theme, such as Asian, Gulf Coast seafood or Mexican, or a beloved food and go for it.
Stations also offer a practical solution to those with a lot of friends and family who are vegetarians, have special dietary needs and food allergies or who those are just picky eaters.
Couples are getting crafty with the presentation too. Signage in any style, from elegant and sophisticated printed topography to rustic chalkboard art, highlights the dishes. Sample-sized portions are elegantly or whimsically displayed on tiny, appetizer-sized china. The design options are limitless.
For beer and spirits lovers, rum and whiskey tastings and craft beer bars are de rigueur and Louisiana has no shortage of breweries and distilleries. From Oryza, which produces gin and vodka; Bayou Rum; and Atelier Vie (makers of absinthe, vodka, gin and rice whiskey) to Bayou Teche Brewing, Abita Brewing and Chafunkta, just to name a few, there is something for every couple who enjoys tippling.
Don't forget about dessert. Milk and cookie bars; cupcakes; delicate French macaroon trees or spreads; and s'mores will have you and your guests feeling like kids again.