Food With a View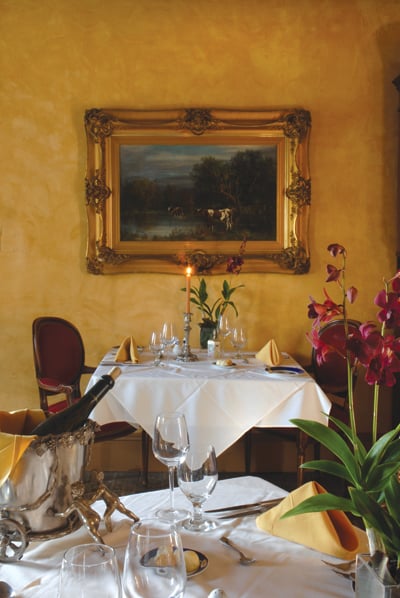 Good food is one thing. Good food in a beautiful setting with a lovely view takes life to a whole different level. Even though the vistas of Acadiana are plenty and beautiful, finding the perfect restaurant with a lovely view can be tricky. We've uncovered some treasures here. Some will be old favorites and some will quickly become new favorites.
---
Latil's Landing in Houmas House
40136 Louisiana 942, Darrow
(225) 473-9380
Latil's Landing in Houmas House Plantation and Gardens is the perfect combination of elegance, beauty and Louisiana charm. If you're looking for a nice day out and about, take a drive to Darrow and walk through the beautifully landscaped grounds of Houmas House. Lunch or dinner at Latil's Landing is a treat. If you're looking for a Louisiana favorite, try the duck and andouille gumbo. The service is just right, too – helpful but not overbearing. Lafayette resident Cherie Hebert enjoys her trips to Houmas House and appreciates the beauty and change of pace.
"The grounds of Houmas House plantation are just gorgeous," Hebert says. "You feel as a guest of the plantation owner. It's not so much the view from the restaurant, but the stroll to and from the restaurant. If you'd never been to Houmas House, it's a real treat to experience the beautiful gardens."
---
Regatta Seafood and Steakhouse
508 Hawkeye Ave., Lake Arthur
(337) 774-1504
Almost three years, Craig Guilbeaux and Greg Trahan decided to build Regatta "from the water up," according to Guilbeaux. They appreciated they beauty the tiny town of Lake Arthur had to offer and wanted to create a place people from all over could come and enjoy. So they did. And the people have come – on foot, by car, by boat and even by plane. Room for 30 boats to dock at the restaurant just wasn't enough.
"We get a lot of the scientists who are trying to introduce the whooping crane into White Lake who like to come," Guilbeaux says. And how do they get there? By seaplane, of course. They pull right up to the restaurant, hop out and enjoy.
Guilbeaux is the general manager of Regatta and is committed to doing what he can to share the charm of Lake Arthur, population 3,000, with others.
Regatta's most popular dish is twice cooked crispy duck. It's a very savory half-duck, glazed with Steen's cane syrup glaze.
Regatta's has live music on Friday and Saturday during the summer and warmer months and on Saturday only off-season.
Many guests enjoy lunch at Regatta and take a stroll around the nearby town and park.
"It's a great day outing," Guilbeaux says. "Lots of birding goes on around here. People from all over the world head here for the wildlife."
Tori Guidry, a Regatta fan from Lafayette, appreciates the food and the view. "Looking out from the restaurant the lake is Louisiana beautiful with cypress trees, but unexpectedly open and inviting, in that 'I wish I were boating on the lake,' sort of way," she says.
---
Café Jefferson
5505 Rip Van Winkle Road | New Iberia
(337) 359-8525
Café Jefferson in the Rip Van Winkle Gardens is off the beaten path, but making the effort to get there is worth it. The food is good – a mix of traditional Cajun and seafood dishes, with fresh baked bread and butter on the table. There are also less traditional but wonderful dishes, such as their chili dog. The portions are generous and the wait staff is attentive.
Overall, most people find the experience of dining at Café Jefferson akin to a mini vacation.
"The view is both breathtaking and humbling. The gardens are magnificently manicured," says Debbie Arceneaux of Lafayette, who finds her way to Café Jefferson as often as possible. "It is a welcomed get-away from the hustle and bustle of everyday life."
The indoor restaurant has a glassed in patio that allows patrons to enjoy the view of Lake Peigneur and the gardens even on extreme weather days.
But for Arceneaux and many other guests, the best place to sit to enjoy the view is outside.
"There you can view live peacocks, birds, and God's handiwork at its finest. A lovely spot for restoring the soul," says Arceneaux.
---
Little Big Cup
149 Fuselier Road, Arnaudville
(337) 754-7147
Tucked away in Arnaudville on the banks of Bayou Teche, Little Big Cup is one of the newest gems of rural Louisiana. Owned by Kevin Robin and Sanjay Maharaj, the restaurant offers an eclectic array of culinary treats. Kevin is a native of Arnaudville who came home after spending 20 years in New York. His family owns Russell's Food Center near the restaurant. Maharaj is a native of Trinidad and uses his experienced hand as a manager in managing the restaurant and staff. The response to the restaurant is overwhelmingly positive.
Julie Cochran Bourque of Lafayette says not only is the food delicious, but the wonderful atmosphere, especially on the back deck looking over the bayou "feels like you're getting away when you're really not too far from home."
Guest Marietta Guilbeau Zeringue agrees.
"I like everything about Little Big Cup truly – the way that it's decorated, the heartiness of the food and the smiles and warmth of the servers. It's very homey and you can feel the love that's put into all of it," Zeringue says.
Sunset resident Susan Keller Bush also enjoys dining at Little Big Cup.
"The food is tasty – a little eclectic and very fresh. The portions are perfectly sized – not crazy big," Bush says. "I'm getting hungry just thinking about it. Oh, and you must know – the desserts are pretty and yummy."
---
Ruffino's on the River
921 Camellia Blvd., Lafayette
(337) 706-7333
When Cochon's closed its beautiful restaurant on the banks of the Vermilion near the Camellia Bridge in Lafayette, few could have imagined that another establishment could fit the stylish structure so well.
Think again.
Ruffino's on the River is not only the hot place for drinks, but the food is delicious and, of course, the view is still one of the best in Lafayette – especially on the patio tables, when the weather is nice. Soup, pasta, pizza and steaks are solid choices at Ruffino's on the River.
"The food at Ruffino's was excellent, but the service is what I would go back for," says patron Nikki Riojas of Scott. "I'm extremely impressed with how they train their staff and how they treat their patrons."
Layla Taghehchian of New Orleans also appreciates Ruffino's food, view and the diversity of its clientele.
"It's nice to see people of all ages dinning together at one of the nicer restaurants in town," Taghehchian says. "The view and drinks made our special dinner something to remember.
However, all of the above would mean nothing if the food and service weren't top-notch, as well."
---