Food for Football Season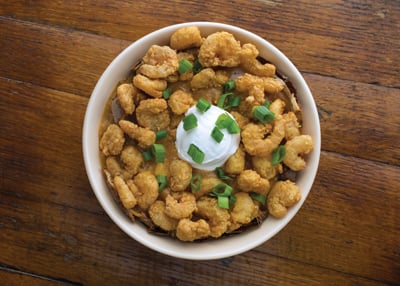 Even though the heat is still on in South Louisiana, fall is on its way. And with fall comes football. And with football comes tailgating. And with tailgating comes food that can only be found in Acadiana.
It almost always comes back to food, doesn't it?
While many gridiron fans prefer to pull out their own grills or cookpots, there is a tailgating contingency that takes the easy (and respectable) way out. They order their tailgating feasts.
If you're planning a tailgating event in the not-so-distant future, enjoy the compilation of old faithfuls and a few choices you may not have considered before.
Steamboat Bill's
1004 N. Lakeshore Drive, Lake Charles
(337) 494-1070
732 S. Martin Luther King Highway,
Lake Charles
(337) 494-1700
Certainly, there's more to Steamboat Bill's than carry-out for a crowd.
Shayna Duffy Manuel, a Lake Charles native, has been going to Steamboat Bill's for as long as she remembers. For her, like many of the Lake Charles faithful, Steamboat Bill's is the place to go for big gatherings of friends and family.
"Steamboat Bill's is great for big parties," she says. "I like their shrimp poor boys, fried shrimp platter and stuffed shrimp. Their gumbo is really good, too, but my absolute, hands-down favorite –like, ever, not just at Steamboat Bill's – is the house potato."
Steamboat Bill's house potato is a giant spud, drowned in crawfish etouffee, topped with fried popcorn shrimp and dressed with traditional baked potato toppings.
Manual describes it as, "To die for!"
Steamboat Bill's casual, family-friendly atmosphere combined with food to please is a winning combination.
"Their wait staff is always happy and on the ball," Manuel says. "We have never, ever left unhappy."
Some locals consider the Steamboat Bill's on the lake as being more for tourists and prefer the Broad Street location. Both locations are crowd friendly and have an ordering process that easily accommodates paying separately.
---
2Pauls Radically Urban Barbecue
2668 Johnston St., Lafayette
(337) 232-1181
4016 Hwy. 90 E., Suite 100, Broussard
(337) 839-2999
Not all barbecue is old-school anymore, and 2Pauls Radically Urban Barbecue is living proof.
2Paul's pulled pork sandwich can hold its own against any sandwich in the region. Beyond barbecue and adding a Louisiana flair to their menu, the rice dressing alone is worth a trip to 2Pauls.
Even if you're not very hungry, 2Paul's has a portion size just for you.
"They do a small plate that is just enough, and their turkey is fantastic," Theresa Smith, a loyal 2Paul's patron in Lafayette, says. "Plus, the brisket is really good. Their ribs melt in your mouth, and I love their coleslaw."
It's worth noting that 2Pauls makes their own barbecue sauces – and there's a variety to choose from, running the spectrum from sweet to savory.
---
Raising Cane's
Locations in Houma, Lafayette, Lake Charles, New Iberia, Opelousas, Thibodaux
(Check www.raisingcanes.com for info)
Even though the food at Raising Cane's is fresh, it's still technically fast food, which means it would not typically be featured on this list.
However, any respectable list of potential tailgating food in Acadiana must include Cane's – it's practically the law.
And don't forget the inexplicably delicious Cane's sauce. Under any circumstances, a big serving of Cane's chicken, with fries and Cane's sauce is hard to beat, but when shared during a tailgating party with friends, Cane's is legendary.
Jean-Luc Billeaudeaux, of Lafayette, agrees: "Everybody likes fried chicken, and Cane's chicken tenders hold up well. They're easy to grab at a tailgating, and the Cane's sauce is a pretty tasty," he says. "Plus, at this point in my life, they have one of the only fried items, other than fries, that I'll eat. Fresh is good."
---
Zea Rotisserie and Grill
235 Doucet Road, Lafayette
(337) 406-0013
When it comes to catering a meal or a tailgating celebration, no one serves up mouth-watering consistency like Zea Rotisserie and Grill. They're famous for their daily specials with a side of corn grits and their Thai ribs, but the menu is chock-full of other flavors that appease a variety of palettes. Even so, it almost always comes back to the corn grits.
"My daughters love the corn grits, so going to Zea's is a great way to spend time with them and enjoy a night out," says Erin Smith Roy. "Plus, every year for lunch and drinks on New Year's Eve, I go to Zea with my girlfriend group who we call the 'ya-yas'. Some of these ladies I only see once a year, and it's at Zea."
Zea is rock-solid in its attentive service and has an extensive menu and daily specials. Zea also offers catering services if you're hosting a football gathering.
---
Mazen's / Mazen Grill
5818 Johnston St., Lafayette (Mazen Grill)
(337) 769-4440
217 W. College St., Lake Charles (Mazen's)
(337) 477-8207
Mazen may be a surprise on this list, but those who have eaten Mazen catering for events and tailgating, know that if you're looking for something a step above and sophisticated, Mazen is a great choice.
The restaurant serves continental and Mediterranean cuisine.
According to Amy Broussard, a Lafayette loyal customer, Mazen is the choice for all events from tailgating to scout parties to more elegant receptions.
"Ghassan [Harb], the owner and manager, is a longtime restaurant figure in Lafayette. He personally oversees every phase of food preparation and service in his restaurant, which is in every way a labor of love for him," Broussard says. "He inspects and selects the fish, seafood and meat prepared and served in his restaurant. He also personally fillets the fish and prepares many of the sauces, so he is assured it's done to his strict and discerning standards."
House favorites include asparagus and lump crabmeat appetizer, filet mignon topped with lump crabmeat and the fish of the day, prepared "Acadian" style.
---
East Gate BBQ
7516 Louisiana 182, Morgan City
(985) 384-7675
East Gate BBQ Owner Harlan Kappel is going the extra mile to serve over-the-top barbecue at Morgan City's East Gate BBQ. With fried pickles, brisket egg rolls, fish tacos with East Gate's special Hawaiian pig sauce to the all-time favorite pulled pork, East Gate doesn't settle for just the regular fare.
Samantha Marbut, who grew up in Morgan City, but relocated to California, made a point to stop by on a recent trip home because she was impressed with what she was seeing on social media.
"I went to school with Harlan and could tell that he was doing some creative things with their menu," she says. "I wanted to try it out. Harlan puts his all into it. He's a Morgan City native, so he's got a lot invested."