Fontainebleau Oasis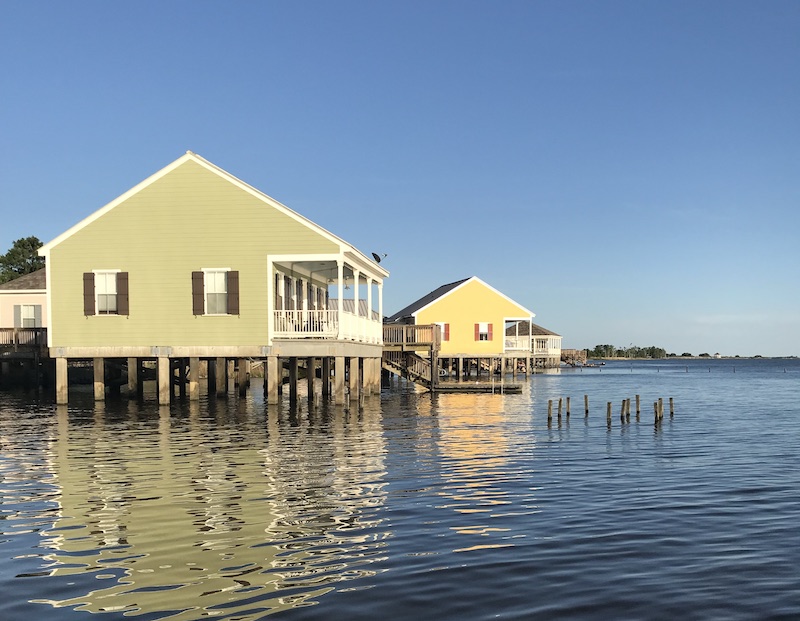 If you have never visited or, better yet, spent the night amid Fontainebleau Park's 2,800 acres, you are missing out on an extraordinary experience. The sprawling and hypnotic Lake Pontchartrain, with a backdrop of moss-draped trees and magnolias, makes this site a one-of-a-kind escape. Fontainebleau State Park, which is on the National Historic Register and borders the city of Mandeville, is one of the most-visited state parks in the country. It is chock-full of fascinating history, some of which dates back to pre-historic Native Americans, and exudes a spellbinding natural beauty unique to Louisiana.
You will need a couple of days to really absorb all that Fontainebleau offers. (Fact: The park opened in July of 1943.) Among the top features – which repeatedly brings visitors back for return visits – are its over-the-lake cabins, extensive sandy beach (expanded from the natural beach that was already here before the construction of the state park), and long fishing pier. There's a pair of trails, one a nature trail with a boardwalk, which extends over the marsh and the second a longer hiking trail through the woods that flourish with a variety indigenous plants and trees. (Tip: This is both a wildlife and a bird lover's paradise. There are more than 400 different bird species in Fontainebleau Park, and you can pick up a Fontainebleau Birding Guide at the Visitor Center.)
Another huge draw, and perhaps the most intriguing, are the ruins left behind from the sugar mill and plantation developed by French-Creole nobleman Bernard de Marigny de Mandeville. (Fact: Marigny acquired the land at which Fontainebleau sits in 1829, and he named the plantation Fontainebleau after the estate which belonged to King Francis I.) Also, be sure not to miss the Visitor Center and museum, the latter of which has a plethora of artifacts including items from indigenous peoples that roamed the area, and artifacts from the plantation and surrounding Fontainebleau State Park. (Tip: Museum curator Richard Scott is full of fascinating information and loves telling visitors all about the area.)
There are a number of water activities to be enjoyed here; after all, Fontainebleau is bordered by Lake Pontchartrain, Bayou Cane and Bayou Castine, three varying ecosystems. From kayaking and paddle boarding to casting a line at the park's pond, the fabulous fishing pier, or from a boat out on the glistening lake, you will not run short of things to do. Another popular activity is hopping on two wheels along the award-winning, 31-mile long, paved and protected Tammany Trace, which cuts through the park. There's also an equestrian trail, which runs parallel with the beautiful Trace. (Tip: Have the friendly folks at Bayou Adventure deliver your bikes, kayaks, SUP boards, and even bait and fishing supplies to you at the park, or visit their fabulous, family-friendly store in neighboring Lacombe. Most bike and kayak deliveries are free!)
Hands down, one of the best-kept secrets at Fontainebleau is its raised deluxe cabins over the glistening Lake Pontchartrain. These cabins, which sleep up to eight people, have everything you need. The wide porches face the expansive lake and are perfect spots from which you can sit in your rocking chair and watch the stunning sunset. Each cabin also has a wooden pier, which jets out even further over the water, plus there's a lodge and a large campground which includes RV hookups. (Tip: cabins book up fast, so make your reservation as early as possible.)
If you like to picnic, it will be hard to choose which setting in this massive park would be best for your outdoor dining experience; there are picnic tables and also outdoor grills available. If you are staying in a cabin, you may just want enjoy a meal in your large screened-in porch with the view of the water.
There are several fabulous restaurants right outside the park, even along the lake in Old Mandeville. Whatever you do, don't miss breakfast or lunch at Liz's Where Y'at Diner. (Tip: If available, ask for corner table #20, which has the best view in the house; there's a dining counter where many locals sit.)
You really can't go wrong with anything on the extensive menu, but among the most popular dishes are the crabmeat gilled cheese and Liz's "Goolosh." Order the Cheesecake of the Day, key lime pie or the hummingbird cake, which one waitress describes as, "The Fourth of July in your mouth!" (Tip: While all the waitresses are exceptionally friendly, because they are truly a close-knit family here, Wendy will dance with your kids!)
Like the many New Orleanians who've crossed Lake Pontchartrain to the Northshore, so have a flood of restaurants. Lama's St. Roch dates back to 1947, and the seafood and New Orleans-style dishes are awesome, as is the mouthwatering roast beef po'boy, which just so happens to be a favorite of the owner, Tony Lama. (Tip: Be sure to look at all the historic photographs that adorn the wall of Lama's Sicilian ancestors in New Orleans and in Sicily.)
For more information:
facebook.com/Fontainebleau-State-Park