Firmly Planted Roots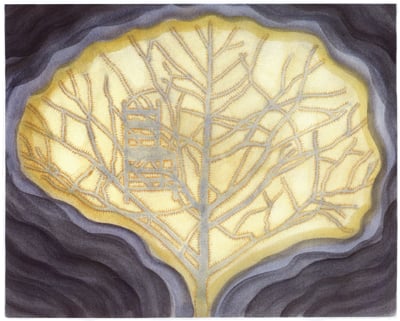 At Mare Martin's Homecoming, there is no dance. No outlandish date proposals. No eagle-eyed chaperones. No nerve-racking slow songs. No tacky streamers lining the gymnasium. No regrettable, awkward photos taken by your parents.
Heck, there's not even a big game.
But there is a winner. And that's Martin.
Speaking with a innocent glee absent from most folks her age, (or even half her age, for that matter) Martin willingly shares the details in the rewarding process of wrangling up her old works for a retrospective exhibit at the Acadiana Center for the Arts that runs through mid-September. One by one, paintings Martin hadn't seen in years started arriving back in Lafayette – on loan for the extended showing – carefully buried in Styrofoam peanuts and enough bubble wrap to entertain a 4th grade classroom until winter.
"It's like that old show, 'This Is Your Life,'" Martin says. "I don't know if anyone remembers that TV show, but I sure do. And a retrospective is basically that show in real life. Except you don't have to say a show, you can just show your life on a gallery wall."
Martin doesn't care if this sounds silly, but the first sight of paintings she hasn't seen in decades nearly brought her to tears.
"These are my children, and now I have my children around me," Martin says. "It's a wonderful thing. As a mother of children, this is a familiar feeling to me – to have all these wonderful things back in my position, if only for a little while. And that's all thanks to the people kind enough to loan this paintings out. Because some of these pieces came from far places."

---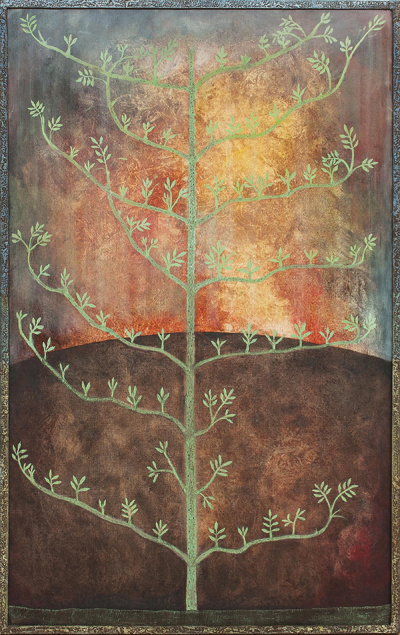 ---
San Diego, Los Angeles, North Carolina, Colorado, South Carolina, Mississippi, Texas and New Mexico, to be exact. All of the exhibit pieces – painted between 1989 and 2015 – are borrowed from private collections. Thankfully, Martin documented the whereabouts and owners of her work years previously, a tip she learned while in art school abroad.
"There's value in everything you do," Martin says. "This is personal. If you don't document your work, it's gone; it's lost. It's like a lost child. Even when my work is finished and belongs to someone else, I'll always have a relationship with the piece.
"And now they're back. It's like a reunion. I'm filled with delight and joy. And I almost feel like (the paintings) are glad to be back with their mother."
The full, official ACA exhibit title reads, "Sustained Intimacy, A Retrospective." Martin is asked if the word choice "retrospective" makes her feel old. She pauses, caught a little off guard by the question, before politely answering no, it doesn't. The key word, she says, is intimacy – because this passion to create originated at an early age and over years developed into a unique relationship in which art and nature encompass Martin's spirit and being.
Raised on a small farm in the agro-dependent community of Opelousas, Martin's pieces touch upon the complexities and beauty of the plant world.
According to the exhibit brochure, nature (and all that grows from it) "enchants" her. She speaks of plants with genuine reverence. An avid gardener – in fact rows of vegetables and flowers bloom steps away from her art studio – Martin began sketching pencil drawings of various plants at various stages of development. In time, those black and white pieces blossomed onto canvas, bursting with familiar, earth-tone colors.
"It's a dual world that I've brought together," Martin says. "Inspiration, artist inspiration, was and is right outside my door. Plants are very complex, and the best way to understand it is up close: observing the different stages of growth, connecting with it and gather information from the plant. It's a deep experience – an honest-to-god connection with nature.

---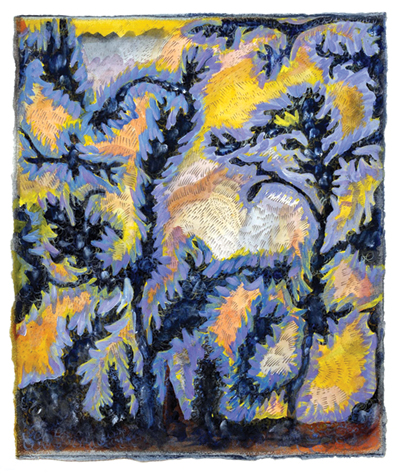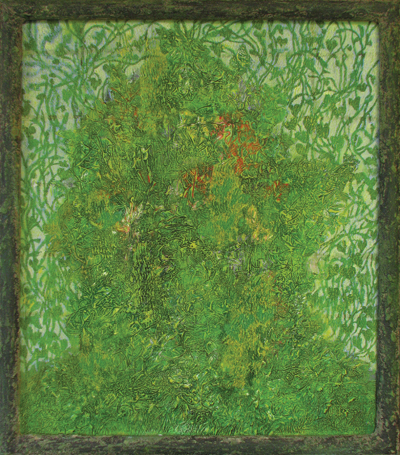 ---
"It's simple, but it took me 10 years to get to where I am. It's like understanding a new language. Now, I'm not connecting with the plants as an entity. I'm not connecting with my friend the elderberry. I'm connecting with an intelligence there, which is represented by the plant."
Though not overly detailed, Martin's paintings possess depth and layers – qualities only attainable when the artist reaches a harmony with their subject. Martin paints with a heavy-hand, creating texture and movement. Elements from the world of which she paints are incorporated into the work. For instance, clay from crawfish chimneys help form many of Martin's frames.
Her artistic rhythm is erratic and unscheduled, always willing (and many times eager) to step away from the easel and escape into her nearby backyard, whether it be to examine a soon-to-be painted paint more thoroughly, or to simple get dirt under her fingernails as cathartic relief.
"When you're a cook, and you're using fresh ingredients, you want you garden as close to your kitchen as possible," Martin says. "Well, when you're an artist, and you paint plants, it's a good idea to have my garden close to my studio. Plant matter is my subject matter.
"Inspiration is right outside my window. Sometimes, you need to go touch it."
To see more of Mare Martin's work, visit maremartin.wordpress.com