Family Ties
A second home in Crowley is custom built for bringing together the next generation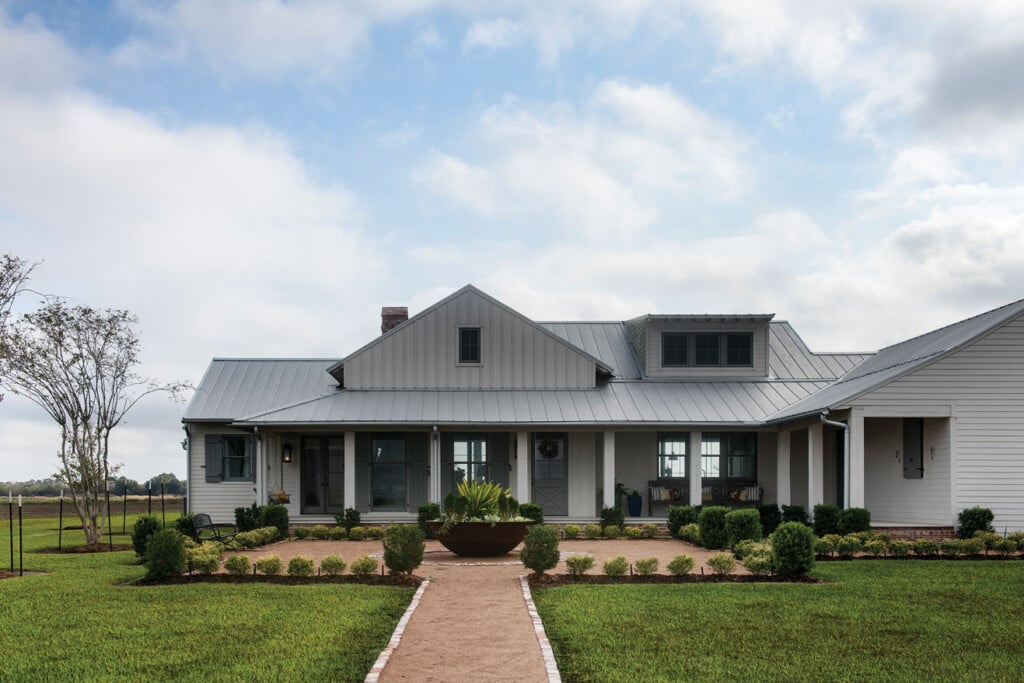 Details
Architecture & Design Gossen Architects, gossenarchitects.com
Builder Clayton LaFosse, LaFosse Construction, lafosseco.com
Interiors Katie Greene
Audio/Video Treylon LeBoeuf, Elevat'd AVL
Stacey Doré and her husband knew they would end up in their mutual hometown of Crowley. They just weren't exactly sure when or how.
Despite working and raising their two sons in Dallas, the Dorés felt the pull grow stronger a few years ago and decided to finally put down roots on family land in Acadiana.
"It started out as we might buy one of these mobile homes, and then maybe we should build something we can add onto, and then it turned into, 'Let's just build the house we want to live in forever'," says Doré.
They manifested this vision with the help of Kevin Gossen of Gossen Architects. The result is a modern farmhouse that serves as a gathering place for extended family, a comfortable landing spot when visiting relatives and a future primary home when the couple (eventually) retires.
"I wanted an architect who had a feel for the local culture and understood what would make sense when putting a house in the middle of a rice field and a crawfish farm," says Doré.
Gossen used the surrounding land and property to inform the home's design. "It is deeply rooted in a farmhouse, rural architecture. Even down to the interiors," he says.
He also worked closely with Doré to make sure the layout could function to meet the family's needs. That meant scaling down the size of the home's four bedrooms to make room for large living and dining spaces.
"The whole point of this house is no one is supposed to be sitting in their bedrooms," says Doré. "We're supposed to be spending time together."
Doré selected furniture with her extended family in mind, specifically a dining table and sofas that can comfortably fit up to 15 people. A vaulted, cathedral ceiling and ample natural light streaming in from a clerestory window keep the main living spaces feeling open and airy, no matter how many people gather inside.
But when the Louisiana weather blesses them, the Dorés also have ample outdoor entertaining options. Sliding glass doors in the living room open to the home's large back porch to pave the way for crawfish boils and backyard barbecues.
"On a beautiful day — that rare fall, October day — we can open those sliding glass doors and it's seamless," says Doré.
If all else fails, the garage can convert into a climate-controlled party room. They designed the versatile space with custom barn doors on one side that serve as an entryway. "It's an easy place to entertain," says Doré.
Doré and her husband have enjoyed hosting family gatherings since completing the home, but she says one of her favorite things to do is sit on the porch and enjoy her morning cup of coffee, surrounded by the natural beauty of the familiar Louisiana landscape.
A large, traditional sugar kettle planter at the home's entrance is one of guests' favorite features and creates a focal point in the front landscape, designed by Gossen. The architect created a formal-meets-farmland aesthetic with a picket fence and crushed granite walkway.
Gossen says each element of the home pays homage to the family, the property and the celebration of their lives together.