Facing the Music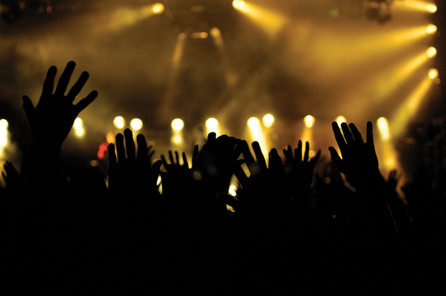 GRAND STAGES
Cajundome
444 Cajundome Blvd.
Lafayette • 337/265-2100
www.cajundome.com
Back in the day, music fans in Acadiana had two choices when craving a glimpse of big-name headlining acts: Go to New Orleans, or go to Houston.
Those days (thank goodness) are long-gone thanks to Lafayette's Cajundome. Within the past three years, the Cajundome has welcomed rap superstar Lil Wayne, teeny-bopper sensations Taylor Swift and Justin Bieber, country standouts Brad Paisley and Hank Williams Jr. and the legendary Elton John.
The cool thing about the Cajundome is that although it's a basketball arena, it's a college basketball arena, meaning the scene is a lot more intimate than an NBA or NHL venue. Usually, the stage is backed up against Sections 200 to 204 at one end of the court. Floor seats are obviously prime real estate, but sections along what would be the basketball sideline provide great views of the stage, as well.
Grand Opera House of the South
505 N. Parkerson Ave.
Crowley • 337/785-0440
www.thegrandoperahouse.org
This impressive second-story opera house was built in 1901 for the handsome sum of $18,000. Such names as Babe Ruth (yes, that Babe Ruth), Enrico Caruso, Clark Gable and Huey Long graced this stage before it closed in 1940. In 2004, the Grand Opera House underwent a $4.5 million renovation and officially reopened as a 501(c)(3) organization. Live music acts are often booked here, along with dramas, comedies and children's events.
Houma-Terrebonne Civic Center
346 Civic Center Blvd.
Houma • 985/850-4657
www.houmaciviccenter.com
With a crowded calendar full of events such as wedding receptions, high school graduations and something called a bus safety seminar, the Houma-Terrebonne Civic Center doesn't consistently offer up live music. But when it does, it's one of the most underrated large venues in Acadiana. The beauty of this building is the massive floor space – 37,000 square feet for those keeping count. With that much room, nobody should get turned away at the door. Plus, it makes for an expansive dance floor with plenty of elbow room.
L'Auberge Casino Resort
777 Ave. L'Auberge
Lake Charles • 337/395-7777
www.ldlcasino.com
A bit of an explanation: The stage at the L'Auberge du Lac isn't necessarily grand, but the venue is. Unlike some of its Acadiana casino brethren, L'Auberge doesn't have a massive indoor music stage, so management improvises by setting up an outdoor stage in the resort's Pool Island area. This spring, L'Auberge featured a three-day concert series with favorite cover bands The Chee Weez and The Molly Ringwalds. The casino also welcomed an Asian music act and plans to continue offering diverse music tastes for its patrons. When the weather gets cold, live music can be enjoyed in the cozy confines of the Jack Daniels Bar – an intimate 165-seat setting.
Paragon Casino Resort
711 Paragon Place
Marksville • 800/946-1946
www.paragoncasinoresort.com
Operated by the Tunica-Biloxi tribe, the Paragon is undoubtedly the entertainment jewel of northern Acadiana. There's something here for everyone: gaming, dining, family fun, Louisiana history and culture. Oh, there's also great live music. Bigger acts generally play in the Mari Showroom. Recently, the Paragon has attracted the likes of The O'Jays and country stars Big & Rich. In the past, legends such as Loretta Lynn and The Beach Boys graced the Paragon stage.
Cypress Bayou Casino
832 Martin Luther King Road
Charenton • 800/284-4386
www.cypressbayou.com
What are you in the mood for tonight? Cajun? Zydeco? Country? Jazz? R&B? For those who can't make up their musical minds, the best bet is to head to the Cypress Bayou Casino – which offers, for lack of a better phrase, a sampler platter of live performers. With five bars/clubs on the property, the Cypress Bayou does an excellent job of offering musical diversity. And for such a remote location, the Cypress Bayou has attracted national stars such as Lionel Richie, ZZ Top and Dolly Parton throughout the years, along with local favorites such as Jamie Bergeron, Travis Matte and Wayne Toups.
Rosa Hart Theatre at the Lake Charles
Civic Center
900 Lakeshore Drive
Lake Charles • 337/491-1256
www.cityoflakecharles.com

Located on the south end of the massive Lake Charles Civic Center, the Rosa Hart Theatre offers an aesthetically pleasing setting for concerts. With a fixed capacity of just under 2,000, even balcony seats offer a tremendous view of the stage.
Liberty Theater
200 Park Ave.
Eunice • 337/457-6577
www.eunice-la.com/libertyschedule.html
As far as second acts go, good luck trying to top the Liberty Theater in Eunice.
This historic downtown building, found on the corner of Park Avenue and Second Street, originally opened in 1924 and attracted headliners such as Tex Ritter and Roy Rogers.
After falling on hard times, the Liberty Theater was resuscitated in the 1980s thanks to a massive restoration project. Since reopening its doors, the Liberty has been the home of Rendez Vous des Cajuns – Acadiana's answer to Nashville's Grand Ole Opry.
Strand Theater
(Squeezebox Shootout)
432 N. Main St.
Jennings • 337/821-5509
The calendar of events at the historic Strand Theater (it's been around since 1933) is primarily dominated by a community theater group, though they do sometimes surrender the stage for live music acts. Easily, one of the best "shows" at the Strand is the annual Cajun Squeezebox Shootout Accordion Championship, where awards are given to the top musicians in the youth, junior, adult and professional divisions.
Lamar-Dixon Expo Center (Swamp Pop Music Festival)
9039 St. Landry Road
Gonzales
225/621-1700 or 225/769-9994
www.lamardixonexpocenter.com or www.swamppopmusicfest.com
The Swamp Pop Festival – a celebration of this indigenous genre of music that's equal doses of Cajun, zydeco and blues mixed with a pinch of rock 'n' roll – is held in the middle of July at the Lamar-Dixon Expo Center. And before you ask: Yes, the place is air-conditioned.
The only thing cooler than the setting for this festival is the story behind it. It began it 1998 as a fundraiser for cystic fibrosis. Each year, this particular festival has grown with more patrons and more bands, but it's never wavered from its philanthropic purpose.
THE GREAT OUTDOORS
Evangeline Downs Event Center
(Zydeco Extravaganza)
2235 Creswell Lane Extension
Opelousas • 337/234-9695
www.zydecoextra.com
So it's fast-paced, graceful yet heart-pounding excitement you're looking for? Well, if you've come to Evangeline Downs, you've come to the right place.
Oh, they also have horse-racing, too.
But the real fun at the racetrack is had on two feet, not four hooves. Each year, the Evangeline Downs Event Center hosts the Zydeco Extravaganza – a 26-year-old festival created by the famous Cravins Family to revive the Creole culture in St. Landry Parish.
Always held on Memorial Day weekend, the Zydeco Extravaganza outgrew the cramped confines of Lafayette's Blackham Coliseum and now maximizes available dancing space by hosting acts on both and indoor and outdoor stages at Evangeline Downs.
Zydeco Park
(Zydeco Festival)
457 Zydeco Road
Plaisance • 337/942-2392
www.zydeco.org
So you might be wondering: What's the difference between the Zydeco Extravaganza and the Zydeco Festival? Um, that's simple – the Zydeco Extravaganza is in May, and the Zydeco Festival is in September.
And basically, that's where the differences end.
Just like the above-listed Zydeco Extravaganza, the Zydeco Festival held at Zydeco Park attracts the biggest names in the genre and is a beaming source of civic pride for locals in St. Landry Parish. It humbly started in 1982 in a farmer's field with only a couple hundred spectators. It's evolved into a multifaceted, must-see event. Festival-related activities take place all over the parish. There's a ball at the Opelousas Civic Center, a 5K Fun Run that weaves through town and a golf tournament at the Indian Hills Country Club. But the music is all contained on the ample grounds of Zydeco Park. Performers provide a thumping wake-up call as the live zydeco music starts blaring at 10 a.m.
The Drinkery at Dansereau House
506 St. Phillip St.
Thibodaux • 985/227-9937
www.dansereauhouse.com
Purchased by state Rep. Damon Baldone in 2009, the Dansereau House in the historic section of downtown Thibodaux offers an ideal location to sit back, enjoy the view, soak up some tunes and let your worries drift away on a gentle summer breeze.
From 5 p.m. to 9 p.m. on Thursdays, The Drinkery at Dansereau House hosts various acoustic music artists on the mansion's veranda. Unlike Cajun dance halls, the atmosphere here is subdued. The musicians match that vibe. Small-plate appetizers and a drink menu of wine, cocktails and beer will help put your mind at ease after a long day at the office.
Oak Ridge Community Park
(Bayou Music Festival)
Louisiana Highway 3235
Golden Meadow • 985/665-1220
With its vast open fields, Golden Meadow's Oak Ridge Park was a no-brainer location choice when the Rotary Club organized the Bayou Music Festival a couple of years ago. Proceeds from the two-day October music festival fund five scholarships at Nicholls State University along with meals and presents for underprivileged children for the holidays. In 2011, festival-goers were entertained on consecutive days by Vin Bruce – one of the first Cajuns to perform at Nashville's Grand Ole Opry.
Girard Park
500 Girard Park Drive
Lafayette
This expansive park hugging Lafayette's Oil Center is home to various festivals featuring music, mostly notably Festivals Acadiens et Créoles since the 1970s. Even though Girard Park is just one large swath of land, its majestic oak trees and somewhat-hilly terrain naturally divide various areas to place the stages – letting park-goers explore the sounds of multiple acts without too much interference from other performances.
Parc International
200 Garfield St.
Lafayette
The Main Stage is massive (and permanent) for an outdoor venue, complete with arena-style lighting and covered by a green tin ceiling decorated with various international flags on the awning. The space directly in front of the stage is a concrete slab perfect for dancing, while farther back are grass areas for families to set up lawn chairs and blankets.
Parc International is considered the main stage for Festival International – a world-class world-music festival that rivals New Orleans' Jazz & Heritage Festival for tourists' attention. It's also home to the spring and fall Downtown Alive! outdoor concert series.
Parc Sans Souci
299 Polk St.
Lafayette
Many consider Parc Sans Souci Parc International's little brother. It too hosts Downtown Alive! on occasion – but never the big acts. It doesn't have a top-shelf stage, and much of the audience area is disrupted by the park's giant water fountain.
But there are some advantages.
For starters, you're not as caged in as you are at Parc International. Downtown restaurants and bars are easily accessible from Parc Sans Souci and often set up temporary drink booths when live music is playing. Then there's Bach Lunch – a free spring and fall Friday lunch-hour series featuring a live band and food services from various Lafayette restaurants such as Tsunami, French Press, Agave and many others. The only drawback if you escape here from your cubicle is potentially spilling sauce on your necktie or blouse while dancing or nodding your head to the music.
Lakeview Park & Beach
1717 Veterans Memorial
Highway
Eunice • 337/457-2881
www.lvpark.com
Soak up the sun. Shake your stuff. Sleep it off. All three are possible at Eunice's Lakeview Park.
During the day, lay out at the park's acre-wide sand beach, complete with a man-made swimming pool filled daily with fresh well water.
Then, later that Saturday night, show off that awesome tan while dancing to various weekly live music acts. And not just any acts – the biggest names in Cajun music play this place. Oftentimes, the acts are contained in a barn area, though for festivals and larger events, they'll set up a stage under the stars.
Then, after you're all worn out, crash inside your camper or motor home – Lakeview is also an RV park.
HOPPIN, HOLES IN THE WALL
Luna Live
710 Ryan St.
Lake Charles • 337/433-4388
Luna Live wants to make one thing crystal clear from the get-go: Yeah, it's a nightclub, but it's not a pretentious nightclub. Come as you are, have a drink, make yourself at home, and listen.
The music menu is vast. Soul. R&B. Jazz. Reggae. Funk. Rock. Back in January 2012, it even hosted a Celtic punk band from Wisconsin. So if you're patient and wait long enough, there's something for everybody's musical taste at this place. The venue also reserves many nights for open mike, allowing aspiring artists to showcase their talents in front of an audience.
Jean Lafitte
Wetlands Acadian Cultural Center
314 St. Mary St.
Thibodaux • 985/448-1375
www.nps.gov/jela/wetlands-acadian-cultural-center.htm
Visitors are certainly invited to come listen to live music here every Monday night from 5:30 to 7, but these weekly Cajun jam sessions serve more as a platform for novices and veterans to bring along an instrument and play for a couple of hours.
Richard Sale Barn
1307 S. Henry St.
Abbeville • 337/893-5760
lebayou.org
Come visit Richard Sale Barn where (according to its own Web site) you can "smell the culture."
Originally an auction arena for cattle, this one-story structure along the Vermilion River was given a second life when the nonprofit organization Le Bayou Legendaire started staging music events here. Bands play on what was once the auctioneer's stage. There's no real designated dance floor, but the audience always seems to find room to boogie. People who have been here more than once usually bring folding chairs or couch cushions to sit on.
Gator Lounge at Delta Downs
2717 Delta Downs Drive
Vinton • 800/589-7441
www.deltadowns.com
Forget horse-racing handicappers. The real winners at Delta Downs in Vinton are fans of live music, thanks to the constant stream of acts performing at Gator Lounge. The stylish bar rests near the elevated stage that features a regular roster of local Cajun, country and jazz bands.
Fred's Lounge
420 Sixth Street
Mamou • 337/468-5411
What else is there to say about Fred's Lounge? This place is uniquely Acadiana and has been a popular topic for writers in this magazine for four decades.
Only open on Saturdays from 8 a.m. to 1 p.m., Fred's offers live Cajun or zydeco music and energetic dancing at a time when many people are just making it to brunch.
Grant Street Dancehall
113 W. Grant St.
Lafayette • 337/237-8513
www.grantstdancehall.com
If it's Friday or Saturday night in downtown Lafayette, odds are someone you know will be strutting their stuff at the Grant Street Dancehall. For three decades it's been a weekend getaway for locals and tourists alike. Big names have played here, too: Ray Charles and Muddy Waters.
Angelle's Whiskey River Landing
1365 Henderson Levee Road
Henderson • 337/228-2277
www.whiskeyriverlanding.net
Every Friday night from 9 till midnight and Sunday afternoon from 4 till 8, Angelle's Whiskey River Landing features live Cajun or zydeco music and dancing. The dance floor may be humble plywood rubbed smooth from years of use, but the view is one of the best in Acadiana: The Atchafalaya Basin serves as a breathtaking backdrop. And as the night wears on, guests are encouraged to get up and dance on the bar for the last song.
El Sido's Zydeco and Blues Club
1523 N. St. Antoine St.
Lafayette • 337/237-1959
Don't let the exterior fool you.
From the corner of St. Antoine Street and Martin Luther King Drive in upper Lafayette, this place looks quiet and uninspiring. The building's architecture seems more befitting of a small community bank or an insurance office.
But once the sun goes down and the band starts howling, there's no mistaking this place for anything but one of the top music venues in South Louisiana. Family-owned since its inception, El Sido's is the home arena for two bands, Nathan and the Zydeco Cha Chas and Lil Nathan & the Zydeco Big Timers.
Slim's Y-Ki-Ki
8410 Highway 182
Opelousas • 337/942-6242
www.slimsykiki.com

Since 1947, Slim's Y-Ki-Ki has attracted a loyal clientele; musicians belt out (and occasionally make live recordings of) classic songs, keeping the audience dancing and sweaty as they crowd together on the dance floor. With a modest interior consisting of a stage against one wall, a bar against the other and the aforementioned dance floor in between, Slim's makes up for in character what it lacks in furnishings. Its well-worn décor, neon beer signs and patchy paint add charm to the place, and live music echoes well into the night.
Pont Breaux's
325 W. Mills Ave.
Breaux Bridge • 337/332-4648
www.pontbreauxscajunrestaurant.com

New name. Same swing.

Pont Breaux's – the former Mulate's – features live Cajun music and dancing every night of the week, making it a surefire stop for out-of-towners. Down a bunch of calories at dinner, and then do your best to work them off on the dance floor.
The music calendar here is littered (in a good way) with performances by Jay Cormier and Lee Benoit, who play beside a painted canopy backdrop of the Atchafalaya Swamp.
Benoit gets the crowd shuffling its feet with songs like the "Bosco Stomp" and the "Kaplan Waltz" while Cormier counters with such numbers as the "Crowley Two-Step" and the "Lake Charles Playboy Waltz."
La Poussiere
1301 Grand Point Ave.
Breaux Bridge • 337/332-1721
www.lapoussiere.com
In 1955, the late Ovey Patin and Mary Patin purchased an old country grocery store on Grand Point Avenue, transformed it into a dance hall and called it Patin's Bar. As Walter Mouton and the Scott Playboys played high-energy Cajun music every Saturday night, the inevitable enthusiastic dancing on a hardwood floor laid over dirt kicked up a layer of dust. The name was changed to La Poussiere, French for "the dust," and although the original dance floor is no longer there (the dance hall moved across the street in 1975), the name has stuck. Not much else has changed, either. Known as La Petite Cathedrale de Musique Cajien – The Little Cathedral of Cajun Music – La Poussiere takes its role in preserving Cajun heritage, language and music very seriously. Every Saturday night and Sunday afternoon, everyone is invited to come listen to authentic traditional Cajun music – and of course, kick up some dust on the dance floor.
Artmosphere
902 Johnston St.
Lafayette • 337/233-3331
Consider this the hipster's enclave from a market saturated with Cajun and zydeco clubs and mega dance halls/clubs. Lyrics cut through the smoke-filled bar, entertaining an audience decked out in fedoras and ironic T-shirts. Artmosphere hosts arguably the most accepting open mike night in Acadiana, as all forms of music and expression are welcomed and often appreciated.
The Jolly Inn
1507 Barrow St.
Houma • 985/872-6114
www.thejollyinn.com
Overflowing with candy for the eyes and candy for the ears, The Jolly Inn offers the Lafayette-type dance hall experience for residents "down the bayou." Real estate on the restaurant walls is scarce: Every inch is covered by something wacky – an alligator plush toy, a Big Mouth Billy Bass, children's rocking chairs and even a rake for some reason.
The dance floor and stage are illuminated by Christmas lights as local favorites Keith Pitre and Buddy Dennis, among others, blast tunes all night long. The Jolly Inn has been featured on reality-TV travel shows on the Discovery and Travel channels.
Blue Moon Saloon & Guesthouse
215 E. Convent St.
Lafayette • 337/234-2422
www.bluemoonpresents.com
This place – a century-old guesthouse turned buzzing Cajun music joint – fits like an old pair of Levi's. It's just comfortable and cozy.
If we're going to be technical, this place probably belongs in "The Great Outdoors" section because the stage and dance area are located on the house's back porch. So when it's 95 degrees with 95 percent humidity, prepare to sweat. When it dips below 40, bring a jacket. But don't ever worry about the rain – the stage and dance floor are covered.
Without a doubt, the coolest aspect of Blue is the intimacy. You can make song requests to Cedric Watson without yelling or literally reach out and touch Jamie Bergeron while you two-step.
Zydeco Hall of Fame/Richard's Club
11154 Highway 190
Lawtell • 337/349-8827
Although this place was officially renamed a couple of years ago, most still know it by its former name, the old Richard's Club. Since 1947, this unassuming destination has welcomed legends such as B.B. King, Clifton Chenier and Rockin' Sidney to the stage. After 59 years of operation, Richard's closed in 2006 only to be reopened again two years later.
Not surprisingly, this oozing-with-character-and-characters joint has drawn attention from national media sources including Time magazine, CBS' Sunday Morning, PBS and National Public Radio.