Exploring Louisiana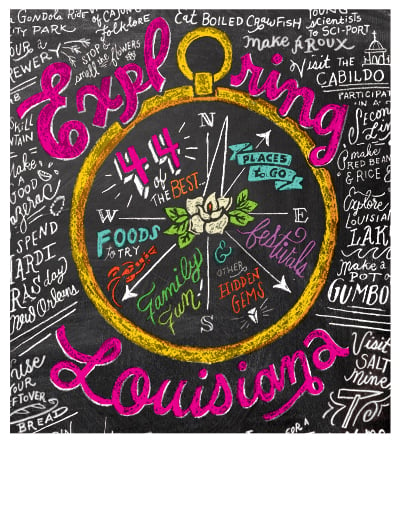 Before Louisiana was a state, it was a territory, and before that, it was an expansive, promising land full of resources and natural beauty. What follows in these pages is a compendium of editors' picks of things to do, food to try, places to visit and traditions to make your own. We can't say this is a comprehensive guide, because Louisiana has an infinite amount of adventures waiting to be had, but we hope this will inspire you to get out and explore the state.
CULTURE
Spend Mardi Gras Day in New Orleans
We know a lot of towns have Carnival celebration, and good for all of them – but to experience the real thing at its funkiness and glory, spend your Mardi Gras in New Orleans' Marigny neighborhood and then cross Esplanade Avenue into the French Quarter. This is where the spirit, and not commercialism, rules.
– Errol Laborde
Photograph by Cheryl Gerber
FOOD
Make a Roux
Roux is central to Louisiana cooking, and everyone should know how to make one. It involves cooking flour in oil or some other fat, while constantly stirring, until it is the desired color, ranging from blonde to almost black. It sounds easy, but it takes practice to make a dark roux without burning it.
– Stanley Dry
TRAVEL
Stop & Smell the Flowers
Check out the national gardens of the American Rose Society, west of Shreveport near Greenwood, which moved here from Ohio in 1974 in search of elbow room and of the South's longer blooming season. It's America's official point of registry for all old and new varieties of roses, and its 118 acres feature dozens of individual gardens sponsored by local Rose Society chapters around the nation. You'll find everything from old garden roses and floribundas to hybrid teas and miniatures, all blooming April through October. Other plants help keep the Rose Center colorful all year, and December brings the million-light Christmas in Roseland display. Information, rose.org.
– Paul F. Stahls Jr.
FOOD
Eat Boiled Crawfish
A rite of passage for anyone new to Louisiana is learning to "suck the heads and pinch the tails" of boiled crawfish. The heads contain the tasty substance we euphemistically call "fat," and pinching the tails is the preferred method for separating the tail meat from the shell. – S.D.
FOOD
Use Your Left-Over Bread
It would be a shame to waste day-old French bread when it can be made into such wonderful dishes as pain perdu and bread pudding. Pain perdu, which translates to "lost bread," since it would be lost if not used, is known elsewhere as French toast. Bread pudding is always a favorite dessert, especially when served with whiskey sauce. – S.D.
TRAVEL
Take a Gondola Ride in City Park
Who needs Venice? Besides, the buildings there are so old. There is an authentic Venice gondola, complete with gondolier and a music box loaded with romantic songs, for hire at Big Lake in City Park, located near the New Orleans Museum of Art. In case you want to do it yourself there are also rowboats, canoes and paddle-boats for a self-propelled cruise through part of the state's most picturesque park. Information, neworleanscitypark.com. – E.L.

Photograph by Cheryl Gerber
FOOD
Make a Pot of Gumbo
If Louisiana had citizenship requirements, surely one of them would be knowing how to make gumbo, a dish that is tightly bound up with our state's identity. There is no one master recipe for gumbo and versions vary from cook to cook, so you have some leeway to personalize the dish. But only within reason. Don't add anything weird, such as broccoli or quinoa.
– S.D.
Photograph By Eugenia Uhl
TRAVEL
Visit a Salt Mine
Vsit the depths of a Louisiana salt mine – a real challenge since they no longer offer tours, so the only hope for non-miners is to buy a share of one or woo someone who has. Salt mines are blasted out in layers, each level a vast labyrinth of incredibly high-ceilinged corridors supported by huge pillars of unmined salt, a place of dimly lit whiteness through which a Jeep ride is the most other-worldly experience in the world.
– P.S.
TRAVEL
Play "Circle the Cypress"
Upriver from St. Francisville at Cat Island National Wildlife Refuge (inaccessible during the high-water months of spring and summer). It's easy to spot the world's largest bald cypress there, but not so easy to actually encircle it. All holding hands, a big family might stretch across half of one side of it for a photo, but to truly surround it, bring your extended family by bus. The tree has a height of 83 feet, a diameter of 17 feet, and a circumference of 56 feet. – P.S.
Photograph by Tony Langford
TRAVEL
Take a Trip to Hodges Gardens State Park
Located near the towns of Many and Leesville in Sabine Parish on the western edge of the state, the Gardens are not what they used to be when they were privately funded; nevertheless, now as a part of the state park system, the facility is coming back. There is still much to behold and some great views plus the waterfall and lookout tower. On a clear day, you can even see Texas. Better yet, every day you can see upstate Louisiana. – E.L.
DRINK
Tour a Brewery
It's no secret that Louisianians are exceptionally skilled at throwing back a few beers, but with the recent influx of local breweries popping up around the state, it's fun – and even educational – to witness the beer magicians at work. Many brewmasters offer free or discounted tastings, often supplementing them with food pairings or trivia nights. Some even partner up with seemingly unlikely businesses; for example, NOLA Brewing recently collaborated with activewear company Lulu Lemon to host hosted a free yoga series – after each class, participants could buy two-for-one beers. – S.R.
FOOD
Eat from the World's Largest Omelet
Sixty miles southwest of Baton Rouge lies the small city of Abbeville, and though it's population is less than 12,000, this is a place that knows how to party, particularly during the first weekend of November, when it hosts the Giant Omelette Celebration, featuring a 5,000-egg omelet prepared by a procession of chefs in a 12-foot skillet with 50 pounds of onions, 75 bell peppers, four gallons of onion tops, two gallons of parsley, 52 pounds of butter and Tabasco pepper sauce. Other festivities of the weekend include live music, Cajun dishes, egg-cracking contests and arts and crafts booths. Information, giantomelette.org. – Sarah Ravits
FOOD
Make a Jambalaya
After gumbo, jambalaya is probably the most storied Louisiana dish. Composed of rice cooked with meat, poultry or seafood (or a combination) and seasonings, it is virtually a meal in itself. Some like tomatoes in their jambalaya, but for others tomatoes are strictly verboten, so know who you're cooking for. People can be very unforgiving on this topic. – S.D.
Photograph by Eugenia Uhl
TRAVEL
Explore Louisiana's Lakes
There are so many lakes in Louisiana that they are hard to keep track of. The problem is that some lakes that are clearly lakes by anybody's definition. Then there is False River, which is really a lake, too, but how about Lake Ponchartain, which is really a basin? Sabine Lake is also a reservoir. Whatever you call these inland bodies of water there are lots of them dispersed through the state – most with the expected aquatic opportunities. – E.L.

TRAVEL
Horseback Riding
Horsebackers could dedicate a whole bucket list to Louisiana trails that lead through interesting landscapes and topography, upwards of 15 in Kisatchie National Forest alone. Two of the most popular offer hilly woodlands and native prairie grasses at Gum Springs Recreation Area, on U.S. 84 eight miles west of Winnfield – (318) 628-4664 – and that city is also the departure point of a horse-friendly 40-mile mixed-terrain "rail-trail"– (318) 628-5928 – to Jamestown in Bienville Parish. – P.S.
KIDS
Learn About Bugs
Held the first weekend of April at Houma's Southdown Plantation, the Ladybug Ball Festival features bug and butterfly releases along with games, food and music. Another place to learn about buggy friends is the Audubon Butterfly Garden and Insectarium, which features lots of interactive insect exhibits, an IMAX theater and even a café that serves up gourmet food – bugs are the special ingredient. Information, search "Ladybug Ball Festival" on Facebook; Insectarium: auduboninstitute.org – Eve Crawford Peyton
TRAVEL
Catch a " Fall-Out" of Migrating Songbirds
At the ridges called cheniers that lie along the seaside Creole Nature Trail through Cameron and Vermilion Parishes, these "hailstorms" of birds occur May through early March, after their 18-to-24-hour trans-Gulf flights, when innumerable species arrive in waves and plummet exhausted into the first oaks and hackberries they see (especially after encountering north winds when fronts move across the Gulf waters). One prime fall-out spot is 12-acre Peveto Woods Sanctuary (maintained by the Baton Rouge Audubon Society and open free at all hours). Drive 8.5 miles west of Holly Beach on La. 82, then left on Parish 525 to the second street, which leads through a cluster of camps and deadends at the chenier. – P.S.
CULTURE
Tailgate for a Football Game
t wouldn't be a stretch at all to say that Louisiana football fans are among the most zealous in the nation; it's a year-round topic of discussion whether you're rooting for the Saints, Tigers or your high school alma mater. Tailgating is a way of life for Louisianians. Nothing brings together friends, families and strangers quite like the pigskin does. – S.R.
FOOD
Enjoy Some Cafe au Lait & Beignets
You really can't say you've experienced Louisiana if you haven't taken time to sample beignets and New Orleans coffee. Puffy and feather-light, copiously coated with powdered sugar, these deep-fried square doughnuts are consumed with mugs of café au lait – dark roast coffee enhanced with chicory, brewed thick and strong, and combined with an equal portion of hot milk. – S.D.
TRAVEL
Visit Briarwood
Near Reidheimer at the northern tip of Natchitoches Parish, once home of horticulturist, author and artist Caroline Dormon. Her gift to Louisiana was not only the creation of Kisatchie National Forest, but also her lifelong collection of Louisiana and Gulf Coast wildflowers and native trees. Now known as the Caroline Dormon Nature Preserve, the forest/garden is on La. 20 between Reidheimer and Saline. Call (318) 576-3379 for regular schedule or appointment. – P.S.

Photograph by Ricky Edgerton
CULTURE
Participate in a Second Line
Traditionally, the group of revelers who follow behind the brass band in a New Orleans parade is known as "second-liners" ­– the "first line" being the band itself or the members of a club. The tradition has expanded from beyond parades and jazz funerals to weddings, while second-liners dance, often waving a handkerchief or parasols high in the air. – S.R.
TRAVEL
Design & Take a Louisiana Dine-around Tour
(Or at least keep a checklist) of favorite foods by region, like remoulade and Rockefeller in New Orleans, Zwolle Tamales, Belle River crawfish, Pontchartrain blue crabs, Ruston peaches, Ponchatoula strawberries, Natchitoches meat pies, tasso in Ville Platte, pecan pie in the Pecan Capital (Colfax), oranges in Plaquemines, watermelons in Farmerville and Sugartown, andouille in LaPlace, boudin in the ricelands, cochon-de-lait in Avoyelles, sauce piquant along the Lafourche, Islenos Caldo soup in St. Bernard and, everywhere you go, barbecue, jambalaya, catfish, crawfish, gumbo… – P.S.
FOOD
Try Some Dirty Rice
It's not really dirty, but it is delicious. Called rice dressing in polite company, it's made with rice, ground pork and spices and often served as an accompaniment to roast poultry or meats. – S.D.
FOOD
Eat Boudin & Crackling
Boudin is a spicy pork and rice sausage and cracklins (also called gratons) are pieces of fried pork skin and fat. In south Louisiana, convenience stores and meat markets offer boudin ready to eat from the steamer, along with packages of cracklins. A road trip without a supply of both is unthinkable, as evidenced by a radio commercial that goes something like this: "I-10 is a long, lonely road without boudin and cracklins from the Best Stop in Scott." – S.D.

FOOD
Make Some Red Beans & Rice
Another iconic dish, this one particularly associated with New Orleans, but eaten throughout the state. Vegetarian it's not, since various meats such as sausage, ham, smoked pork shanks and pickled pork find their way into the slowly simmering pot, but delicious, satisfying and comforting it surely is. – S.D.
Photograph by Eugenia Uhl
TRAVEL
Visit a Louisiana Tech University
In Ruston, Louisiana Tech's 2014 graduating class of 966 was the largest since the school's founding in 1894. The Agriculture Department's Tech Farm Showroom has milk, cottage cheese, cheddar cheese, and 15 flavors of ice cream for sale – including Ruston peach in summer. Information, latech.edu – Carolyn Kolb
DRINK
Know How to Make a Good Sazarac
Of course New Orleans would have an indigenous cocktail. The key ingredient is rye whiskey. To that, add Herbsaint (or a similar anise-based liqueur), Peychaud's bitters, simple syrup, a dash of water and a twist of lemon peel. Save the mojitos and cosmos for another town. Try it at the city's best bars. – E.L.
FOOD
Eat Rice & Gravy
In Cajun Louisiana, the food that natives eat, virtually on a daily basis, is rice and gravy, a category that covers a wide range of dishes, all of them made with a delectable gravy and served over rice. To give you some idea of how important gravy is in the scheme of things, "rice and gravy" includes generous portions of meat. You may have heard this definition of a Cajun: One who can look over a rice field and tell you how much gravy you need to cover it. – S.D.
KIDS
Spend a Day at the Louisiana Children's Museum
At the Louisiana Children's Museum in New Orleans, kids learn about small machines and human anatomy, and they can even encase themselves inside a giant soap bubble – but perhaps the best part of the Louisiana Children's Museum is the way it highlights the Bayou State. Kids can experience life in 18th-century New Orleans in the re-created courtyard of the Merieult House, one of New Orleans' oldest buildings; they can experiment with Louisiana architecture by building small-scale shotgun homes and Creole cottages; they can practice loading cargo and crawling through shipping crates at the Little Port of New Orleans; and they can even "make groceries" at the Little Winn Dixie Grocery Store. Information, lcm.org. – E.C.P.

Photograph by Cheryl Gerber
TRAVEL
Charter a Fishing Boat in the Gulf of Mexico
If you're not a pro, hire one – our state has several. Our proximity to the Gulf of Mexico bestows upon us some of the best seafood in the world, and we think you're missing out if you haven't gotten your sea legs on and experienced the open waters by now. – S.R.
TRAVEL
Climb Driskell Mountain
It's Louisiana's Mount Fujiyama! And don't forget your miniature Louisiana flag to plant Everest-style when you reach the highest spot in our state. From I-20 at Grambling take La. 507 south through Bienville Parish, crossing La. 147 and 797, then one mile farther to park at Mt. Zion Presbyterian. The church is 435 feet above sea level, so it's an easy hour's uphill hike to the 535-foot "summit," where you can enjoy great views and sign the guestbook before your even easier descent.
– P.S.
KIDS
Take Your Budding Young Scientists to Sci-Port
Sci-Port: Louisiana's Science Center in Shreveport was named the 2012 Attraction of the Year by the Louisiana Travel & Promotion Association and was also selected as one of the 10 best science museums in the country by Parents magazine, and it's not hard to see why. Sci-Port offers 290 hands-on exhibits, 70 interactive programs and demonstrations, a Space Center and Space Dome Planetarium and an IMAX Dome Theatre, making it scientifically impossible, for once, for kids to complain of boredom. Information, sciport.org. – E.C.P
KIDS
Visit the Global Wildlife Center
Johnny Cash may have brought attention to Folsom by singing about its prison, but the rural area north of Lake Pontchartrain boasts a wildlife center that hosts more than 4,000 exotic, endangered and threatened animals who flourish in a free-roaming, natural environment. It's open seven days a week with daily tours. Information, globalwildlife.com – S.R.
TRAVEL
Check Out the Kisatchie Forest
There are five regions to this sprawling forest that is spread throughout seven parishes in north central Louisiana. Look at a map of the state, and the Kisatchie accounts for that blotch in the upper part of the boot. (Anyone who can send us an authenticated picture of a Bigfoot taken in the Kisatchie will win a one-year subscription to the magazine and a special place in our memory bank.)
– E.L.
CULTURE
Visit the Cabildo
This is arguably Louisiana's most historic building. It was in this structure located across from Jackson Square in New Orleans where the papers were signed transferring the Louisiana territory from France to the fledgling United States. The future of a free world was possibly created ta that moment. Certainly the adventure of Louisiana statehood began. This is the state's shrine. Information, (504) 568-6968. – E.L.
CULTURE
Visit the Archives of Cajun & Creole Folklore
Begun at ULL 1974, the Archives of Cajun and Creole Folklore is now the premier oral history and recorded music collection in Southwest Louisiana. Information, ccet.louisiana.edu. – C.K.
CULTURE
Read Books by Local Authors
Our state has long been a haven for writers, so when you're in the mood to curl up with a good book, check out works by famed authors with ties to Louisiana, including Kate Chopin, Anne Rice, James Lee Burke, John Kennedy Toole, Tennessee Williams, Walker Percy and more. It would be remiss if we didn't mention the accomplishments of contemporary fiction novelist Nic Pizzolatto, who made waves this past year as the creator and writer of HBO's "True Detective" series; the first season of the show took place – and was filmed – all over South Louisiana. – S.R.

FOOD
Eat Some King Cake
Almost no one makes their own, so you don't have to either, since it is widely available during Carnival season. You don't have to be a king to eat king cake, but you really can't claim to be a Louisianian if you haven't sampled a rich green, purple and gold King Cake. – S.D.
KIDS
Experience a Louisiana Christmas Tradition
Christmas bonfires add just a little bit more magic to the season, and they are a spectacle like no other. Kids will love the explanation that they are lighting the way for Santa, and even parents might find themselves caught up in the wonder of it all. Lit along the Mississippi River levees in St. John the Baptist, St. James and Ascension parishes, these bonfires should be a part of your annual holiday tradition. – E.C.P.
TRAVEL
Visit History
Had the redcoats won the Battle of New Orleans on the Plain of Chalmette in 1815, the Mississippi Valley would have been easy pickings and the Treaty of Ghent ending the War of 1812 would have been forgotten. The hundred-foot-tall, hundred-year-old Chalmette National Monument is a must-see for all Americans and thousands will make the pilgrimage during the battle's bicentennial observance next year, pausing there, we hope, to consider what a staggering impact a loss by Andrew Jackson would have had on American history and geography. – P.S.
TRAVEL
Visit a Visit a Wonder of the World
The Poverty Point ridge and mound complex in West Carroll Parish, ¾ mile in diameter and product of 3 million hours of labor 3,500 years ago, is a Louisiana State Historic Site gone viral. Recently adopted as a National Monument by the National Park Service, it was declared by UNESCO this June to be a World Heritage Site. That's the new name of the Wonders, and the wonder of this site, even more than the miracle of its staggering dimensions, was the ability of a people to make this isolated place the center of a trade network spanning today's Lower 48 and beyond, uniting far-flung and unallied political and linguistic groups into an economic and social system never to be duplicated in the remaining millennia of prehistory. – P.S.

CULTURE
Walk Around the Sydney & Wanda Besthoff Sculpture Garden
There was once a drugstore chain dotted throughout Louisiana named Katz & Besthoff. The chain, which pioneered the modern drugstore, was eventually bought out by Rite-Aid, but the Besthoff name survives through that family's beautiful sculpture garden located in City Park. There is no admission charge but a lot to enrich the mind while walking along the trails of this beautifully designed garden where fascinating sculptures from international artists line the way. Information, neworleanscitypark.com – E.L.
TRAVEL
Attend the State Fair of Louisiana
Our state fair is complete with midway rides, irresistibly cheesy sideshows, "fair fare" at the concessions and ribbon-winning livestock in the massive exhibit barns. A year-round attraction at our State Fairgrounds in Shreveport is the grand State Exhibit Museum, with its titan frescos, its Caddo Indian treasures and its circular marble-and-granite corridor filled with a century's collection of arts and artifacts. The 108th Louisiana State Fair is Oct. 23-Nov. 9. Information, statefairoflouisiana.com. – P.S.
KIDS
Let Them Eat Cake & Ice Cream
If kids were to make up a festival entirely by themselves, it would probably look a lot like the Cake and Ice Cream Festival, held each July in Abbeville. In addition to tons of free homemade ice cream, cake and cheesecake, the festival features games, water slides, a bounce house and pony rides. Information, cityofabbeville.net. – E.C.P