Explore the Coast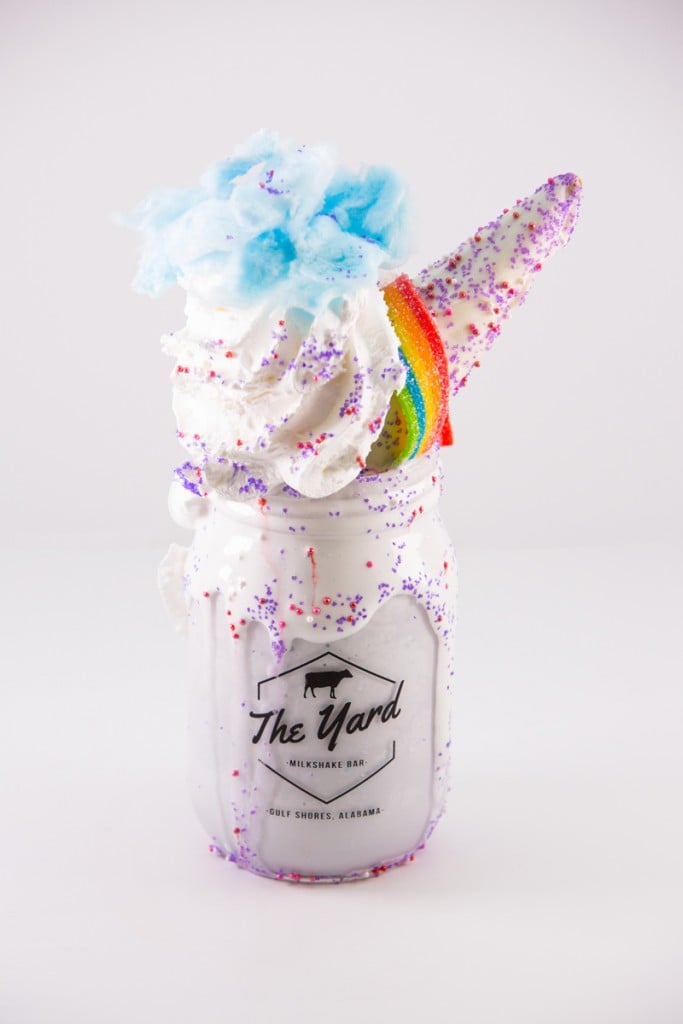 You must see these milkshakes to believe them, extravagant goodness in a variety of flavors created at The Yard Milkshake Bar in Gulf Shores. Facebook.com/theyardmilkshakebar
After an unusually cold winter, thoughts naturally turn to the beach. This year, instead of the standard fare of sand, water and sun — which is awesome, mind you — get off the main thoroughfares and seek out the unexpected, the unusual and the road less traveled. They are hidden treasures throughout the Gulf Coast, from Bay St. Louis' unique art history to butterfly havens in Navarre Beach and the expansion of Gulf State Park in Gulf Shores with it acreage of eco-diversity. Here are a few ideas to get you started.

All Aboard
Train lovers have their pick of fun with the Foley Depot Museum and Model Train Exhibit in Foley, Alabama, and the Mississippi Coast Model Train Museum in Gulfport. Foley offers more than a quarter mile of track and a mile of wiring for its numerous model freight cars and passenger coaches, all housed at the 1908 Louisville and Nashville railroad station. The Mississippi Coast Model Train Museum features different model railroad scales from tabletops to outdoor trains with special events held throughout the year.
The Foley train exhibit is open 10 a.m. to 2 p.m. Tuesdays, Thursdays and Saturdays and the Mississippi Coast Model Train Museum is open noon to 5 p.m. Tuesdays through Saturdays.

Disembark in Bay St. Louis
The Spanish Mission architecture of the 1929 Bay St. Louis Train Depot is the only one of its kind built by the Louisville and Nashville Railroad Company. Visitors may recognize the building from the film "This Property is Condemned" starring Robert Redford and Natalie Wood. Inside, the depot houses the county tourism bureau but also four unique exhibits: the Alice Moseley Folk Art & Antique Museum, dedicated to the life and work of the Southern folk artist; a blues exhibit; the Mardi Gras Museum and a special exhibit honoring Mississippi's bicentennial.
"It's like a one-stop shop in the Depot," said Latonja Ervin, director of events and marketing.

Christ in the Oak
St. Rose de Lima Catholic Church, the first black community Catholic Church in Mississippi, owns a long and diverse history serving German, African and Native American patrons, as well as fascinating architecture and artwork. The altar base was fashioned from local driftwood, its tree roots reaching toward heaven. Behind the pulpit an African Christ floats free of earthly bonds before an oak tree in the "Christ in the Oak" mural by artist Auseklis Ozols and his student Kat Fitzpatrick. St. Rose is only open for morning and weekend Masses but a Saturday visit includes music by its nationally known gospel choir.

Rocking in Gulfport
In 1995, furniture maker Roy Dedeaux decided to build an oversized rocking chair — we're talking something Paul Bunyan would enjoy. Outside Dedeaux Furniture in Gulfport, at its headquarters north of I-10, is the "World's Largest Rocking Chair," topping out at 35 feet high. There are others claiming that title as well, but Dedeaux's chair remains a fun site to see.
"People stop by every day and take pictures," said Andy Dedeaux, who now runs the business with his brother Chuck.

The Little Room of Walter Anderson
Walter Inglis Anderson had family responsibilities at his Mississippi Gulf Coast home, but the eccentric artist preferred boating out to Horn Island where he drew inspiration from the natural barrier island off the coast of Ocean Springs. Back on the mainland and missing his island, Anderson painted a room in his house to resemble his favorite escape, and no one was allowed inside. After his death in 1965, Anderson's wife entered the room and found the spectacular mural.
The "Little Room," along with its mural, was taken from Anderson's cottage in 1991 and moved to the Walter Anderson Museum in downtown Ocean Springs. Visitors may step inside Anderson's studio and imagine the genius artist at work. The museum also offers Anderson's artwork and that of his brothers, Peter Anderson, master potter and founder of Shearwater Pottery and James McConnell Anderson, painter and ceramist. Adjacent to the museum is the Ocean Springs Community Center, home of Walter Anderson's largest mural.

Inland oasis
Several state parks dot the Florida Panhandle, most of them on the Gulf. Eden Gardens State Park, however, lies inland with frontage along Tucker Bayou leading into Choctawhatchee Bay. The 163-acre park was once home to William Henry Wesley and his Wesley Lumber Company, which farmed the area's longleaf pine forest until World War I.
Visitors may enjoy Wesley's 5,500-square foot home and the antiques of Lois Maxon, the last owner of the house. Gardens accent the home, which gives the park its name. Guided tours of the home are offered almost daily and the park hosts special events. Park hours are 8 a.m. until sunset daily.
---
Zip-lining Adventures
Zip-lines come in various degrees of adventures. Some offer short lines with guides to help you brake and others take you high above the tree canopy and teach you how to brake yourself. Adventures Unlimited outside Milton, Florida, veers to the latter, although visitors may tailor their experiences to fit their courage levels. For the brave, choose the three-hour trips that includes five to seven zip lines and one soaring 900 feet over Coldwater Creek.
Visitors may also rent canoes to paddle Coldwater, perform ropes training and stay overnight in the resort's cabins.
---
Pop Brothers gourmet popsicles began creating artisan frozen treats in Gulfport and are now located in Ocean Springs and sold in stores throughout the Gulf South. PopBrothers.com/
Unique Eats & Spirits
1. Chautauqua Vineyard & Winery in Defuniak Springs offers samples in its tasting room. Be sure to visit in the fall during harvest season. ChautauquaWinery.com
2. Step back in time at Stacey Drugs & Old Time Fountain in Foley, which serves up lunchtime favorites and ice cream in the oldest drugstore in Baldwin County, dating back to 1929. There's even a model train making the rounds above visitor's heads. StaceyDrugsandOldeTymeSodaFountain.com
3. Joe Santiago serves up Cuban and American fare, plus specialty coffees at JJ Chagos in Navarre Beach. Be sure to visit for one of the best breakfasts on the Gulf Coast. Facebook.com/JJCHAGOS
4. Step off the beach for a brew at Destin Brewery. The taproom is open for tasting Thursdays through Saturdays, with year-round small batch beers and ales, as well as seasonal offerings and pilot programs. DestinBrewery.com
---
Unique Accommodations
1. Moor up your boat at the new Bay St. Louis Municipal Harbor, which allows boaters a quick visit to the historic town for free, depending on the length of stay. Or, for a price, your boat can be your floating hotel. In addition, the Bay St. Louis beach is pet friendly. HancockChamber.org/bay-st-louis-harbor/
2. Blakeley State Park in the Mobile-Tensaw Delta near Spanish Fort, Alabama, contains Civil War and Native American history, not to mention boat cruises and nature trails. Its new rustic-cozy cabins are affordable and well equipped and one of the cabins is pet friendly. Blakeleypark.com/
3. Henderson Beach Resort in Destin, Florida is all about location, location location. Not only is this 170-room resort located on the spectacular white sand beaches, but is remarkable for being the only resort that abuts the sprawling and pristine Henderson Beach State Park. Sunrise and sunsets cannot be matched. hendersonbeachresort.com
---
Shell Island
The white sand beaches and emerald waters of St. Andrews State Park in Panama City is lure enough for the beach lover, but to really get back to nature jump on the shuttle to nearby Shell Island, named for the abundance of seashells once found there. Because visitors must take a boat to access the barrier island, natural sand dunes, coastal scrub forest and an inland lake remain pristine. Visitors have a chance to view nesting shorebirds, deer and the endagered Choctawhatchee Beach Mice, and other wildlife. There's nothing except nature on this island, so all food and beverage must be brought in and trash brought out. Visitors may also reach the island via the Shell Island Express Ferry from Capt. Anderson's Marina on the north side of St. Andrews Bay.
---
Gators at the Gulf
Located in the heart of Gulf Shores lies one of its best-kept secrets and this year, it's getting a major facelift. Gulf State Park stretches over 6150 acres of marshes, dunes, lakes, woodland and beaches. This spring will see a new learning campus full of educational opportunities, beachfront lodge, improved campground and picnic areas, dune restoration. An interpretive center will serve as the new park entrance with a pedestrian bridge connecting the inland acreage to the beach. Already built are trails and boardwalks around the park's three lakes and miles of nature paths. Visitors may also enjoy the 20 modern cabins and 11 lakeside cottages.
---
Butterflies are free
Step inside the Panhandle Butterfly House in Navarre Beach and learn about Florida's various species of butterflies, then emerge on to the back patio where walkways lead visitors through a garden of native plants. Butterflies are everywhere here, many lighting on visitors' shoulders. If the time's right, you can spot a butterfly emerging from its chrysalis.
Every October it's Monarch Madness, where monarch butterflies are tagged and released at the Butterfly House, and education programs and other family-friendly events are held.
---