Expecting the Unexpected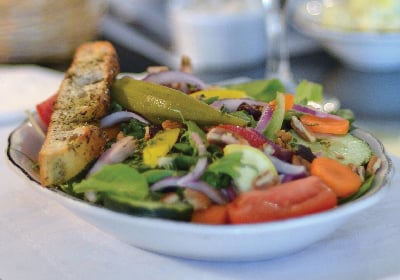 Surprise! Sometimes you get something wonderful or a little something extra when you least expect it – like a gas station, a quick stop or a bait shop that serves excellent, restaurant-quality food. Other times, it's a tiny restaurant in a little village that goes beyond serving gourmet food to opening every other Saturday night for a Dinner with Friends. South Louisiana is all about lagniappe.
Creola Cafe
284 E. Martin Luther King Jr. Drive
Grand Coteau
337/662-3914

Creola Café in Grand Coteau is a little jewel. Sitting at a table in the petite restaurant often feels more like you're hanging out in someone's kitchen than in a bona fide restaurant. The cafe seats 22 and is open for lunch Wednesday through Saturday. The menu is limited, but the food that's served is thoughtful, and the dessert (especially the signature Italian cream) is not to be missed – as in, if you're going to have one dessert this month or this season – heck, even this year – make it this one. The Italian cream is light and unbelievably delicious and has earned its nickname of Angel's Kiss.

"We do a killer, killer spinach-and-cheese-stuffed ravioli topped with Alfredo sauce and panko-crusted pork loin medallion," says Tobi Veltin Doherty, manager of Creola Café.

"I love the small atmosphere and quaint, cozy feeling," says Katy Svendson, a frequent diner. "I have always been very pleased with the food, the service and the oh-so-quaint atmosphere."

The most popular lunch item varies between two different turkey sandwiches, both with sun-dried tomatoes and brie. One is garnished with caramelized Vidalia onions and cranberries. The other is garnished with organic baby greens and fig preserves.

"Both are served with a cup of soup – and that's always a mystery because it's just whatever we feel like cooking," Doherty says.

Svendson's favorite is the Spa Salad with greens, dried cranberries, roasted pecans and Gorgonzola cheese with a balsamic vinaigrette.

"I like the restaurant so much that I happen to have the menu right at my fingertips," she says. "I always keep it close for those 'Oh, I need-to-have-a-party' moments. Tobi and [chef] Carol [Baugnon] are so nice to work with."

Doherty explains that the concept of Dinner with Friends evolved over time. The little café was open for lunch only until five years ago. It began opening one night a year – on Valentine's Day. The occasion was such a success that enthusiastic diners convinced Doherty and Baugnon to open one Saturday night a month. The long wait list for a one-night-a-month event persuaded the duo to open two Saturday nights a month – most of the time, anyway. Usually, Dinner with Friends is held on the second and fourth Saturdays of the month, but its schedule has a degree of flexibility that most establishments couldn't pull off. However, the nonrigid schedule works for the Creola Café. It really is dinner with friends, most of the time.

Baugnon, originally from Algiers, has been in Grand Coteau for 13 years and sets a four-course menu for her Saturday night soirées.

Athena's (inside the Citgo)
2133 Kaliste Saloom Road
Lafayette
337/216-9975

If you're looking for another surprise and aren't already a fan, go fill up your car's tank at the Citgo station at the corner of Martial and Kaliste Saloom in Lafayette. While you're at it, go inside and order a gyro plate for a different kind of filling experience. When you walk in the Citgo, the gyros are to your left and the gas station counter (where you pay for gas and gyros) is to your right. It's a local favorite.

"To me, gas station food around Acadiana, like Athena's, comes closest to the concept of 'hole in the wall' dives that you find in larger urban areas," says Moon Chang, an Acadiana transplant from Massachusetts. "Acadiana's too bright and open to foster dark holes in the walls. There's not a hidden place that only underground foodies know about. These gas station places come the closest to the secret holes in the walls that only foodies know about in larger cities."

Cormie's in Lake Charles
4907 Big Lake Road
Lake Charles
337/474-5455

Even though the old Cormie's burned to the ground, the family kept on serving boudin balls to keep their customers happy. They rented a mobile kitchen and set up shop. However, in late November 2012, Cormie's merged with Brookshire's and reopened – still dishing out the chicken salad, bread pudding and boudin balls it's known for, according to Shaun Cormie, who has worked there on and off for 20 years – through a series of family members running the place.

Matt Jones of Lafayette has been making frequent trips to Cormie's for years.

"We used to go to Cormie's frequently when we had the camp out at Big Lake, before [Hurricane] Rita," Jones says. Once, he and a large group of family and friends arrived very late at the camp one Friday night. One friend from Seattle joined the group. "He and I are early risers, and we soon discovered, much to our dismay, that no one had thought to bring coffee."

So they set off to Cormie's. And from there, Jones will tell the story, about the old Cormie's before it burned down:

"The sun was just breaking over the horizon, and boats on trailers, some of them massive, were pulling in and fueling up. My friend was nearly run down by a duelie pulling a Grady-White, and it was only quick action on my part that saved him.

"The double glass doors entering the place were plastered with beer ads, missing dog fliers and the usual posted bills. In the country, the door of the local store is like a big bulletin board, kind of like mailboxes and telephone poles in more urban areas. The current price of fresh bait is usually prominently posted. My friend, the Seattleite, did not fail to notice this particular posting, and he turned white when I suggested we buy a road snack from the place. Nonetheless, I soon snagged a pound of Community; two cups of brewed coffee; and, most notably, two enormous fried boudin balls. We walked to the register past the vats of iced-down beer, already half-depleted by customers at 6 in the morning. Off we went.

"My friend was driving some sub-sub-sub-compact he rented at the airport. With our shoulders almost touching, I handed him a boudin ball while he tried to navigate the two-lane blacktop toward the Gulf of Mexico, keeping between ditches that made medieval moats look puny. He took a bite and slammed on the brakes. He looked at me with an expression I have never seen before or since and exclaimed, emphatically but very deliberately, 'This is the best thing I have ever eaten in my entire life.' He went back three times during the weekend to get more."

Chris' Poboy's
(three locations in Lafayette)
1941 Moss St.
1930 W. Pinhook Road
3755 Ambassador Caffery Parkway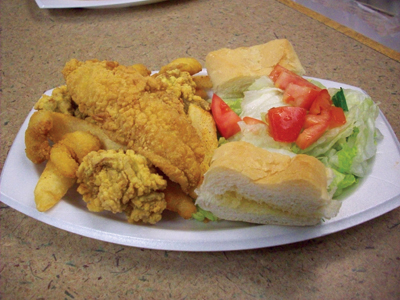 Granted, two of the three Chris' Poboy's are self-standing buildings, but the one on Ambassador Caffery is in a gas station at the corner of Robley. If you've never had a Chris' poor boy or if it's been a while, go now – and thank me later. Order the roast beef poor boy. And again, thank me later.
Lindsay Dreher of Lafayette took my advice on the roast beef poor boy and is now a convert from the boiled shrimp poor boy, which she says was very good and light. "For several years, I got the boiled over the fried so I wouldn't feel as guilty eating those delicious steak fries – balance," she says with a laugh.

Dreher also enjoys Chris' chicken-and-sausage gumbo with rice and bread on the side. But the pièce de résistance is the roast beef poor boy.

"It's my new, juicy, delicious, messy favorite," she says. "They bring you a stack of napkins with the sandwich."

The sandwich is dressed with white cabbage, which, according to Dreher – and most anyone else who's eaten it – is great because the cabbage doesn't get soggy and gives the sandwich a crunch.

"It's the thing that makes Chris' stand out against the other poor boy places in town – it's that cabbage and the soft, soft bread," she says.

Handy Mart
509 W. Port St., Abbeville
337/893-0638

If you find yourself in Abbeville and you have an urge for some fried rice, there is an unconventional place to go to get your fix. Head to the Handy Mart on West Port Street, owned by Minh Bui. Bui, originally from Vietnam, has lived in Louisiana for more than 30 years. His fried rice at the Handy Mart has become the stuff of local legend.

"Handy Mart fried rice is the best!" says Jeanette Toups Chavin of Abbeville. "They also have a shish kebab that is delicious – it's chicken and smoked sausage on a skewer and then fried. I can't eat these too often because they're not on my diet, but when I do, they are delicious!"

The fried rice is made fresh to order and cooked from scratch, according to Chi Bui, Minh Bui's niece. They start serving around 10 a.m. and stop serving around 7 p.m.

If you're not in the mood for fried rice or shish kebabs, Handy Mart's chicken tenders are tasty, too.