Exhibits to Keep You Cool This Summer at the Hilliard Art Museum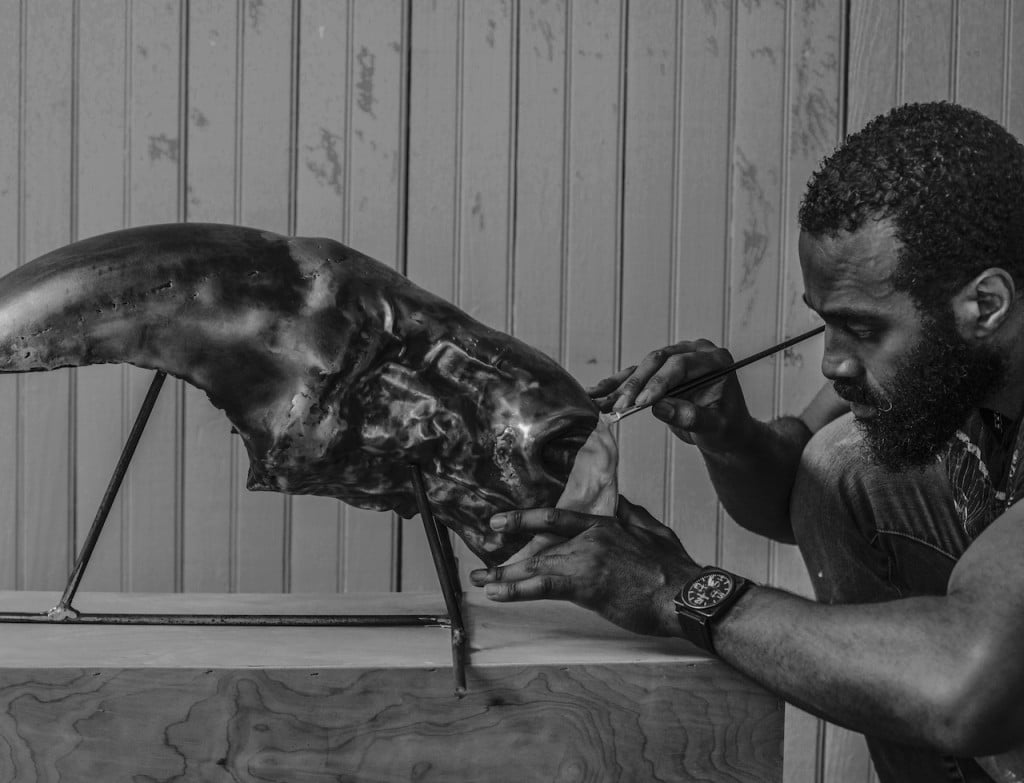 LAFAYETTE, La (press release) – New installations coming to the Hilliard Art Museum this summer will help you escape the heat and the everyday: Little Things: Drawings and Photographs by Fred Packard (opening July 22) and Stephon Senegal: When Monsters Tremble (opening Aug. 17).
Little Things features works on paper, including photography, oil crayons and pen-and-ink that will transport visitors to different places, times and photographic techniques, including from the artist's varied life experiences, from serving in the US Army in Europe during the Cold War to his beloved home state of Louisiana.
"We are pleased to display the work of Fred Packard and his impact on the University of Louisiana Lafayette photography department through this varied exhibition," said LouAnne Greenwald, director of the Hilliard Art Museum. "Meanwhile, the abstract paintings in When Monsters Tremble offer an intriguing counterpoint to the realism of Packard's work. Together there is plenty to explore and enjoy this summer at the Hilliard."
Details below:
Little Things: Drawings and Photographs by Fred Packard
DATE: July 22, 2022 – April 1, 2023
Little Things: Drawings and Photographs by Fred Packard is a survey of works on paper by the beloved artist who founded the photography concentration in the Department of Visual Arts on the Campus of the University of Louisiana at Lafayette. The variety of media and subject matter on display parallels Packard's varied life experiences and his appreciation of many intellectual pursuits.
The media represented in Little Things include gelatin silver prints and archival digital prints, as well as drawings in pen, ink, graphite, and oil crayons. Packard's work reflects his lifelong love of travel, a love kindled by his travels in the U.S. Army when he was stationed in Europe during the Cold War. On view, there are images from several trips to Mexico and Europe, and most importantly, Louisiana, Packard's home state. The common thread between these disparate locales is Packard's urge to authentically capture his experiences and convey a sense of place. Also reflected in his work is the development of camera technology from the mid-twentieth century on. The photographs on view in Little Things were shot using a 4" x 5" Graflex View large format camera and a variety of 35 mm cameras made by Rolleiflex, Rolleicord, Leica, and Pentax.
Most recently, Packard has embraced an iPhone as his camera of choice. In the Looking Down series, he meditates on the passage of time, noting the manner in which light changes how river rocks and leaves in his backyard are perceived. These images stand out within Packard's oeuvre in that they are exercises in  composition and do not depict a specific place in a recognizable way.
Stephon Senegal: When Monsters Tremble
DATE: Aug. 2, 2022 – Dec. 10, 2022
Stephon Senegal's largely abstract paintings provide viewers with fleeting glimpses of anthropomorphic and zoomorphic images interspersed with text that illustrate a multi-cultural fusion. His points of reference include Senegalese, Malian, Native American, Catholic, Black Americana, and Nihon Manga traditions. This mixing of imagery speaks to Senegal's Creole heritage as a source of personal empowerment and mutual understanding within the Creole community. It also position's Senegal as culturally in-between mainstream white culture and the groups that encompass his diverse ancestry. The uniqueness of Creole culture in Louisiana sets it apart in that it, to some extent, is not of any one cultural tradition. With this being the case, Senegal views himself as a cultural emissary.
This dynamic is easily found within Senegal's studio practice and art. Working within the western painting tradition, his images and style are academically understood as being informed by the modernist tradition of abstraction and its outgrowths such as institutional critique and post-conceptual art. This provides Senegal with entrée to arts institutions and their audiences, many of which are unfamiliar with the meanings behind the culturally diverse points of reference that live in his paintings. By highlighting the various cultures that are Creole, Senegal brings to the foreground the trauma of historical and contemporary injustices so that they may be learned about and reconciled rather than forgotten in the collective conscience.
Museum Hours, Admission & General Information
The Hilliard Art Museum is located at 710 E. Saint Mary Blvd. on the campus of the University of Louisiana at Lafayette. Museum hours are: Tuesday, Thursday and Friday, 9 a.m.-5 p.m.; Wednesday, 9 a.m.-8 p.m.; Saturday, 10 a.m.-5 p.m.; closed Sunday and Monday. For general information, please visit HillliardMuseum.org or call 337-482-2278.