End of the World Art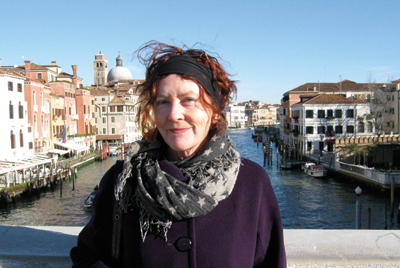 On one of these walls, in the cozy Saint Street Inn, is a collection of collages evoking the end of the world, a couple of which contain photos snapped at what seemed like the end of the Earth – a forgotten-about swath of the Peruvian Amazon unburdened by the problems of the day.

Lynda Frese concedes it sounds a bit incongruous, but it's true: The images eventually used in an exhibit titled Apocalypse Now were taken in a place where she never felt so alive.

"It was so off-the-grid," Frese says. "I don't think the people there even knew what 'off-the-grid' meant."
Inside a tiny elevated grass hut where she cohabited with a host committee of things that buzz and things that crawl, Frese's body and psyche fought through a painful detox from modern convenience. Predictably, there were many moments of discomfort, chased by panic.

"At night, you hear these sounds," she says. "You couldn't tell, 'Was that a fish? Was that a frog? Was that a bird?' Because sometimes the frogs sound like birds. The whole land was teeming with life. Everywhere you looked, there was something that was walking or beating or breathing or singing. It was so vivid. After a while, you become more aware of the rhythm of nature. It makes you feel better. It starts to feel real good. This is how it's supposed to be. We're so divorced from the cycles of the day – nature."

This ethos permeates throughout Frese's Apocalypse Now series, which was displayed in accordance with the 2012 Winter Solstice at Lafayette's Saint Street Inn thanks to the urging of friend and local writer Mary Tutwiler. Inspiration was derived from between-semester sabbaticals to South and Central America as well as primitive portions of Northern Italy – places free of smudges left by industrial thumbprints. Frese's new-world photography melds with generous amounts of Old World egg tempera paint – color pigments hand-mixed with egg yolks – creating a thick sheen and a seamless harmony between modern technology and ancient artistic techniques. As an added conceptual caveat, Frese used eggs from birds indigenous to the regions she visited to make the paint used in these collages.


"The apocalyptic story is something that has a lot of different dimensions to it," Frese says. "It has these shadow areas and these revelation images, too. The dark, the lost, the hidden elements … I try to bring those back for my audience. The work is about environmental issues, how we interact with nature and live in nature. Beyond that, it's about embracing the spiritual worlds that are found in the prehistoric places I visited."

The artistic angle explored and showcased in Apocalypse Now falls in line with the work found in Frese's 2011 book, Pacha Mama: earth realm. In it, 35 of Frese's collages are complemented by essays, poems and prayers from renowned healers Kathi von Koerber and Michele Baker, along with then-Louisiana poet laureate Darrell Bourque. Frese became familiar with Pacha Mama, the revered earth goddess of indigenous tribes, in the Andes Mountains and amalgamated that religious imagery with Renaissance Christian themes borrowed from Europe.

"Going to these places and going to these lengths, gosh, it just connects you with the people who lived there before you – the people who lived there 4,000 [or] 5,000 years before," Frese says. "When you're there, you can sense the lessons they're still teaching us even though they've long since passed. They seem so relevant, especially today.

"A lot of what their early art focused on was our relationship with our surroundings – with the animals, water and plants. … In my mind, they're really about creating harmony with nature," she continues. "There's not really a text for that artwork. There's not a lot written about it. So, in some ways, it's an open book in how you want to interpret."


Even more stunning than the numerous elements and features contained within Frese's collages is the fact that these pieces (and the globe-trotting trips to capture the photographic elements of these pieces) are constructed in between the rigors of her "regular job." For more than two decades, Frese has taught visual arts at ULL – landing the job on a whim when she randomly applied for the opening after creating artwork in California following her own collegiate studies.

"They're different mindsets for sure," Frese says of making art and teaching art. "I tell them, 'It's not easy to be a creative person right now.' Being at the university, a place where the students are working on a skill set to take outside of the classroom, it's definitely a shift. You have to change your point of view and help these young people find their voices. I encourage them to make art about what they know. Let it be personal, let it be honest so it has an authenticity.

"What we make art about is our own experiences," Frese says. "So if we don't strive to go larger, broader, farther, and you just keep in your little room, then how do you grow?"