Emotional Horizons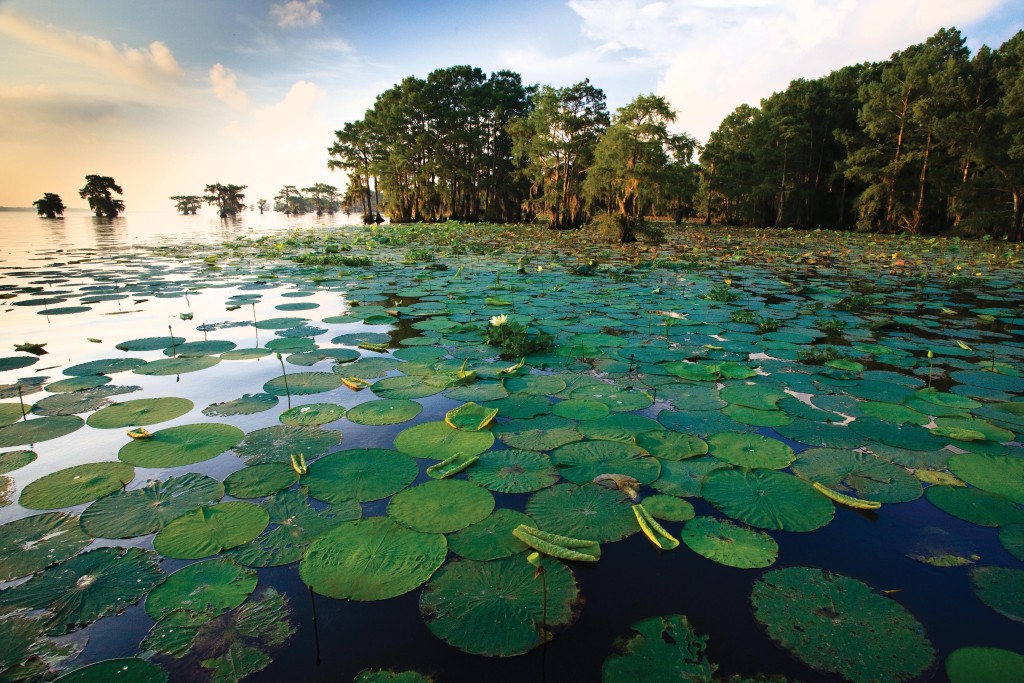 Novelist Thomas Wolfe wasn't always right. Sometimes you can go home again, especially when your heart never left.
New Iberia-born photographer and artist Marjorie Brown Pierson, witnessing from afar the devastation caused by hurricanes Katrina and Rita in 2005, has spent almost two decades returning to Louisiana from her home in Durham, North Carolina, to document the effects of climate change on the state's vanishing coastal wetlands. Whether photographing the coastlines of North Carolina, Sicily, Hawaii or Louisiana, she approaches the landscape with the reverence and expressive sensitivity of an artist for she presents not only what she literally sees in the landscape but also how she responds emotionally and aesthetically to what she sees.
"The places we come from inevitably define us all on some level," says Pierson, whose family founded Bruce Foods Corporation, including Louisiana Hot Sauce, in New Iberia. "So when these places are threatened, we feel threatened. Climate change is challenging both our sense of where we belong and who we are. Here along the Gulf Coast, hurricanes and land loss enlarge our emotional horizons."
Pierson's emotional horizons are the wetlands of South Louisiana. Born in New Iberia in 1961, she has spent her entire adult life living away from home. After high school, she headed off to study at the University of North Carolina and later at Northwestern University's Kellogg School of Management in Chicago. Following her dreams, she worked for a time in Washington, D.C., New York, the Netherlands (where she represented Bruce Foods) and back to New York, where she met her husband David. They married in 2001 and eventually settled in Durham when a venture capital partnership there recruited him."
It took hurricanes those devastating 2005, hurricanes however, to awaken her memories of the beauty of the South Louisiana where she grew up and where her mother's Cajun family has been for centuries. She sensed impermanence for "the people and places that you know will eventually disappear" and distress "about the environmental transformation due to climate change." She was determined to express that fragile beauty in some creative way. In 2006, using her talent and formal training in photography, she set out to capture, what she describes as, "the ephemeral beauty of those evanescent wetland landscapes."
"My mother and my sister and extended family all live in South Louisiana," she says. "I started thinking about their safety and those lush landscapes that I presumed would always be there when I wanted to go back. And I suddenly realized how would Louisiana and its people survive, how would they get through it or anyone on the Gulf Coast. I started to develop a sense of panic. I thought would I ever be able to show my young daughter Isabel those beautiful landscapes, the sublime beauty of them that I had so eagerly departed from when I was 18."
Her images and methods of storytelling are often complex, which force viewers to dig deep into the layers. For instance, in her "Rare Earth" images, shoreline trees are blurred to represent how rapidly climate change is happening. In another photograph taken at Fausse Pointe from a quickly moving boat, corpses of dead cypress stand as "ghost trees" and "an abstraction of our memories of those landscapes." In her "Imaginary Topographies" series, Pierson has another message:
"I wanted to create a visual metaphor, referencing both the Louisiana marshland slowly eroding and sinking into the Gulf of Mexico, and the human activity, oil and gas exploration in this case, that has hastened this process since the 1930s. Channels cut into the marsh to move resources to drilling rigs offshore allowed salt water intrusion into the marsh, killing much of the plant matter holding the land together."
The resulting images were "Channel Lace" and "Louisiana Lace," which she created by digitally blending high-resolution scans of vintage pieces of lace over photographs of fragmented bodies of water and marshland. In "Channel Lace," which was printed on sugarcane paper made in Germany, one sees in the lace the fragility of the land and ecosystem tenuously held together and in the duckweed the loss of land and rising sea level.
In her two-photo collage "The Lotus Embodies the Soul," Pierson juxtaposed a pixilated image of an open lotus-filled marsh with a photograph of a storm-flooded cemetery in Dulac, where only the white tops of gravestones were visible. The marsh photo was on top and the graves on the bottom, as if under water.
"When even beloved ancestors are threatened in their resting places by rising seas," she says, "climate change feels less like an abstract concept."
These images are anything but a nostalgic visualization of childhood memories. Nostalgia, she says, is the "pain of homesickness," which can be cured by simply going home.
"But," she adds, "what if the place you call home is endangered from forces you can't control and even when you are there it seems to be slipping away in real time. This longing for evanescent landscapes is what drives me to create the art."
In her art and passion for South Louisiana's "evanescent" wetlands, Pierson has in a sense come home again. She apparently never truly left.