Dream Weavers
The 2024 St. Jude Dream Home wows crowds with bold hues and playful patterns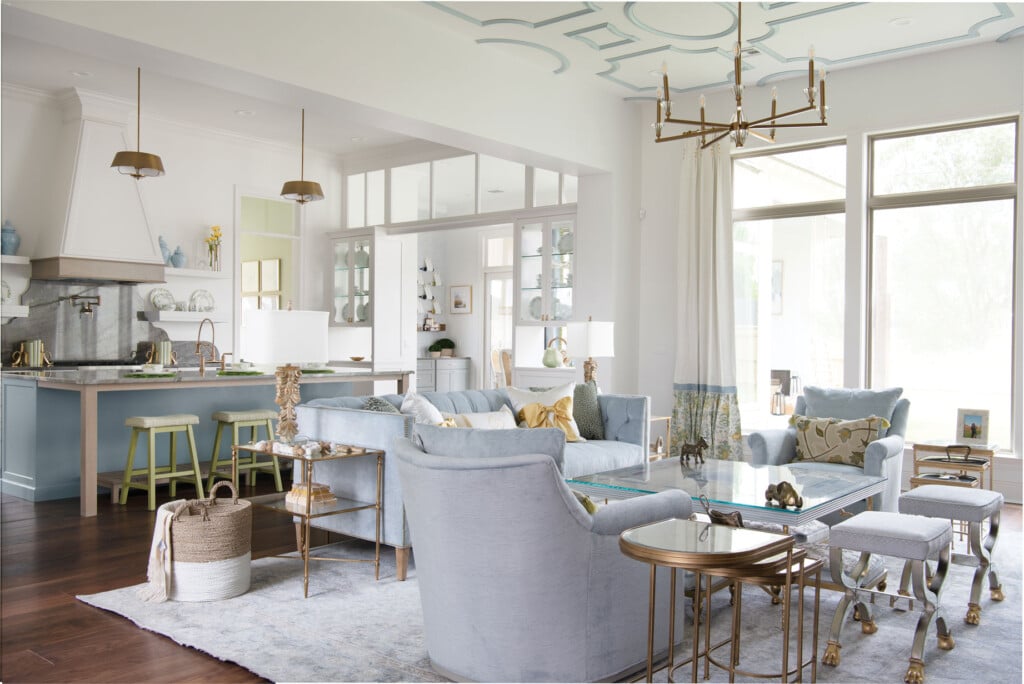 Details
Builder McLain Companies
Designers Jodi Bolgiano and Gabrielle Bolgiano, Bolgiano Interiors
Leslie Maxwell Wooters
Paige LaVergne Home
S Clare Design Studio
Paige Gary Sold by Design
Dona Designs
The 2023 Acadiana St. Jude Dream Home in Broussard's Langlinais Estates showcases a vibe shift away from neutral territory. This home isn't meant to blend in, says Jim Van Breemen, construction manager at McLain Companies — currently in its 14th year as driving force behind the fundraising project.
"The kitchen cabinets have color," says Van Breemen. "The countertops are exotic stones with a lot of movement. That's where things are turning, toward more color and more texture."
A handful of the rooms lean into richly patterned wallpaper, adding drama at every turn.
One of his favorite details is the tucked away scullery that allows the kitchen to have a more formal feel. He sees increasing demand for this extra space among his clients, which he attributes to a post-pandemic rise in home entertaining.
"That used to be the norm in the '30s, '40s and '50s," says Van Breemen. "If people had parties, that's where the dishes go. You don't end up with all the clutter at the end of the day."
He says the space is also great at providing families with young kids the best of both worlds — an open concept kitchen and a place to hide the mess.
The home itself represents efforts by countless craftspeople and designers, who donate their time to the fundraiser that raises more than $1 million each year. He says the goal is to keep the construction cost down as low as possible, so more of the ticket money goes toward helping the children at St. Jude. The sheer amount of contributors to the home's construction makes the final product that much more impressive.
"It's a lot of moving parts because we do have so many people donating," says Van Breemen.
Breemen says the contributing designers have free rein to showcase the latest trends, as well as their personal aesthetics. This could have the potential to feel hodgepodge, says Van Breemen, but instead, each space tells a cohesive color story.
"The most impressive thing is the house does flow and have a style to it," says Van Breemen.
Although the interior of the Dream Home is more contemporary, the exterior is classic Acadiana. Van Breemen says when contemplating the home's curb appeal, they were conscious of one detail.
"We really wanted to stay away from the all-white painted brick," he says. "We made the commitment to do something different."
Another big change this year is the creation of a foundation so members of the Acadiana community can support the Dream Home effort year-round. Van Breemen says every little bit helps, from painters and cabinet makers donating their time to financial sponsors and ticket buyers. This widespread support is how the Acadiana Dream Home is able to raise as much money as similar markets, he adds.
"That's a testament to Acadiana and their involvement in our project," says Van Breemen.