Dinner is in the Bag
Fish or chicken en papillote is a crowd pleaser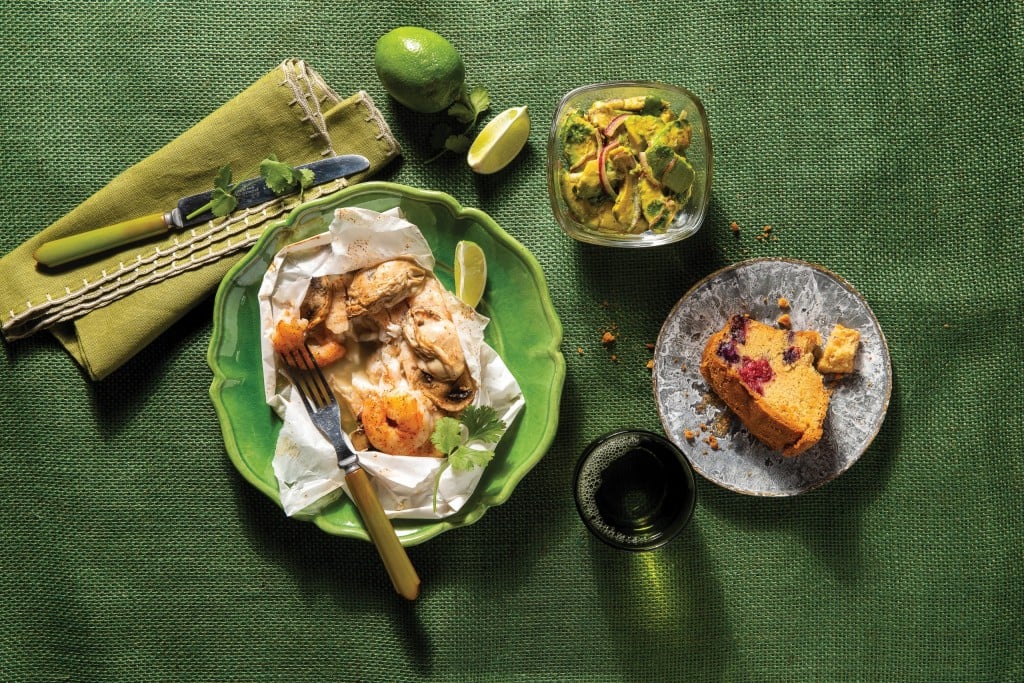 The days are getting shorter and I'm looking forward to cooler weather and entertaining on my big screen porch overlooking Bayou Teche. Although I like one-pot dishes like gumbo and jambalaya, I have a recipe that includes the protein (fish or chicken) along with a few vegetables cooked and served en papillote (in a bag). It has been a popular menu item at Antoine's in New Orleans forever and from what I can gather, pompano en papillote was added to Antoine's menu to honor a visiting balloonist, and the papillote does in fact swell up like a balloon during the cooking process. When serving, the papillote is cut open with scissors or a knife, allowing the aromas of the seafood and vegetables to waft and tease your taste buds.
Tip: you can find these pouches/bags in the supermarket section featuring foil, parchment paper and wax paper, but you can make your own. Cut an 11-by-15-inch (or a little larger if you like) parchment paper heart. Place the fish (or chicken breast) with herbs and/or vegetables and a little liquid, then fold the heart, and crimp, twist or fold the edges securely (wet the edges with a little oil or water). Then take a straw and blow air into the papillote. If you're using foil, omit this last instruction. The pouch is then placed on a lightly oiled baking sheet to go into the oven.
Salad
Avocado and Red Onion Salad
Serves 6
3 medium avocados, peeled and sliced
1 tablespoons fresh lime juice
1 cup thinly sliced red onions
2 teaspoons chopped fresh cilantro or parsley
1/4 cup red wine vinegar
2 teaspoons Creole or Dijon-style mustard
3/4 cup olive oil
2 tablespoons finely chopped red onions
Salt and freshly ground black pepper to taste
In a salad bowl, toss the avocados with the lime juice. Add the sliced onions and parsley. In a small jar combine the vinegar, mustard, olive oil, chopped red onions, salt and pepper.
Put the cap on the jar and shake well for about 30 seconds. Add the dressing to the avocado and onion mixture. Toss to mix. Serve immediately or chill for about 30 minutes.
Main Course
Pompano en Papillotte
Although pompano was the more popular fish used in this old New Orleans dish, it's not easy to find, so just about any firm, white fish such as trout, redfish, sole, grouper or salmon can be substituted.
Makes 4 servings
4 sheets (20-inch) squares parchment paper
4 pompano (or other fish) fillets, each 6 to 8 ounces
8 freshly shucked oysters, drained and patted dry
8 medium-size shrimp, peeled and deveined
4 large white button mushrooms, stems removed
and sliced
4 tablespoons dry white wine
4 teaspoons fresh lemon juice
Creole seasoning or salt and cayenne pepper
Preheat the oven to 350 F.
Prepare the parchment paper for the pouches. Open heart-shaped paper to lie flat and lightly oil or butter inside surface. On one inside half of each parchment heart, place one fish fillet. Repeat process with remaining parchment hearts and fish fillets.
On top of each fillet, put two oysters, two shrimp and equal amounts of sliced mushrooms. Drizzle each with a tablespoon of wine and a teaspoon of lemon juice. Season with Creole seasoning or salt and cayenne. Fold paper over mixture and seal edges.
Place on a lightly oiled baking sheet and bake for 15 minutes.
To serve, cut top of the paper open with a knife or kitchen shears and fold the paper back.
Tip: In the old days, a sauce was presented at the table for the waiter to spoon over the mixture. The sauces varied from restaurant to restaurant–some featured oysters and shrimp with a little cream while others offered a beurre blanc.
Dessert
Raspberry and Blueberry Pound Cake
You can substitute brandy or your favorite liqueur for the kirsch.
Makes one cake (8 to 10 servings)
5 eggs
12⁄3 cups sugar
2½ sticks unsalted butter, cut into tablespoon pieces, at room temperature
2 tablespoons kirsch
2 cups plus 8 tablespoons
cake flour
1 teaspoon baking powder
½ teaspoon salt
1 cup fresh raspberries, rinsed and picked over
1 cup fresh blueberries, rinsed and picked over
vanilla ice cream (optional)
Generously butter a 9-cup bundt pan. Dust lightly with flour.
In a food processor, blend eggs and sugar until smooth and thick. Add butter and kirsch. Process until fluffy. Add two cups plus six tablespoons flour, baking powder and salt and process.
In a large bowl, toss remaining two tablespoons flour with raspberries and blueberries.
Fold batter into the berry mixture using a rubber spatula. Transfer to bundt pan, spreading evenly.
Place the pan in the center of a cold oven. Turn heat to 300 F and bake until a tester inserted in the center of the cake comes out clean, about one hour and 25 minutes.
Remove cake and cool in the pan for five minutes. Invert onto a wire rack and cool.
Serve at room temperature with a scoop of ice cream.