Departure From Tradition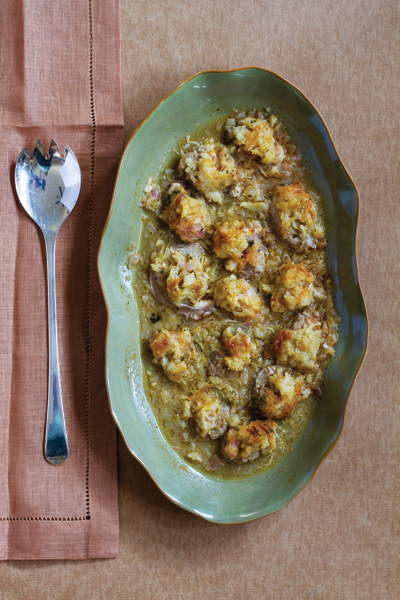 My mother's holiday menu for both Thanksgiving and Christmas rarely varied. She ordered her hindquarter (the cut that is usually reserved for making ham or prosciutto) at least a week before each holiday. She was very specific (the shin/leg bone was to be trimmed off) and made sure the butcher understood what she wanted. If my father and brothers brought home mallards or specklebellies during their Thanksgiving week hunt, the birds took the place of Tom Turkey. Sides included rice dressing to which she added oysters; chicken/oyster patties; rum-glazed sweet potatoes; broccoli au gratin; green bean bundles and spinach Madeleine. The dessert table was laden with Aunt Eva's mile-high coconut cake, Aunt Grace's apple cake and various fudges and pralines.
The year after Mama passed away, my siblings and I made sure we followed her menu. But several years later, Baby Brother Bruce suggested that for Thanksgiving we have an all-seafood menu but keep the traditional Christmas dinner the same.
We went for it. The first year we ordered a sack of oysters. It was a cold, damp winter's day but we gathered on the covered patio at Baby Brother Bruce's. Freshly shucked oysters were washed down with cocktail sauce and ice-cold beer. Then we went on to fried oysters with tart tartar sauce. That was followed by oysters Rockefeller and Bienville and Mama's oyster soup. There was enough to make a batch of Mosca's oyster pan roast. Dessert? Papa's favorite after a seafood meal: lemon pie.
The next year we planned a little better. We began hoarding summer-caught shrimp in our freezers to use for shrimp stew, ordered only a half-sack of oysters and added steamed lobsters to our menu.
Each year, we try something different and now we have our very own Thanksgiving tradition. We laugh that we don't have to deal with leftovers – there is only so much one can do with leftover turkey, rice dressing and casseroles.
Perhaps you might like a change of pace. Here are some of our recipes we have in our seafood-only repertoire.

My Oysters Mosca
Makes 4 Servings
This is made in a small casserole pan but can be adapted to put in oyster shells or small ramekins.
2 dozen raw oysters, shucked
½ stick butter
4 chopped shallots
1 teaspoon fresh lemon juice
8 artichoke hearts; mashed
Salt and cayenne to taste
½ cup Italian style bread crumbs
Freshly grated Parmesan cheese
Arrange oysters in a single layer in a baking dish. Heat butter in a skillet over medium heat. Add shallots and cook, stirring, until they are just soft, 1 to 2 minutes. Add lemon juice and season with salt and cayenne. Spoon the mixture over the oysters and top with mashed artichokes. Sprinkle with breadcrumbs and Parmesan cheese. Bake at 375 degrees until the cheese melts, 10 to 15 minutes.
---
OYSTER SOUP
Makes 6 to 8 Servings
3 tablespoons vegetable oil
3 tablespoons all-purpose flour
1 ½ cups chopped yellow onions
1 quart boiling water (if you prefer a
heartier soup, use 1 quart warm milk)
4 dozen freshly shucked oysters,
drained and oyster liquor reserved
3 tablespoons chopped fresh parsley leaves
3 tablespoons butter
Salt and freshly ground black pepper to taste
Combine oil and flour in a large, heavy pot over medium heat. Stirring slowly and constantly, make a light brown roux. Add onions and cook, stirring, until soft, 3 to 4 minutes. Combine water (or milk) with the reserved oyster liquor and add slowly to the roux mixture, stirring constantly. The mixture will thicken slightly. Bring to a gentle boil, then reduce the heat to medium-low and simmer for 2 minutes. Add oysters, parsley, and butter and simmer until the edges of the oysters curl. Remove from heat. Serve warm with crackers or hot French bread.
---
OYSTERS BIENVILLE
Makes 4 Servings
Rock salt
2 dozen oysters, shucked, with all their liquor
and the deeper halves of their shells reserved
1 pound medium-size shrimp,
peeled and deveined
1 ½ pounds fresh white mushrooms,
wiped clean, trimmed and chopped
6 slices bacon, chopped
½ cup chopped green onions
¼ cup chopped fresh parsley leaves
1 tablespoon chopped garlic
4 tablespoons butter
1 cup all-purpose flour
½ cup white wine
2 cups milk
¼ cup fresh lemon juice
1 ½ teaspoons cayenne
1 teaspoon salt
4 egg yolks, lightly beaten
Preheat oven to 400 degrees. Spread rock salt to a depth of about ½ inch in four 9-inch pie pans. Arrange the pans on two large baking sheets and put them in the oven to heat the salt while you prepare the oysters. Drain oysters and reserve 1½ cups of the liquor. If there is less than this amount, add enough water to make it that amount. Set the oysters and liquor aside. Scrub oyster shells well with a brush and rinse in hot water. Dry and set aside.
Put shrimp, mushrooms, bacon, green onions, parsley and garlic in a food processor and pulse once or twice to blend. Do not puree.
Heat butter in a large, heavy pot over medium heat. Add the shrimp mixture and stirring often, cook until almost all the liquid in the pan evaporates, 4 to 5 minutes. Add flour and mix well. Then, stirring constantly, gradually pour in the wine, milk and the oyster liquor. Cook, stirring, until the sauce thickens. Reduce the heat to low and simmer for 2 to 3 minutes.
Remove from heat and stir in the lemon juice, cayenne and salt. Beat in egg yolks, mixing well.
Arrange six oyster shells over the rock salt in each of the pans and place an oyster in each shell. Spoon the sauce equally over the oysters. Bake until the sauce is bubbly and oysters begin to curl at the edges, about 15 minutes. Remove from oven and serve hot.
---
SHRIMP STEW
Makes 6 to 8 Servings
1 ½ pounds large shrimp, peeled and deveined
(heads and shells reserved)
½ cup vegetable oil
½ cup all-purpose flour
1 ¼ cup chopped onions
½ cup chopped bell peppers
¾ cup chopped celery
2 bay leaves
Salt and cayenne to taste
1 pound lump crabmeat, picked over for
shells and cartilage (optional)
2 tablespoons finely chopped
fresh parsley leaves
Cooked rice for serving
Put the heads and shells of shrimp in a large pot with enough water to cover. Bring to a boil and then reduce heat to medium-low and simmer for about 1 hour.
Meanwhile, combine oil and flour in a large, heavy pot over medium heat. Stirring slowly and constantly, make a medium-dark (color of peanut butter) roux. Add the onions, bell peppers and celery, and cook, stirring, until soft, about 8 minutes. Add bay leaves.
Strain the shrimp stock. You should have 4 to 5 cups of stock. Add enough water to make 6 cups. Add to the roux mixture, and stir to blend. Season with salt and cayenne. Bring mixture to a boil, then reduce heat to medium-low and simmer, uncovered, for about 1½ hours, stirring occasionally.
Add lump crabmeat and shrimp, and gently stir so as not to break up the crabmeat. Cook for 10 minutes longer. Remove from heat, and add parsley. Serve hot with rice in bowls.