De la cuisine: Fare Play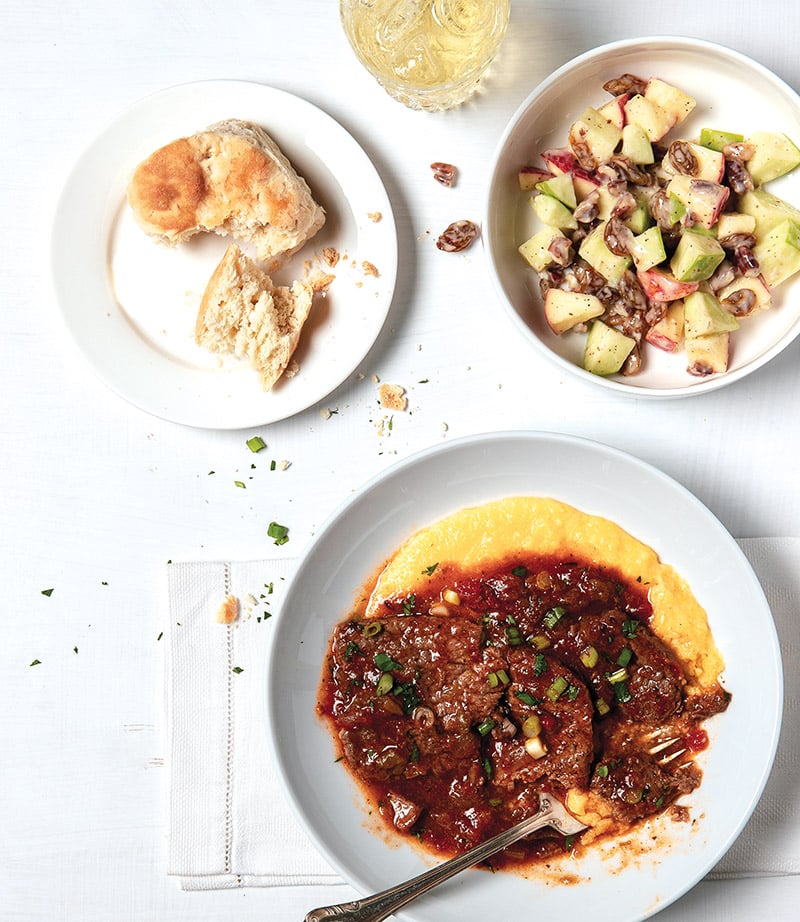 When it comes to holiday menus, my family is all over the table. When I was a youngster, we had the usual baked turkey, roast pork, rice dressing (or eggplant dressing), some kind of sweet potatoes, green bean bundles and an assortment of homemade pies and cakes. On occasion, when my father and brothers came home with their limit of mallards or specklebelly geese, they took the place of Tom Turkey.
One year, my mother announced that the holiday meals were to be anything that we found in the freezer — chicken and sausage gumbo, stuffed bell peppers, red beans and rice, eggplant casserole, and yes, we even found several pecan pies hiding in the huge freezer.
After my parents passed on, each of my siblings and I began forming our own Thanksgiving and Christmas menus. (Our New Year's meal — cabbage, black-eye peas and pork or ham — never changed.)
About 20 years ago, my baby brother Bruce came up with idea of having a seafood menu for Thanksgiving or Christmas. The offerings included oysters on the half-shell or oysters Rockefeller or Bienville, shrimp stew, Maine lobsters, crawfish pie (made during the spring and frozen), eggplant and shrimp dressing, and for dessert — lemon pie. There were rarely any leftovers.
This year, I offered to host the family at our finely-finished guest and party house where we have lots of room for entertaining. Everyone was invited to submit their ideas for the menu and we were surprised that grillades and grits got the most votes. The great thing was that I could make several batches in advance to store in the freezer thus freeing me and the others to not have to be running around like chickens with their heads cut off preparing the meal.
---
TIPS
You can also put the floured and seasoned pieces of meat on sheet pans and brown them in the oven. Keep the juices that accumulate in the sheet pans and add that the gravy when making it.
Feel free to use aged white cheddar or pepper jack cheese. Whatever tickles your taste buds.
---
FOR STARTERS
Waldorf Salad
❶ Toss 1 Granny Smith apple (cored and cut into bite-size chunks), 2 Winesap apples (cored and cut into bite-size chunks), 1 cup golden seedless raisins, ½ cup chopped roasted pecans and 2 tablespoons lemon juice together.
❷ Add just enough mayonnaise to lightly coat the apples. Season with salt and black pepper.
❸ Chill for about 1 hour before serving.
Makes 4 servings
---
ON THE SIDE
Light-as-a-Cloud Biscuits
Sometimes I dust my hands well with flour and pat out little rounds. The dough can be frozen in an airtight container for later use.
4 cups biscuit mix
1 heaping tablespoon sugar
1 teaspoon salt
½ teaspoon cream of tartar
1 teaspoon baking powder
1½ cups vegetable shortening
1½ cups milk
Preheat the oven to 400 F.
Sift dry ingredients together into a large mixing bowl. Drop shortening in the middle of dry ingredients and pour milk over it.
With your fingers, not with a spoon, pastry knife or anything else, mix everything together, working in the dry ingredients until dough has formed a slightly sticky ball.
If you want to roll the biscuits, generously flour a pastry board, roll out the dough to about ¼-inch thickness and cut with a biscuit cutter.
Otherwise, make drop biscuits by dropping the dough by the tablespoonful on an ungreased cookie sheet.
Bake until golden brown, 12 to 15 minutes.
---
MAIN COURSE
Grillades and Baked Grits
Grillades and grits have long been a traditional dish to serve for brunch in and around New Orleans. Medallions of beef, and sometimes veal or pork, are simmered long and slow in a tomato-based gravy, and served with grits to which cheese or garlic are added.
GRILLADES
4 pounds boneless beef or veal round steak, about ¼-inch thick
salt, cayenne pepper, black pepper, garlic powder to taste
1 cup flour
½ cup vegetable oil
3 medium-size yellow onions, chopped
2 medium-size green bell peppers, seeded and chopped
3 ribs celery, chopped
3 cups diced canned tomatoes, with their juice
2 cups beef broth (or more as needed)
½ cup dry red wine
2 bay leaves
1 teaspoon dried tarragon leaves
1 teaspoon dried basil leaves
1 cup finely chopped green onions
¼ cup finely chopped fresh parsley leaves
GRITS
2 cups yellow grits, cooked according to package directions
3 large eggs, lightly beaten
½ pound grated cheddar cheese
1 cup milk
1 stick butter
FOR THE GRILLADES
Cut beef or veal into 2-inch squares. Combine salt, cayenne, black pepper and garlic in a small bowl. Lay several pieces of meat on a cutting board and sprinkle with seasoning mix and a little flour. With a meat mallet, pound each piece of meat until slightly flattened. Repeat on the other side. Do this with the rest of the meat.
In a large, heavy pot, heat oil over medium-high heat. Add meat, several pieces at a time and brown evenly on both sides. Transfer to a platter.
When meat is browned, return it to the pot. Add onions, bell peppers and celery and cook, stirring, until vegetables are soft and golden, 10 to 15 minutes.
Add tomatoes and their liquid. Reduce heat to medium-low. Add broth, wine, bay leaves, tarragon and basil. Stir to mix and simmer uncovered, stirring occasionally. Cook until tender, 1 ½ to 2 hours. If mixture becomes dry, add more broth.
FOR BAKED GRITS
Cook grits according to package. Once cooked, add eggs, cheese, milk and butter. Stir until blended and cheese and butter are completely melted. Pour into a 2-quart baking dish and bake at 350 F for about 45 minutes.
TO SERVE
Add green onions and parsley to grillades. Serve over baked grits.
---