Dansant a travers Acadiana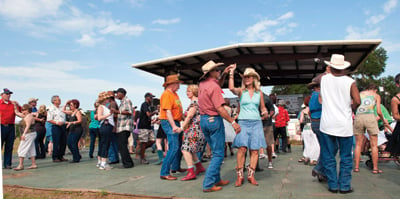 From the moment the sun rises over the basins, bayous and coulees of Acadiana, people awaken to the smell of dark roast coffee brewing and turn on their playlists to get the weekend going. When I hit the highway, a musical gumbo of zydeco, Cajun and jazz always fuels the senses. After putting on Corey Ledet's Nothin' But the Best album or Wayne Toups, Steve Riley and Wilson Savoy's recent Grammy-winning album, The Band Courtbouillon, I am in the zone. Driving past sugar cane and rice fields, with an occasional crop-duster flying overhead, I begin planning another weekend road trip. With an ice chest, a map and some dancing shoes, I am ready to visit places off the beaten path. My first stop will be St. Landry Parish for a weekend of two-stepping, boudin-tasting and club-hopping.
As the musical stars are aligning in the galaxy this summer, devotees of zydeco, Cajun and swamp pop are cruising the back roads, where fiddlers are popping up like daisies at honky-tonks, river shacks and salles de danse.
Whether it's Clifton Chenier's house party "la-la" or Nathan Abshire's old-time "chank-a-chank" music, Beau Jocque's high-octane blaze of electric guitars or the soft, passionate ballads and fiddling of the all-female Bonsoir, Catin, you can bet someone is playing it tonight in Acadiana. It's the season of steamy summer festivals, wild honky-tonking and big musical gatherings in unexpected places. I've been to Sunday afternoon trail ride parties that draw hundreds on horseback near Cecilia, with great zydeco bands, mountains of boudin and plenty of dusty dancing in open fields, and those Saturday night summer shindigs in tin-roof buildings that shake when the bands play as bonfires crackle near the banks of the river.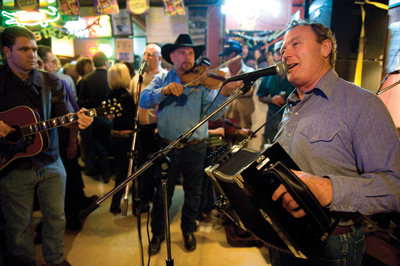 A weekly ritual on Saturday nights occurs in rural roadhouses and bars in St. Landry Parish, where Creole cowboys and perfumed ladies twirl around the dance floor as the bands pound out pulsating zydeco tunes. The mood rises to a feverish pitch at Slim's Y-Ki-Ki on the outskirts of Opelousas. The accordionist incites the crowd by playing on his knees, limbo-style, while singing in French. The ululation, "les haricots sont pas salés," resounds from the stage while the supercharged rhythms from the frottoir (rub board) played with spoons gets people shimmying close around the stage. It is so hot I have to go outside on the gravel to cool off between sets.
Known as the Zydeco Capital of the World, Opelousas boasts the annual Southwest Louisiana Zydeco Music Festival (the nation's oldest), which is actually held in nearby Plaisance at Zydeco Park on the weekend of Labor Day, with a Friday night kickoff party and dance contest at Slim's Y-Ki-Ki (check out the great jam session with top musicians on Thursday night at Slim's). More great music can be enjoyed during the Yamboree Festival in October, which brings dancing in the streets once again.
To the delight of regulars, the 65-year-old Miller's Zydeco Hall of Fame, formerly known as Richard's Club in Lawtell near Opelousas, reopened in 2012 after closing twice before. This iconic old jewel still has those bouncy wooden floors, screen windows, low ceilings and no air conditioning (just box fans and ceiling fans), but everyone packs in for the music and energy of the place. Best-selling albums have been recorded at Richard's, which is what you still call it if you're from this neck of the woods. Movies have also been filmed here. Zydeco stars Clifton Chenier (who booked some of his first gigs at Richard's before he was popular), Terrance Simien, Rockin' Sidney, plus blues and R&B greats such as B.B. King and John Lee Hooker played at the club on their way to gigs in Houston. I visited on a steamy night when Steve Riley and the Mamou Playboys were thumping and grinding. The parking lot was filled with pickup trucks, and the line to get in was long, but it's always worth the wait to experience this landmark out in the country. On my way out of town, I like to stop by the tiny town of Cankton and visit Cormier's Country Store, which has delicious, moist boudin flecked with green onions. I place an order in French and then pop the boudin into the ice chest, ready for the next adventure. Rumor has it that Anthony Bourdain came here.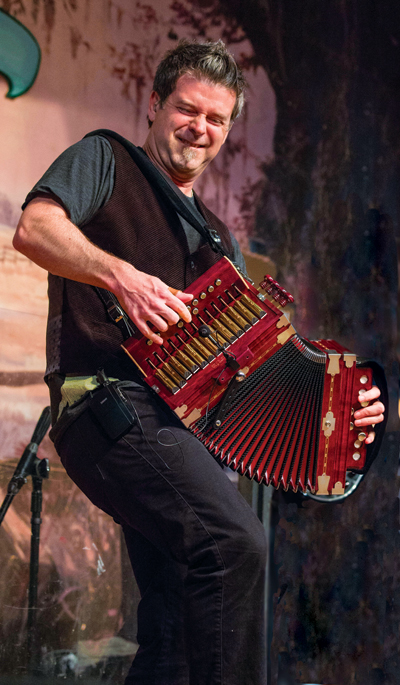 Around 3 miles north of nearby Eunice is Lakeview Park & Beach, where I danced until midnight in a big, rowdy barn to the music of Geno Delafose and French Rockin' Boogie. They did a great set. A guy in a muscle shirt and cowboy hat asked, "Where y'all from, boo?" I guess we didn't look local. During weekends in June, this earthy RV park/beach/playground/dance hall stages events, including beach parties and snowball-eating contests. We're not talking sugar-white sand like you see in Destin, Fla., but the beach is clean and pleasant enough. Large crowds come each summer. It also has a bal de magasin, which gets hopping on Saturday nights. It's really easy to meet folks here because people are usually in vacation mode. When in Eunice, be sure to stop by the Eunice Superette, which has a slaughterhouse out back and makes terrific boudin (the pigs are fed boiled crawfish shells, which kicks up the flavor a notch).
On Saturday afternoons from 3 to 6 at the Prairie Acadian Cultural Center in Eunice, you can learn how to Cajun dance if you don't already know how. Volunteers are on hand to teach you a step or two. They also share local secrets for the perfect gumbo. In the evening, head next door at around 6 to the Liberty Theater for live Cajun and zydeco music when the National Park Service sponsors Rendez-Vous Des Cajuns, which is broadcast live at krvs.org. It's a real hoot, this place, and a great place to entertain out-of-town visitors who want to see Cajun Country without going to a dance hall or a smoky bar.
While in Eunice, if you are an aspiring musician, you can hear live music while participating in a Cajun jam session at the Savoy Music Center, but you must bring your own instrument. You get popular really fast if you also bring along some good boudin. Sessions are from around 9 a.m. until noon – no charge, either. Marc and Ann Savoy have had their band since 1977, and now their famous grown children, Joel and Wilson, step in to play. I brought my guitar and some spoons one afternoon and learned a thing or two, even though I mainly play keyboard. It's not hard to find: just look for a string of cars on Highway 190 between Eunice and Lawtell.
In Basile, I recommend stopping by the secluded D.I.'s Cajun Restaurant, which is decorated with family photos and pictures of celebrities and is located near a landing strip. If you've got a small airplane, you can fly there. It's not that easy to find (between bayous Des Cannes and Nezpique), but you will see all the cars and the gravel lot from Evangeline Highway. D.I. Fruge and his wife, Sherry, began farm-raising crawfish in the 1970s and later started a restaurant. During crawfish season, it is packed. D.I.'s is an authentic Cajun joint that serves great seafood and seats around 275; there is a good-size dance floor with live local music Thursday, Friday and Saturday nights. We "cut da rug" to Mack Manuel and the Lake Charles Ramblers the last time we passed through Basile in April.
Heading to Breaux Bridge in St. Martin Parish, I usually stay the weekend, visit the flea market, stop at Poché's for some great boudin (for the ice chest) and Hebert's for rice dressing – and of course we always hit the live music venues. Known as the Crawfish Capital of the World, this is a hopping little town. Notable musicians, artists and writers have been relocating here ever since Katrina. It's the only town in the U.S. that lists people by their nicknames. The Breaux Bridge Crawfish Festival is held at Parc Hardy in May, and features more than 30 hot bands on three stages, crawfish-eating contests, cooking demos, Cajun and zydeco dancing lessons and even a crawfish race where live crawdads wearing numbers scurry to the finish line.
The highlight of visiting Pont Breaux, as the locals like to call it, is the fast-paced, energetic zydeco breakfast on Saturday mornings at Café des Amis. The only thing vaguely comparable to this super-charged experience is Fred's Lounge in Mamou, the iconic salle de danse that also has a Saturday morning dance scene starting at 8 and lasting until 1 p.m. Café des Amis has exceptionally good food, especially for dinner (braised duck glazed with Steen's cane syrup and pepper jelly, redfish court bouillon, oven-roasted rabbit).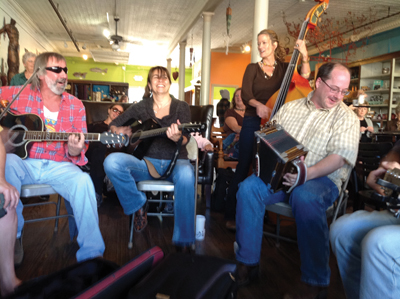 You have to get to Café des Amis early if you don't want to wait in line for a long time; there are no reservations – first come, first served. People start lining up at 7 a.m., and the doors open at 8:30 a.m.; the music stops around 12:30 p.m., but the bands can often be encouraged to do another couple of songs. Around 300 people show up each Saturday, and the place only seats 85. The circa 1890s building has 20-foot-high pressed-tin ceilings and local consignment art. Great Bloody Marys, shrimp and grits in a tasso cream sauce and grilled biscuits with eggs and crawfish étouffée are staples. There is also a live band on Wednesday nights, but it's rarely crowded and not nearly as fun. You squeeze in for breakfast and often have to sit at communal tables; sometimes, you even have to dance between the tables since the dance floor is so small. On my last visit, I brought my daughter and she danced the morning away with old geezers in cowboy hats who were good enough to be on Dancing with the Stars.
Also in Breaux Bridge is Pont Breaux's, which was Mulate's for many years (in various incarnations). I liked it best in the early days, when Kerry Boutté opened it in 1980 and hired Zachary Richard and Michael Doucet before they became famous. It has changed quite a bit through the years and has had different owners. There is a dramatic mural on one wall to the left of the entrance near the closely spaced dining tables, with the bandstand directly in front, flanked by a decent-size dance floor. It has bright lights and good acoustics. One evening, some ladies from Switzerland asked if they could meet us and sit at our table. Sure, the food is still good, the portions are generous, and the atmosphere is fun, but you'll find a lot of tourists here whereas if you go down the street to La Poussiere on a Saturday night, you will find mostly locals. And the older they are, the better they can dance! The last time we visited, we became immersed in a circular thing on the dance floor; everyone was doing the two-step waltz and circling in the same exact direction in unison, as if choreographed. Older couples, all dressed up for Saturday night, were hugging romantically as they expertly dipped and twirled in perfect harmony, an inspiring sight. Only a few regulars were still at the bar when we closed the place down.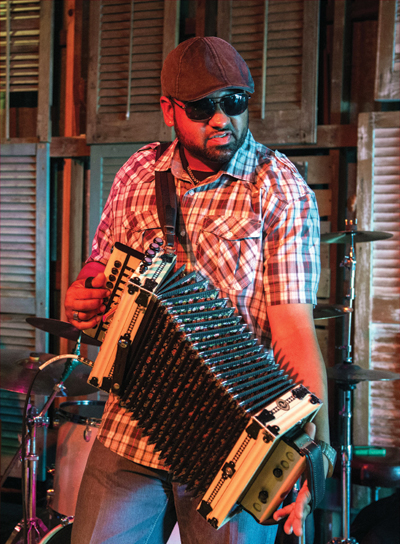 Breaux Bridge has a fairly new cute little "coffee shop and cultural café," as owner Melanie Harrington calls it. Joie de Vivre Cafe offers everything from yoga classes to literary nights, plus live music and jam sessions on Saturday mornings.
When I'm in New Iberia visiting cousins and friends, I always like to stop in at Clementine on Saturday nights, when the live music alternates among blues, zydeco and Cajun. People often get up to dance when dining. Wayne Peltier's elegant restaurant, named after the late great folk artist Clementine Hunter, serves superb Louisiana cuisine, and the bar is popular among locals after 5.
If you enjoy hearing music at summer festivals, head to the 31st annual Church Point Buggy Festival, which is held June 7-9. It has grown considerably since it started in 1981 and features live Cajun and zydeco bands, a fiddle contest that is becoming increasingly popular, a buggy parade, an antique buggy show and great local food. This year's line-up showcases such groups as Geno Delafose and French Rockin' Boogie, Kenneth Benoit and the Gravel Road Band and an accordion extravaganza with Paul Daigle and Cajun Gold.
Another great music-centric summer event is the 26th annual Cajun Music & Food Festival, held in Lake Charles at the Burton Coliseum on July 19-21. It is highlighted by numerous live bands, a children's Cajun waltz contest, a children's bandstand and a Dancing with the Cajun Stars contest. The Marshland Festival is held July 25-27 and features more than a dozen bands performing at the Lake Charles Civic Center. A popular place with live entertainment in Lake Charles is Yesterdays Night Club. The 10-year-old club features everything from Cajun to zydeco and country music. OB's Bar and Grill often has live '80s and '90s music Wednesday and Friday nights. It hits the spot if you're in the mood for a little music with your burger or poor boy on the way to the clubs or all the action at L'Auberge Casino Resort, which offers national music headliners and special summer Liquid Society poolside events and concerts.
In Lafayette, I like the hip vibe at the Blue Moon Saloon & Guesthouse, which has Cajun music and a verdant outdoor setting, but if you don't feel like sweating during the summer heat, the best place to hear live music and go Cajun dancing is Randol's. The large dance hall has nightly live bands and is populated with mostly locals during the week and a mixture of locals and visitors on weekends (regulars are Kevin Naquin, Bayou Boys, Jambalaya and the Lafayette Rhythm Devils). The food is top-shelf, with a little Asian mixed into the Cajun. They raise their own crawfish and crabs, and have a team of "pickers" who clean the seafood and pick the fresh Blue Point lump crabmeat out of the boiled crabs in the rear of the restaurant. Try the famous BBQ Crabs, which are quartered, bathed in Saigon sauce and then battered and fried.
Another good place for Cajun music and dancing in Lafayette is Prejean's, which provides good food and a fun time with live Cajun and zydeco bands and plenty of dancing, family-style. Children are frequently seen here learning to dance alongside their parents. Blue Dog Café offers a lively Sunday brunch from 10:30 a.m. to 2 p.m. featuring a range of music styles including Cajun, zydeco, swamp pop, Celtic and folk. The extensive menu includes a delicious crab cake Benedict, prime rib, smoked salmon, grillades and cheese grits and omelets made to order. It's a great place to bring children for brunch and is adorned with paintings by George Rodrigue.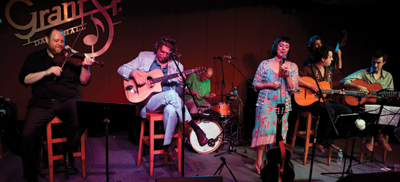 Lafayette has many places to hear different kinds of live music. At the top of my list is a fairly new music venue housed in a beautiful, artsy old shack with primitive shutters. Feed & Seed is part community center, part clubhouse and part nightclub and recently acquired a liquor license. Acts have included a variety of bands such as Curley Taylor and Zydeco Trouble, the Cat Head Biscuit Boys, The Essentials and Little Freddie King. Just across the train tracks is the equally cavernous Grant Street Dancehall, the iconic dance hall that has been around for decades and features such acts as Tab Benoit, Papa Grows Funk, Bonerama and Big Sam's Funky Nation. Cowboys Nightclub in Scott on the outskirts of Lafayette is a great place to kick up your heels on weekends; you can catch such bands as Horace Trahan and the Ossun Express, Leroy Thomas, Lil' Wayne Singleton & Same Ol' 2 Step and Travis Matte and the Kingpins.
Traveling the back roads to St. Martin Parish, away from the Lafayette city limits and traffic, I head to Henderson, where I once spent the night in a houseboat that felt like a floating toolshed. From the interstate, you can see the metal roofs of a few clubs in the distance. There is one main drag leading to the levee, which is where all the river shack action is happening.
Perched on the very western edge of the Atchafalaya Basin is McGee's Landing, which has everything from Cajun guesthouses to swamp tours and a great café overlooking the Atchafalaya. It's beautiful at sunset, and if you spend the night, there's nothing like a swamp dawn. The live Cajun music starts at 7 on Friday and Saturday nights and at around noon on Sundays. Within 2 miles is Pat's Fisherman's Wharf and the adjacent Atchafalaya Club (a huge, hangar-like building with a shiny dance floor and great live Cajun music), located a couple of miles off Highway 352 down at the levee. You'll find the dance hall, restaurant, a motel and a series of outbuildings including a lighthouse at the entrance of the always-packed parking lot. An offbeat, funky place nearby that is not to be missed is the Turtles Bar, which dangles over the levee. It's got a great oldies jukebox and fishnets on the walls and is jamming with people coming in from their boat outings; we danced there on a Sunday night (no live music was needed) and got to know the locals. It's part of a houseboat-and-marina complex, the Atchafalaya Basin Landing, and is a good place to launch a boat or take an airboat tour over the eerie, vast swamp.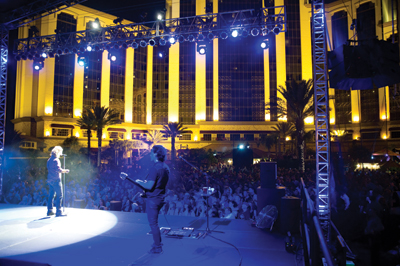 Farther down the levee from Pat's and Turtles is Angelle's Whiskey River Landing (which is open on Sundays, when top-name zydeco and Cajun groups pull people to the plywood dance floor). The music builds like a crescendo, until couples are sliding and stomping to the beat of the drums, getting wild and steamy. Houseboats, tour barges and boats are parked outside at the water's edge. It's worth a special trip down the levee just to finish the tail end of a weekend at Angelle's. When we finally left, the room was surging with energy. But we knew that just behind the big windows lurked the dark Atchafalaya basin and a long drive home over the murky waters strewn with alligators, nutria and moss-draped trees casting shadows in the moonlight.