cool treats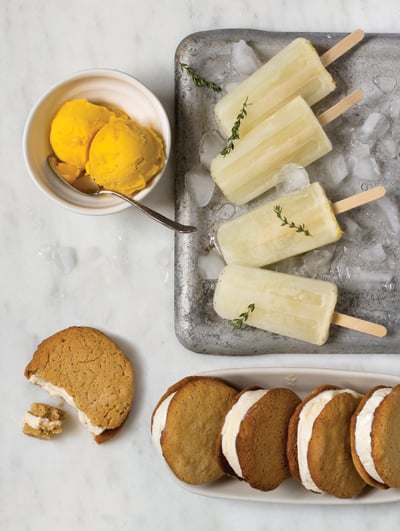 Back in the 1950s, the red-letter day for me and my siblings was the last day of school. At 8 a.m. sharp, report cards were given out by the good nuns who then herded us aboard a school bus that took us to the local park for an all-day picnic. Parents (more mothers than fathers), were in charge of handing out hot dogs, bags of chips and ice-cold bottles of Coca-Cola.
The next day, my mother packed the old Ford station-wagon with groceries, ice chests, bathing suits, shorts, T-shirts and inner tubes. She squeezed my sister, brothers and me in between bags of towels and folding chairs. We were off for a week at Cypremort Point on Vermilion Bay.
The trip over bumpy blacktop roads that led through the marshes was an adventure. We knew the landmarks by heart. Mama always skirted around New Iberia on the back roads that led us to the tiny community of Lydia where we made our first stop to buy crushed ice, a couple pounds of bait shrimp, and a bag of chicken necks for the crab traps.
On the road again, we were on the lookout for giant grasshoppers that often appeared on the stretch between Lydia and the turnoff for Weeks Island. It was fun to watch them smack on the car windshield and hear Mama mumble a few choice words.
Next stop was at Louisa, where Mama ticked off the last items on her list – several loaves of Evangeline Maid bread, a few pounds of ham (cut by hand), a gallon or two of milk and three dozen eggs. Then Mama allowed us to get popsicles. Yahoo! The last stretch of our trip (about 9 miles) was over an oyster-shell road. With no air-conditioning, the windows were rolled down, allowing white dust to blow into our faces that were covered with drippings of our iced treat.
The camp was also not air-conditioned, but windows and ceiling fans helped keep us cool. But our next-door neighbors had not only air-conditioning but also a deep freezer that was generously stocked with popsicles, ice cream sandwiches and other frozen delights that were homemade. Life was good.
Although I don't recall how the popsicles were made, my sister believes Hawaiian Punch was poured into popsicle molds with the wooden sticks and allowed to freeze. Popsicles (sometimes called ice pops) and other frozen treats are not just for children anymore. Adult-flavored ones are ideal for warm-weather cool downs or a dessert for casual dinner parties. And who can pass up ice cream sandwiches made with homemade ice cream and cookies?
I have a wonderful herb garden from which I can harvest year-round. I am always open to using freshly picked herbs to brighten any dish. You can substitute mint, sweet basil or lemon verbena for the thyme.
TIP Popsicle molds are available at specialty kitchen shops and some supermarkets. If they are not available, pour the mixture into ice cube trays and pop them out as needed.
TIP My husband loves ice cream sandwiches. Sometimes he uses store-bought ice cream and cookies, but homemade ice cream makes all the difference in the world. Children love making them as well. I've had this recipe in my files since the early 90s when I found it in a Southern Living magazine.
---
Lemon Thyme Popsicles
Ingredients:
3 small bunches fresh thyme (I used lemon thyme from my garden)
1 ¼ cups sugar
2 ¼ cups fresh lemon juice
1 teaspoon grated lemon zest
Pinch or two freshly ground black pepper
Combine thyme, sugar and 1 ¼ cups water to a boil in a small saucepan and bring to gentle boil over medium heat. Reduce heat to medium-low, stirring, until the sugar dissolves, about 5 minutes.
Cool, then pluck out the thyme sprigs or strain through a mesh strainer. Blend the thyme syrup, lemon juice, lemon zest, black pepper and 3 ½ cups water in a blender for 1 minute. Pour the mixture into the ice-pop molds. Cover and insert sticks. Freeze until solid, about 4 hours. Dip the molds gently in hot water to release the pops. This recipe was adapted from Bon Appetit.
Makes 24 or 30
---
Campari-Orange Pops
Ingredients:
⅓ cup sugar
1¾ cups fresh orange juice
1 teaspoon grated orange zest
⅓ cup Campari
¼ cup fresh lemon juice
Bring sugar and ½ cup water to a boil in a small saucepan over high heat, stirring until sugar dissolves. Transfer syrup to a pitcher and chill until cold, abut 1 hour.
Combine the remaining ingredients with syrup. Divide among molds. Cover and insert pop sticks. Freeze until firm. Dip the molds into hot water for about 30 seconds to loosen the pops. Remove the pops from the mold to serve. This recipe was adapted from Bon Appetit.
Makes 8 to 10
---
Peanut Butter Cookie Ice Cream Sandwiches
½ cup butter or margarine, softened
½ cup creamy peanut butter
½ cup sugar
½ cup firmly packed light brown sugar
1 large egg
½ teaspoon vanilla extract
¾ teaspoon almond extract
1 ½ cups all-purpose flour
¾ teaspoon baking soda
¼ teaspoon salt
½ gallon vanilla or chocolate ice cream (store-bought or homemade)
Beat the butter and the peanut butter at medium speed with an electric mixer until creamy. Gradually add the sugar, beating well. Add the egg, vanilla and almond extracts and mix well.
Combine the flour, soda, and salt in a mixing bowl. Gradually add to the butter mixture, mixing well. Cover and chill for one hour.
Preheat the oven to 375 degrees. Shape the dough into 22 balls, each about 1 ½-inches in diameter. Place them three inches apart on ungreased cookies sheets. Dip a flat-bottomed glass in flour and flatten each ball to a 2 ½-inch circle. Bake for eight to 10 minutes. Let stand for one minute on the cookie sheets, then transfer them to wire racks to cool completely.
Remove the ice cream from the carton and quickly cut the ice cream into six ½-inch slices. Using a 2 ½-inch round cookie cutter, cut two rounds out of each slice. Reserve the remaining ice cream for another use. Place the rounds of the ice cream on half of the cookies, and top with the remaining cookies. Wrap each in plastic wrap or wax paper and freeze.
Makes 11 servings
---
Mama's Ice Cream
Ingredients:
6 eggs, beaten
4 cups milk
1 cup sugar
1 tablespoon vanilla extract
2 cups chopped fruit, such as peaches, strawberries, or bananas
Combine the eggs, milk, sugar, and vanilla in a saucepan over medium-low heat. Stirring constantly, cook until the mixture thickens enough to coat the back of a spoon. Remove from heat. Chill in the refrigerator for about two hours.
Remove from the refrigerator and add the fruit. Freeze in an ice cream freezer according to manufacturer's directions.
Another cool treat I enjoy during the warmer months is this sherbet.
Makes about 1 quart
---
Orange Creamsicle Sherbet
Ingredients:
1 ½ cups frozen orange juice concentrate, thawed
3 tablespoons sugar
3 cups fat-free half-and-half or reduced-fat milk (or regular half-and-half or whole milk)
2 teaspoons vanilla extract
Combine the orange juice concentrate and 1 cup of milk product in a blender and blend until smooth. Stir in the remaining dairy product and the vanilla.
Pour the mixture into the freezer bowl of your ice cream machine and turn it on. Mix until it begins to thicken, 20 to 25 minutes. The sherbet will have a soft texture. If you want it firmer, transfer the mixture to an airtight container and store in the freezer for about 2 hours. Remove it from the freezer for about 15 minutes before serving.
Makes about 5 cups
---