Cool Drinks, Good Times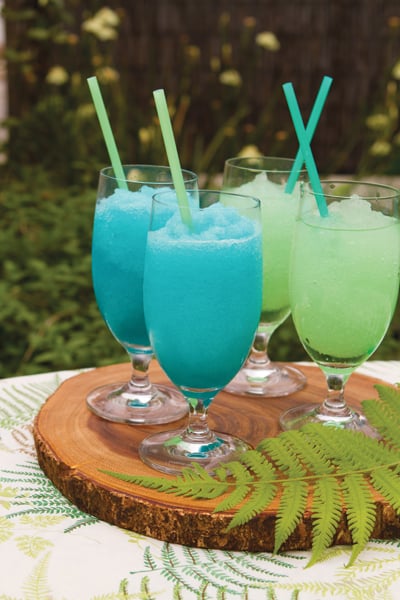 During the summers of my childhood, the highlight of many hot afternoons was sipping homemade lemonade, root beer or tea. What fun we had under the oak trees at Aunt Belle's, slurping beverages chilled with ice that had been crushed by beating ice cubes wrapped in a towel with an old hammer!

These days, what with the plethora of bottled, canned and ready-to-mix drinks on the market, half the fun – gathering ingredients and making the concoctions – is gone. With the summer stretching before me, nieces and nephews, some of them with their own young children, are already calling me to set aside some time to spend in my tree-shaded yard with plastic swimming pools. So I'm gathering some old-time drink recipes.

Too, I've decided that late afternoons on these long summer days are perfect for inviting the neighbors over for a cocktail hour now and then. Mama and Papa often had impromptu get-togethers years ago on their cool, lush patio, and I thought that was so civilized and pleasurable.

You might want to do the same! Don't forget to include some munchies.

Let's begin with the nonalcoholic beverages.
---
Tea Punch
6 individual-size tea bags
1/2 cup sugar
1 cup fresh lemon juice
1 cup pineapple juice
1/4 cup grenadine
1 quart chilled ginger ale
Mint sprigs (optional)
Combine the tea bags with 2 cups of boiling water, and steep. Discard the bags. Add the sugar, and stir to dissolve. Add the fruit juices and grenadine. Chill for several hours. When ready to serve, add the chilled ginger ale. Serve over ice, and garnish with a sprig of mint. Serves 8 to 10.
Grape Ices
3 1/2 cups water
3/4 cup sugar
1 tablespoon fresh lemon juice
1 12-ounce can frozen grape juice
concentrate, undiluted

Combine the water and sugar in a large saucepan over medium-low heat. Stir to dissolve the sugar. Add the remaining ingredients, stirring until the grape concentrate is completely melted. Pour the mixture into freeze trays or a plastic bowl. Freeze until firm, stirring several times during the freezing process.
To serve, scrape the ice with a large spoon and serve in small bowls. Serves 6 to 8.
And now on to adult beverages!

Blue Lagoon
2 ounces light rum
1/2 ounce triple sec
Splash of blue Curaçao
1 1/4 cups crushed ice
Blend all of the ingredients in a blender until smooth. Serve in a tall glass. Serves 1.

Surf Sider
1 1/2 ounces white rum
1 ounce blue Curaçao
1 1/2 ounces pineapple juice
1/2 ounce fresh lemon juice
1 ounce simple syrup
1 1/4 cups crushed ice
Blend all of the ingredients in a blender until smooth. Pour into a tall glass to serve. Serves 1.
Green Cooler
1 6-ounce can frozen limeade concentrate
1 can vodka, measured in the limeade can
3 cups crushed ice
Combine all of the ingredients in the blender, and blend for about 15 seconds. Serve in cocktail glasses. Serves 4.
Munchies can be as easy as chips and dips, crackers and cheese or finger sandwiches.
Avocado Dip
2 avocados, peeled and mashed
2 Italian plum tomatoes, finely chopped
1/2 teaspoon chopped garlic
2 tablespoons fresh lime juice
2 teaspoons chopped cilantro
1 teaspoon finely chopped green onions
1 tablespoon sour cream
1 teaspoon (more or less to taste) chopped
pickled jalapeños
Salt and finely ground black pepper to taste
1/8 teaspoon hot sauce
Combine all of the ingredients in a mixing bowl, and mix well. Store in an airtight container in the refrigerator until ready to use. Best when used within 24 hours. Serves 2 to 4.
This curry dip is great to serve with boiled and peeled shrimp.
Curry Dip
1 cup mayonnaise
1 teaspoon curry powder (try the Madras
curry powder if you can find it)
1 teaspoon horseradish
1 teaspoon tarragon vinegar
1 tablespoon minced onions
1/4 teaspoon hot sauce
Salt and freshly ground black pepper to taste
Combine all of the ingredients in a small mixing bowl, and whisk to blend well. Store in the refrigerator in an airtight container for up to three days. Makes about 1 cup.
During the summer, I love homemade pimento cheese to serve on crackers.
My Pimento Cheese
1/2 pound mild cheddar cheese, grated
1 2-ounce jar diced pimento with its liquid
3 tablespoons mayonnaise
Freshly ground black pepper to taste
Combine all of the ingredients in a bowl, and mix well. Cover, and chill until ready to serve. Makes about 2 cups.
In my book, there's nothing better than chicken salad sandwiches.
Chicken salad is ideal for making finger sandwiches, plopping on the top of thick slices of Creole tomatoes or stuffing into half an avocado. This one is a classic.
Classic Chicken Salad
1 fryer chicken, about 3 pounds
1 large carrot, coarsely chopped
1 rib celery, coarsely chopped
1 medium-size yellow onion, peeled
and quartered
2 bay leaves
1 teaspoon whole black peppercorns
1 teaspoon salt
2 sprigs fresh parsley
1 cup mayonnaise
3 hard-boiled eggs, finely chopped
2 tablespoons fresh lemon juice
1 tablespoon Dijon mustard
1/4 cup chopped celery
2 tablespoons chopped fresh
parsley leaves
2 teaspoons sweet pickle relish
Salt and freshly ground black pepper to taste
Put the fryer in a large, deep pot, and cover with water. Add the carrot, celery, onion, bay leaves, peppercorns, salt and parsley sprigs. Bring to a boil; then reduce the heat, and simmer, partially covered, until the meat begins to fall off the bones, about 1 1/2 hours.

Remove the fryer from the pot, and strain the broth. (The broth can be cooled and stored in containers in the freezer to use for soups.) Let the chicken cool, and then pick the meat off the bones. Coarsely chop or shred the chicken.

In a large mixing bowl, combine the chicken with the mayonnaise, eggs, lemon juice, mustard, celery, parsley and sweet relish. Season with salt and pepper. Toss to mix well. If you like it a little moist, add a few tablespoons of the reserved chicken broth. Cover, and chill in the refrigerator for at least 1 hour before serving. Serves about 6.