Compelling Designs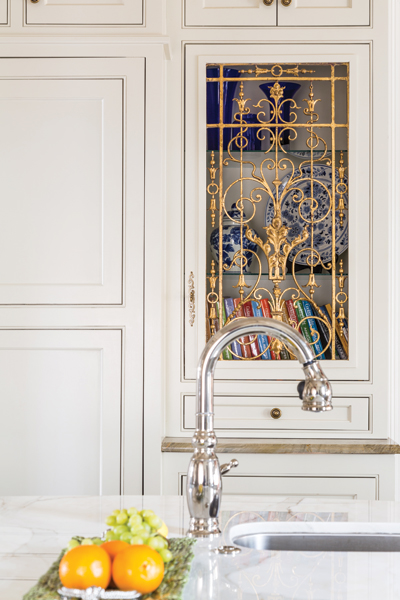 When it comes to new homes, big is back. Despite the bursting of the housing bubble, the recession and slow recovery, the appetite for larger homes has retuned, with dream kitchens and luxury baths starring as the main attractions. Toll Brothers, the nation's premier builder of luxury homes, reported that its revenue rose 65 percent in the fourth quarter of 2013, compared to the same quarter last year, as buyers went looking for bigger homes, especially bigger kitchens and master suites.
Homeowners are investing big bucks to create spa-like master baths-as-sanctuaries with larger showers for multiple shower heads, steam systems, therapeutic body sprays, benches for sitting or lying down and sound systems while adding heated floors, wireless elements from home theater systems, and such added amenities as toilets with touch-screen remotes that are programmed with personal music playlists and heated seats, drying options and foot warmers. Increasingly large kitchens with grander custom islands are outfitted with clever concealment hutches, and are often complemented by outdoor kitchens and mini "second" kitchens so that you can entertain in the main kitchen, living-room style, and hide all the work in the "little" kitchen, outdoor kitchen or in second islands and hutches. The hot new 2014 trends in kitchens and baths signal a booming market for luxury.
Exactly how much bigger and more luxurious are our homes getting? According to the National Association of Home Builders, in 2012, new homes reached a new peak of 2,384 square feet, and 41 percent of them had four or more bedrooms, up from 34 percent in 2009. In July 2013, sales of homes costing more than $1 million were up 46.6 percent from the previous July, in sharp contrast from the July 2008 market, when large, expensive home sales slowed dramatically and those that sold for more than $1 million fell 31.4 percent. The homes that sell best today are those with the biggest kitchens and most expansive master suites, according to Toll Brothers analysts. "It's a matter of how large and impressive those two features are, and how much buyers can afford," says Tim Gehman, design director, when interviewed by the New York Times in January. Affluent buyers are increasingly drawn to new homes in part because the market for existing homes is so competitive, explains Stephen Kim, a Barclays analyst.
So what's hot in 2014? According to a news report released by real estate website Zillow that names the big kitchen trends this year, kitchen upgrades topped homeowners' list of renovation projects in 2013, trailed marginally by master bath upgrades, and the trend doesn't seem to be slowing. The annual design trends survey released in February at the 2014 Kitchen and Bath Industry Show by the National Kitchen and Bath Association (NKBA) in Las Vegas shows that natural materials, black countertops, open shelves and glass cabinet fronts are the top design trends. The most popular kitchen products for 2014 are induction cook tops, quartz counters, glass backsplashes, wood floors, polished chrome faucets and granite composite sinks. Some homeowners design their kitchens and baths to resemble great hotels or resorts, allowing them to feel as though on vacation while at home.
Bath elements on the upswing include quartz vanity tops, wall-hung vanities, polished chrome faucets, under-mount sinks, and showers in a variety of configurations that combine a series of showerheads and body sprays, even the option for electronic controls allowing the user to pre-set temperature, music, sprays, steam and water use. Many of the bathing technologies have made their way from destination spas into the home bath.
Luxury takes the lead in some of the finest new homes in Acadiana, which feature many of the newest 2014 design trends in kitchens and baths. Ashley and Jim Hutchison designed their new five-bedroom, five-bathroom house with all the bells and whistles, featuring a large open kitchen that flows into the living room; and also opens onto the outdoor kitchen with a fireplace, flanked by a pool and hot tub.
---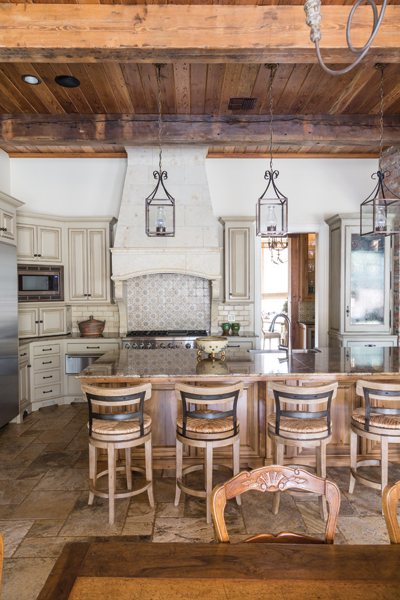 LAFAYETTE – Ashley & Jim Hutchison
---
"To me, this is where the family centers," Ashley says. "We were definitely looking to design a casual, large and comfortable kitchen. We committed a big part of our time on the kitchen, and also on my bathroom. We liked the idea of using natural materials in the process." Antique pine ceiling and beams complemented with hand-riveted hanging lights from Bevelo lend a rustic, casual aura to the spacious kitchen with island seating and an additional roomy breakfast area. Among the kitchen's more interesting features are the antique restored doors from The Bank in New Orleans, a hand-cut travertine hood from Alkusari Stone in Houston, travertine flooring, hand-painted Tabarka custom tile utilized in the backsplash from Stafford Tile, and a custom island featuring a large farm house sink. "We plan on raising our family here, so it meant a lot, to get the kitchen exactly right," Ashley notes.
---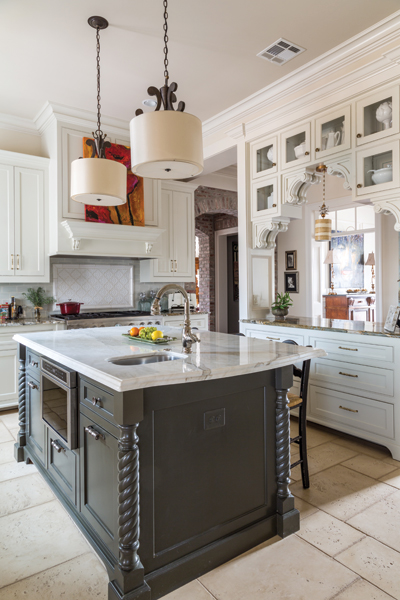 LAFAYETTE – Amelie & John Storment
---
Ashley's next door neighbors, Amelie and John Storment, are enjoying their new house that was completed in 2013. "I wanted to create a clean, spa-like master bath using white carrera marble," says Amelie. The focal point of the room is a garden tub with a fantasy brown granite tub deck, a Ken Mason tile backsplash and a hand-cut carrera marble mosaic tub skirt, framed by an arched alcove. "The Kohler shower is like being in a car wash!" exclaims Amelie. "It includes a shower head, a rain shower overhead, three body sprays, and a hand-held shower head. It's a little over the top, but I couldn't decide what to cut out." Amelie designed the custom vanities, and selected a Lugarno polished nickel finish for the sink faucets from Restoration Hardware. The Crystorama chandelier she ordered from lightingdirect.com adds a dreamy touch to the serene master bath.
---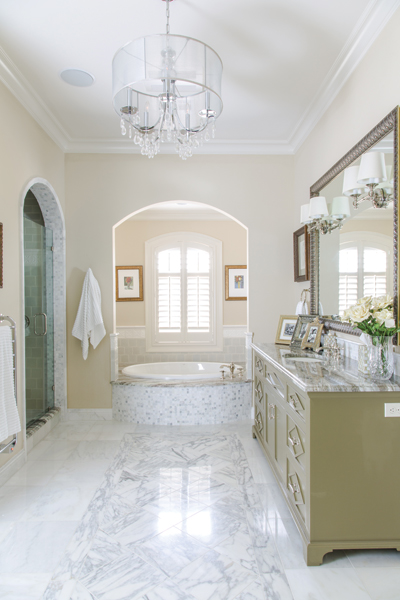 LAFAYETTE – Amelie & John Storment
---
"For the kitchen I wanted something light and clean," Amelie adds. "I wanted it to be open, but also have definitive boundaries, thus the second island that leads to the living and dining areas. For parties, this works great, because everyone seems to congregate in the kitchen." The handsome center island is topped with a calacatta gold slab from Massimo and a convenient second sink outfitted with Kohler sink faucets in a polished nickel finish from Southern Bath and Kitchen. The second island has a Brazilian fusion slab and a Flambeaux pendent light centered between the scrolls. The pair of lights above the center island from Curry and Company illuminates Amelie's sleek kitchen. "The fusion slabs were so gorgeous, so full of movement, they looked like water and fire together. We used every square inch of those slabs, partly in the wet bar and the rest for the fireplace surround."
---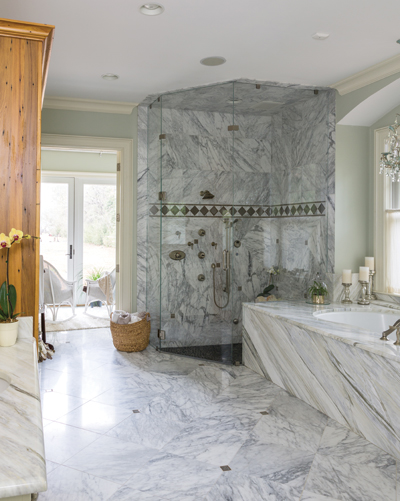 HOUMA – Nancy & Bill St. Martin
---
Situated on several acres rimmed by live oaks in Houma, the home of Nancy and Bill St. Martin serves as a gathering place for their six children and is central for many soirées throughout the year. "We have many events here," says Nancy, "from family parties to teas, Mardi Gras events and bonfires. I wanted a very open kitchen, which is connected to a keeping room and a big family room. The entire house is all windows from the back to the front."
---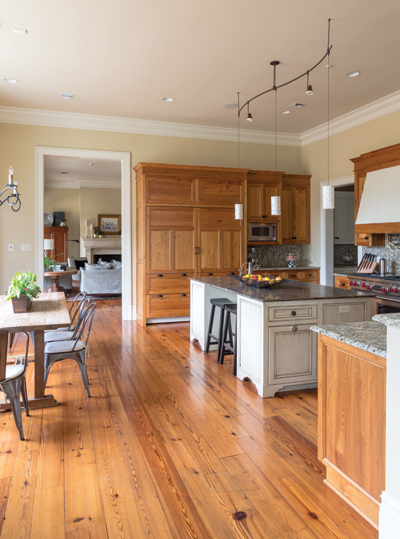 HOUMA – Nancy & Bill St. Martin
---
Among the invaluable amenities in this busy kitchen designed by architect George Hopkins are two dishwashers, a pot-filler on the six-burner stove, a double convection oven, and a large island topped with travertine. "It has shells in it that are fossils. That was our jumping off point for the whole kitchen," Nancy says. "It was our inspiration from the beginning." Antique long leaf pine in varying widths was chosen for the flooring. "I like the irregularity of it," she says. The keeping room's vaulted ceiling adds to the open feel of the contiguous rooms. A seven-foot wooden plank table with industrial Parisian café chairs and a window seat serves as a breakfast nook in Nancy's spacious kitchen.
---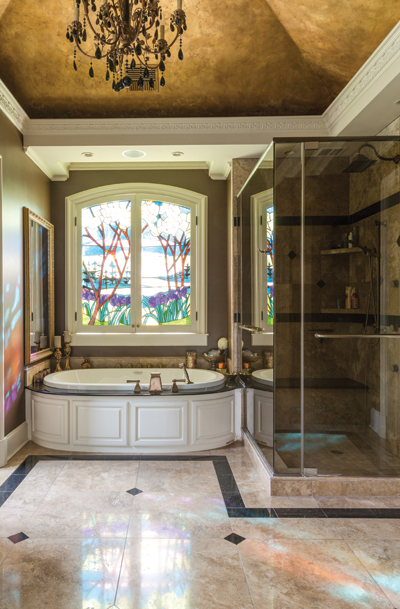 OPELOUSA – Monica & Gary Williams
---
The St. Martins' 400-square-foot master bath is appointed with a two-person bubble tub with an under-mount carrera marble tub surround, and a large shower with a double shower head, a rain shower and a steam shower, plus body jets. Separate his and her vanities accommodate their various needs. "The big cypress cabinet is my dressing area. I can have all of my make-up and things in there, and just close the door. It was my friend, architect Julia Bourque's, concept."
---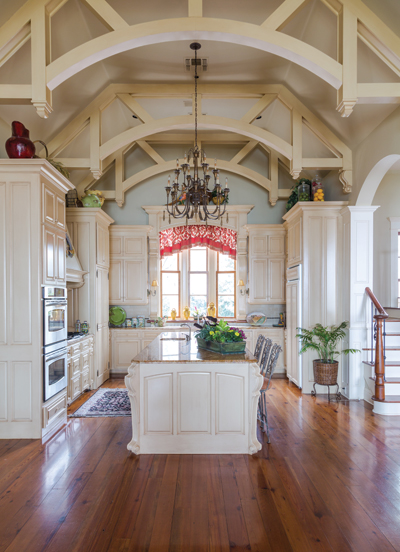 LAKE CHARLES – Shirley & Thomas Henning
---
With a resort experience in mind, a couple created a home that has outdoor entertainment areas reminiscent of tropical retreats. "Since we're so busy, we like to vacation on weekends at home. That's why we built this house – because we work so much," says Monica Williams, who resides with her physician husband, Gary, in a new home designed by Allen Bacqué near Lafayette featuring seven-and-a half-baths and several outbuildings including an elaborate tiki bar. "I wanted a master bath that was big and open because I tend to spend a lot of time in the bath." Polished travertine flooring, separate his and her vanities, a dramatic cross-vaulted ceiling, a flat-screen TV opposite a mirror near the soaking tub and a soothing stained glass work Monica commissioned to depict a Louisiana swamp scene embellishes the space. A large shower outfitted with a bench and several showerheads and sprayers is designed with tinted glass to complement the deliciously rich Benjamin Moore dark chocolate brown walls. The master bath is framed by very spacious his and her closets with islands and cedar closets.
---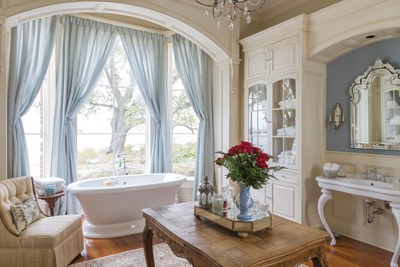 LAKE CHARLES – Shirley & Thomas Henning
---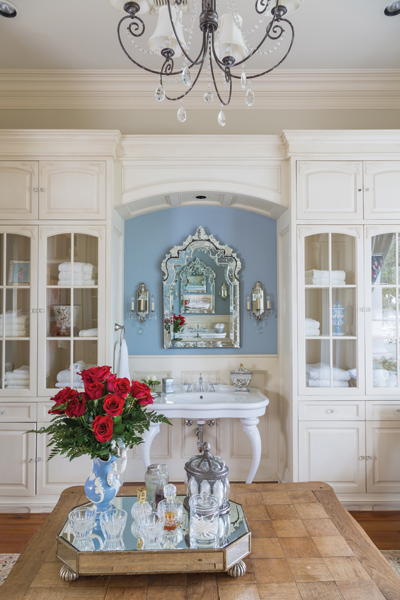 LAKE CHARLES – Shirley & Thomas Henning
---