Clothiers in Their Culinary Element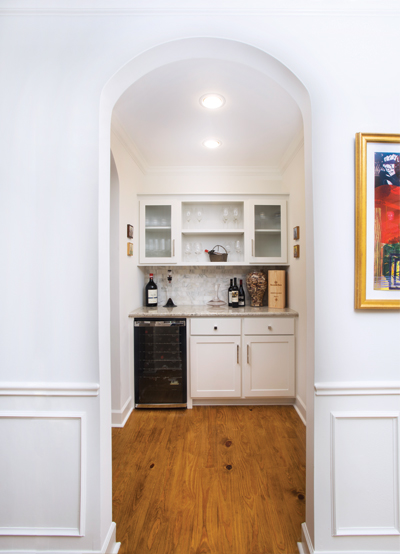 Named as one of the "Top 100 Menswear Stores in America" for 19 consecutive years by Esquire, F. Camalo attracts Acadiana gentlemen who dress for success. Power brokers and sportsmen alike gravitate to the shop, which serves as a manly haven of refinement in the heart of Lafayette's Oil Center.
Since the late 1970s, regulars have enjoyed building their wardrobes with Frank Camalo's exclusive Italian clothing that's traditional, but with a twist. They browse through extensive selections of Canali, Giorgio Armani and Luciano Moresco fashions while being pampered by the staff. Between fittings for such custom items as Ravazzolo suits, chaps check out sleek Zanella trousers, Alberto cycling jeans and rows of glossy Gravati shoes.
Owner Frank Camalo and his wife, Peggy, oversee the beloved man-centric institution on Heymann Boulevard. But on weekends, it's all about cycling, family fun and home cooking.
As summer segues to autumn, Frank and Peggy enjoy preparing elaborate Sunday dinners in their newly renovated kitchen, after a rigorous morning bicycle ride. The home that they purchased in May 2015 was recently remodeled and refreshed by interior designer Justine Hebert, their devoted daughter.
Frank and Peggy selected the unpretentious, circa 1960s, 3,000-square-foot, single-level brick residence for its ideal location in a beautiful neighborhood. It had the spatial clarity of traditional architecture, yet was devoid of stodginess. Seeing good bones beyond its dated décor, Justine transformed the place into a more functional, inviting home for her epicurean parents.
This included adding a few perks in the kitchen, such as placing a pot filler on the cooktop for gumbos, and installing a special shelf with a hydraulic lift that locks on a counter top. It was designed for Peggy's Kitchen Aid Professional Series six-quart stand mixer that she uses for homemade doughs and artisanal desserts. "She can keep it plugged in," Justine says. "We wanted to give her proper storage with a lift, since the mixer is so heavy."
It came as no surprise to Justine that the most important objective during the entire renovation was to design a proper kitchen and reconfigure the space to accommodate a butler's pantry that would open onto the dining and living areas.
"The kitchen and original pantry were both totally gutted," Justine says.
Graceful archways now define the openings from room to room. A new wet bar and wine cooler add ease to the Camalos' many gastronomic gatherings.
The master suite was enlarged and redefined by taking over an adjoining office. It was converted into a more modern master bath with a large, 6-foot by 8-foot walk-in shower complete with a double rain head system. The existing bath and closet became an oversized his-and-hers master closet, with fanciful dividers and built-in shelving.
Everything from the windows, ceilings and flooring (including the pulled-up bedroom carpeting and old kitchen tiles that were replaced with wide plank pine) to the color scheme and lighting (to showcase the Camalos' regional art collection) was upgraded for a more modernistic feel. The new, casually appointed home now serves as a soothing place of respite from the demands of retail.
"I worked at F. Camalo's during my college years," Justine says. "My job really went hand in hand with what I was studying, interior design, with a focus on fabrics. It's funny, because some of the men I used to dress at the shop are now my top interior design clients. They trusted how I took care of them."
The proprietor of J Design, Justine, married realtor Henri Hebert of Abbeville (owner of Jimmy John's Gourmet Sandwiches in Lafayette and Lake Charles) two years ago. Though she launched a website this summer, her business has been "mostly word-of-mouth," including numerous commercial projects.
On any given Sunday, Justine says passers-by may take in the enticing aromas of bourbon vanilla cake and earthy plum tartes baking in her parents' oven, while the garlicky scent of red sauce simmering with freshly snipped herbs intermingles with the sweet fragrance of roses from Peggy's garden just outside the kitchen door.
"We call it my Mom's Sunday Superbowl," Justine says. "We get together at our parents' new house every Sunday and we do a big family dinner. It's always a lot of fun. My Mom makes fresh pasta and gourmet cakes from scratch, while Dad makes his own Italian sausage. We eat like kings! It's something the whole family looks forward to all week long.
"My husband, Henri, says it best," Justine says. "It's always easy and casual at my parents' house. And they top it off with good food, good wine and a special joie de vivre. I'm really thankful that my parents have taught us to always chase your passion, and everything else will follow."


The butler's pantry now opens onto the dining and living rooms, designed with graceful arches that render a seamless flow. The Savoy House Rochester six-light drum pendant with its gold patina finish shimmers above a custom cypress dining table.


A mixed media triptych by Dennis Paul Williams resides above a narrow serving table. The extensive regional art collection includes vibrant paintings by Francis X. Pavy and George Rodrigue.

The living room's original built-in cabinets were replaced by stained Alder shelves to display sculpture and pottery. The brick fireplace had a makeover with a veneer plaster overlay.

The formerly dark oak kitchen was repainted in Benjamin Moore Sea Pearl, and the overhead cabinets above the peninsula were removed. Updates included pendant lighting and a Carrara marble subway tile backsplash.

Formerly an office, the new master bath has an expanded footprint that includes the former bath and office. Additions include a large his-and-her walk-in closet, an oversized walk-in shower, his-and-her vessel sinks with wall-mounted chrome faucets and a crema marble-and-tile mosaic backsplash that is duplicated in the shower as an accent strip near the crema marble shower seat, and a soaking tub with a free-standing Brizo tub filler.

---