Class Action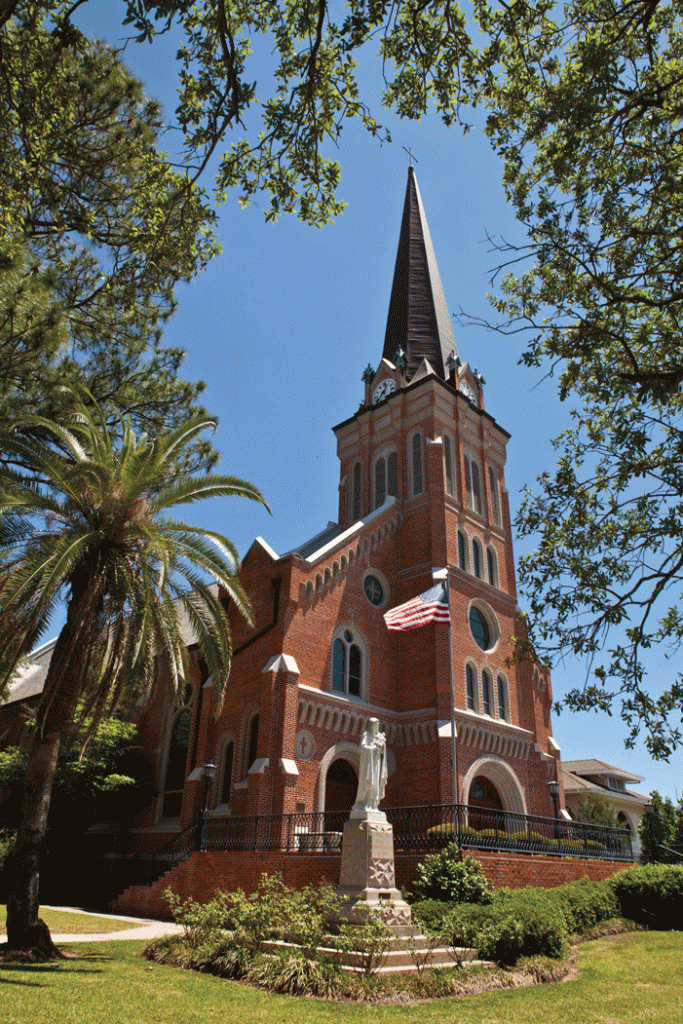 Ed. Note: These profiles are provided with the cooperation of Robert Buckman, Ph.D., Associate Professor, ULL Communications Department.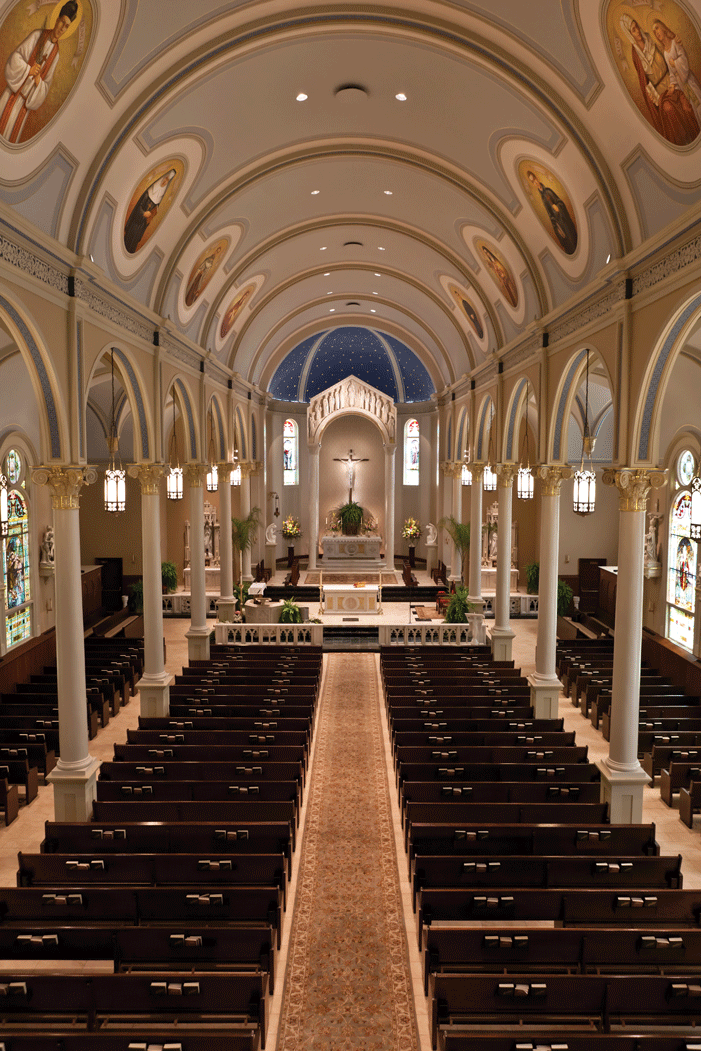 New Look for an Old Church
By Theresa Rose Mayard
ABBEVILLE –– When opening the gate-like doors to the historic St. Mary Magdalen Catholic Church in Abbeville, one is faced with the quiet feeling of timelessness.
The church, which was founded by the Rev. Antoine Désiré Mégret in 1844, has been recently renovated to represent the grandeur it once possessed.
"The major priorities were for the maintenance of the church and to repair the damages that had occurred," says Peggy Ashley, the parish office's secretary. "Hurricane Lili caused damage to the steeple and the roof of the church.
Moisture intrusion was causing the plaster on the walls to peel. Regular maintenance, such as waterproofing, had not been done in many years and was needed. The stained-glass windows also needed maintenance."
Ashley, along with the Rev. William C. Blanda, head pastor, paved the way for improvements at the church, which is listed on the National Register of Historic Places.
The pews are packed, and parishioners stand along back aisles and in the cry rooms with crying babies waiting for Ash Wednesday Mass, the beginning of the solemn 40 days and 40 nights of Lent in Catholicism. Bells in the high tower toll repeatedly to announce the arrival of the noon hour. The afternoon light reflects from the multicolored stained-glass windows, and the scent of incense lingers in the air.
The church has a calming aesthetic, with peach walls and light sky blue vaulted ceilings. Eyes are immediately drawn up the center aisle to the main altar, which is adorned with Lenten purple cloths and lined with candles. The main altar is marble, matching the pulpit, the communion rail and the two side altars that house statues of the Blessed Mother and Joseph. The altars and the communion rails were rescued from St. Rose of Lima Catholic Church in New Orleans, which was closed after Hurricane Katrina.
The centerpiece of the altar is the crucifix, made of mahogany, which shows Jesus in his last minutes upon the cross. A royal blue dome with gold leaf stars hovers over the crucifix and depicts the night sky. Around the vestibule, "Sanctus, Sanctus, Sanctus" meaning "Holy, Holy, Holy," is inscribed in gold leaf.
White-washed stations of the cross that show Jesus' journey to Calvary are spotlighted and hung on the walls above the side pews. Hand-painted frescos of saints by an artist from Italy cover the main vaulted ceiling above cream-colored columns that separate the main mahogany pews from the side ones.
At exactly 12:05 p.m., a light bell summons those seated to rise and the Mass begins. The somber yet relaxing voice of the Rev. Donald Theriot, the retired pastor who has presided over the church since 1961, echoes off the hard marble floors. While babies cry and ushers talk quietly in the back of the church, ashes are administered to a congregation composed of mostly elderly Italians, Cajuns and Vietnamese. Many say they can remember the different transitions the church has made throughout the years.
Ashley explains that the money for the repairs and renovations was raised by the Capital Campaign, which asked parishioners; alumni of Vermilion Catholic, the church-funded school; and friends of the parish community to donate money. The donations were made in a two-phase process that began in 2004. Although the repairs in Phase I took place without incurring any debt, funding is still being collected for the work done in Phase II.
"The first phase raised money for the exterior work and for work at Vermilion Catholic," Ashley says. "The first priority of Phase II was the re-roofing of the church. Once this project was completed, interior repairs and restoration began."
The roof, save the steeple, was replaced. Before decorative renovations occurred, mold caused by hurricane damage was removed and the deteriorated walls were replaced.
The first church renovation took place in 1982 to repair the sacristy after it was burned down. During the 1982 renovation, the walls were lined with dark brown paneling, which gave the church a darker and smaller appearance. The latest renovation focused both on cosmetic and structural improvements.
During the renovation process, church services were held in the auditorium of Vermilion Catholic. Parishioners say they are overjoyed to be able to return to the church they call home.
"The renovations are absolutely beautiful!" exclaims Lindsey Leblanc, a cantor at St. Mary Magdalen.
"Midnight Mass [on Christmas Eve] was the first Mass that was celebrated in the newly renovated church. It all contributes to the beautiful edifice that is St. Mary Magdalen."
Some parishioners, however, seem to have a feeling of ambivalence toward the church's renovations: Although they find the work beautiful, they also say they feel the renovations caused their church to be unrecognizable.
"Although I think the [renovated] church is very beautiful, I find that it's a little too sterile," says Cindy Broussard, who has been a parishioner for 56 years. "It's just not as inviting as it was before."
Susan Boudreaux, also a parishioner for more than 50 years, says she has mixed feelings over the renovations. "The renovations were definitely needed due to the hurricane damage," she says. "I really like the main altar area and the two side altars, but I don't care for the décor of the rest of the church. The pews are too dark, and the rest of the church is too ornate."
Boudreaux's son, Travis, agrees.
"I don't know what to think," he says. "I have so many memories in this church, and it's changed so much. It doesn't feel like the same church at all, but I guess it is an improvement."
"The acoustics of the church were not in any way affected, which is a great thing," says Leblanc, looking at the renovations from a musical standpoint. "Both Tommy [Guidry, the church's organist] and I were quite worried because, with the other renovations, we also got padded pews. We hoped that the padding wouldn't soak up the sound from the choir or organ. Good news is that it didn't!"
Broussard adds that although she loves the tabernacle and finds the main altar and the ceiling frescos beautiful, she finds the designs too overstated and the marble too cold. She is, however, thrilled by the old traditional designs returning to the church.
"The communion rail is something I remember, but it was wooden way back when," she says. "I really am excited about bringing that tradition back to the church. The fact that the Blessed Mother is now on my left and the Holy Father is now on my right is odd. I remember the Holy Family being as one, but I've noticed in the churches in New Orleans, this is how it's set up, and that goes way back. As a whole, it does resemble the old church, and I find the church is beautiful."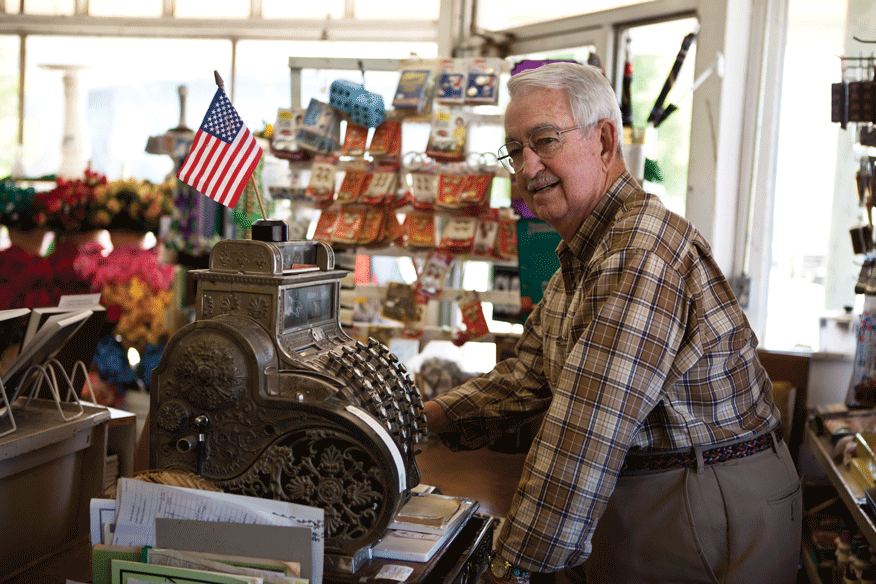 Worthmore's: In Search of Everything
By Courtney Orillion
RAYNE –– Walking down a brick-framed sidewalk in Rayne, it's impossible to overlook Worthmore's 5, 10, and 25 Cent Store, with its panoply of human-size music-playing frogs painted along the east side of the whitewashed building.
One foot in the door and a matte gold bell taps a tune on a transparent glass door. The smell of crisp, fresh February air fills the venerable 95-year-old building's overstocked aisles.
Worthmore's is renowned in Rayne for having "everything." There are hooks, holders and shelves from floor to ceiling stockpiled with an eclectic array of knickknacks, crafts, kitchenware, home décor and hardware.
Worthmore's is a trip into six or seven stores at once.
Worthmore's opened for business on June 14, 1936, and still keeps the same look and service as it did then, thanks to husband and wife Norman and Nettie Faulk, who manage the store today.
"We try not to change anything," explains Nettie. "Everything is still in the very same place. You don't have to hunt for it. If you're a regular shopper, you know where it is."
"This building was built about 1915, and it was a general merchandise store," adds Norman. "The interior is exactly today as it was back in 1915."
The building's architecture has yet to be changed. A couple of coats of once-vibrant paint have been the structure's only cosmetic enhancement through the years.
"It was Levy's," Nettie says. "Then it was the emporium. [It looked] just like it does today. Then a dealership, an automobile dealership, and then Mr. [Dave] Rasenbaum bought this in 1936. It's been the same ever since."

But the Faulks weren't always running Worthmore's. Nettie's sister, Effie Hanks, was there in the early years of the store.
"Effie came to work for Dave in the late '30s, not long after it opened," Norman says. "She began working there and stayed with the store and wound up owning it – she and her husband, Ike, and the warehouseman who had been there since it started by the name of Claude Guidry."
Guidry later sold his share of the business to Ike and Effie Hanks, and on her deathbed she made it clear she didn't want the store sold.
"This was her life," Norman reflects with a hint of nostalgia. "She was here for 50-plus years."
After she died in 2001, the ownership was passed down to the Hanks' grandchildren, but Nettie and Norman came to manage it.
"It was left up to Nettie to keep it going, and it turned out it was good because at the time we really weren't that interested, at that stage of our life, to keep working, but it was a blessing," explains Norman, who is the retired general manager of Evangeline Downs Racetrack. "We both more or less came out of retirement, and thank goodness we did. It worked out because with me unable to walk anymore and her eyesight, we could no longer participate in our hobbies or do what we love."
Norman gives all the credit for the store's success to his wife: "Essentially she is running it, not me. I'm the yardman."
He has a nostalgic look on his face as he recalls an incident from his childhood: "I can remember shopping here when I was a little kid. I'll never forget, back in those days, all of the grocery stores sold live chickens because they didn't have frozen foods. One day my mom sent my little sister [to the grocery store]. She said, 'Go to Mervine Kahn, and get a chicken, and go to Worthmore's, and get some thread.'
"Well, she stopped and bought the durn chicken first. And what they did with the chicken – they tied the legs together, they put a paper bag over it, and they cut a little hole in it, and they stuck the neck through the hole. So she bought the durn chicken first instead of coming here first. She came in here with the chicken, and the chicken got away. I can still remember old man Rasenbaum raising hell with Daddy because of it," he says, laughing.
Even more antique than the Faulks' stories is the cash register they use.
"This old register is 101 years old," Norman says. "The only problem with it is that it will only register $9.99 at one crank. A hundred years ago that was the day's receipts, so you didn't need too much more than that."
He demonstrated with a check for $101.72. He punched in $9 and intently cranked the register. The sound of metal gears grinding saturated the room, followed by a high-pitched "ding" that sounded like a microwave announcing dinner is ready. Then he added $9 10 more times, winding up the machine up after every amount. Then he punched in $2.72 and cranked it up one more time.
"Everybody marvels at it: 'Look at that old cash register!'" Nettie says. "We don't have any computers, no faxes, just a crank cash register."
"The other day, the central business district lost power – we were the only store in Rayne to do business," Norman recalls with amusement.
Worthmore's steady clientele dates back to the '60s, '70s and '80s.
Valarie Cantrell, a Crowley resident, says that she has been shopping here since she was 5.
"I used to come here with my mom and dad," she says. "It's like no other place. You want something strange and unusual, you're going to find it here. It's awesome. I love coming here. It would be terrible if it would ever close down. I mean, this is the heart and soul of Rayne."
What also keeps the store going into the second decade of the 21st century, besides the seasoned management and unique selections, are its dedicated and helpful employees who love their jobs.
"I just started here; it was a year in June," Betty Granger says in a quintessential Cajun accent. "I came in here one day to sell Mrs. Nettie some pies, and she said, 'Do you want to work?' and I said 'Me?' She said, 'Think about it.' And I love it. I've been here over a year, and I'm still finding stuff I never knew they had."
The Faulks say they aren't sure what will happen to the store when they aren't here anymore, but for now, they vow to continue Effie Hanks' legacy.
"This is our life," Norman says, "and we enjoy it."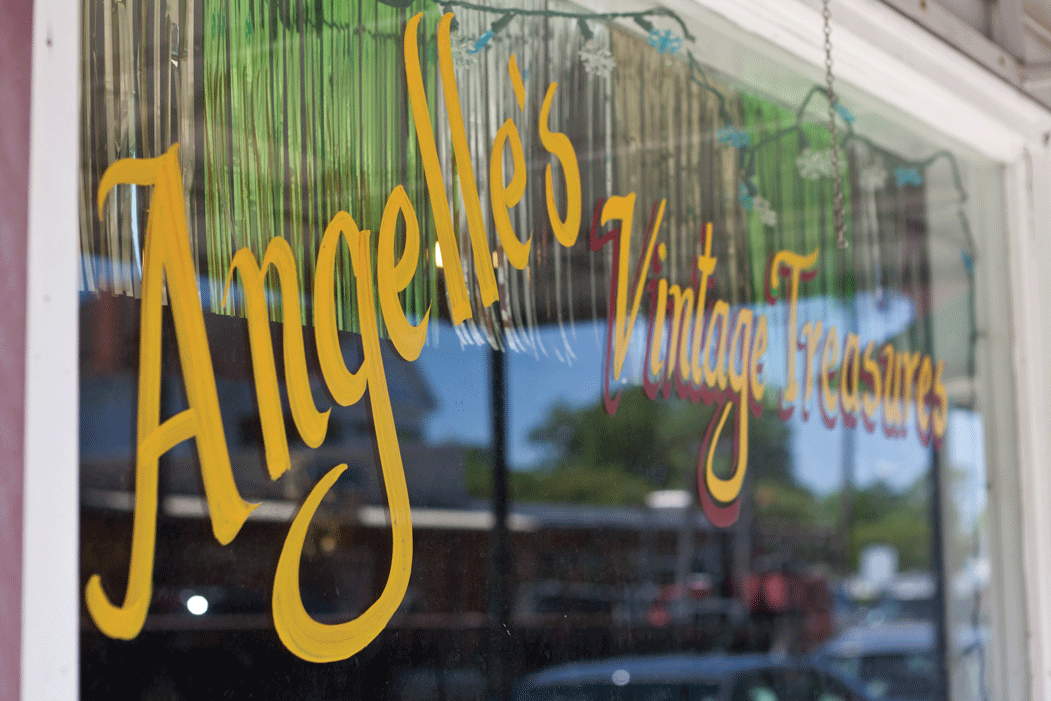 Burgers & Antiques
By Nicole Rogers
BREAUX BRIDGE –– This town is renowned for its antique shops around downtown. Breaux Bridge is also known for its delicious food. There is one family that controls the reins in both markets.
According to Grover Angelle, owner of Angelle's Vintage Treasures, not all antique shops are the same. Angelle insists he is different from the rest because he is a "true antique dealer."
"I own my whole antique shop," says Angelle, who incongruously doubles as the owner of Angelle's Old Fashioned Hamburgers around the corner. "All the contents are mine. So I consider myself an antique dealer because I have to go out and buy more than 10 pieces to sell, whereas all these other people rent space."
When visitors walk into Angelle's, the olfactory sensations begin. Items brought in from all over the world, mixed with the smells of well-seasoned wood and worn fabrics, evoke the memory of Grandma's house.
Opened five years ago, Angelle's Vintage Treasures carries mostly furniture from areas such as Belgium, England and France. Containers full of trinkets, paintings and other odds and ends are also sent to Angelle's from an auctioneer in Houston.
One piece in particular caught Angelle's eye. His "find" — as he likes to call all his treasures — was a sketching of the battle of Waterloo.
Rectangular in shape — about 4 feet long and 2 feet high — the scene unfolds behind its original glass with simple, short strokes of what appears to be ink, all working together to portray one of history's epic battles. The picture rests safely in its original frame, inlaid with a golden border. Although the picture hangs proudly in a small-town Louisiana shop, Angelle maintains that this piece is priceless.
"This was my find that I wanted for myself," Angelle confides.
Several pieces of furniture Angelle says are found only in his shop are pieces cut from teak in Indonesia. Scattered around the entryway are long and short benches, chairs and coffee tables all made from teak. Each piece is unique in shape, and the colors range from a natural wood to a deep-shined mahogany coat.
"We never know what color we're going to get because the wood is sent to different places to be stained," Angelle says.
A walk around the block from Angelle's Vintage Treasures brings Breaux Bridge denizens and antique-shop pilgrims from afar to a kind of mead hall: Angelle's Old Fashioned Burgers.
Frequented by LSU's head football coach, Les Miles, and 2006 Miss USA and Breaux Bridge native, Ali Landry, Angelle's eatery opened a little more than a year ago. First-timers proclaim they'll come back for more, just like local residents Eddie and Mary Guidry, who say friends nagged them like a wife does her lazy husband to head on over to Angelle's for a cheeseburger.
"They say they're the best," Eddie Guidry says. After wolfing down his cheeseburger and homemade fries in less than six minutes, all he had to say with a napkin over his mouth was, "It's up there."
Some customers stumble upon Angelle's while taking road trips for one reason or another. Justin and Claire Besch of Buffalo, N.Y., happened upon the burger joint while sightseeing through the town.
Asked what he thought about the homemade onion rings, Justin Besch says: "I'm an onion connoisseur. They were excellent. …This is the place to be."
Although outsiders have to make the trek around the block, employees know of a secret passageway linking the antique shop and the burger joint, a storage area for both hamburger buns and antiques waiting patiently to be shown.
Those entering Angelle's restaurant through the French doors are greeted with zydeco tunes playing overhead at a conversation-friendly volume. Customers are urged to seat themselves at any one of the 11 tables, each matched with its own set of cushions. The steel-rod chairs are at home in their own diverse community of colors: chartreuse, teal, forest green, fire engine red and royal blue.
Kari Broussard, Angelle's stepdaughter, expertly works the lunch crowd as the only waitress while her toddler daughter, Jena, plays in a crib wedged between the kitchen counter and the drink machine.
"When she gets older, she'll be wearing an apron and handing out drinks – helping out her mama," Angelle predicts with a sweet smile.
The walls are fitted floor to ceiling with eggshell-colored paneling and full of photos showcasing the crowd of young locals venerating their burgers and ice cream. For Angelle, the ambiance is deliberately nostalgic.
"When I grew up, there was a local little Tiger Inn," Angelle recalls. "All the kids could go; they could eat ice cream; your mama could leave you there till she got off of work, then come get you. It was safe. So that's what we wanted – to make a safe-hole."
Angelle says the building – built from cypress, pine and oak – used to be a bar, and patrons played card games where the kitchen now resides. Situated in the back left of the restaurant, the petite kitchen caters to no more than three people at a time.
It's 1:34 p.m., and burgers sizzle on the grill. The aroma of homemade onion rings swirls around the room as friends and family chit-chat about the upcoming weekend.
Burger aficionados revel in the micro-vacation that is their lunch break at Angelle's. Some seem to have trouble choosing between conversation or chowing down. Taking their bites with alacrity, customers slightly shut their eyes and sit in a moment of silence as they taste a straight-from-the-grill burger with an added kick of jalapeños.
The ground meat comes from a local slaughterhouse every morning, Angelle says. In one day, 20 to 30 pounds of ground beef are sizzled and served to customers, the equivalent of about 80 burgers a day. Angelle says on Saturdays, the restaurant can serve upward of 140 to 200 burgers.
The burgers are made with a secret recipe, and the only hint Angelle gives as to why his burgers pop with spice is the ground-up jalapeños.
"I used the family recipe," Angelle says. "My grandmother and my grandfather were both very influential. And my wife will laugh – I can make gravy out of shoelaces. I'm the guy that can actually do it."
Star Walls
By Ashley Wadsworth
MAURICE — It's not every humble Louisiana poor boy joint that can boast actress and musician Scarlett Johansson as a customer.
Located in a graveled lot off a stretch of two-lane highway, Villager's Café is, at first sight, the quintessential small-town restaurant, but the quaint cottage-like building is jampacked from wall to wall with trinkets, memorabilia and improvised décor, all bursting to tell their stories.
Owner MaryBeth Broussard turned the simple idea of opening a café filled with the smell of sizzling shrimp into a memorable, museum-like dining experience that has been bringing loyal customers back since 1997.
Because Broussard couldn't afford formal advertising, she says she relied on word of mouth. She knew someone who worked at the nearby Dockside Studio who would "send me the people who record there"; now the narrow hallway leading to the bathroom is a "wall of fame," with notable names and messages scribbled in black marker.
Some of the legendary signatures include blues singer and pianist Marcia Ball, who also introduced her mother to the café, and Cajun musician Bobby Charles from Abbeville, who wrote the famous song "See You Later, Alligator." (Charles died Jan. 14, 2010.) An autographed action-shot of Super Bowl champion quarterback Drew Brees also is displayed.
Scarlett Johansson is probably the most recognizable luminary to dine here; Broussard says she didn't sign the wall but promised to on her next visit.
Johansson's father lives near Maurice, and in 2008 she recorded her first album, Anywhere I Lay My Head, at Dockside. Because Johansson was attempting to remain disguised, donning oversize sunglasses, Broussard says she tried not to make a big fuss.
"You don't want to overreact," Broussard says. "You want them to come back. You want this to be a place where they can kind of hide out."
Broussard summed up the café's essence by saying it's "very conversational."
The walls are decorated with "anything old," she says, including items cheaply bought from flea markets or possessions lent by customers for display. Such items include vintage framed pictures of Lucille Ball and John Wayne, old-fashioned women's hats, '50s-style eyewear, a battered eye exam chart and various styles of venerable cameras, among other random antiques. Even the screened-in patio out front, lined with a faded ketchup-colored bar, is decorated with vintage advertisements and posters like the ones inside.
"I did a lot of work myself," Broussard says, explaining that remodeling was too expensive.
The seven tables inside, which seat around 20 to 35 diners, are actually large wooden spools once used to hold
electrical cable. Brassy metal coasters are nailed into the spools for drinks, which can be served in glasses or in old-fashioned soft drink bottles. The shelving that displays the vintage hats, Broussard points out, is actually wooden pallets like ones found at construction sites. A country music station plays in the background from a stereo located in a corner underneath the sole TV, which silently plays an episode of Wheel of Fortune.
According to Olivia Frederick, who has worked as a waitress and a cook at Villager's Café on and off for six years, the atmosphere is vastly different between lunch and dinner.
"Lunch is very busy and fast-paced," she says. "Sometimes they have people waiting outside for a table. It's mainly a business crowd. At night it's more family-oriented and relaxed."
Broussard, sporting a black button-down shirt with the restaurant logo over the left breast, has an intense, business-like aura about her yet cheerfully greets every customer who enters.
She previously managed Old Tyme Grocery in Lafayette, also known for its poor boys, and attended the University of Louisiana at Lafayette for two years, majoring in business before she became an entrepreneur.
"I drove by, and I saw the 'for sale' sign," she says of the roughly 70-year-old building constructed of weathered white wooden paneling that was once her doctor's office. "I said, 'You know, I think I'm going to buy this.' Thank God I had good credit and the bank trusted me. I had $20 to my name. When you know, you know."
When she first bought the building, however, she opened it up as City Video, a video rental store. After four years, the switch from VHS to DVD became too costly and Blockbuster was "too big to compete against," Broussard says, so in 1997 she transformed City Video into "Louisiana's best-kept secret" – Villager's Café.
"When I left Old Tyme, I said, 'I will never make another poor boy – ever,'" Broussard recalls. "So it's kind of like everything happens for a reason. At times I thought that I would fail. That was the thing; I couldn't give up. I did a lot to survive, to keep this going, because I knew I had a good product."

Everything on the menu is fresh and homemade, Broussard says, and nothing is ever stored away. Meatballs and croutons are on the list of homemade menu items.
"One thing that I learned from Old Tyme Grocery was 'quality over quantity,'" Broussard says. "You serve them something that they're not expecting. It's like: 'Wow! This is great!'"
According to Broussard, the shrimp poor boy is probably her most popular item; 20 to 30 golden-fried jumbos spill out of the bread, though an accurate count is difficult to manage through the piled shredded lettuce, sliced tomato and mayo. Poor boys are served on midnight blue, citrus orange or sunshine yellow ceramic plates that look like they belong in your own kitchen rather than a restaurant.
On the menu, sandwiches are named "poor boys" instead of "po' boys" because "it's the Orleans way," Broussard says matter-of-factly.
"Some people come just to eat the fries," Frederick says. "We are known for our homemade french fries, which consist of red potatoes that we cut into slices every single day and fry as ordered."
Abbeville native Karissa Frederick, Olivia Frederick's young sister, says she's been dining at Villager's Café since its early days: "I'd choose Villager's as my last meal," she says, closing her eyes like a child preparing to blow out birthday candles. "I'd start with the corn nuggets, gobble down a fried shrimp poor boy with my favorite potato wedges and top it off with an ice-cold Coca-Cola in a bottle – so yummy and delicious!"
"MaryBeth has worked really hard all these years to keep her business alive," Olivia Frederick says. "She is a damn good businesswoman with a big heart but knows how to run her business, which is why she is so successful."
Broussard says the majority of customers travel from Lafayette, but some come from farther away.
"People come from all over the country," Broussard says, pointing to a table to her left near a wall showcasing antique kitchen utensils, such as spatulas and whisks. "A lady sat at this table from Japan."
"We get people from everywhere," adds Olivia Frederick. "We have some faithful regulars that we pretty much know their whole life story."
"Ultimately my goal is to have a second location," Broussard says. "I don't know where, but I think I'll know when the time is right. I'll know the feeling."