Clash of the Cocktails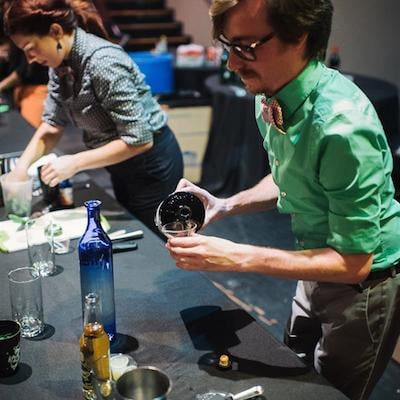 Irish dancers, secret ingredients and celebrity bartenders will all be present at this year's Clash of the Cocktails in Broussard, Louisiana.
Charitable events are a dime a dozen in Lafayette, but 33-year-old Destin Ortego noticed a lot of them failed to draw in a younger crowd.
To solve this problem, he created his own company, Clash Events LLC, which creates and runs crowd pleasing events that benefit local charities.
"People like to give back and do good but what really draws them in is having an entertaining event to go to," said Ortego. "The goal of company is to work with nonprofits who get the majority of their funding through events.  This is a way for them to get an extra boost in funding without having to do any of the work."
This year's event will benefit the Acadiana Leukemia and Lymphoma Society's Man and Woman of the Year Contest, which raises money for young adults in the Acadiana area battling various blood cancers.
At the event, attendees will watch five local bartenders face off as they use a new secret ingredient in each round to make their best signature cocktails.
The evening will kick off with a Beertails tastings by The Wurst Biergarten and pictures on the red carpet.
This year's event will be peppered with Irish culture, with Bushmills Irish Whiskey serving as the official beer sponsor, and performances by Irish dancers and fiddle players starting at 6:30 p.m.
During the first ten minutes of each round, bartenders take the stage to make their creations using the chosen secret ingredient of the round, and tempt the crowd with their mixology.
For the next 30-minutes participants can walk around to sample each drink and trade their voting tabs for the full cocktail of their choice.
Past surprise ingredients have included Swamp Pop, coffee, jalapeño strawberry lemonade and peppadew peppers.
This year's contenders include Anson Trahan of The Grouse Room, Candace Cooper of Hook & Boil, Jordan Burt of Rhum Room, Logan Sonnier of Tsunami and Matt Lahr of Antlers.
Hors d'Oeuvres from Antlers Seafood & Steakhouse, LA Pizza Mia, Hook and Boil and Cane River Pecan Company, will be served throughout the evening.
Last year's event raised $5,000 for The Acadiana Leukemia and Lymphoma Society's Girl of the Year, Kennedy Koeing, an 18 year old senior at Teurlings Catholic High School who is currently in remission from Anaplastic Large-Cell Lymphoma, a rare type of blood cancer.
Since entering remission, Koeing is back to cheerleading and was recently chosen for Teurlings' Homecoming Court.
The event has previously benefited other area charities like Big Brothers and Big Sisters of Acadiana, but Ortego felt inclined to make The Acadiana Leukemia and Lymphoma Society the benefiter of the event after seeing his mom battle thyroid cancer before going into remission.
"It takes them a lot of time and energy to run these events, and if they don't go well these nonprofits can lose a lot of their funding," said Ortego. "The first few years the event benefited Big Brothers and Big Sisters, and at the time the director said they had a hard time getting young people involved. That spurred me to come up with events that would not only benefit charity, but would be fun for people to attend. I figured by incorporating the charity, people would be more likely to check the organizations out and see what they could do to help them."
Past events have featured aerial performers and a company that gives free tattoos, so the possibility of surprises at this year's event are endless.
Attendees will receive 15 cocktail samples, three full cocktails and hors d'oeuvres throughout the night.
For more information about the event or to purchase tickets, visit cocktailclash.com.
---
Upcoming Events
Drop by The Lab Coffee Shop to take in classic Saturday morning cartoons on the big screen as you enjoy waffles, adventurous cinnamon rolls, and comforting scraps (a stuffed and filled hybrid of a croissant and a muffin).
Come out to the Cajun Harley Davidson shop in Scott for a show to benefit wounded and disabled veterans and their families.
Proceeds will go to Operation Homefront, which gives back to these brave men and women.
Performers will include A.J. & The Badcats, Kip Sonnier and The Beau Young Band to name a few.
Ages 10 and under get in free and tickets for those 11 older are $15.
Come to the Jefferson Street Pub to see Alex Smith play a homecoming show with his band from Nashville.
The event will a celebration to remember as Lafayette celebrates Alex a little over a year after he released his EP, Fear of Missing Out.
Come enjoy a free acting class from Acting Up! in Acadiana.
The class will focus on basic Stanislavski theory, and everyone from the amateur to the professional are invited to attend this free event at the Acadiana Center for the Arts.